Technical Sales Engineer Resume Example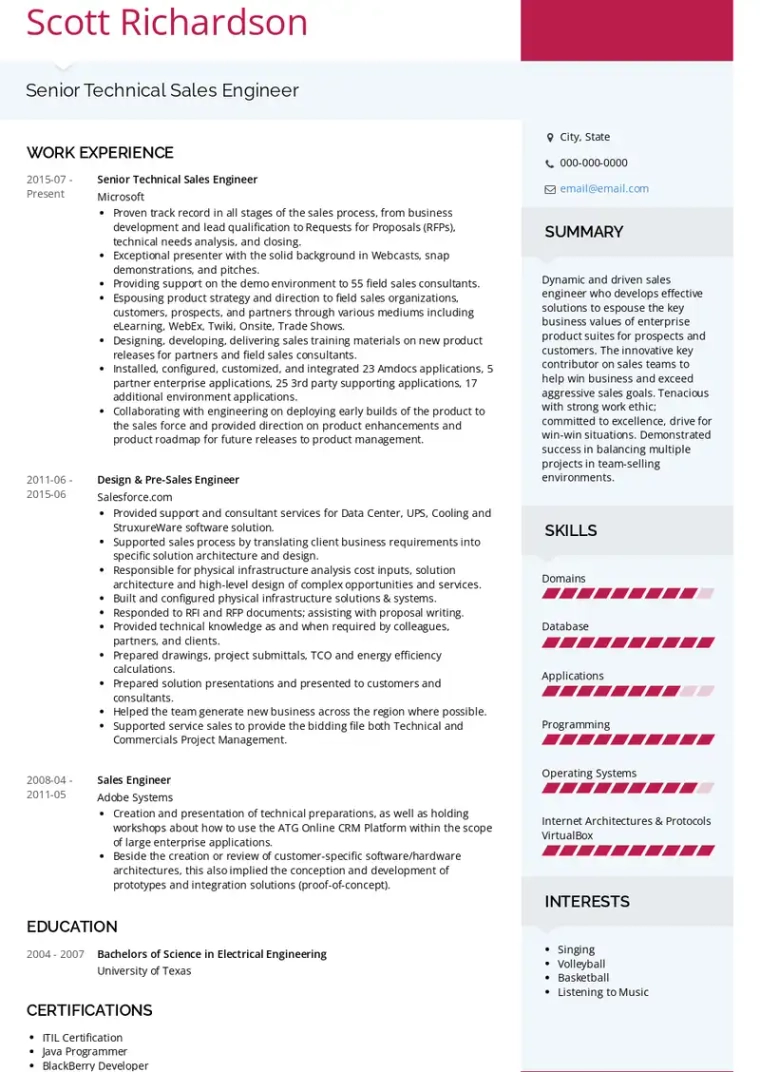 Senior Sales Engineer Resume Example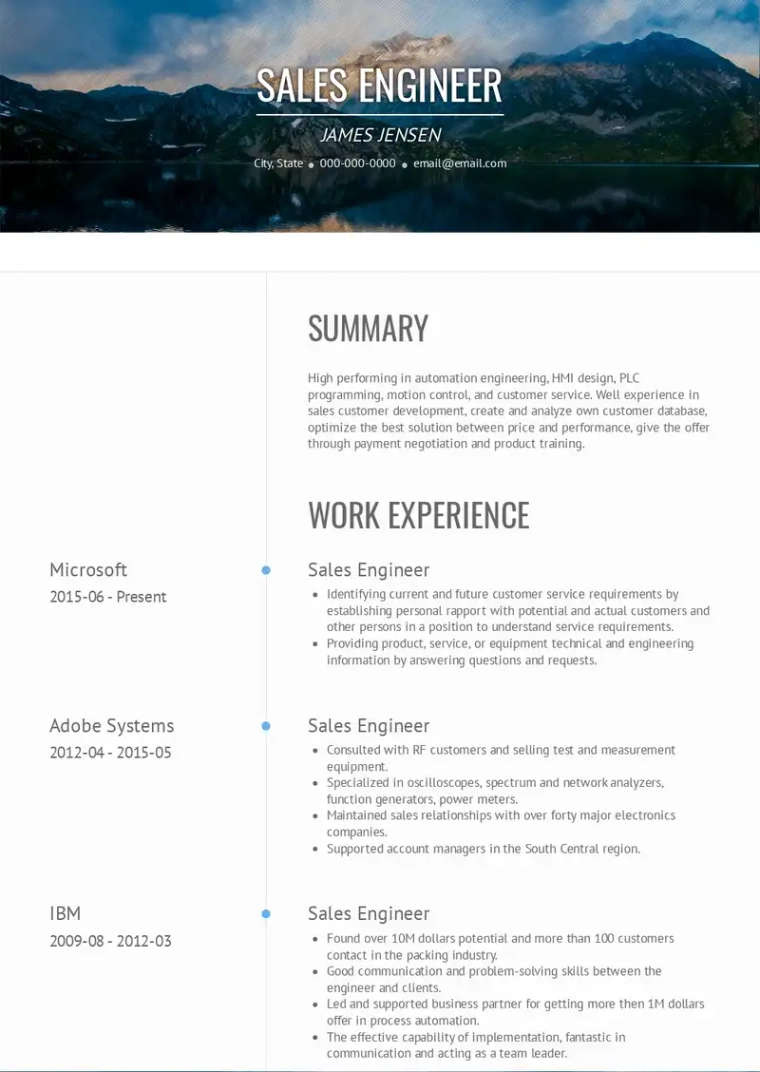 Sales Engineer Resume Example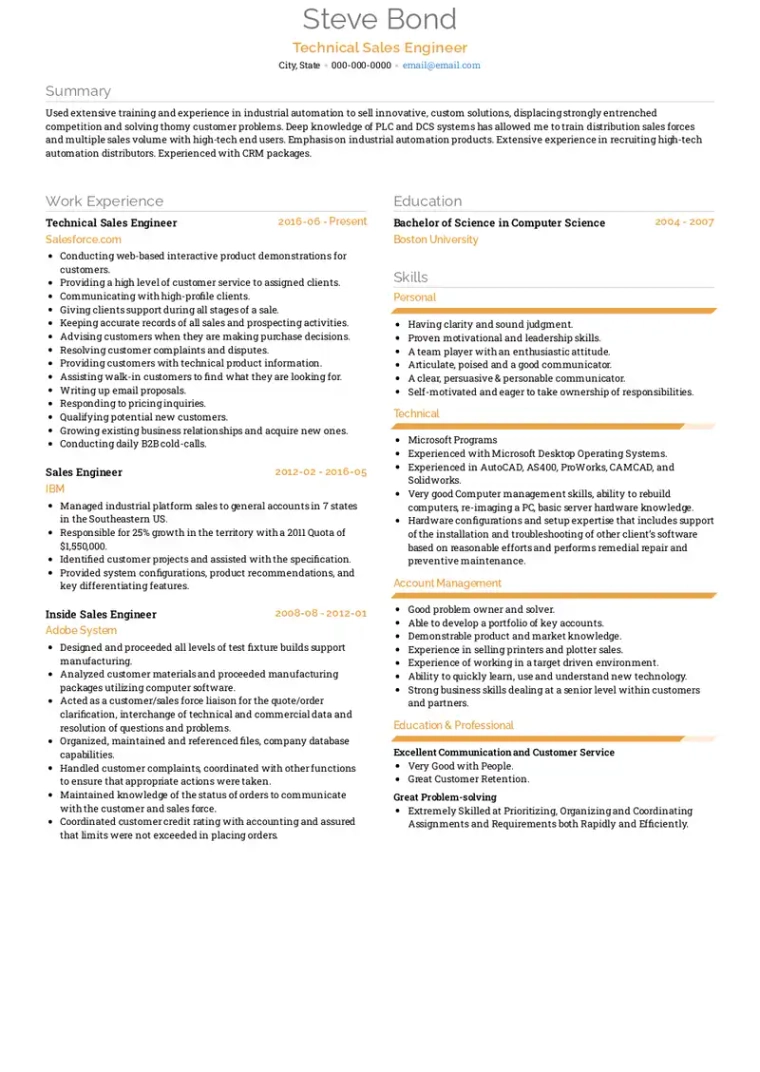 How to Write a Sales Engineer Resume?
To write a professional Sales Engineer resume, follow these steps:
Select the right Sales Engineer resume template.
Write a professional summary at the top explaining your Sales Engineer's experience and achievements.
Follow the STAR method while writing your Sales Engineer resume's work experience. Show what you were responsible for and what you achieved as a Sales Engineer.
List your top Sales Engineer skills in a separate skills section.
## How to Write Your Sales Engineer Resume Header? Write the perfect Sales Engineer resume header by:
Adding your full name at the top of the header.
Add a photo to your resume if you are applying for jobs outside of the US. For applying to jobs within the US, avoid adding photo to your resume header.
Add your current Sales Engineer to the header to show relevance.
Add your current city, your phone number and a professional email address.
Finally, add a link to your portfolio to the Sales Engineer resume header. If there's no portfolio link to add, consider adding a link to your LinkedIn profile instead.
Lewis C. Ryan 156 Lakewood Drive, Wayne, NJ 07477 Marital Status: Married, email: cooldude2022@gmail.com
Lewis C. Ryan Wayne, NJ, State, Phone number: +1-555-555-5555, Link: linkedin/in/johndoe
Make sure to add a professional looking email address while writing your resume header. Let's assume your name is John Doe - here is a formula you can use to create email addresses:
firstnamelastname@email.com - johndoe@email.com
firstname.lastname@email.com - john.doe@email.com
lastname.firstname@email.com - doe.john@email.com
f.lastname@email.com - j.doe@email.com
l.firstname@email.com - d.john@email.com
firstnamelastname12@email.com - johndoe12@email.com
For a Sales Engineer email, we recommend you either go with a custom domain name (john@johndoe.com) or select a very reputed email provider (Gmail or Outlook).
How to Write a Professional Sales Engineer Resume Summary?
"Use this template to write the best Sales Engineer resume summary: Sales Engineer with [number of years] experience of [top 2-3 skills]. Achieved [top achievement]. Expert at [X], [Y] and [Z]."
Technical Sales Engineer Resume Summary
Used extensive training and experience in industrial automation to sell innovative, custom solutions, displacing strongly entrenched competition and solving customer problems. Deep knowledge of PLC and DCS systems has allowed me to train distribution sales teams and manage multiple sales volumes with high tech end users. Emphasis on industrial automation products. Experienced with CRM packages.
Sales Engineer Resume Summary
Dynamic and driven sales engineer who develops effective solutions to espouse the key business values of enterprise product suite for prospects and customers. Demonstrated success in balancing multiple projects in team-selling environments.
How to Write a Sales Engineer Resume Experience Section?
Here's how you can write a job winning Sales Engineer resume experience section:
Write your Sales Engineer work experience in a reverse chronological order.
Use bullets instead of paragraphs to explain your Sales Engineer work experience.
While describing your work experience focus on highlighting what you did and the impact you made (you can use numbers to describe your success as a Sales Engineer).
Use action verbs in your bullet points.
Sales Engineer Resume Example
Sales Engineer
Managed industrial platform sales to general accounts in 7 states in the SouthEaster US.
Responsible for 25% growth in the territory with a 2011 quota of $1.5 million.
Identified customer projects and assisted with project specifications.
Provided system configurations, product recommendations, and key differentiating features.
Technical Sales Engineer Resume Example
__ Technical Sales Engineer__
Conduct web-based interactive product demonstrations for customers.
Providing a high level of customer service to assigned.
Communicating with high profile clients.
Keeping accurate records of all sales and prospecting activities.
Advising customers when they are making purchase decisions.
Resolving customer complaints and disputes.
Providing customers with technical product information.
Write cold email sequences.
Conduct 10+ daily cold calls to technology decision makers.
Senior Technical Sales Engineer Resume Example
Senior Technical Sales Engineer
Proven track record in all stages of the sales process, from business development and lead qualification to RFPs, technical needs analysis and closing.
Exceptional presentation skills with solid background in webcasts, snap demonstrations and pitches.
Providing support on the demo environment to the 55 field sales consultants.
Espousing product strategy and direction to field sales teams.
Designing, developing, delivering sales training materials on new product releases for partners and field sales teams.
Collaborating with engineering teams on deploying early builds of the product to the sales force.
Pre-Sales Engineer Resume Example
Pre-Sales Engineer
Provide sales support for Data Center, UPS and StruxureWare software solutions.
Support sales process by translating client business requirements into specific solution architecture and design.
Responded to RFI and RFP documents; assisting with proposal writing.
Provided technical knowledge as and when required by colleagues, partners and clients.
Prepared technology solution presentations and presented to customers.
Supported service sales to provide the bidding file for both technical and commercial project management.
Sales Engineer Resume Example
Sales Engineer
Creation and presentation of technical pitches, as well as holding workshops about how to use the platform.
Create customer specific software requirements; also involved in development of prototypes and integration solutions.
Top Sales Engineer Resume Skills for 2022
Domains
Database
Operating systems
Programming
Architecture
MS Office
Communication
Collaboration
Technology
Hardware
Customer service
How Long Should my Sales Engineer Resume be?
Your Sales Engineer resume length should be less than one or two pages maximum. Unless you have more than 25 years of experience, any resume that's more than two pages would appear to be too long and risk getting rejected.
On an average, for Sales Engineers, we see most resumes have a length of 2. And, that's why we advise you to keep the resume length appropriate to not get rejected.