20+ Blank Resume Templates
Simple Blank Resume Template - Text
[Your Name] [Your Address/Location] [Your Email Address] [Your Phone Number] [LinkedIn Profile URL - Optional]
Summary: [This section should be a brief overview of what you bring to the table as a professional. What are your key achievements, experiences, and skills that make you the best choice?]
Work Experience [Job Title] [Company Name], [Location] [Month Year] - [Month Year]
[Responsibility/Accomplishment #1]
[Responsibility/Accomplishment #2]
[Responsibility/Accomplishment #3]
[Job Title] [Company Name], [Location] [Month Year] - [Month Year]
[Responsibility/Accomplishment #1]
[Responsibility/Accomplishment #2]
[Responsibility/Accomplishment #3]
Education [Degree Earned] in [Your Major] [University Name], [Location] [Month Year] - [Month Year] Relevant Coursework: [Course #1], [Course #2], [Course #3] [High School Diploma/GED] [High School Name], [Location] [Month Year] - [Month Year] Honors/Awards: [If applicable, mention any honors or awards received during high school]
Skills Technical Skills: [List technical skills relevant to the job you are applying for, e.g., programming languages, software, tools] Soft Skills: [List soft skills such as communication, teamwork, problem-solving] Certifications: [If applicable, mention any relevant certifications you hold]
Blank Resume Template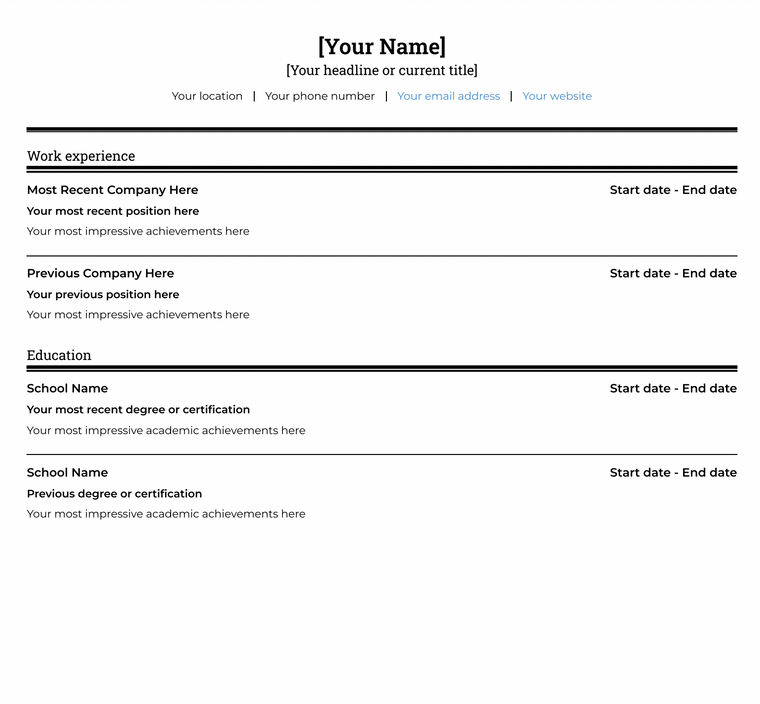 When you use a blank resume template, you should focus on the style of resume you'd like to have before you begin creating your resume. The ATS resume template is straightforward and to the point, which is great if you're looking to create a minimalist or shorter resume.
Fill this template out using your own information – your name and contact details, as well as your work experience and education.
Blank Professional Resume Template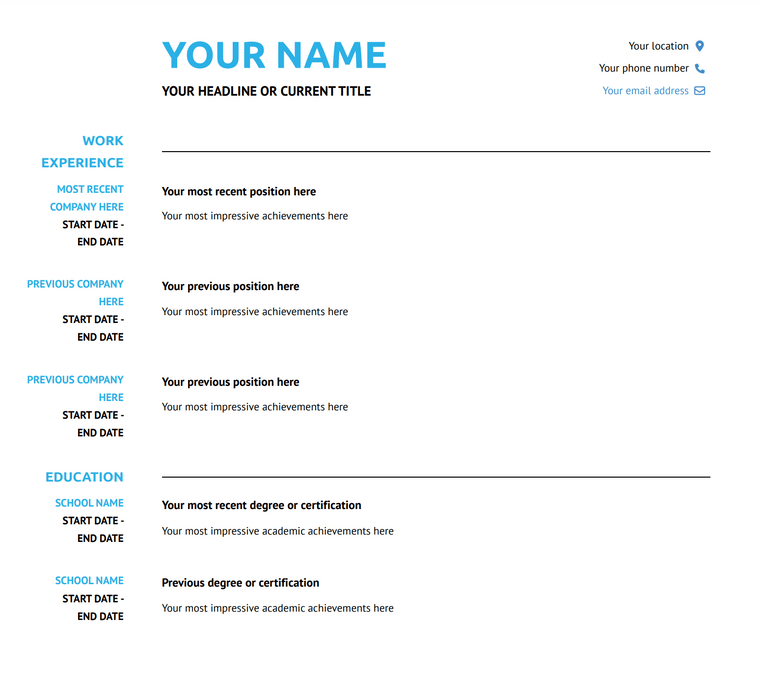 Our Arya blank professional resume template is fully customizable to fit your needs during your job search. With sections ready-made for a headline, your work experience, and education, you can add additional sections for things like a resume summary, volunteer experience, skills, and awards.
Blank Word Resume Template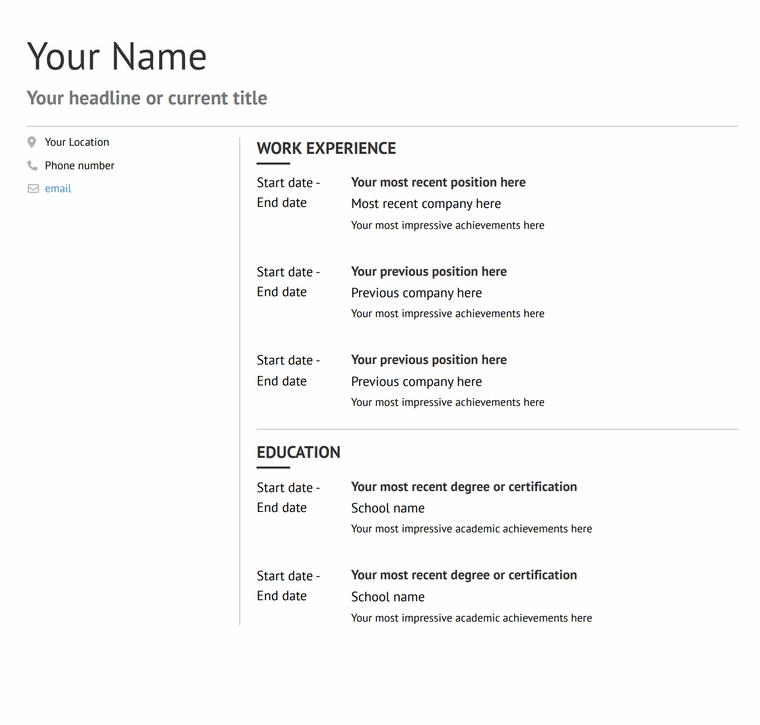 Our Corporate blank resume template can easily be customized depending on your level of experience, industry, job title, and career goals. Whether you're creating a resume for your first job, looking to upgrade to executive positions, or writing an academic CV, simply export your resume to Word and begin reaping the benefits of using a professionally designed resume template.
Blank Google Doc Resume Template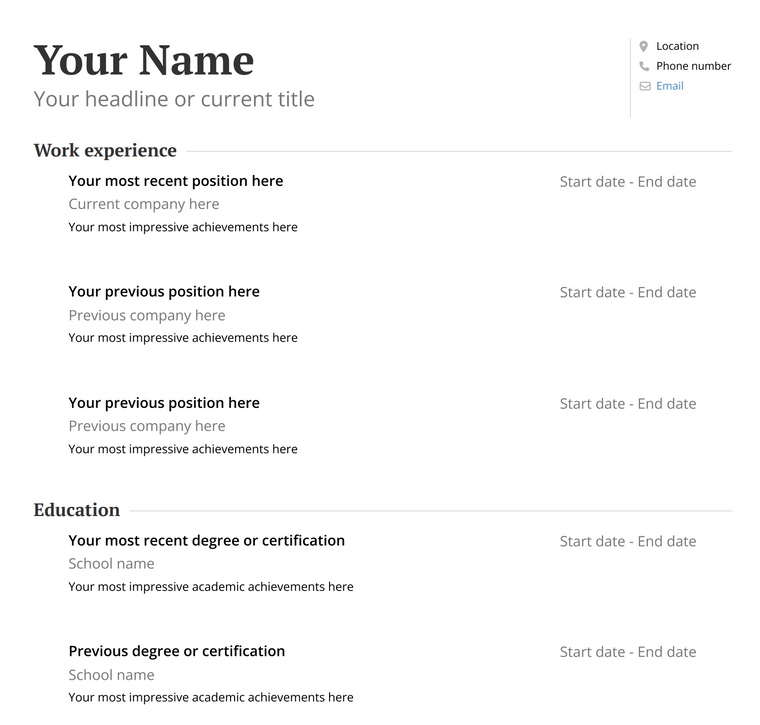 Adding a blank resume template into Google Docs is a good way to play around with text and content before you take the final step and send your resume out into the world. Our Standard blank Google Doc-friendly resume template is a fully customizable template ready and waiting for you to fill it with your workstory!
Blank Resume Template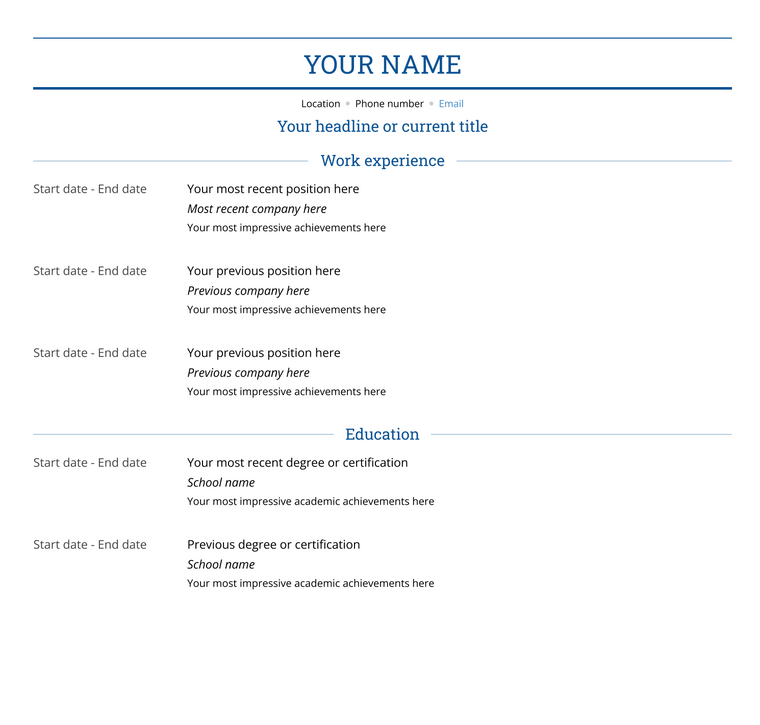 Monte, a blank resume template, is another great option for job searchers and academics alike. You can fill this template in with work experience, awards, academic achievements, publications, skills, and anything else you may need to demonstrate who you are as a candidate.