Are you struggling to get any traction in your job search? If you're sending out applications but not getting any invitations to interview, that could be a sign that you need to change your strategy – and potentially your resume, too.
Consistent difficulties in getting to the interview stage could be a sign that your resume isn't compatible with ATS software. If this increasingly common technology can't parse your resume, it could decide that your application doesn't align with the job description for the role. That could mean that your resume is being thrown out before a human hiring manager ever gets to see it.
Needless to say, that's not the outcome you want – and it's not the outcome you need to settle for! Choosing an ATS resume template guarantees that your resume will be legible to ATS software. It gives you the freedom to focus on fine-tuning the content of your resume, to give yourself the best possible chance at getting that job.
Want to know more about ATS resume templates? Read on! In this article, we'll cover the following points:
What an ATS actually is
Why you should choose an ATS resume template
The best industries to use an ATS template
Some of our favorite ATS resume templates
What is an ATS?
ATS stands for "applicant tracking system." It's a software application used by hiring managers to handle the logistics of the hiring process. As part of that functionality, it has the ability to filter through resumes and weed out any that don't match the job description. It does this based on key words drawn from the job description – if your resume doesn't include enough of those key words, you'll struggle to get it past the ATS.
This is a big part of why all our resume guides advise you to refer closely to the job description as you write! Hitting all the points it asks for is a great way to maximize your chances of beating the ATS and getting to the next stage.
But the keywords aren't the whole story. If your resume has a lot of complex formatting involved, the ATS may struggle to read it properly. Even if you're hitting every beat in the content of your resume, the ATS might still throw it out if it can't understand what you're trying to say.
That's why companies like VisualCV have created a range of ATS resume templates. They're guaranteed to be legible by ATS software, even when they use multi-column layouts or other stylish formatting quirks. With an ATS resume template, you don't have to sacrifice style for the sake of substance – you can have both!
Why Use an ATS Resume Template?
In theory, it's possible to create your own resume with no formatting at all, and guarantee that ATS software will be able to read it. So why should you take the time to choose an ATS resume template? Here are some of the key reasons to find an ATS resume template you love.
Beat the ATS Software
Maybe it goes without saying, but this is definitely the biggest asset of ATS resume templates – so we'll say it again!
ATS software is a real boon for hiring managers, but it can be a nightmare for applicants. Nobody wants to put hours of time and energy into a resume, only to have it thrown out before a human being has even glanced at it. If your resume template isn't optimized for machine reading or online submission, you could be forced to deal with that problem even if you've been careful to include as many key words from the job description as possible.
Fortunately, ATS resume templates avoid this problem. They are specifically built for machine reading, so you can trust that they won't fail at the first hurdle after submission. They make getting past ATS software an absolute breeze – provided, of course, that you put some effort into optimizing the content of your resume on your own.
Benefit from Stylish Formatting
Remember, the ATS is just the beginning of the process. After your resume gets past the software, it will find its way into human hands. At that point, the formatting and style of your resume could become a lot more important.
Making the right formatting choices for your resume is a real skill, and it involves taking into account the norms of both your industry and the company where you want to work. The wrong call could leave hiring managers alienated, even if the content of your resume is top-tier. Choosing the right resume template will eliminate that risk, and let your resume shine at every stage in the process.
And remember, you won't ever have to worry about ATS software if you use a VisualCV resume template! All our templates are professionally designed to be legible by ATS software – even the ones with intricate formatting and complex layouts. You can have the best of both worlds: a resume that can beat ATS software easily and still impress a human hiring manager.
Cover All Bases
Let's face it: resumes can be difficult to write. You need to remember to include a huge amount of information, even before you reach the point of trying to format it correctly. When you're trying to build a resume without a template, it can be all too easy to forget something vital and jeopardize your chances of progressing to the interview stage.
An ATS resume template, on the other hand, is optimized to contain all the information an ATS software package will scan for. It's also built to format that information in clear and legible ways, so you don't need to waste valuable time formatting on your own. The template will steer you in the right direction, so you don't have to worry about missing something in the writing process.
When dealing with ATS software, this is extra important. The ATS will look for specific headers on your resume, and may weed out any resumes that don't contain all the required information. If that's a worry for you, an ATS resume template can set your mind at ease.
Best Industries for an ATS Resume Template
Did you know that 98% of Fortune 500 companies use ATS software to sort through resumes? These large and high-profile companies receive huge numbers of applications for every role they advertise, and will take any opportunity to bring those numbers down before sending the best applications to hiring managers for review. Even outside the Fortune 500, roughly 66% of larger companies also use an ATS.
This means that if you're applying to a larger or more high-profile company, you'll need to use an ATS resume template. Here are just a few of the industries where optimizing your resume for ATS software could benefit you.
Tech
Hoping to work for a high-profile tech company like Apple, Microsoft or Netflix? These companies benefit from their huge public profiles, which means they can afford to be ruthlessly selective when hiring. They're all known to use ATS software to speed the hiring process along, and to ensure that only the top talent moves forward.
Even smaller tech companies are likely to make use of an ATS – so don't take any chances when it comes to your tech resume. An ATS resume template will give you the chance you need to progress to the next stage of hiring.
Finance
Big-name finance companies – banks, insurance companies, and consulting firms alike – are known to use ATS software to make their hiring processes more manageable. Like tech firms, they receive vast numbers of applications for every open position, and many of those applications come from unqualified candidates applying 'just in case.' For these companies, investing in ATS software to filter out those applications is a way to make the hiring process manageable.
So if you're looking to find work in finance, make sure your resume is optimized for an ATS! Particularly when applying to the more high-profile companies in the field, you'll need that competitive advantage.
Healthcare
Even in a highly specialized industry like healthcare, companies like Johnson & Johnson and UnitedHealthGroup receive high numbers of applications with no chance of getting the jobs they want. This can drag out the hiring process, inconveniencing everyone from managers to qualified applicants. To speed up the process for hiring managers, these companies often use ATS software – which means you'll need an ATS resume template to progress.
For anyone hoping to work at a major healthcare provider or pharmaceutical company, an ATS resume template is a must-have. It will make the first step in the hiring process a breeze for you, and give you the peace of mind to prepare for the later stages.
Oil, Gas and Chemicals
Despite the boom in renewable energy sources, there is still a huge amount of money in oil, gas and chemicals. It's an appealing industry for anyone hoping to earn a good, reliable wage – which means that the application process tends to be overcrowded, often with under qualified applicants. Major companies in this well-established field will use ATS software to save time, and to give priority to the most qualified candidates for the job.
If you want to be considered one of those lucky candidates, you'll need an ATS resume template. It will ensure that the ATS can process your resume effectively, and get your resume into human hands much more reliably.
Our Favorite ATS Resume Templates
If you've decided that an ATS resume template is right for you, great! But choosing the right one can be tricky in its own right. To get you started, here are a few of our favorites.
Remember, all of VisualCV's resume templates are designed by professionals and capable of getting past ATS software. They're also heavily customizable, so you can make each design your own! Take a look through our template catalog and choose the design that suits you best.
ATS
This straightforward resume template balances ATS legibility with classic, traditional style. Its single-column layout makes it easy for software and hiring managers alike to skim through quickly and easily, while its font choices and section dividers ensure that it still feels purposefully designed. If you're worried about a more complex layout getting caught in the ATS software, this is the layout to go with!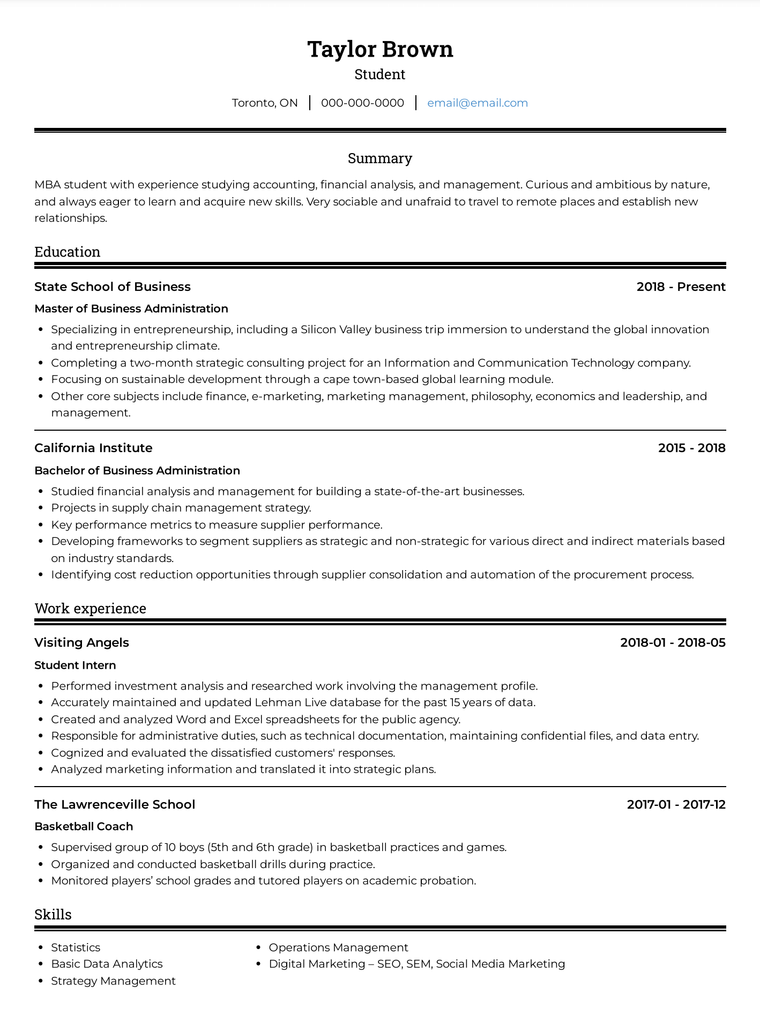 VisualCV's ATS resume template
Corporate
A two-column template prioritizing text content over images and design, Corporate adds a touch of style and elegance to a simple, legible resume format. It ensures that the ATS software won't be confused by an excessive amount of images, while still providing a sleek and streamlined look that will impress any hiring manager – particularly at the type of high-profile company that typically uses an ATS.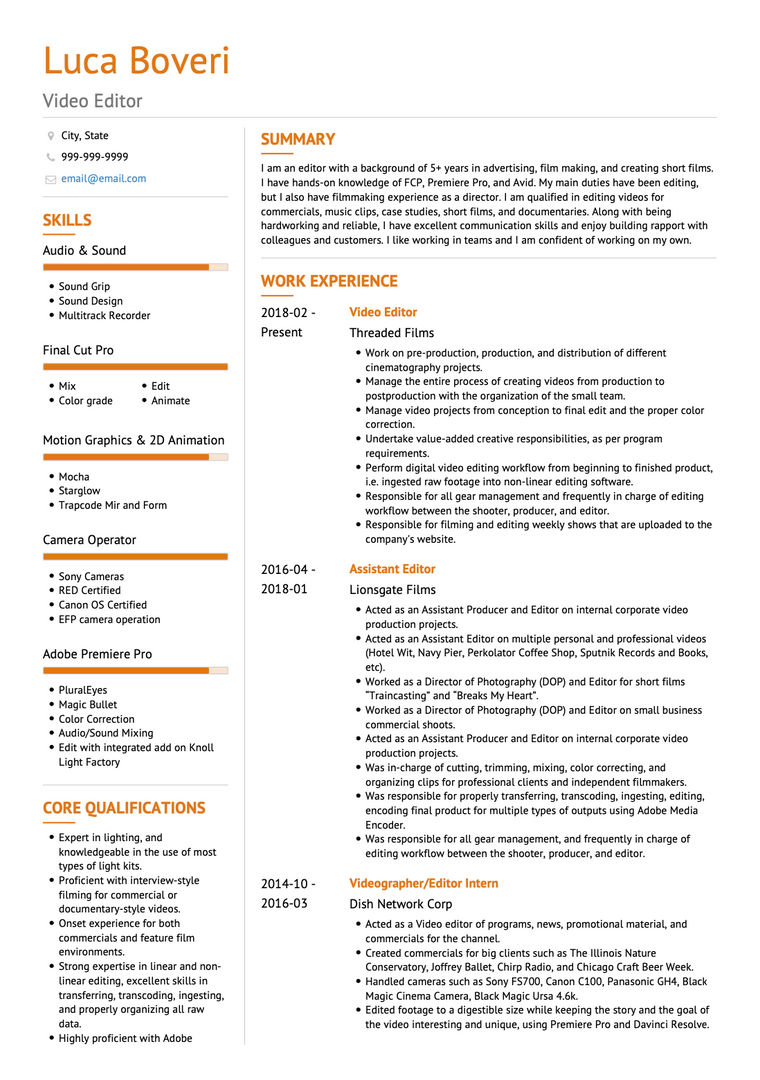 VisualCV's Corporate resume template
Monte
Monte offers a single-column format with a classic, text-led design. It's simple, clean and professional, without unnecessary graphics or images – so if you're worried about your resume making it past the ATS, you can rest easy when using this template. And once it reaches a hiring manager, the font choices and the touches of understated color will ensure that it makes a great impression.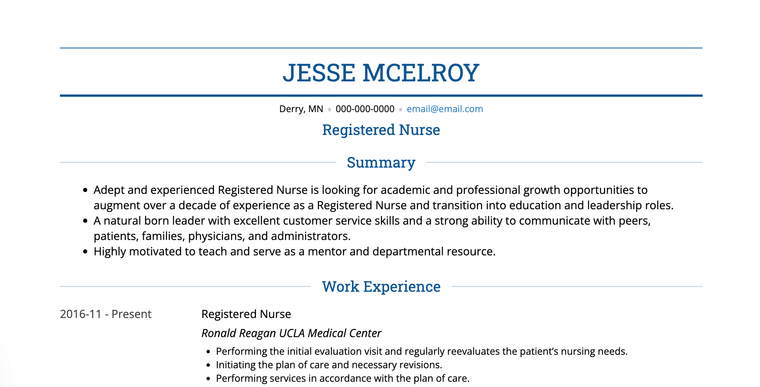 VisualCV's Monte resume template
Standard
This classic, elegant resume template makes expert use of the traditional single-column format. It offers space for a photo of yourself in the header, allowing you to personalize your resume without interrupting the crucial body of the text and confusing an ATS. Likewise, the stylish font and formatting choices used in this streamlined and professional template will be sure to catch a hiring manager's eye.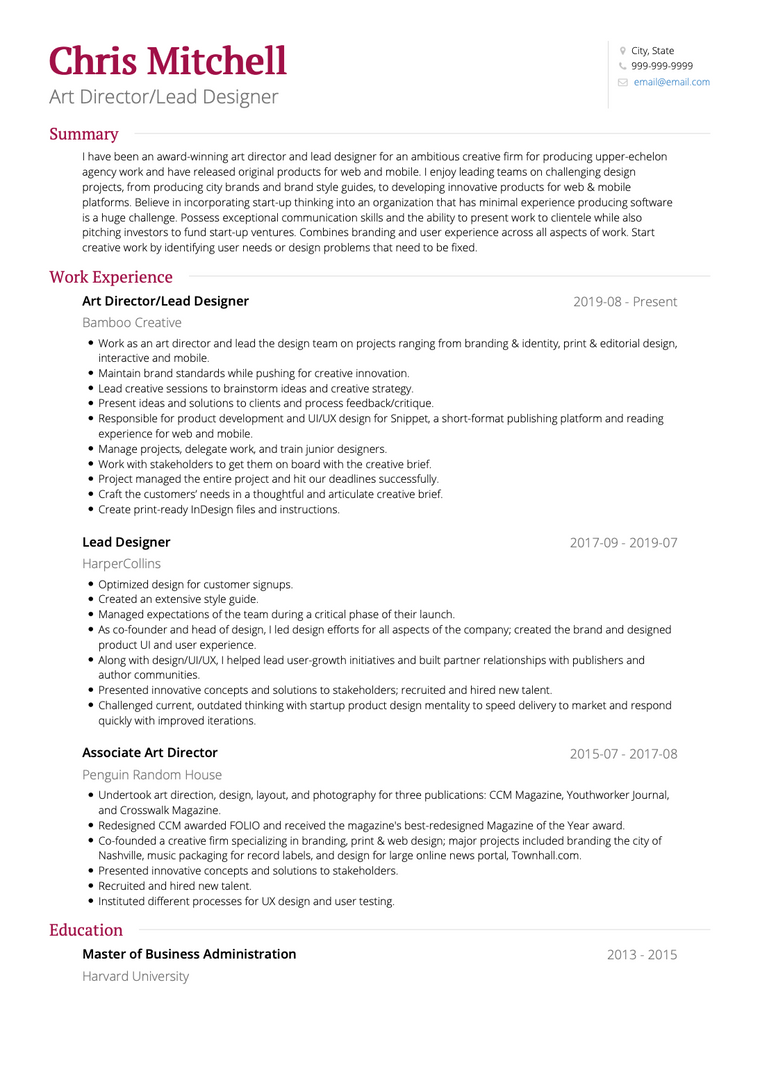 VisualCV's Standard resume template
Vienna
Vienna is a minimalist, understated two-column template with no intrusive graphics or design features. Its elegant font choices and stripped-down layout will make a fantastic impression on a hiring manager, as will its customizable colors. Meanwhile, the text-led design of this resume template will ensure that an ATS software package can find everything it needs when it scans through your resume.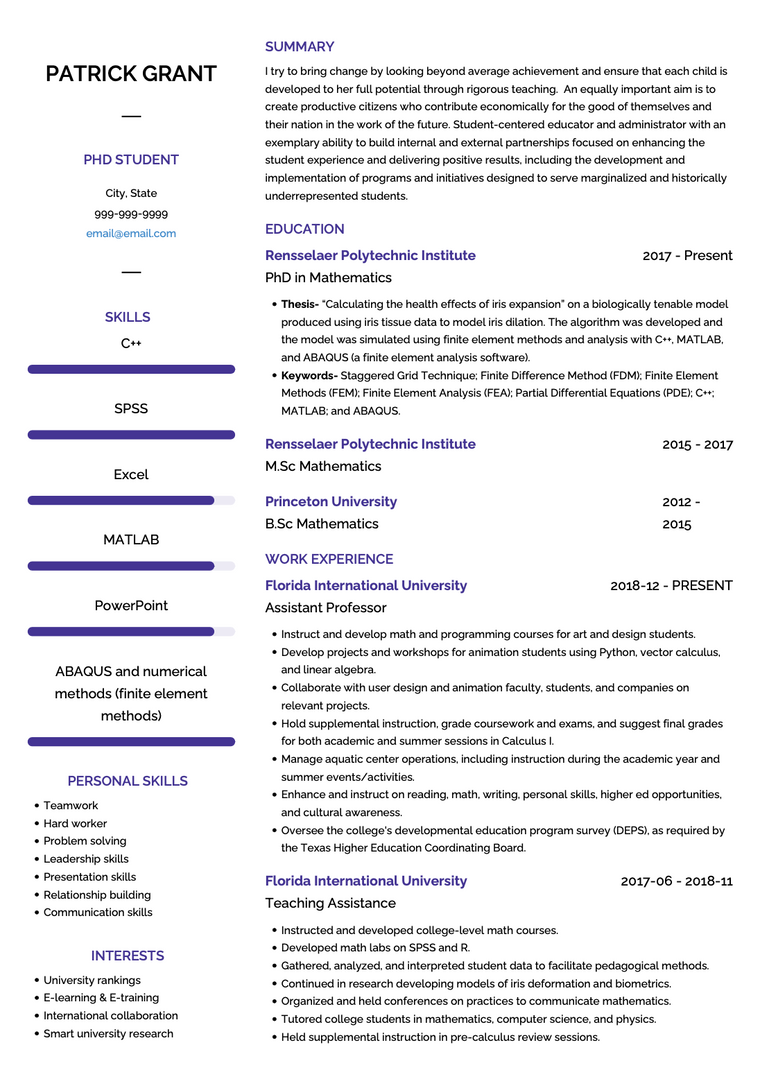 VisualCV's Vienna resume template