Your summary is a vital part of your resume. In most circumstances, it will be your first introduction to the company where you want to work. In some cases, it may even be the only part of your resume that a hiring manager will read in any detail!
That's why it needs to make a killer first impression. But getting a summary right can be notoriously difficult. You'll need to know exactly what your prospective employer wants to see in a candidate, then encapsulate it all in a concise and punchy statement about you.
To get you started as you work on your own summary, here are some resume summary examples. Read on for some great ideas on how to make your own summary sing!
General Resume Summary Examples
These examples aren't specific to any particular industry. They're designed to give you a sense of how to structure a summary for a type of role—whether it's management, entry-level, or just your first role in a new field.
Resume Summary for Managers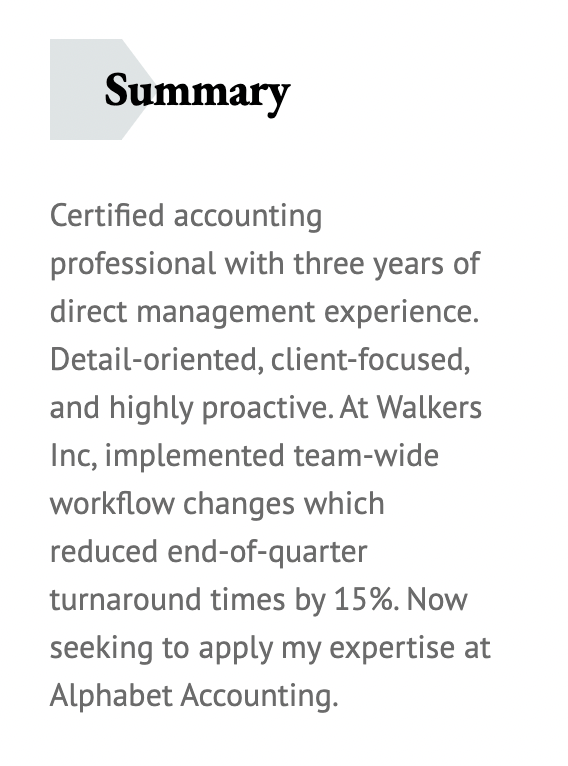 Certified accounting professional with three years of direct management experience. Detail-oriented, client-focused, and highly proactive. At Walkers Inc, implemented team-wide workflow changes which reduced end-of-quarter turnaround times by 15%. Now seeking to apply my expertise at Alphabet Accounting.
Why it Works: This example leads with its strongest asset—the candidate's management experience, which is obviously crucial for a management role! But it doesn't ignore the specific achievements that the candidate previously accomplished as a manager. It provides clear, verifiable figures, quantifying those achievements so that a hiring manager can see how effective the candidate has been in similar roles.
Resume Summary for Entry-Level Roles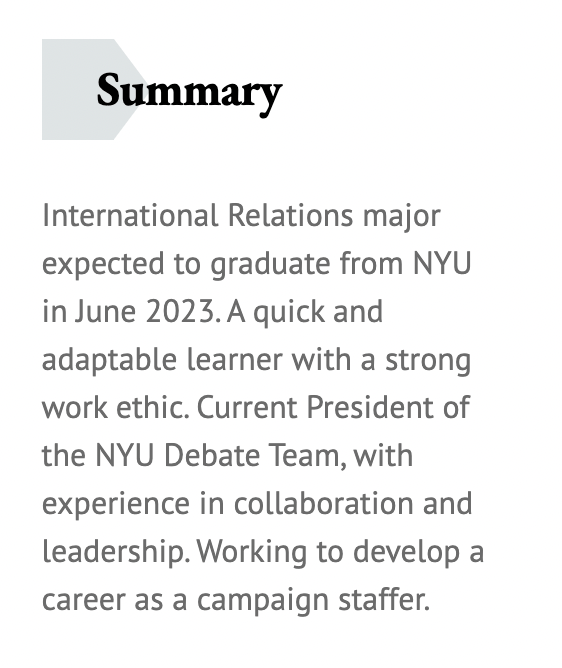 International Relations major expected to graduate from NYU in June 2023. A quick and adaptable learner with a strong work ethic. Current President of the NYU Debate Team, with experience in collaboration and leadership. Working to develop a career as a campaign staffer.
Why it Works: This candidate is applying for an entry-level role, and doesn't have a lot of direct work experience to draw on. As such, this example refers heavily to the candidate's academic record—as well as their extracurricular activities, which demonstrate the qualities they will need to thrive in the role they want. Crucially, the candidate also includes an objective statement, allowing the hiring manager to see that they have a long-term plan for their career.
Resume Summary for Senior Roles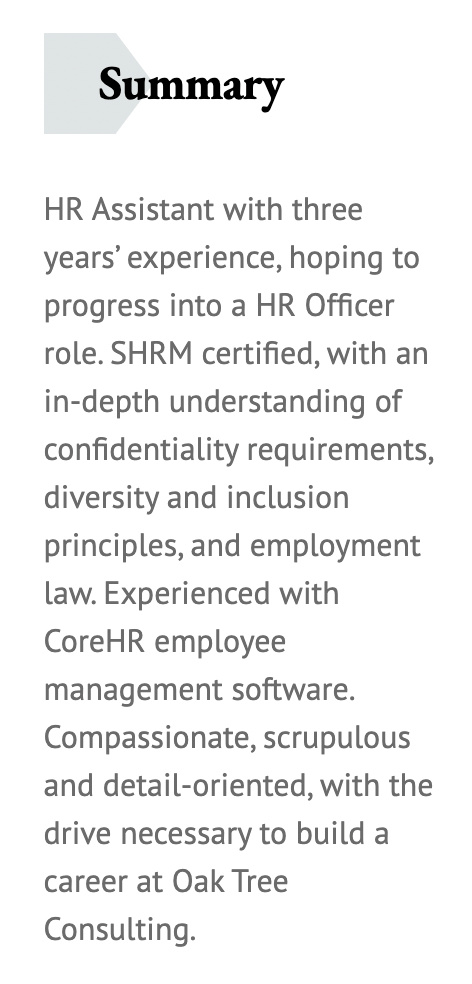 HR Assistant with three years' experience, hoping to progress into a HR Officer role. SHRM certified, with an in-depth understanding of confidentiality requirements, diversity and inclusion principles, and employment law. Experienced with CoreHR employee management software. Compassionate, scrupulous and detail-oriented, with the drive necessary to build a career at Oak Tree Consulting.
Why it Works: This candidate has previous experience in their field, and is hoping to progress into a more senior role. As such, they've focused entirely on their relevant experience and qualifications—including their professional certification, which a hiring manager will view as a real asset. They've also drawn on the skills they've built in their previous, more junior role, establishing the new role as a natural progression in their career.
Resume Summary for Creative Roles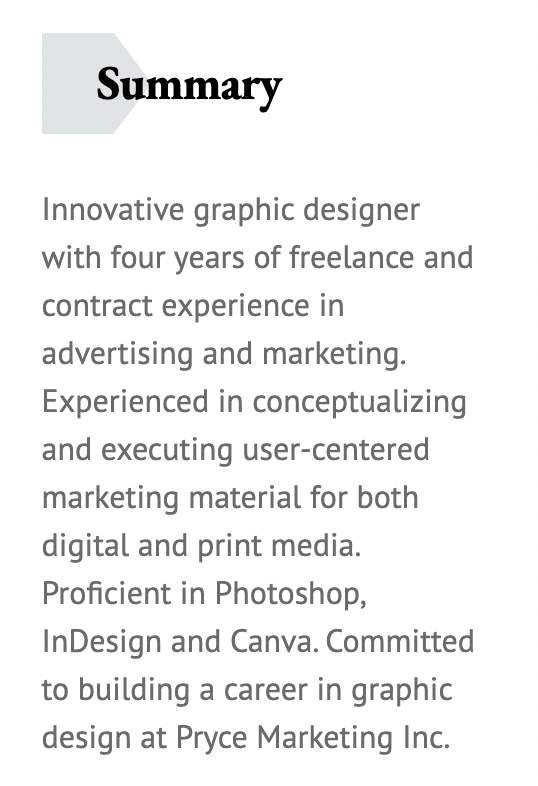 Innovative graphic designer with four years of freelance and contract experience in advertising and marketing. Experienced in conceptualizing and executing user-centered marketing material for both digital and print media. Proficient in Photoshop, InDesign and Canva. Committed to building a career in graphic design at Pryce Marketing Inc.
Why it Works: The role may be creative, but the summary still needs to be focused! This candidate has specified exactly where their experience lies, including their software proficiencies and the kinds of design work they have taken on in the past. The summary offers a hiring manager a clear picture of their work history and skill profile.
Resume Summary for a Career Change
Former nurse with ten years of experience, now seeking to build a career as an executive assistant. Scrupulously attentive to fine detail, with experience delivering great customer service while managing strict deadlines and competing needs. Familiar with confidentiality requirements and legally-mandated record-keeping.
Why it Works: A career change resume can be daunting—but as you can see in this example, drawing parallels between your past experience and your planned new career is a great way to approach it! This candidate has compared the skills and experience they acquired as a nurse to the requirements of the executive assistant job description, and flagged up the most important ways in which they intersect.
Resume Summary for College Graduates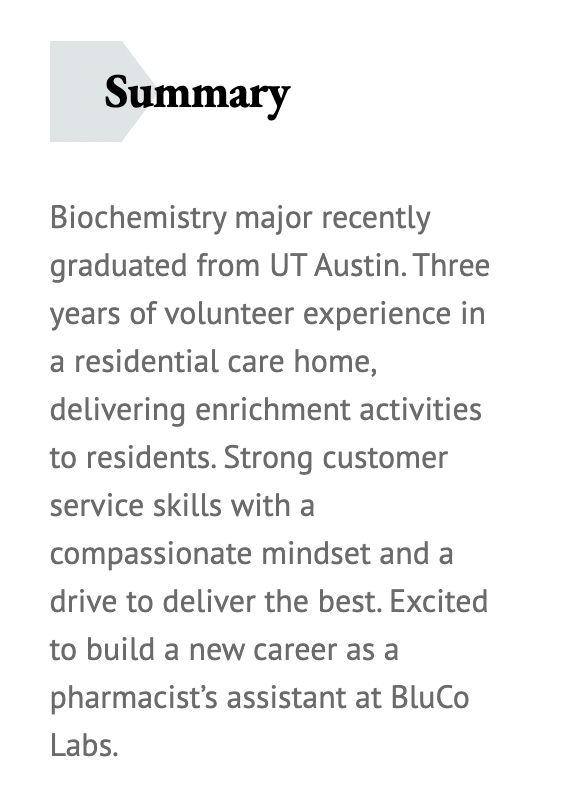 Biochemistry major recently graduated from UT Austin. Three years of volunteer experience in a residential care home, delivering enrichment activities to residents. Strong customer service skills with a compassionate mindset and a drive to deliver the best. Excited to build a new career as a pharmacist's assistant at BluCo Labs.
Why it Works: As a college graduate, this candidate doesn't have the most direct work experience. However, they do have a brand new degree, which they've led with as their strongest asset in their summary. They've also incorporated relevant volunteering experience, to show their commitment to getting a good start in their chosen career.
Resume Summary for High School Students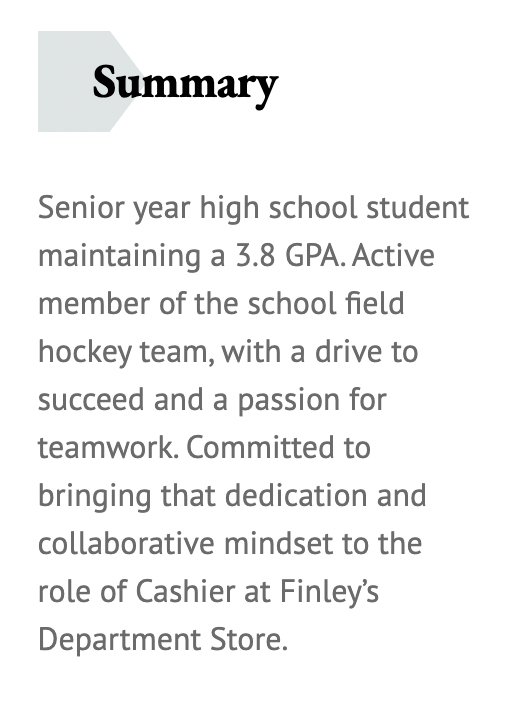 Senior year high school student maintaining a 3.8 GPA. Active member of the school field hockey team, with a drive to succeed and a passion for teamwork. Committed to bringing that dedication and collaborative mindset to the role of Cashier at Finley's Department Store.
Why it Works: Much like previous examples in which the candidate has lacked work experience, this example foregrounds the other experience the candidate has accrued instead. By focusing on the candidate's high educational standards and commitment to extracurricular activities, this summary paints a picture of a driven and motivated young person excited to enter the workforce.
Resume Summary for Internships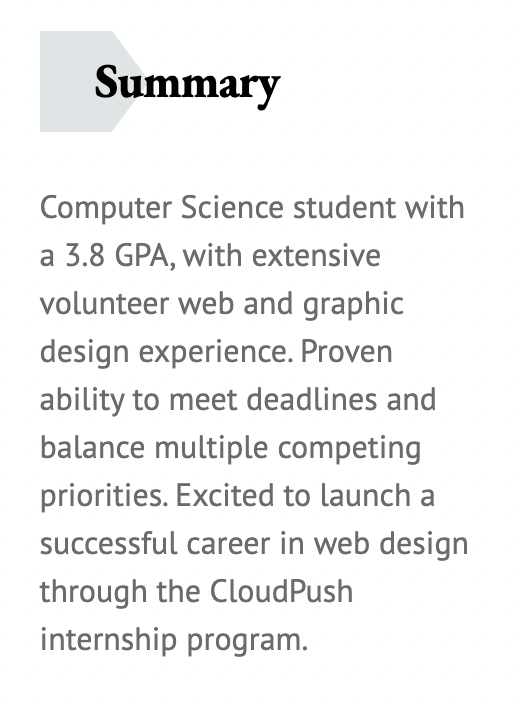 Computer Science student with a 3.8 GPA, with extensive volunteer web and graphic design experience. Proven ability to meet deadlines and balance multiple competing priorities. Excited to launch a successful career in web design through the CloudPush internship program.
Why it Works: Most internship applicants are still in school, which is why the bulk of this candidate's summary refers to their education. However, it also points out the ways in which the candidate is a self-starter, by flagging up their volunteer experience. Interns need to be driven and self-motivated to get the most out of an internship, and this summary makes sure the hiring manager sees that right away.
Resume Summary for Freelance Work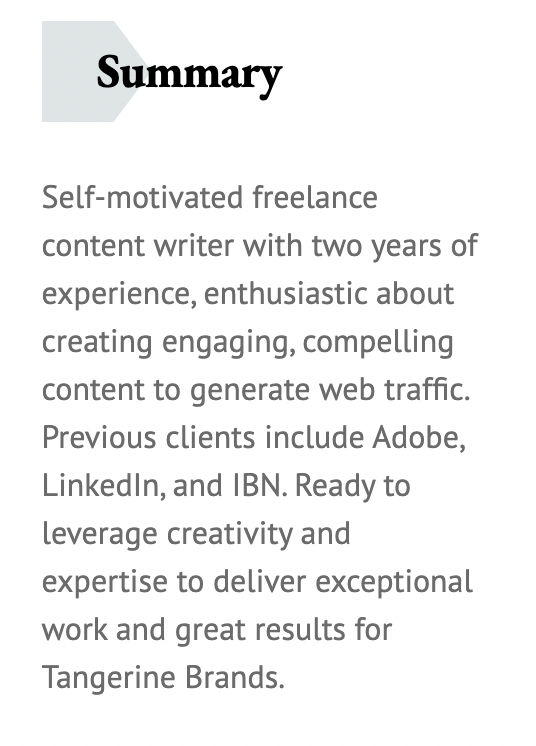 Self-motivated freelance content writer with two years of experience, enthusiastic about creating engaging, compelling content to generate web traffic. Previous clients include Adobe, LinkedIn, and IBN. Ready to leverage creativity and expertise to deliver exceptional work and great results for Tangerine Brands.
Why it Works: The strength of a freelancer is often measured in the clients they've worked for in the past—which is why this candidate has dropped the biggest names in their portfolio here! This example also makes it clear exactly what kind of freelance work the candidate can do (in this case, content writing).
Resume Summary for Part-Time Work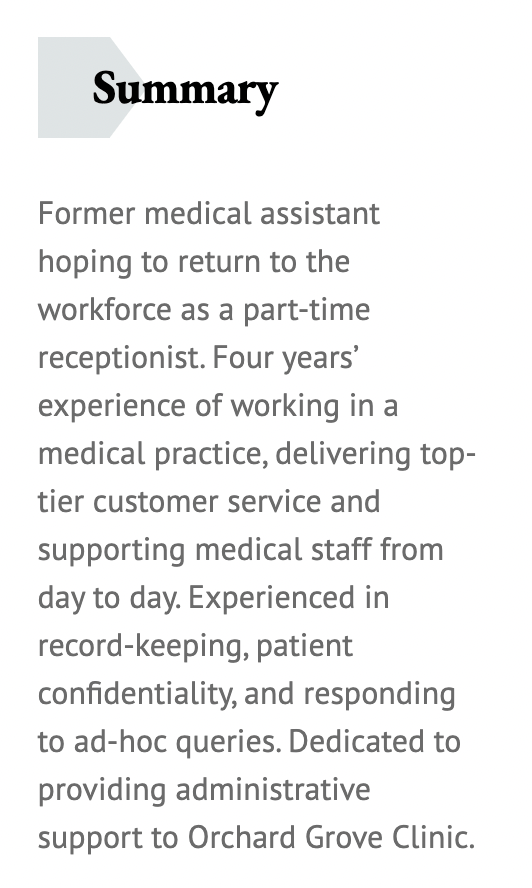 Former medical assistant hoping to return to the workforce as a part-time receptionist. Four years' experience of working in a medical practice, delivering top-tier customer service and supporting medical staff from day to day. Experienced in record-keeping, patient confidentiality, and responding to ad-hoc queries. Dedicated to providing administrative support to Orchard Grove Clinic.
Why it Works: This candidate has drawn on previous experience in a similar environment to show exactly why they are qualified for the part-time role they want. They haven't treated the stakes of the part-time role as any lower than those of their previous full-time work! Instead, they've made this new role seem like a natural next step in their career journey.
Service Job Resume Summary Examples
Bartender Resume Summary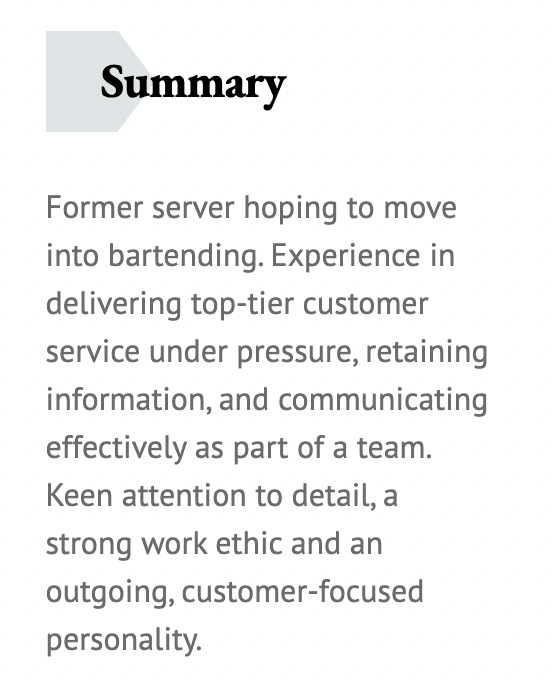 Former server hoping to move into bartending. Experience in delivering top-tier customer service under pressure, retaining information, and communicating effectively as part of a team. Keen attention to detail, a strong work ethic and an outgoing, customer-focused personality.
Porter Resume Summary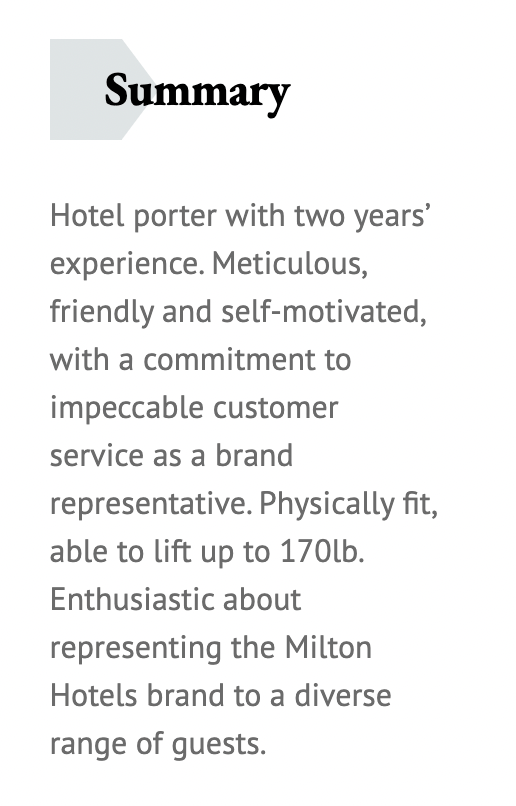 Hotel porter with two years' experience. Meticulous, friendly and self-motivated, with a commitment to impeccable customer service as a brand representative. Physically fit, able to lift up to 170lb. Enthusiastic about representing the Milton Hotels brand to a diverse range of guests.
Cleaner Resume Summary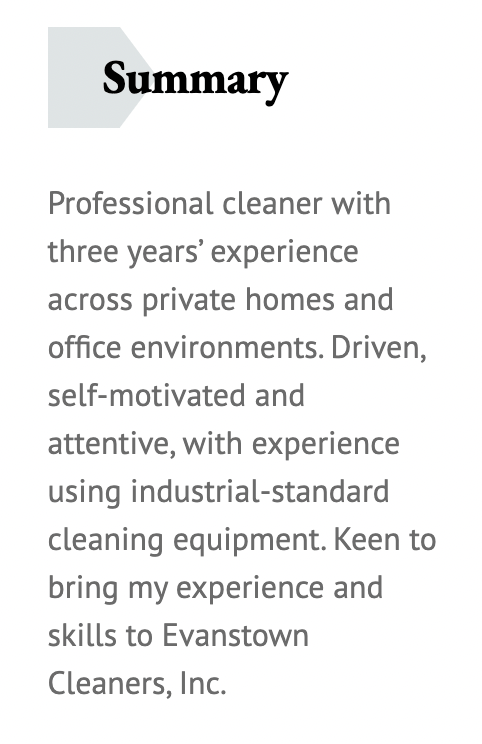 Professional cleaner with three years' experience across private homes and office environments. Driven, self-motivated and attentive, with experience using industrial-standard cleaning equipment. Keen to bring my experience and skills to Evanstown Cleaners, Inc.
Medical Job Resume Summary Examples
Doctor Resume Summary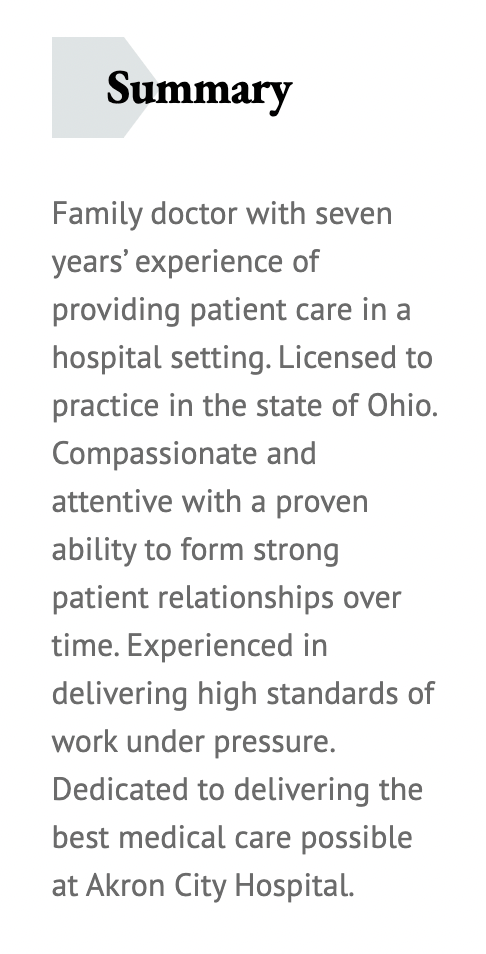 Family doctor with seven years' experience of providing patient care in a hospital setting. Licensed to practice in the state of Ohio. Compassionate and attentive with a proven ability to form strong patient relationships over time. Experienced in delivering high standards of work under pressure. Dedicated to delivering the best medical care possible at Akron City Hospital.
Pharmacist Resume Summary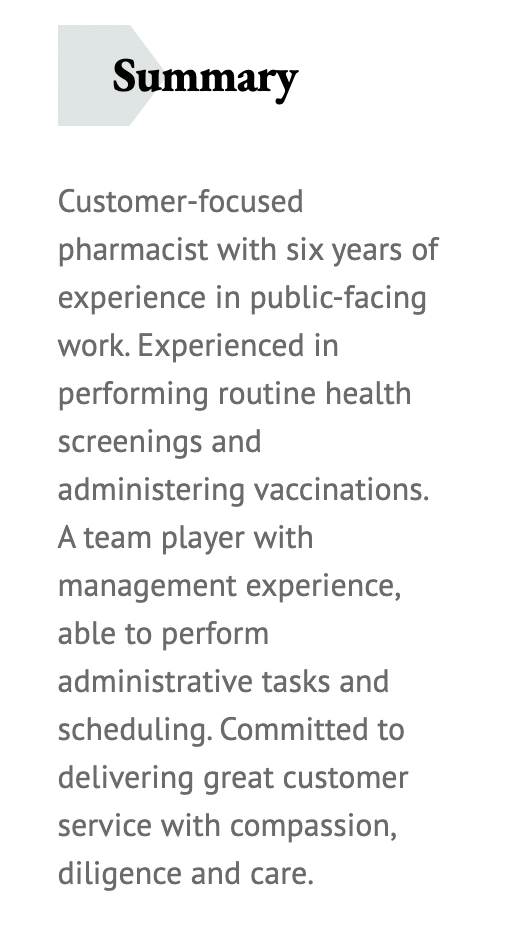 Customer-focused pharmacist with six years of experience in public-facing work. Experienced in performing routine health screenings and administering vaccinations. A team player with management experience, able to perform administrative tasks and scheduling. Committed to delivering great customer service with compassion, diligence and care.
Medical Receptionist Resume Summary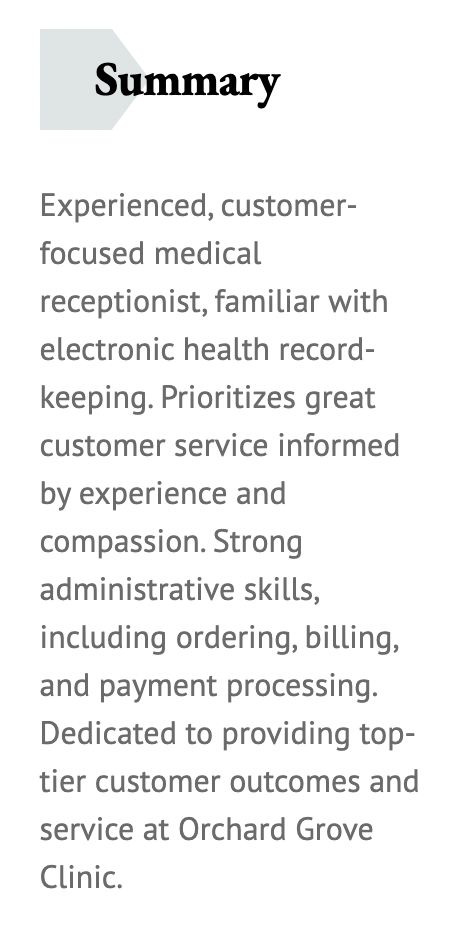 Experienced, customer-focused medical receptionist, familiar with electronic health record-keeping. Prioritizes great customer service informed by experience and compassion. Strong administrative skills, including ordering, billing, and payment processing. Dedicated to providing top-tier customer outcomes and service at Orchard Grove Clinic.
Medical Technologist Resume Summary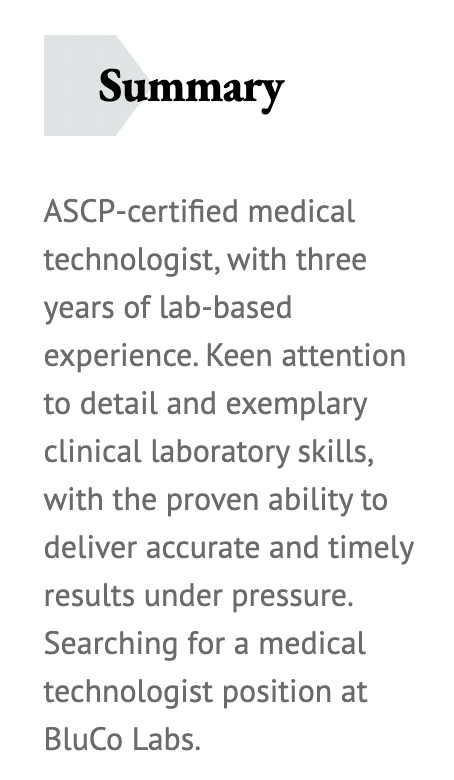 ASCP-certified medical technologist, with three years of lab-based experience. Keen attention to detail and exemplary clinical laboratory skills, with the proven ability to deliver accurate and timely results under pressure. Searching for a medical technologist position at BluCo Labs.
Academic Job Resume Summary Examples
Adjunct Professor Resume Summary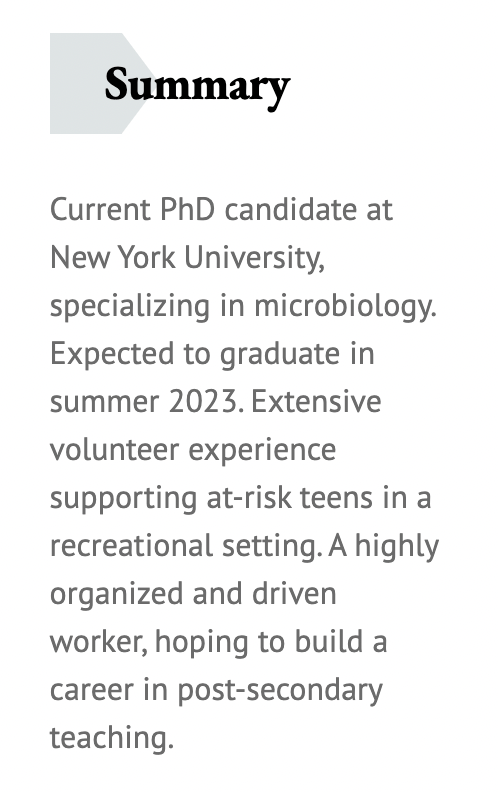 Current PhD candidate at New York University, specializing in microbiology. Expected to graduate in summer 2023. Extensive volunteer experience supporting at-risk teens in a recreational setting. A highly organized and driven worker, hoping to build a career in post-secondary teaching.
Teaching Assistant Resume Summary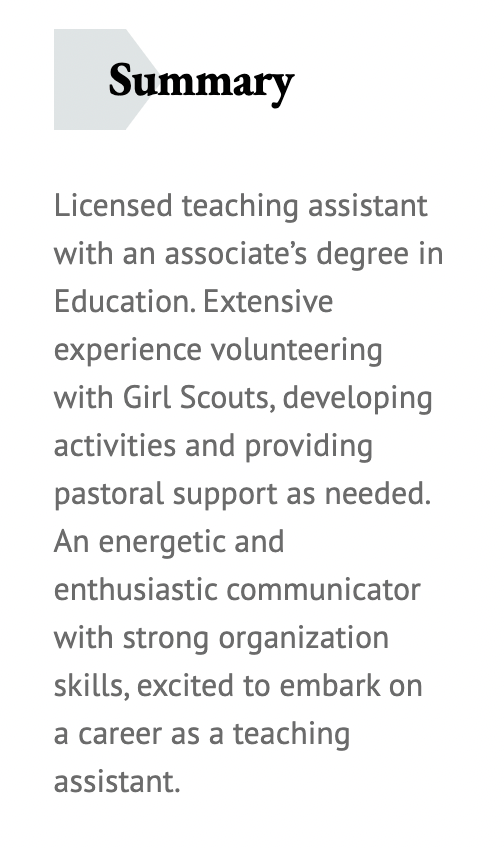 Licensed teaching assistant with an associate's degree in Education. Extensive experience volunteering with Girl Scouts, developing activities and providing pastoral support as needed. An energetic and enthusiastic communicator with strong organization skills, excited to embark on a career as a teaching assistant.
Administrative Job Resume Summary Examples
Personal Assistant Resume Summary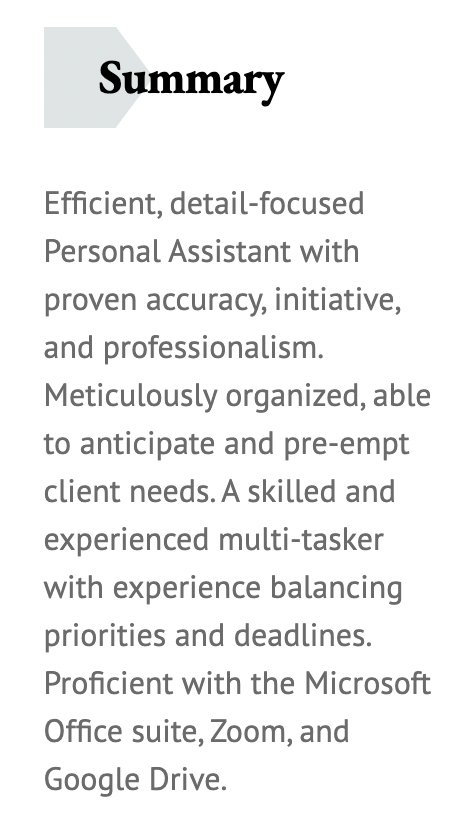 Efficient, detail-focused Personal Assistant with proven accuracy, initiative, and professionalism. Meticulously organized, able to anticipate and pre-empt client needs. A skilled and experienced multi-tasker with experience balancing priorities and deadlines. Proficient with the Microsoft Office suite, Zoom, and Google Drive.
Administrative Assistant Resume Summary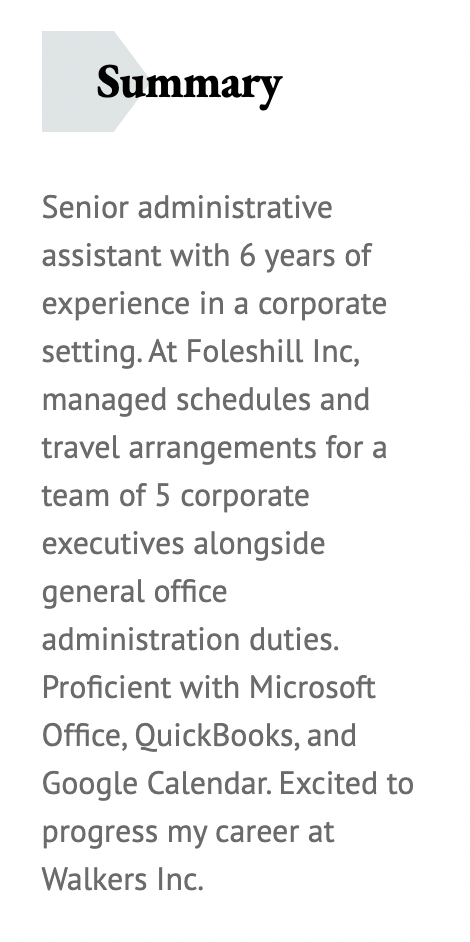 Senior administrative assistant with 6 years of experience in a corporate setting. At Foleshill Inc, managed schedules and travel arrangements for a team of 5 corporate executives alongside general office administration duties. Proficient with Microsoft Office, QuickBooks, and Google Calendar. Excited to progress my career at Walkers Inc.
Tech Job Resume Summary Examples
Cyber Security Specialist Resume Summary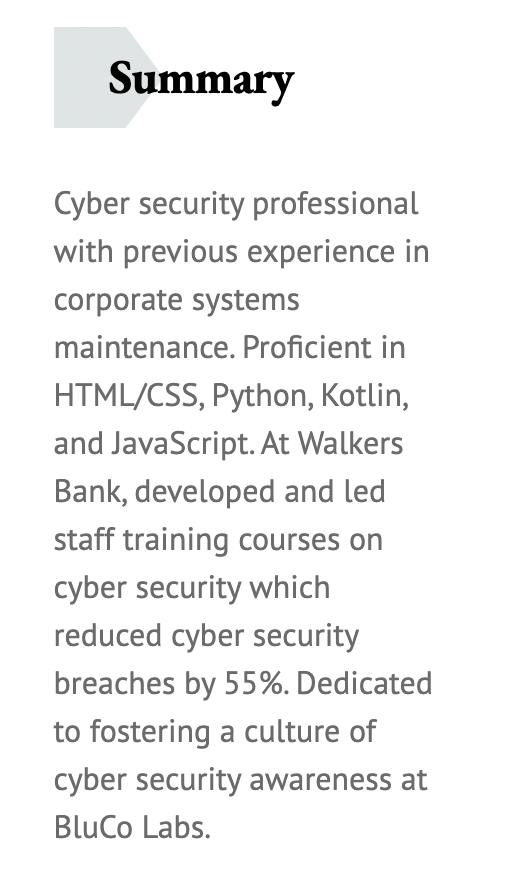 Cyber security professional with previous experience in corporate systems maintenance. Proficient in HTML/CSS, Python, Kotlin, and JavaScript. At Walkers Bank, developed and led staff training courses on cyber security which reduced cyber security breaches by 55%. Dedicated to fostering a culture of cyber security awareness at BluCo Labs.
Web Designer Resume Summary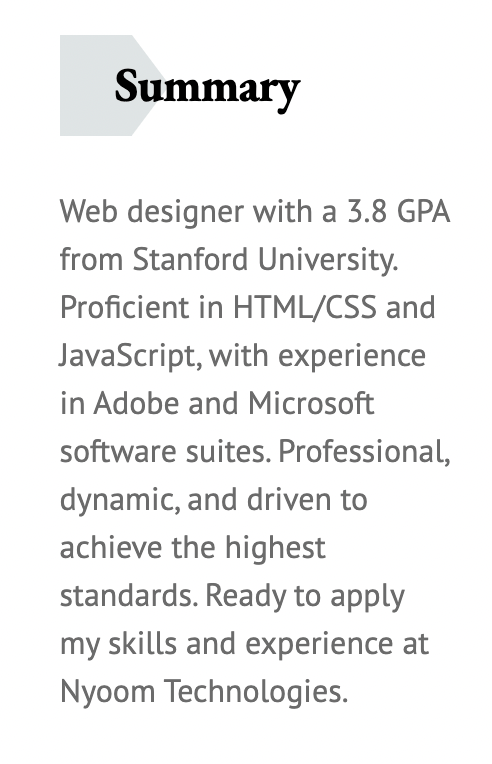 Web designer with a 3.8 GPA from Stanford University. Proficient in HTML/CSS and JavaScript, with experience in Adobe and Microsoft software suites. Professional, dynamic, and driven to achieve the highest standards. Ready to apply my skills and experience at Nyoom Technologies.
Programmer Resume Summary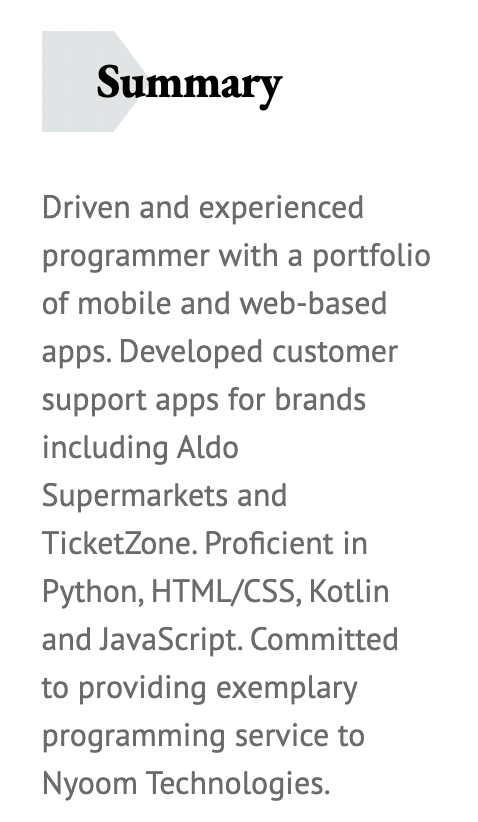 Driven and experienced programmer with a portfolio of mobile and web-based apps. Developed customer support apps for brands including Aldo Supermarkets and TicketZone. Proficient in Python, HTML/CSS, Kotlin and JavaScript. Committed to providing exemplary programming service to Nyoom Technologies.
Entertainment Job Resume Summary Examples
Production Assistant Resume Summary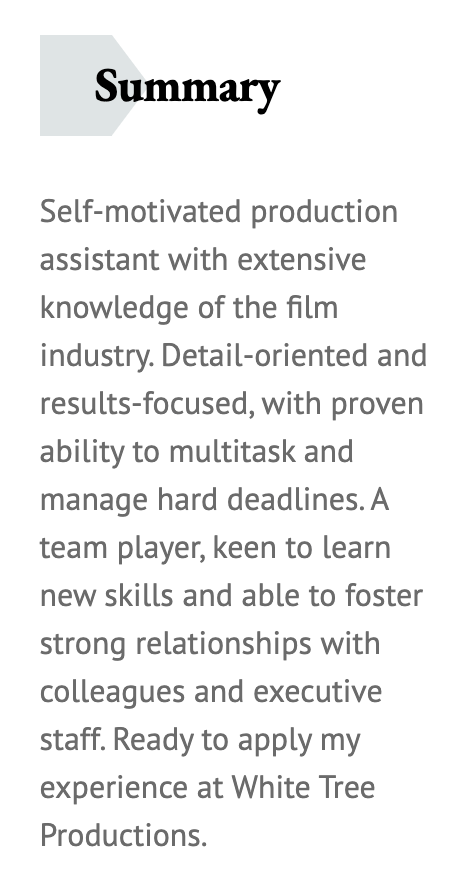 Self-motivated production assistant with extensive knowledge of the film industry. Detail-oriented and results-focused, with proven ability to multitask and manage hard deadlines. A team player, keen to learn new skills and able to foster strong relationships with colleagues and executive staff. Ready to apply my experience at White Tree Productions.
Talent Agent Resume Summary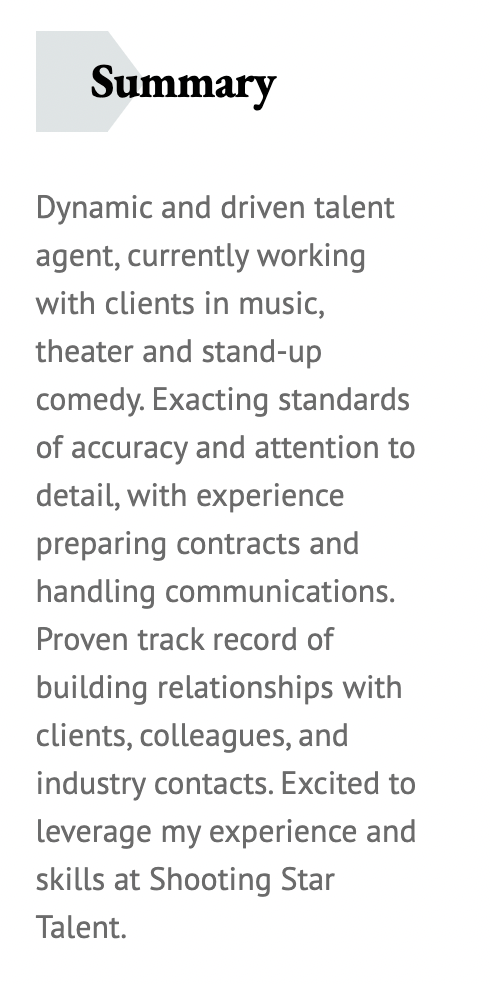 Dynamic and driven talent agent, currently working with clients in music, theater and stand-up comedy. Exacting standards of accuracy and attention to detail, with experience preparing contracts and handling communications. Proven track record of building relationships with clients, colleagues, and industry contacts. Excited to leverage my experience and skills at Shooting Star Talent.
Sound Engineer Resume Summary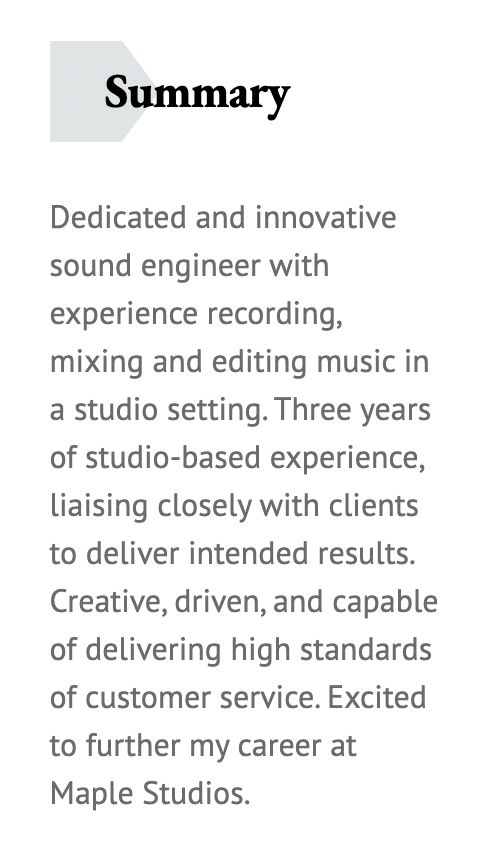 Dedicated and innovative sound engineer with experience recording, mixing and editing music in a studio setting. Three years of studio-based experience, liaising closely with clients to deliver intended results. Creative, driven, and capable of delivering high standards of customer service. Excited to further my career at Maple Studios.
Marketing Job Resume Summary Examples
Brand Manager Resume Summary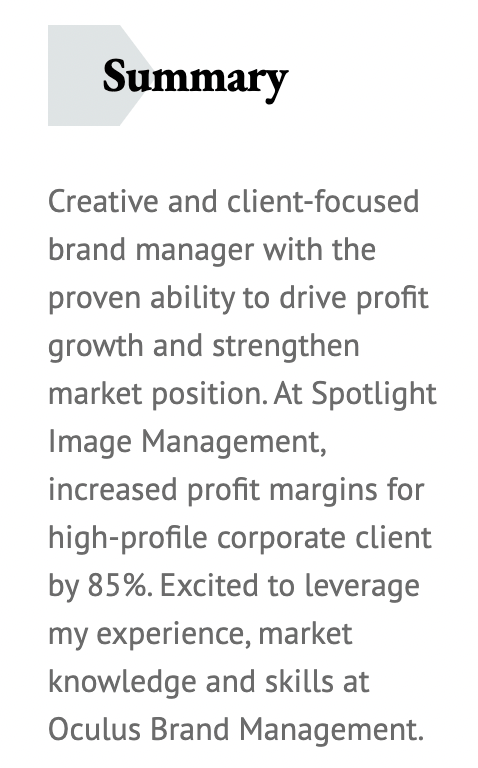 Creative and client-focused brand manager with the proven ability to drive profit growth and strengthen market position. At Spotlight Image Management, increased profit margins for high-profile corporate client by 85%. Excited to leverage my experience, market knowledge and skills at Oculus Brand Management.
Public Relations Specialist Resume Summary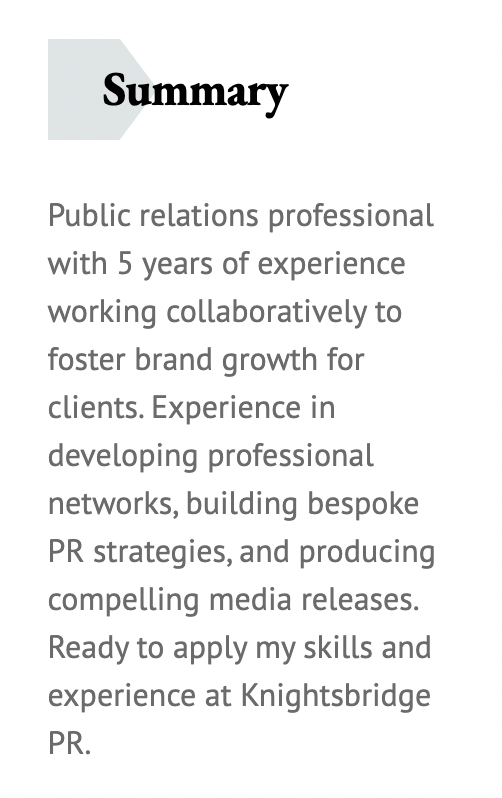 Public relations professional with 5 years of experience working collaboratively to foster brand growth for clients. Experience in developing professional networks, building bespoke PR strategies, and producing compelling media releases. Ready to apply my skills and experience at Knightsbridge PR.
Graphic Designer Resume Summary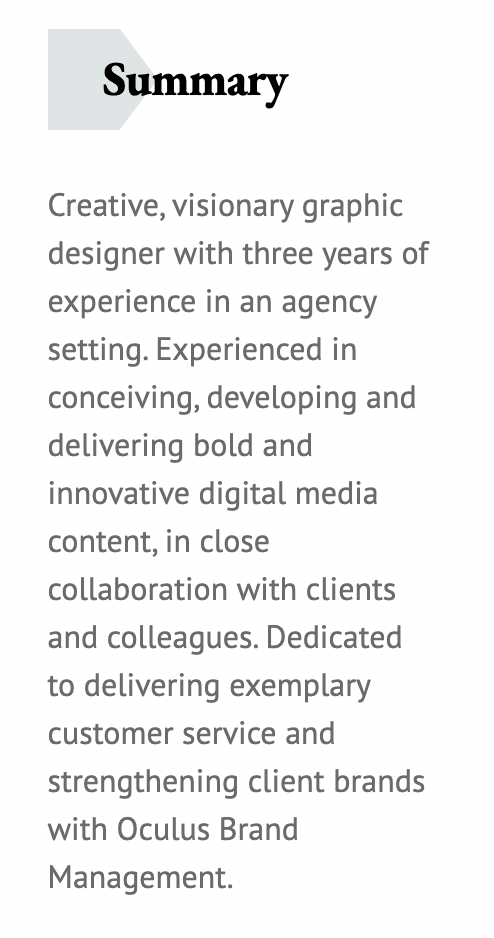 Creative, visionary graphic designer with three years of experience in an agency setting. Experienced in conceiving, developing and delivering bold and innovative digital media content, in close collaboration with clients and colleagues. Dedicated to delivering exemplary customer service and strengthening client brands with Oculus Brand Management.