Overview
"You are self-employed! I don't get why you would need to work on a resume!"
How many times have you heard your peers asking you this question? How often do you get frustrated at them because they just don't understand?
Well, you have done the right thing, looking for the best self-employed resume sample on the web. Even professionals like you need a resume (actually, a standout resume!). It's quite likely you just want to know your worth in today's market or perhaps you want to send out a few resume to see if you could get a once-in-a-lifetime call that might change your mind regarding your future.
We have helped thousands of entrepreneurs like you probe the market and see if it's worth staying in their position as a self-employed or if they actually want to take the leap. Let us inspire you, as well, with the most effective self-employed resume sample you could think of: we are ready to start building your future!
Also, check out our collection of 500+ resume samples.
You are or have been the mastermind behind the creation of your business: you do not know what fear feels like! You have an outstanding amount of talents, from conceptualizing organizational operations, budgets and branding to implementing them through careful feedback and research. You have had stellar ideas and you most likely have outstanding leadership and motivational skills...and don't forget about your exceptional problem-solving skills!
As a business innovator, you have so many different and desirable strengths and your biggest challenge in creating a strong resume is to remain concise.
One of the first steps you should take is to format the resume so that your strengths are highlighted, along with your best achievements.
Ensure clear layouts are used to make sure the recruiters keep on scrolling down: white space and legible fonts make for easy reading and give the recruiters' eyes a rest
Last but not least, make sure you save your resume as a .pdf.
We won't have anything against you, Microsoft, but the Word formatting can sometimes be an issue whereas a .pdf is set in carbonite.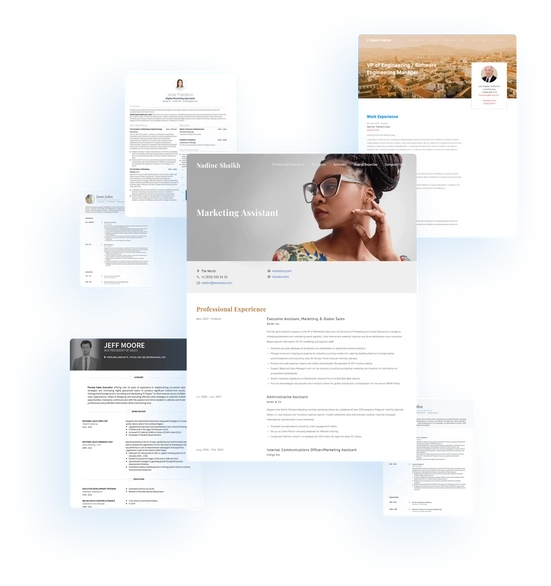 How to Write a Self Employed Resume?
To write a professional Self Employed resume, follow these steps:
Select the right Self Employed resume template.
Write a professional summary at the top explaining your Self Employed's experience and achievements.
Follow the STAR method while writing your Self Employed resume's work experience. Show what you were responsible for and what you achieved as a Self Employed professional.
List your top Self Employed skills in a separate skills section.
Write the perfect Self Employed resume header by:
Adding your full name at the top of the header.
Add a photo to your resume if you are applying for jobs outside of the US. For applying to jobs within the US, avoid adding photo to your resume header.
Add your current Self Employed to the header to show relevance.
Add your current city, your phone number and a professional email address.
Finally, add a link to your portfolio to the Self Employed resume header. If there's no portfolio link to add, consider adding a link to your LinkedIn profile instead.
Deon 696 Rock Maple St. South Lyon, MI 48178 Marital Status: Married, email: cooldude2022@gmail.com
Deon Nguyen, Lyon, MI, Phone number: +1-555-555-5555, Link: linkedin/in/johndoe
Make sure to add a professional looking email address while writing your resume header. Let's assume your name is John Doe - here is a formula you can use to create email addresses:
firstnamelastname@email.com - johndoe@email.com
firstname.lastname@email.com - john.doe@email.com
lastname.firstname@email.com - doe.john@email.com
f.lastname@email.com - j.doe@email.com
l.firstname@email.com - d.john@email.com
firstnamelastname12@email.com - johndoe12@email.com
For a Self Employed email, we recommend you either go with a custom domain name (john@johndoe.com) or select a very reputed email provider (Gmail or Outlook).
The Self Employed Resume Summary Section
Summaries don't sound the most appealing or even necessary elements of a resume and yet they are needed. Most times recruiters don't have the time to read every single detail of your resume and all they want is summaries. Make sure you captivate them with your most impressive business achievements and your excellent and unrivaled networking ability.
There are one or two tips from us to help you today:
DO (Summarize your employment)
Keep the list of your skills short.
Ensure you highlight one or two important skills above the others.
Use numbers, percentages and figures to demonstrate measurable success
DON'T (Summarize your life)
Try to be too funny, this is a professional resume
Use a smart or pompous tone in the summary.
Talk as if you are better than the recruiter.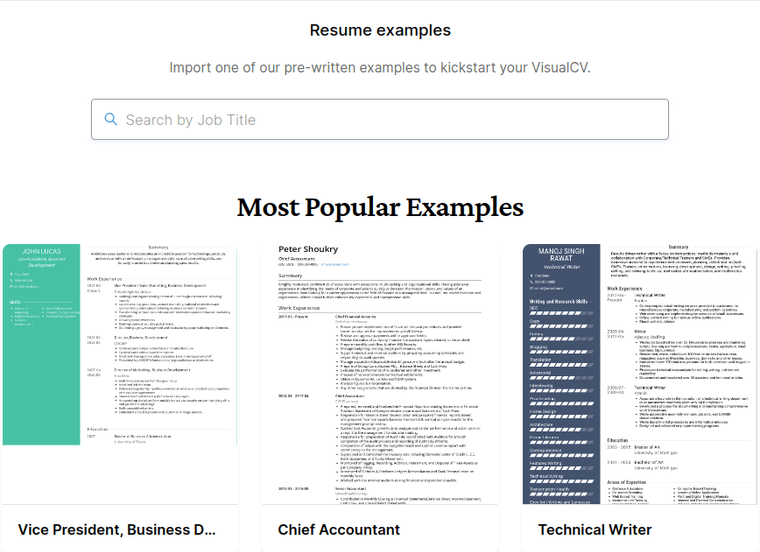 Self Employed Resume Examples - Summary
Owner - Self Employed Resume Sample - Summary
Highly motivated, articulate, creative and versatile sales professional with several years of technology sales management experience and an entrepreneurial flair. Especially skilled at building productive working relationships with clients and staff. Adept at developing effective tactics to execute long-term results in the most efficient means possible.
Self Employed Resume Example - Summary
A highly resourceful general management and marketing communications professional with years of experience in strategic planning, improving operational efficiency, building and managing teams across multiple departments, financial management, and project management.
Work Experience
This section might get tricky - you have had a couple (or more!) of experiences working on your own business. The biggest mistake you could do is to say something like: "That business didn't do that well, I should not include it".
That is so wrong - as a self-employed, you have worn so many hats that it does not really matter if you have failed, because you will never really fail as long as you have learnt from something. We suggest you list any experience you have had, as an entrepreneur and even any previous one as an employee. Show your future employer your level of experience and be as detailed as possible!
Self Employed Resume Examples - Work Experience
Owner, Self Employed Resume - Work Experience
Owner
Guiding SMEs to break through growth barriers via Sales and Marketing strategies.
Coaching business owners and professionals to boost revenue, attract new customers, and optimize marketing spending.
Developing competitive business and pricing models. Create motivational workshops that increase collaboration and growth.
Self Employed Resume - Work Experience
Self Employed
Preparing individual and sole proprietorship tax returns.
Prepare offer in compromise on behalf of the client to resolve tax debt.
Building new and maintaining existing client relationships.
Conduct research and analyze state and federal tax issues.
Here are tips to help with this part:
Do (Summarize your work history)
Showcase why you are the perfect candidate for the job.
Be concise and detailed
Experience should be added where applicable.
DON'Ts (Summarize your relationship history)
Bring your ego to the table.
Have more than 3 references at the bottom of the work history.
Fake references or work history is a no!
For more tips on writing the best work experience section for a self-employed like you, check out our detailed resume guide.
Education
We get it, lots of successful self-employed professionals are dropout miracles. That does not have to apply to everyone though. Your education is very valuable and recruiters want to know what made you the professional you currently are. It's very important to have even a brief section covering your education, where these points should be covered:
Which learning institutes you attended and what you studied.
The number of years you studied.
The outcome of the education – i.e. qualifications.
It doesn't matter if you're only able to provide the most basic elements of your educational background, it still counts. Employers are often suspicious of people who leave their education out of a resume as it gets them wondering what they're hiding. Even if it's limited, it's good to list and in truth, not everyone will have university degrees or education to list. If that's the case, don't worry, list what education you can.
Top Self-Employed Resume Skills
Recruiters aren't going to spend hours and hours going through hundreds of resumes; they are going to use simple but effective methods to narrow their search down.
One of the simplest methods they will use is to opt for a keyword search, which is why the skills you list must be relevant to the job at hand. Remember, if you aren't using relevant keywords you won't get far!
We believe it's fundamental that you add both hard and soft skills. These will make the difference and potentially get your name to the top of the list. Of course, if you start listing skills which aren't really relevant to your job, we doubt you'll get a callback, so think carefully before you list any skill!
| Soft Skills | Hard Skills |
| --- | --- |
| Leadership | Financial Forecasts |
| Team Work | Management Structure |
| Collaboration | Business Plan |
| Dealing With Pressure | Strategy formulation |
Top Self Employed Resume Skills for 2022
Microsoft Office
Communication
Strategic Planning
Hyperion Planning, HFM, Essbase, SAP
Budget Preparation & Implementation
Languages
Reporting, IFRS and USGAAP
Applications
General: Business Development
People Management
How Long Should my Self Employed Resume be?
Your Self Employed resume length should be less than one or two pages maximum. Unless you have more than 25 years of experience, any resume that's more than two pages would appear to be too long and risk getting rejected.
On an average, for Self Employed, we see most resumes have a length of 2. And, that's why we advise you to keep the resume length appropriate to not get rejected.
How to List Self Employed on a Resume?
In addition to the ones at top, these additional self-employed resume examples serve as an excellent examples of how to list self employed on a resume.
How to List Self Employed on Resume Sample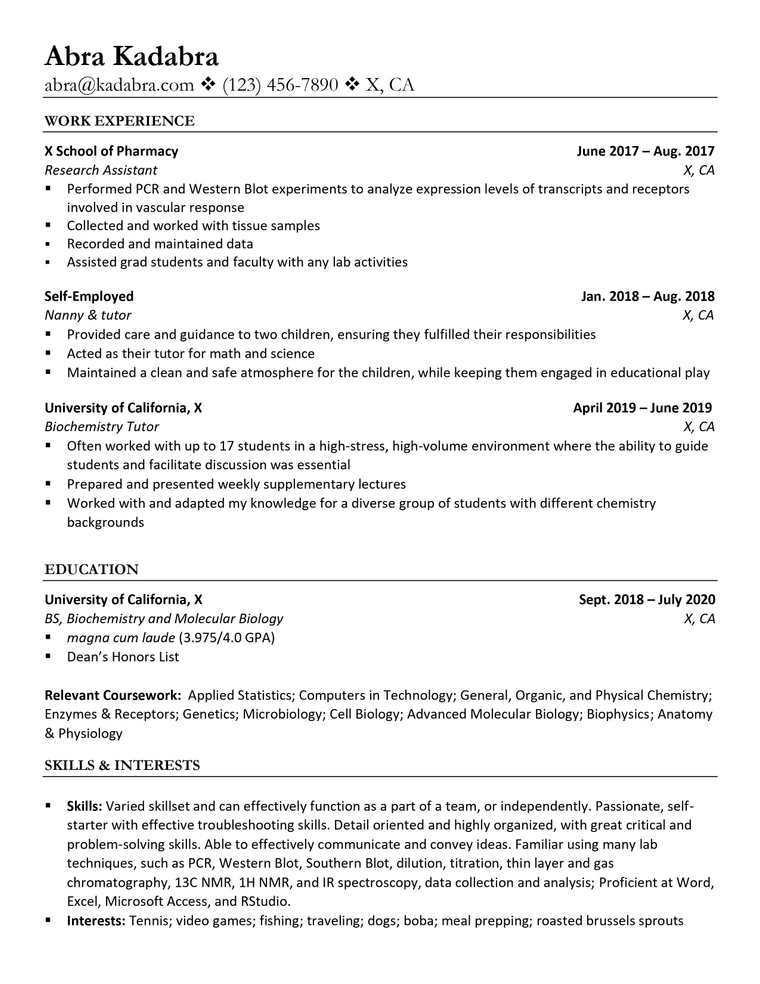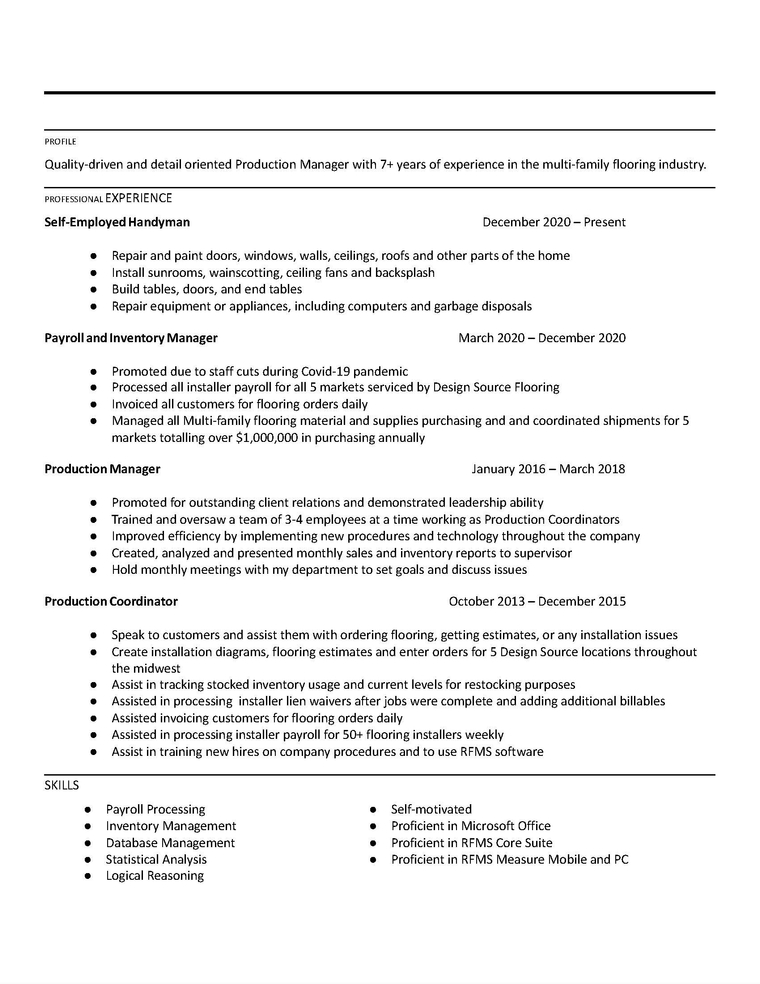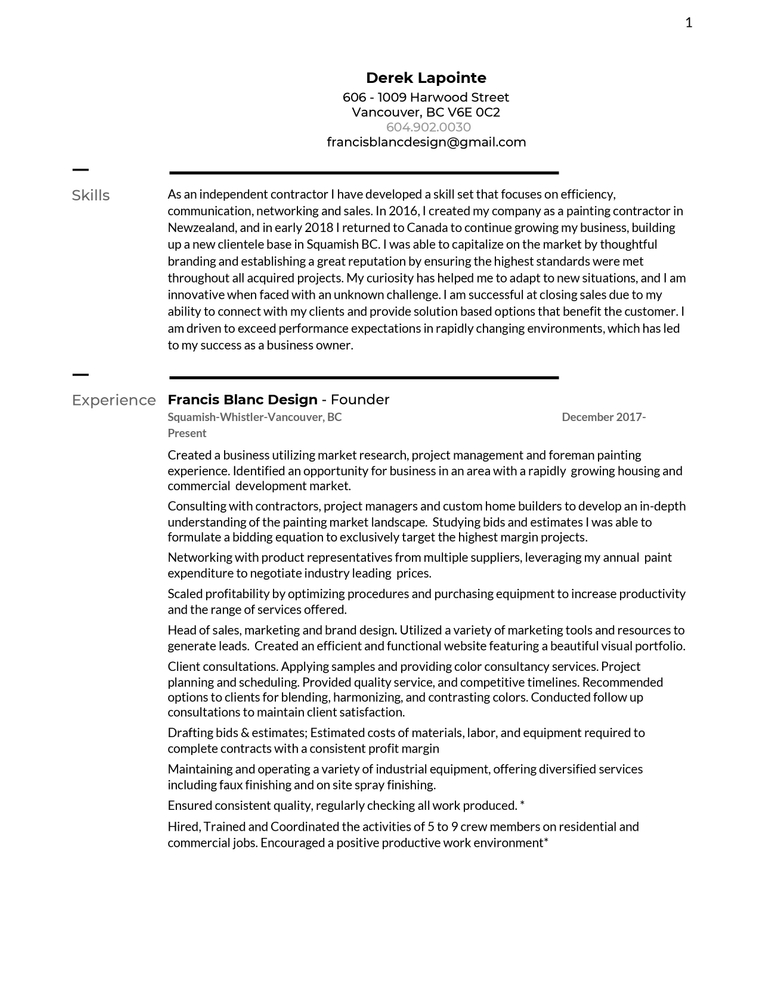 Cover Letter: yes or no?
If you want an advantage over other candidates, we strongly suggest you use a cover letter.
If you need help, we've got you covered!
Should I Add my Self-Employment to a Resume?
Yes, self-employment should be added to your resume. Apart from displaying your relevant work experience, adding self employment to your resume also ensures that there are no unexplained gaps in your work history.
How to List Self-Employment on Your Resume?
To list self employment on your resume, consider adding a job title for the period of self-employment and add relevant work experience under it. If you were a self-employed freelancer who worked for multiple clients - consider adding a line for each of your relevant client work under your work history.
What is your job title if you are self employed?
If you are self employed, your job title should be either "Self Employed" or "Freelance". You can also put a specific title e.g. "Editor" or "Freelance Editor".
How to write own business experience in resume?
If you ran your own business, list yourself as the Owner, CEO or Managing Director of the business under your work experience. List your relevant responsibilities in the form of a bullet list.
How to add your small business to your resume?
While adding your small business experience to resume, make sure you select on the most relevant roles and responsibilities. Most small business owners wear multiple hats, but listing specific responsibilities keeps your relevant to the job that you are applying for.
How to put independent contractor on resume?
To list yourself as an independent contractor on resume, create a separate entry under your work experience. Add "Independent Contractor" as title followed by the responsibilities in a bulleted list.
How to write entrepreneur experience on resume?
Create an entry in your work experience section with a title of Entrepreneur/CEO/Self Employed and list your duties below it. Make sure to display the impact of work done. Keep your responsibilities relevant to the job that you are applying for.
DO (make yourself look great)
Include awards, they are always welcomed.
Promotions or how you've climbed the ranks can show your quality.
Create a brief list of hobbies, if they fit the job.
Honesty goes a long way.
Include a link to your LinkedIn page
DON'T (embarrass yourself)
Avoid adding information which might be sensitive about other businesses or organizations.
Avoid having a link to your Facebook, Twitter or Instagram accounts!
Sell yourself short.
We have given you tips for the best self-employed resume sample: now, if you are also looking for the best self-employed resume templates, you should check this masterpiece we have been working on; many professionals like you have successfully used it to take their career to the next level.