Note: Leverage AI to level-up your resume - Try our AI Resume Builder
Retail No Experience Resume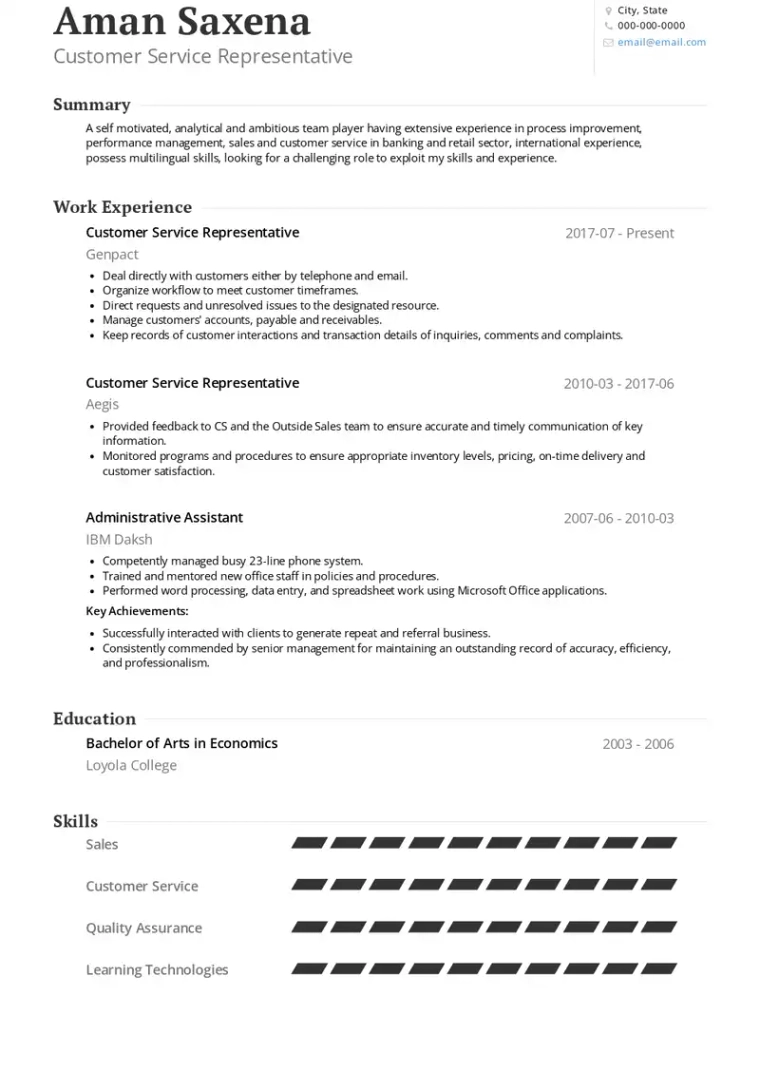 How to Write a Retail No Experience Resume?
To write a professional Retail No Experience resume, follow these steps:
Select the right Retail No Experience resume template.
Write a professional summary at the top explaining your Retail No Experience's experience and achievements.
Follow the STAR method while writing your Retail No Experience resume's work experience. Show what you were responsible for in a relevant project or volunteer work and what you achieved.
List your top Retail No Experience skills in a separate skills section.
How to Write Your Retail No Experience Resume Heading?
Write the perfect Retail No Experience resume heading by:
Adding your full name at the top of the heading.
Add a photo to your resume if you are applying for jobs outside of the US. For applying to jobs within the US, avoid adding a photo to your resume header.
Add "Entry level Retail [title]" to the header to show your motivation e.g. "Entry level Retail Associate".
Add your current city, your phone number, and a professional email address.
Finally, add a link to your portfolio to the Retail No Experience resume header. If there's no portfolio link to add, consider adding a link to your LinkedIn profile instead.
Patricia 1854 Burnside Avenue, Montezuma Creek, UT 84534, Marital Status: Married, email: p_fun_cool_2022@gmail.com
Patricia L. Webb, Montezuma Creek, UT, Phone number: +1-555-555-5555, Link: linkedin/in/pt-webb
Make sure to add a professional looking email address while writing your resume header. Let's assume your name is John Doe - here is a formula you can use to create email addresses:
f.lastname@email.com - j.doe@email.com
l.firstname@email.com - d.john@email.com
firstnamelastname12@email.com - johndoe12@email.com
firstnamelastname@email.com - johndoe@email.com
firstname.lastname@email.com - john.doe@email.com
lastname.firstname@email.com - doe.john@email.com
For a Retail No Experience resume's email, we recommend you either go with a custom domain name (john@johndoe.com) or select a very reputed email provider (Gmail or Outlook).
How to Write a Professional Retail No Experience Resume Summary?
Use this template to write the best Retail No Experience resume summary: Entry-level Retail [job title] with [number of years] experience of [top 2-3 skills]. Achieved [top achievement]. Expert at [X], [Y] and [Z].
How to Write a Retail No Experience Resume Experience Section?
Here's how you can write a job winning Retail No Experience resume experience section:
Write your experience relevant to Retail in reverse chronological order.
Use bullets instead of paragraphs to explain your projects or volunteer experience relevant to retail.
While describing your retail relevant work experience or projects focus on highlighting what you did and the impact you made (you can use numbers to describe your success).
Use action verbs in your bullet points.
Top Retail No Experience Resume Skills for 2022
Sales
Analytics
Presentation
Problem solving
Creativity
Inventory management
Shelving
Merchandising
Software
Team work
Team managememnt
How Long Should my Retail No Experience Resume be?
Your zero experience Retail resume's length should be less than one page or a maximum of two pages. Any, retail resume without relevant experience that's more than two pages would appear to be too long and risk getting rejected.
On average, for Retail with no experience, we see most resumes have a length of 2. Keeping the resume's length to a page would help you stand out from the pile of two pages.