Junior Accountant Resume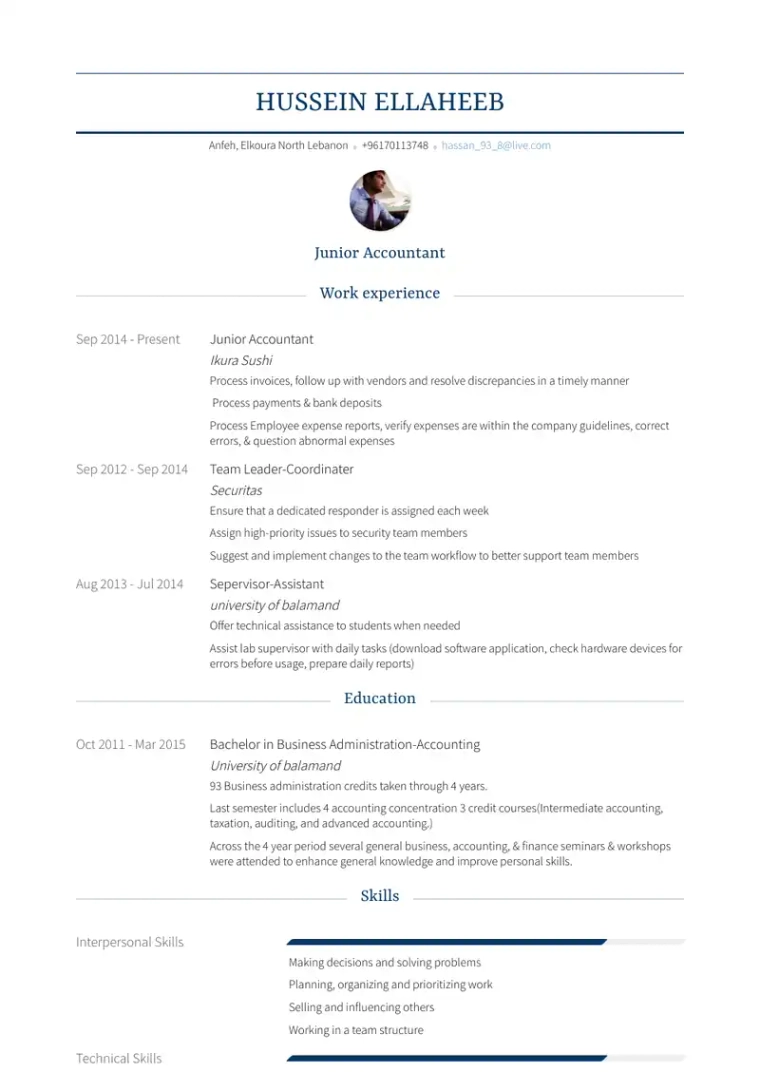 Entry Level Accountant Resume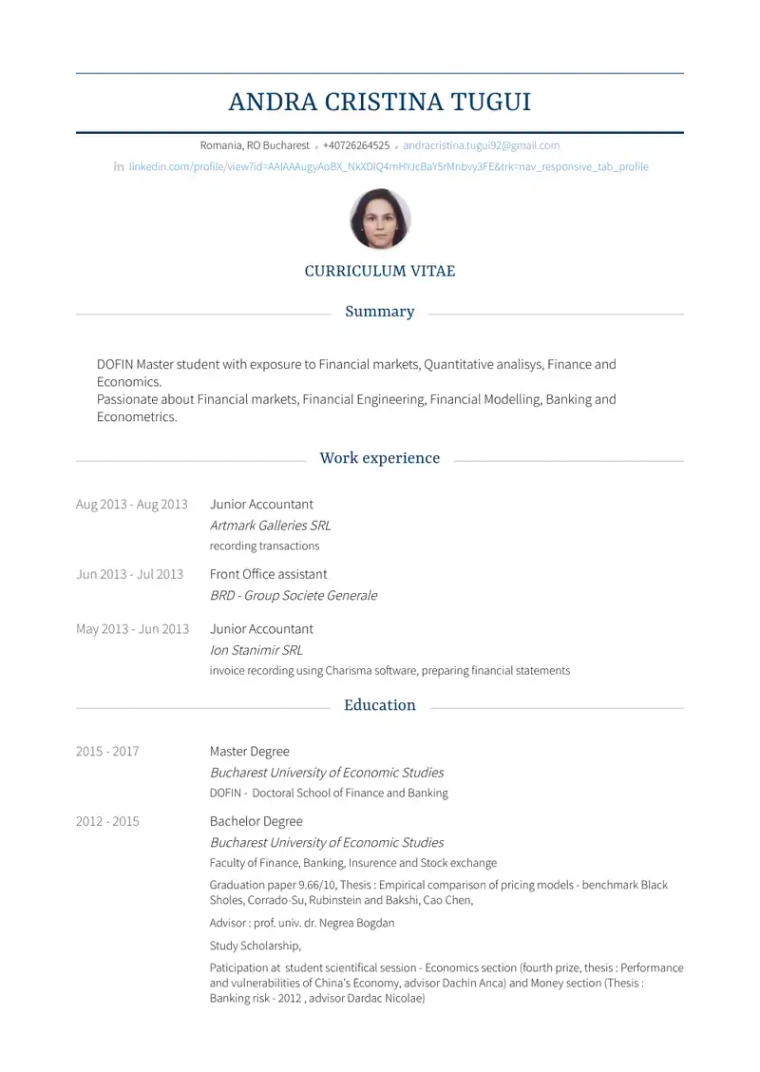 How to Write a Junior Accountant Resume?
To write a professional Junior Accountant resume, follow these steps:
Select the right Junior Accountant resume template.
Write a professional summary at the top explaining your Junior Accountant's experience and achievements.
Follow the STAR method while writing your Junior Accountant resume's work experience. Show what you were responsible for and what you achieved as a Junior Accountant.
List your top Junior Accountant skills in a separate skills section.
Write the perfect Junior Accountant resume header by:
Adding your full name at the top of the header.
Add a photo to your resume if you are applying for jobs outside of the US. For applying to jobs within the US, avoid adding a photo to your resume header.
Add your current Junior Accountant related role to the header to show relevance.
Add your current city, your phone number, and a professional email address.
Finally, add a link to your portfolio to the Junior Accountant resume header. If there's no portfolio link to add, consider adding a link to your LinkedIn profile instead.
How to Write a Professional Junior Accountant Resume Summary?
Use this template to write the best Junior Accountant resume summary: Junior Accountant with [number of years] experience of [top 2-3 skills]. Achieved [top achievement]. Expert at [X], [Y] and [Z].
How to Write a Junior Accountant Resume Experience Section?
Here's how you can write a job winning Junior Accountant resume experience section:
Write your Junior Accountant work experience in a reverse chronological order.
Use bullets instead of paragraphs to explain your Junior Accountant work experience.
While describing your work experience focus on highlighting what you did and the impact you made (you can use numbers to describe your success as a Junior Accountant).
Use action verbs in your bullet points.
Junior Accountant Resume Example
Junior Accountant
Process invoices, follow up with vendors, and resolve discrepancies in a timely manner.
Process payments and bank deposits for ACME.
Responsible for processing employee expense reports and verifying that expenses are within the company guidelines. Correct errors in expense reports and question abnormal expenses.
Junior Account Resume Example
Junior Accountant
Transition and implementation from MS Money to Quickbooks Non-Profit.
Participate in managerial procedure writing.
Develop annual reports.
Top Junior Accountant Resume Skills for 2022
Payroll
Financial reconciliation
Accounts receivable
Accounts payable
Reporting
Auditing
Software
Compliance
How Long Should my Junior Accountant Resume be?
Your Junior Accountant resume length should be less than one or two pages maximum.
On average, for Junior Accountants, we see most resumes have a length of 2 - which is too long for a junior role. That's why we recommend keeping your junior accountant resume's length to one page is best.