10+ Years Experienced IT Consultant Resume Example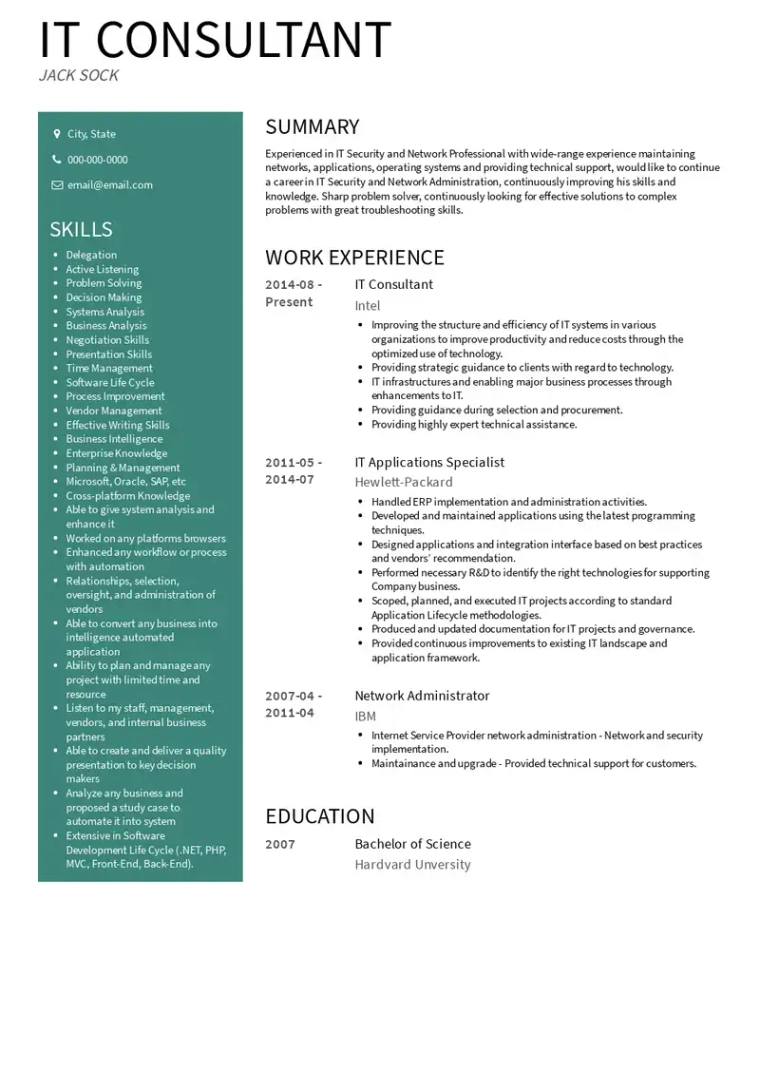 Senior IT Consultant Resume Example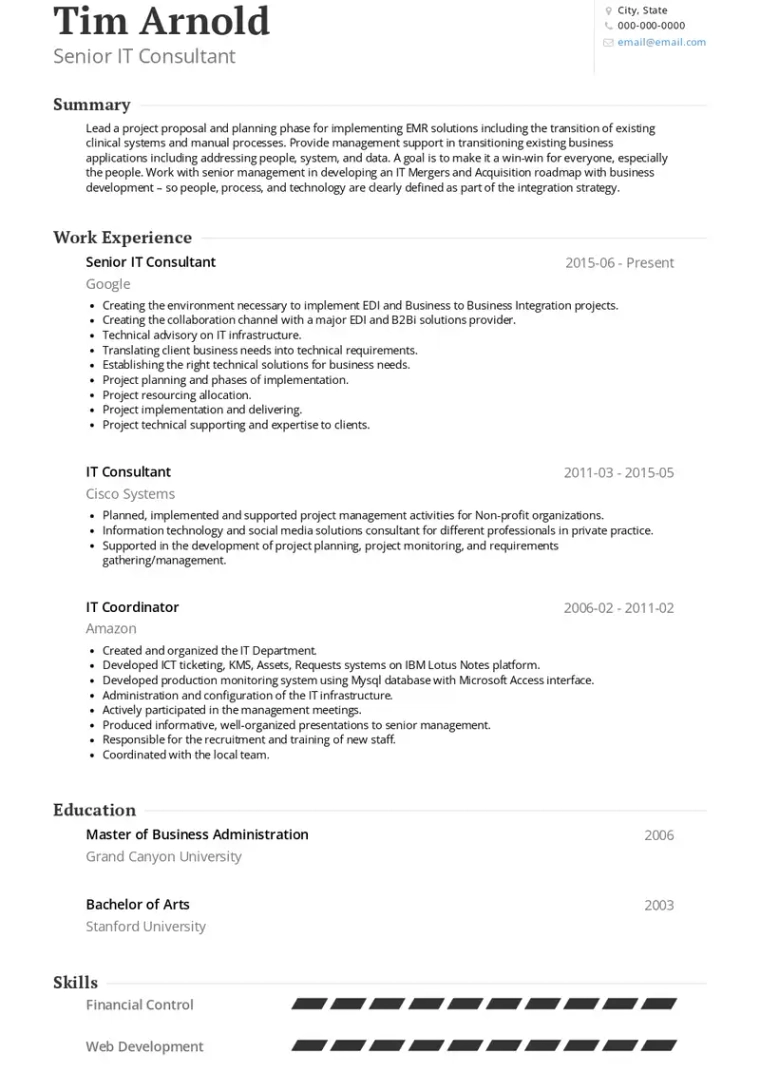 IT Consultant Resume Example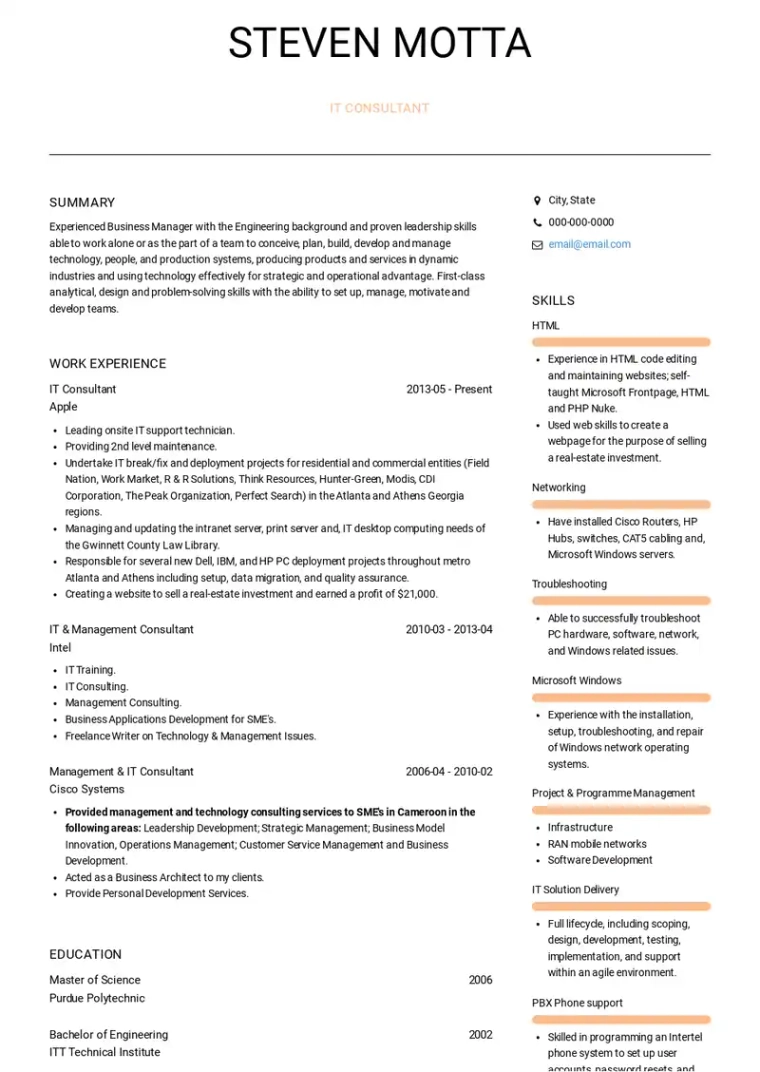 How to Write an IT Consultant Resume
Show that you bring deep expertise into IT technologies and systems within specific industries.
Display through your summary, skills, and work experience that you can analyze complex IT problems and design innovative strategies to tackle them.
It is critical that you display collaboration with stakeholders and cross-functional IT leaders.
Whenever possible, show your past achievements with IT project management.
When you combine the all 4 points listed above, you get an IT Consultant resume that can beat 99 out of 100 applicants for your target role.
How to Write a Resume Summary for an IT Consultant
The formula to write a resume summary includes:
Listing the total years of experience in IT
Listing the industry/industries you've worked with
Highlight your top skills from your IT expertise, IT project management, analytical, collaboration, and client management skills.
While writing your IT Consultant resume summary, list all three above to build out a coherent summary that connects your years of experience to IT skills in a specific industry.
Example of a Summary for an IT Consultant Resume
Highly skilled Oracle EBS Consultant experienced in analyzing, designing, developing, testing, and implementing system enhancements. Possesses extensive knowledge of Oracle EBS Technical Components, including reports, forms, OAF web pages, workflows, and integrations. Proficient in Oracle PL/SQL, Crystal Reports, Java, Linux, shell scripting, and OBIEE reports, enabling successful full lifecycle implementation and extensions of Oracle EBS.
IT Consultant Resume Summary Example
Senior IT Consultant with 10 years of experience in implementation multi-million dollar SAP implementations for manufacturing industries.
How to Describe Your IT Consulting Experience on Resume
To describe your IT consulting work experience on resume follow these steps:
Highlight significant IT projects, demonstrating their scale, complexity, and positive outcomes achieved.
Include evidence of client satisfaction, emphasizing strong client relationships and exceptional service delivery.
Showcase advanced problem-solving skills with innovative solutions, resulting in cost savings, efficiency improvements, or process optimizations.
Clearly articulate technical expertise in relevant programming languages, databases, cloud technologies, and frameworks, including certifications and specialized training.
Illustrate substantial business impacts, such as streamlined operations, enhanced productivity, increased profitability, and competitive advantage.
Highlight leadership and cross-functional collaboration experience, driving IT projects, coordinating resources, and fostering effective teamwork.
Showcase unwavering commitment to continuous learning, industry-recognized certifications, and active participation in technical conferences and workshops.
Demonstrate exceptional communication of complex technical concepts, meticulous documentation skills, and impactful reporting.
Emphasize adaptability, versatility, and proven success across diverse industries and cutting-edge technology domains.
IT Consultant Resume Work Experience Example
IT Consultant
Managed and provided IT support for ACME's global offices across 15 countries.
Supported Microsoft Windows OS, installed and configured LAN with Windows OS and other legacy systems.
Administration of Microsoft Active Directory and Microsoft Exchange systems, including backup and recovery.
Configuration and implementation of Group Policies.
IT Consultant Resume Example
IT Consultant
Gathered functional requirements and translated them to the Technical team for implementation of SAP ERP.
Helped in creating functional specifications and collaborated with Development teams to build system architecture and design.
Involved in the development life-cycle, from the Design phase until the implementation phase, testing, and deployment.
Involved in maintaining the Network system of the company.
Top Skills to List on an IT Consulting Resume
Project management
Business analysis
Data analysis
Systems integration
Cloud computing
Cybersecurity
Network infrastructure
IT strategy
Agile methodology
Change management
Vendor management
IT governance
Database management
Risk assessment
IT architecture
Software development
Quality assurance
IT auditing
Business process optimization
IT infrastructure
ITIL
Data privacy
Disaster recovery
Data migration
IT compliance
IT service management
Virtualization
IT procurement
Solution architecture
Enterprise resource planning (ERP)
IT consulting
System analysis
Troubleshooting
IT documentation
IT training
IT policies and procedures
Business intelligence
IT asset management
IT risk management
IT budgeting
Data governance
Incident management
Server administration
Cloud migration
IT infrastructure monitoring
DevOps
IT support
IT contract negotiation
Data center management
Technical writing
Checkout our other related resume examples here: