Head Coach Resume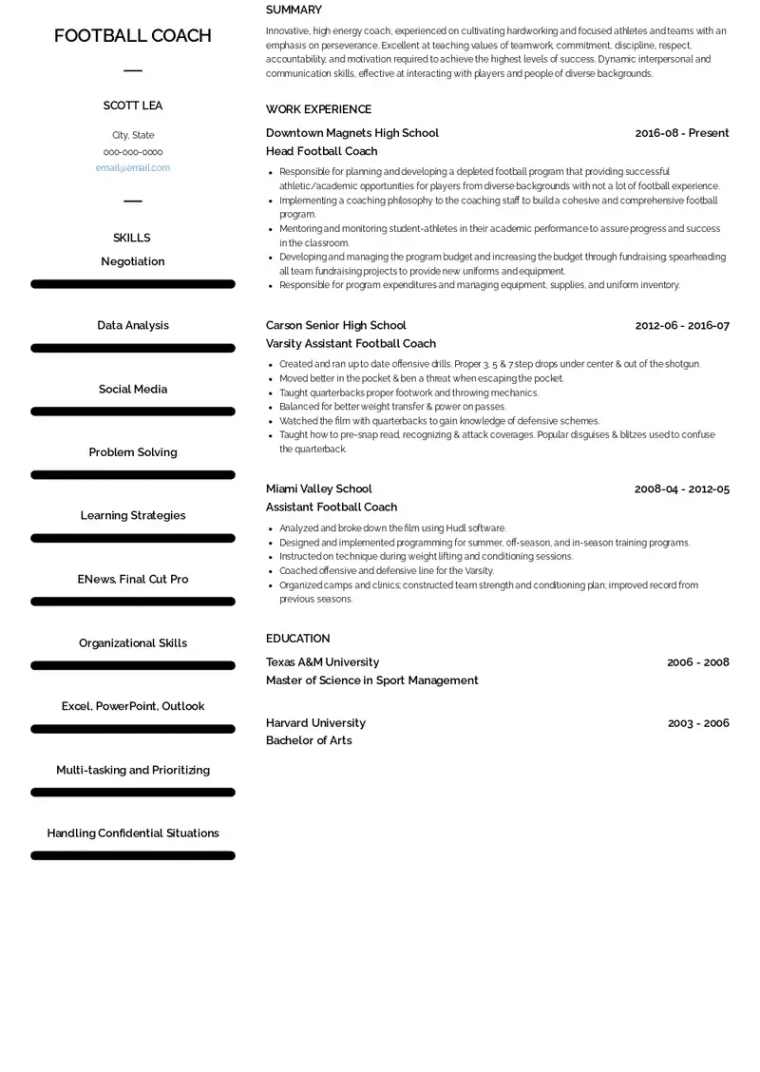 Head Basketball Coach Resume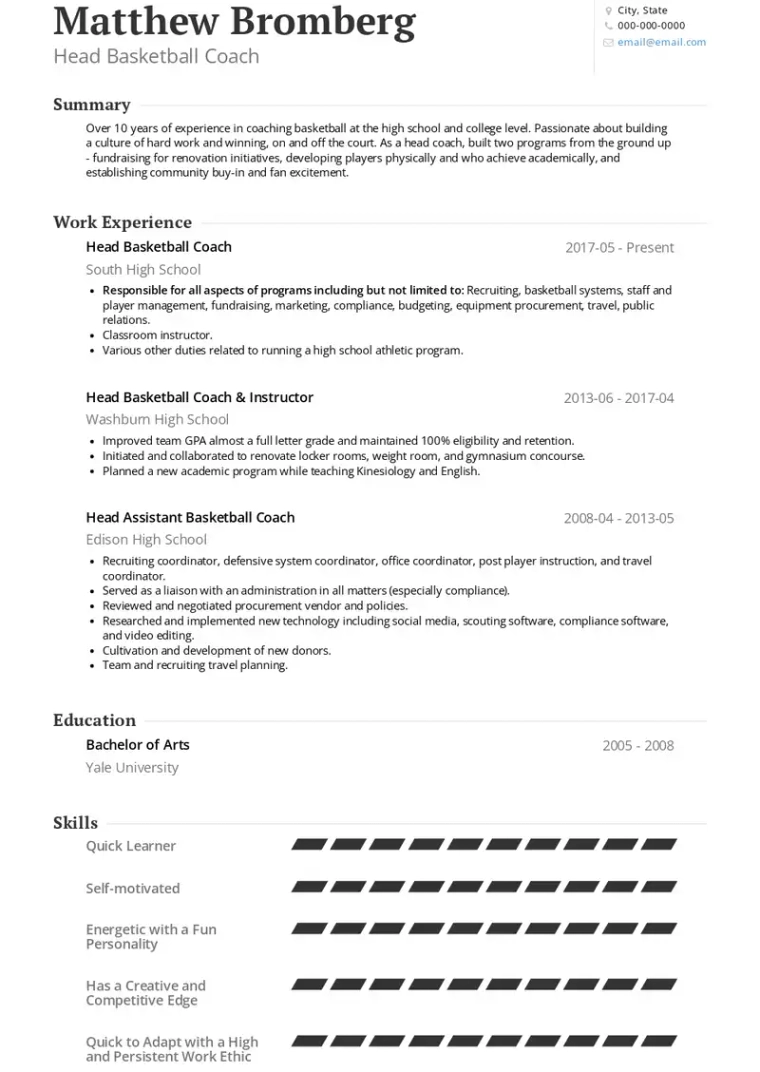 Head Swimming Coach Resume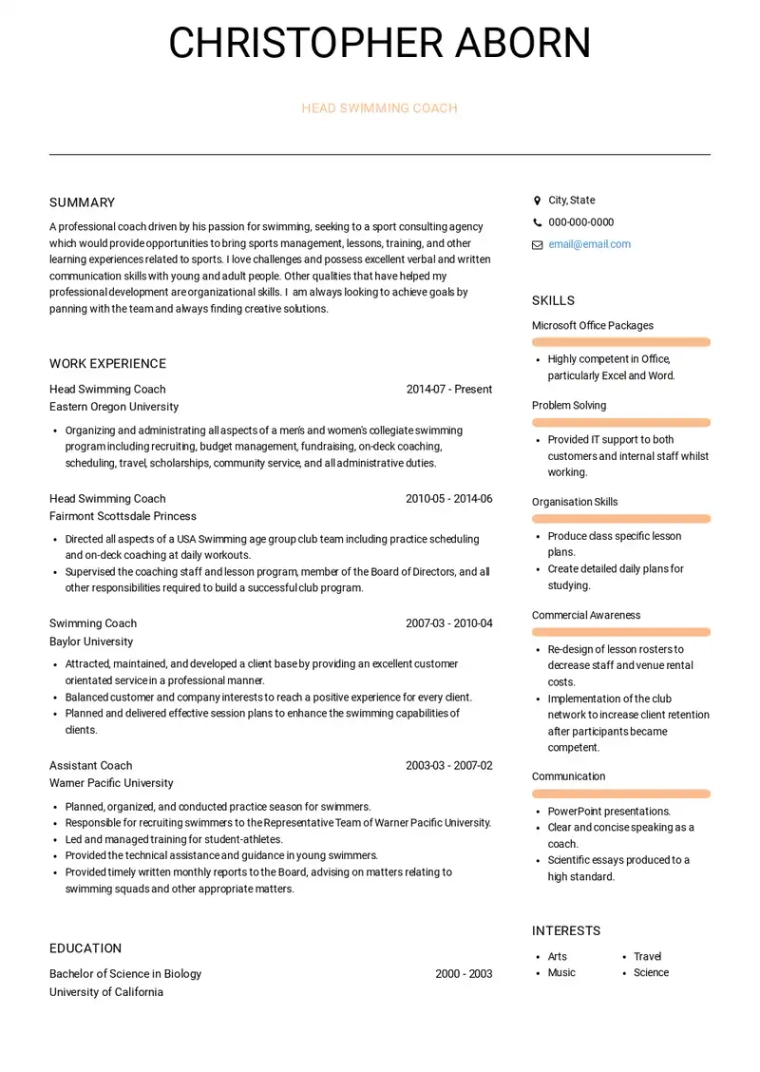 Head Coach Resume Summary Examples
Innovative, high-energy coach, experienced in cultivating hardworking and focused athletes and teams with an emphasis on perseverance. Excellent at teaching values of teamwork, commitment, discipline, respect, accountability, and motivation required to achieve the highest level of success. Dynamic interpersonal skills, effective at interacting with players and people of diverse backgrounds.
Head Basketball Coach Resume Summary
Over 10 years of experience in coaching basketball at the high school and college levels. Passionate about building a culture of hard work and winning, on and off the basketball court. As a Head Coach, built two programs from the ground up - fundraising for renovation initiatives, developing players physically and who achieve academically, and establishing community buy-in and fan excitement.
Head Swimming Coach Resume Summary
A professional coach driven by his passion for swimming, speaking to a sports consulting agency that would provide opportunities to bring sports management, lessons, training, and other learning experiences related to sports. I love challenges and possess excellent communication skills with young and adult athletes. I am always looking to achieve goals by planning with the team and always finding creative solutions.
Head Coach Resume Examples - Experience
Head Swimming Coach Resume Example - Experience
Head Swimming Coach
Organizing and administering all aspects of a men's and women's collegiate swimming program.
Involved in recruiting, budget management, fundraising, on-deck coaching, scheduling, travel, scholarships, community service, and all other administrative tasks.
Head Coach Resume Example - Experience
Head Coach
Directed all aspects of the USA sports age group club team including practice scheduling and on-deck coaching at daily workouts.
Supervised the coaching staff and lesson program, member of the Board of Directors, and all other responsibilities required to build a successful club program.
5+ Years Experience Head Coach Resume Example - Experience
Experienced Head Coach
Attracted and nurtured young talent for our sports agency.
Planned and delivered effective session plans to enhance the swimming capabilities of clients.
Head Basketball Coach Resume Example - Experience
Head Coach, Basketball
Responsible for all aspects of the program including but not limited to basketball systems, staff and player management, fundraising, marketing, compliance, budgeting, equipment procurement, and public relations.
Instruct classroom.
Run high school athletic program.
Head Coach and Mentor Resume Example - Experience
Head Coach
Improved team GPA by almost a full letter grade and maintained 100% eligibility and retention.
Initiated and collaborated to renovate locker rooms, weight room, and gymnasium concourse.
Reviewed and negotiated sports procurement contracts.
Head Football Coach
Responsible for planning and developing a football program that provides successful athletic/academic opportunities for players.
Implementing coaching philosophy to the coaching staff to build a cohesive ad comprehensive football program.
Responsible for program expenses and managing sports equipment, supplies, and uniform inventory.