Overview
Freelancers are self-employed individuals who offer services to their clients. Nearly every type of service needed by most businesses could be provided by a freelancer. Some of the most common freelance opportunities include: Accounting/Bookkeeping, Graphic Design, Marketing Project Management, Social Media Manager, Teaching/Tutoring, Virtual Assistant, Web Design/Development and Writing. This guide will be about a generalist freelancer and can be tweaked to use for specific services.
Creating resumes can be tricky even if you have a straightforward career, it's even harder for freelancers who work various projects. Not only do you have to grab the client's attention, pitch your skills, and prove that you're the best person for the job, you also have to make sure that the breadth of your experience makes you look accomplished, not scattershot. Our resume samples have been made to help you stand out from the crowd and have been trusted by over 3 million people.
Also, checkout our collection of 500+ resume examples.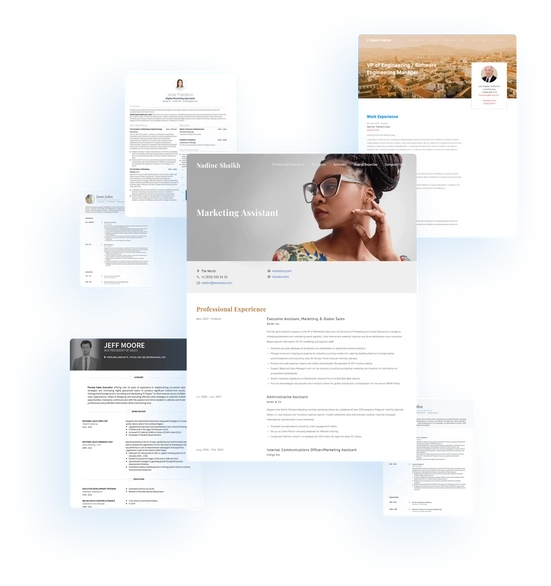 Freelance Summary/ Objective Section
"Is it really needed? Can't I just show a portfolio of projects that show I'm the best person for the job."
Absolutely Not. Clients receive more than 10 resumes on average for each project. This makes it extremely impossible for them to decide who to hire, so that's why a good summary section on top of your resume helps them make a final decision. A perfect summary should be succinct and precise which means short and not vague. An example might be:
Freelancer Resume Example - Summary
Award-winning freelance writer, editor, and social media manager with 10+ years' experience creating online content to improve top-funnel acquisition.
For someone who's just starting out, it's better to write an objective. An example might be:
Sample Freelancer Resume Summary
Driven writer and blogger with 3K+ active monthly readers. Editor at University journal which received 95% positive feedback from management for creativity.
Related:
Freelancer Resume - Work Experience (With Examples)
Consider the following tips while describing your work. Try making a "skills-focused" resume rather than creating a chronological resume Customize your resume to fit the job you want, prioritizing projects relevant to the job. Quantify your achievements as much as possible.
In VisualCV, you can create a Master resume with all your projects and then make copies of that resume. Customize each copy for the specific job you are applying for.
An example for a skill-focused work description for a writer would be as follows:
Freelancer Resume Example - Work Experience
Blogger
Wired
A regular contributor to Forbes, Yourstory, TechinAsia
"Evolution of Internet Marketplaces" published in Wired at 10/8/18
Copywriting
Chargebee (contract writer for over 7 years)

Project: Increasing Top Funnel Acquisition for Professional Designers , Canva, Blog, Reached 100K+
Proofreading and Editing
The Fourth Age by Byron Reese, 2018

Hooked: How to Build Habit-Forming Products Book by Nir Eyal, 2013
You can use the above method for other services such as design, web development etc.
Freelancer Resume Education Section
Education section should clearly show your degrees, courses or certifications that you have completed. There is no reason to include your GPA if the job that you're applying for isn't your first one. Unless, of course, your GPA is very impressive (definitely if it's perfect).
Penn State, Pennsylvania — 2019
Psychology, BA
Active member, Psychology Student Association (PSM)
Received Roy Scrivner Research Grants to study Adolescent behaviour.
Published 3 articles in the school paper ranging from Psychology to computer
You should also use this section to add any certifications you might have that are relevant to the job you're applying for.
2019—Certificate in Social Media Management (CSMM)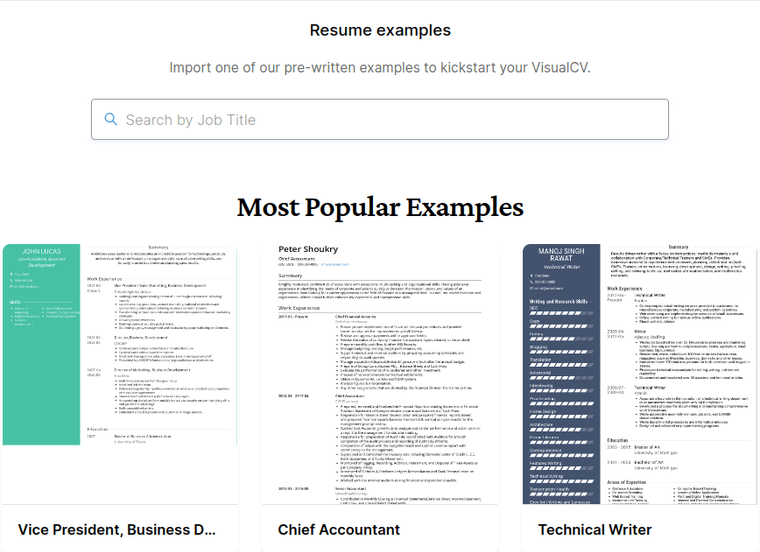 Top Freelancer Resume Skills
This is a very important section for a freelancer's resume as client's are searching for specific skills that their hire must have to complete the job. The best way to know which skills to add here, would be to look in the job description itself and add those skills and related skills in your skill section.
Nonetheless there are soft skills which every freelancer must have and we have made a list of them.
Communication
Detail Oriented
Honesty
Adaptability
Positive Attitude
Thrive under Pressure
Critical Thinking
Perceptiveness
Dependability
Customer Service Leadership
Freelance Resume Portfolio Section
Remember you can have a separate portfolio or choose to add best works in your resume itself. This is one of the most important sections for a freelancer as it gives your client a glimpse into your past work and that'll be the deciding factor in hiring you. With VisualCV, you can add pictures, videos and almost any kind of media to easily display your work. Keep the following things in mind while choosing which work to add in your resume:
Only include your best work and use the work you choose to show your client's what you like or want to do and with whom
Categorize your work samples by skill, type etc
Add 1 line description or testimonials with your work sample
Keep your work samples between 3 to 10.
Freelance Resume - Interests or Other Things Required
To show your client's that you are really passionate about the field, it's nice to add things that you do outside work and school.
This is somewhat dependent on the kind of freelancing service you offer. An example for a writer would be:
Interests
Member, American Society of Journalists and Authors (ASJA)
Regular listener, Hunting the Muse: Creative Writing Podcast
Awards
2018 - Best Writer Award, Forbes
What use is the resume, if your client cannot contact you easily. Make sure you put this information on the top where it's easily accessible and has all forms of contact information including:
Full Name
Work Email
Current Phone Number
Social Media Links
Website
Address
How do I write a freelancer resume?
To write a freelancer resume add the following information in it:
Freelance summary or objective
Work experience
Education
Skills
Freelance portfolio
Contact information
Can I put freelance work on my resume?
Whether you are a full time freelancer or were freelancing part-time, your experience and accomplishments should be added to your resume. For full time freelance workers, adding freelance work ensures that any gap in work experience gets easily justified.