Flight Attendant No Experience Resume Overview
If you're looking for a career that will take you all around the world, becoming a flight attendant could broaden your horizons—literally. Most customer service roles don't offer the same scope for travel, adventure and excitement, and they certainly don't offer the same level of pay. According to the US Bureau of Labor Statistics, flight attendants can expect to make an average of about $60,000 per year—even without education beyond a high school diploma.
What's more, the job outlook for flight attendants looks bright. As the aviation industry recovers from the impact of the pandemic and demand for air travel continues to grow, aspiring flight attendants have a better shot than ever at achieving their career goals.
But if you want to access the opportunities these roles offer without any prior flight attendant experience, you'll need to put together a competitive application. That means making sure your resume is up to scratch. That's why we've compiled this in-depth guide to building a flight attendant resume, so you can look for your first flight attendant job with confidence.
Read on for advice and examples that will help you build your first flight attendant (no experience) resume!
What is a Flight Attendant?
Flight attendants provide customer service, safety information, and emergency response during commercial flights. They're responsible for ensuring that passengers can fly in safety and comfort—which involves performing tasks ranging from food service to the enforcement of in-flight safety procedures. This means combining friendliness and approachability with an understanding of flight safety and a willingness to enforce the rules.
Of course, flight attendants need to be prepared for a highly irregular work schedule. You may be required to work evenings, weekends and holidays, and may even have to work overnight flights. This unusual work arrangement may take you away from home for large parts of the week.
As well as assisting and serving passengers, flight attendants need to know how to monitor and secure the aircraft cabin for takeoff and landing. They also need to ensure adherence to all aviation rules and regulations, and be prepared to provide assistance in emergency situations. And they need to be prepared to write and file reports on any incidents arising during flights, in compliance with the FAA's requirements.
Needless to say, this range of responsibilities requires a broad skill profile! Candidates for flight attendant roles need to be team players, with strong customer service and communication skills as well as the ability to think critically and solve problems. Being able to present yourself professionally will be a huge asset when applying for flight attendant roles, and knowing a language other than English will also benefit your application.
But as we've mentioned, most flight attendant jobs don't require education beyond a high school diploma. Flight attendants are provided with on-the-job training to ensure that they're prepared for anything that could happen in flight. You will also need to be certified by the Federal Aviation Authority (FAA) to work as a flight attendant—this involves completing your employer's mandated training and then passing an exam, so you won't need to seek out this certification before applying for flight attendant roles.
It's also worth remembering that there are some physical requirements for aspiring flight attendants. Your vision will need to be correctable to at least 20/40, and you will usually need to pass a drug test. You may also be subject to height requirements set by the airline you want to work for.
How to Write a Flight Attendant Resume
If you want to work as a flight attendant, your resume needs to demonstrate two things. The first is that you have the qualifications needed to work as a flight attendant. The second is that you have all the skills you will need to thrive in the role.
When you don't have much work experience, writing a resume can feel pretty daunting. But remember, not all relevant experience comes from paid work! Volunteering, internships, and even college extracurriculars can all give you opportunities to build experience and hone your skills.
Provided that experience is relevant to the job you're applying for, you can and should include it on your resume. If you're not sure whether it's relevant, check the job description! If it allows you to demonstrate a skill mentioned there, then it's probably safe to include.
In general, a flight attendant resume should contain the following:
A summary
Your education
Any experience you have
Your skills
The Best Format for a Flight Attendant Resume
When choosing your professionally-designed flight attendant resume template from our selection, think about what hiring managers want to see from you. Your resume format can direct the reader's attention to your strongest assets, while minimizing your weaker areas. Because flight attendant jobs demand a broad combination of training, skills and relevant experience, you may not need a resume format that prioritizes one element over another.
But if you don't have much past work experience, you may want to consider foregrounding your education and skills on your resume, rather than your experience section. Later in your career, once you've acquired more direct work experience as a flight attendant, you can consider a format that balances all sections more equally.
It's also important to remember that many hiring managers use an applicant tracking system (or ATS) to sift through resumes. Although this helps companies streamline and speed up the hiring process, it does cause some frustration for applicants—many of whom submit great resumes which are never seen by a real person. If your resume doesn't make it past the ATS software, which usually looks for specific keywords based on the job description, it will be put aside.
That's why all of VisualCV's resume templates are built to beat ATS software. When you use one of our templates, you can be sure that your resume's layout won't confuse the software and undermine your chances of success. All that matters is the strength of your resume.
3 Flight Attendant Resume Examples
Most resumes begin with a summary—a short, to-the-point encapsulation of your best qualities. It's the first thing a recruiter will see about you, which makes it a golden opportunity to put your best foot forward. Your summary should reflect the requirements of the job description, so you will need to tailor it to every role you apply for.
Since you don't have much work experience behind you, your summary should focus on your skills and educational achievements. Later in your career, you can refocus your summary on your past experience—and, of course, the qualities you demonstrated through that experience.
Flight Attendant No Experience Resume Summary Examples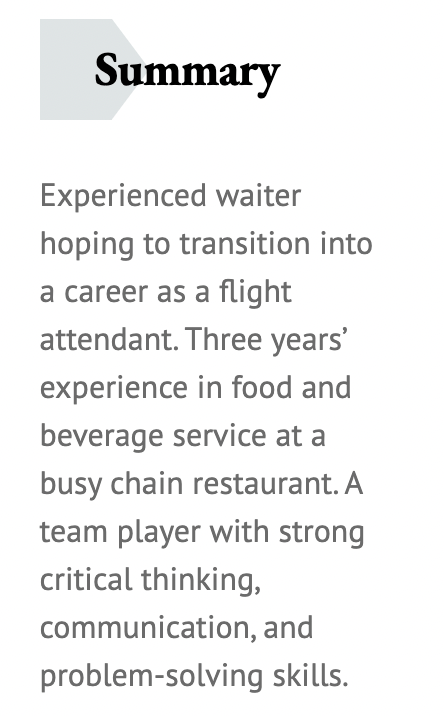 Experienced waiter hoping to transition into a career as a flight attendant. Three years' experience in food and beverage service at a busy chain restaurant. A team player with strong critical thinking, communication, and problem-solving skills.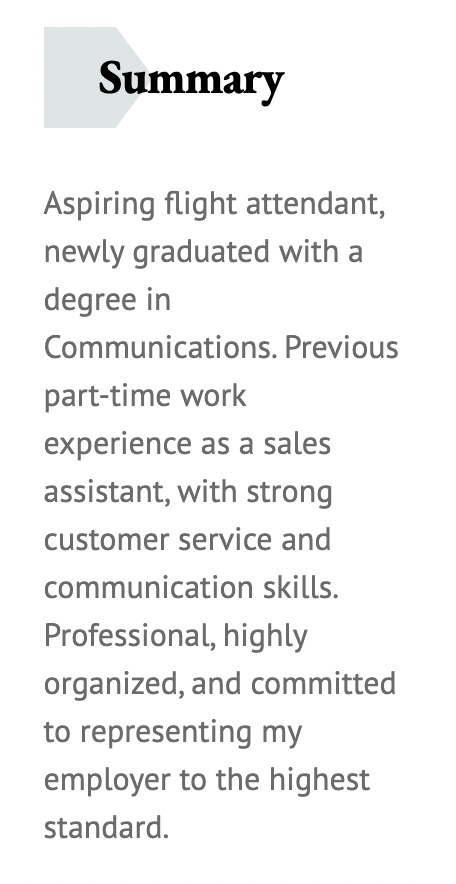 Aspiring flight attendant, newly graduated with a degree in Communications. Previous part-time work experience as a sales assistant, with strong customer service and communication skills. Professional, highly organized, and committed to representing my employer to the highest standard.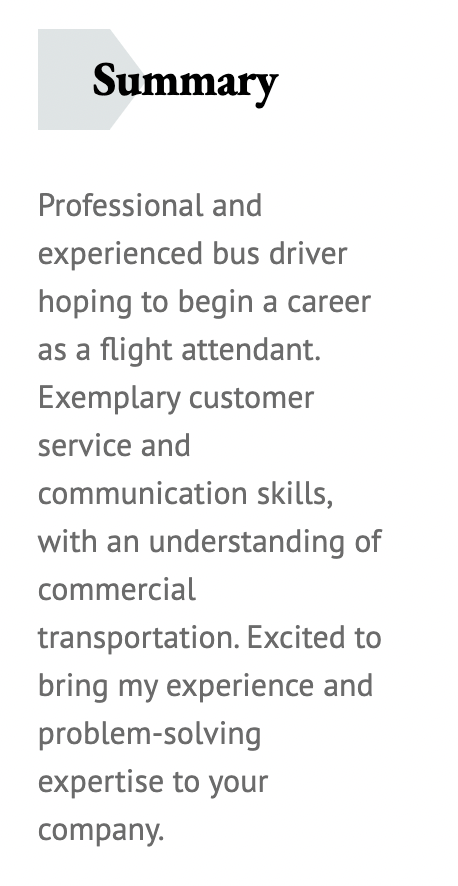 Professional and experienced bus driver hoping to begin a career as a flight attendant. Exemplary customer service and communication skills, with an understanding of commercial transportation. Excited to bring my experience and problem-solving expertise to your company.
How Not to Write a Flight Attendant Resume Summary
Your summary needs to be clear and concise, with a focus on what you have to offer in the role you want. Don't let your summary become too wordy or personal! If you want to tell a recruiter more about you, you can do that in your cover letter instead.
It's worth noting that not all recruiters agree that a summary on your resume is necessary. If you're struggling to write a summary that gets to the point, don't worry too much: you can always choose to leave it out.
Don't:
I have always been interested in travel, and am a frequent flier with your airline. Having experienced your amazing customer service in-flight firsthand, I am excited to apply for the role of flight attendant. I believe that my customer service experience and my enthusiasm for flight make me the ideal candidate for this role.
Do You Need a Resume Objective?
We've discussed your resume summary—but what's a resume objective?
At its core, it's a single-sentence statement about your long-term career goals. It's shorter than a summary, with a more specific purpose. While it's usually considered unnecessary later in your career, it's much more useful when you're applying for your first role in a new career.
That's because it gives recruiters a clear sense of what you want to do in the longer term. When you have more experience behind you, it's easy to get a sense of your career trajectory by looking at your resume. An objective is a smart way to share that information with recruiters, even when your experience is thin on the ground.
Flight Attendant No Experience Resume Objective Example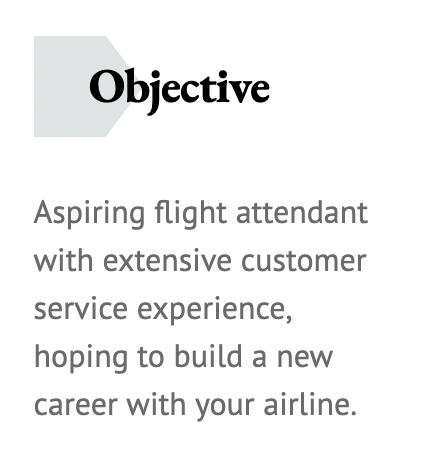 Aspiring flight attendant with extensive customer service experience, hoping to build a new career with your airline.
How to Describe Your Experience on Your Flight Attendant Resume
When you don't have much experience, the work experience section can feel like the most intimidating part of your resume. But remember, you can use experience of all kinds—not just paid work! Any internships or volunteer placements you've completed can be included on your resume, as can any relevant college extracurriculars.
Describe Your Experience Effectively
Even if you're writing about experience that doesn't come from direct employment, you should make sure you approach it in a way that reflects the effort you put into it. Don't just list the tasks you carried out—that doesn't tell hiring managers anything new about you! Instead, write about what you actually accomplished while carrying out those tasks.
As a rule, recruiters look for hard facts about your success in any given role. Think about what you've done in the past that made your work stand out. If you can show that you were able to succeed in the past, recruiters are more likely to believe that you can do it again.
Flight Attendant Resume Experience Example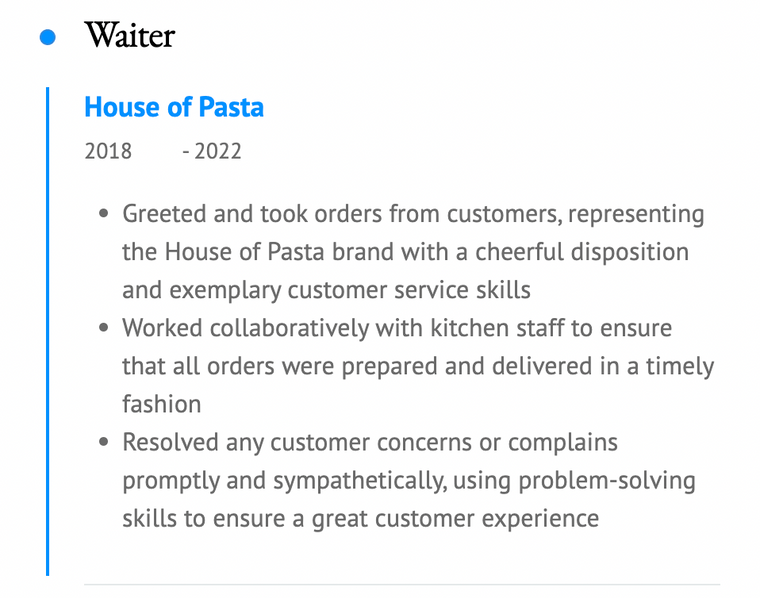 Waiter, House of Pasta | 2018-2022
Greeted and took orders from customers, representing the House of Pasta brand with a cheerful disposition and exemplary customer service skills
Worked collaboratively with kitchen staff to ensure that all orders were prepared and delivered in a timely fashion
Resolved any customer concerns or complains promptly and sympathetically, using problem-solving skills to ensure a great customer experience
How Not to Describe Your Experience
The worst thing you can do when describing your experience on your resume is write a simple list of the tasks you performed. Hiring managers are likely to know what you did in your previous role! It's on you to show that you were able to do it well – and you can't do that by listing tasks with no further context.
Don't:
Took orders
Served food
Handled complaints
How to List Skills on Your Flight Attendant Resume
If you're not sure where to start when it comes to listing skills, check the job description! Most job descriptions will include a list of skills that will be advantageous when you apply. Try to include as many of those as you can.
For general information about skills on your resume, check out our resume skills guide here!
Top Flight Attendant Resume Skills in Demand
| Hard Skills for Flight Attendants | Soft Skills for Flight Attendants |
| --- | --- |
| Knowledge of flight safety regulations | Communication |
| Emergency preparedness | Organization |
| Physical stamina | Time management |
| Mathematical skills | Teamwork |
| Critical Thinking | Problem-solving |
| Sales skills | Cultural sensitivity |
| Microsoft Office skills | Professionalism |
| Foreign language skills | Customer service |
The Most Important Soft Skills for Your Flight Attendant Resume
Hard skills are vitally important, but don't count out your soft skills! These skills will help you out during your day-to-day work as a flight attendant, and will give you an easier time as you perform your regular tasks. And if you're slightly lacking in work experience, soft skills are further evidence that you can do the work required for the job.
Here are some of the most important soft skills to include on your flight attendant resume!
Communication
As a flight attendant, you will need to communicate vital information to passengers to ensure their safety. You will also need to maintain a friendly, calm and approachable demeanor with passengers, even when things are stressful. All of this is to say that communication skills will help you in just about every aspect of your job!
Organization
Flight attendants need to be responsible for a wide range of different tasks at once—which means you will benefit from high levels of personal organization at work. When balancing customer requests with necessary cabin maintenance and checks, it's important to stay as organized as possible.
Time Management
Commercial flights run to tight schedules. This means that showing up to work late could delay not only your flight, but multiple other flights departing from the same airport. As a flight attendant, you will need to be scrupulously punctual, or you could risk losing your job!
Professional Certifications for Flight Attendants
Certifications can be a great way to help your resume stand out. They show hiring managers that you can have the initiative necessary to further your career, and that you take your work seriously. Aspiring flight attendants could benefit from certifications foregrounding customer service skills, emergency preparedness skills, or cultural sensitivity.
Wherever you live, take the time to do some research into relevant courses in your area. You should find a wide range of options that will meet your needs—some schools may offer online classes, while others may allow you to learn in person. You can then list your certifications within your education section on your resume, improving your chances of landing the job you want.
Flight Attendant Salaries
Flight attendants face a higher level of risk than many other customer service professionals, which means their salaries skew higher. But how much can you expect to make as a flight attendant with no prior experience?
The US Bureau of Labor Statistics reports a median annual salary of just over $60,000 for full-time flight attendants. However, part-time work is common in the industry, and most flight attendants will make less than this figure depending on their schedules.
Final Thoughts
Flight attendants make air travel possible. In an increasingly globalized world, they're vital members of the workforce who make moving from place to place comfortable, safe, and even enjoyable. As a flight attendant, you can make a direct difference to the lives of travelers everywhere—while enjoying your own adventures all over the world.
When the time comes to start applying for flight attendant jobs, VisualCV will be there to help you out. You can give your resume a competitive edge with a VisualCV Pro membership, which will allow you to customize every aspect of your resume. Wherever your career as a flight attendant takes you, we're here to give you the tools you need to succeed.