Auditor Resume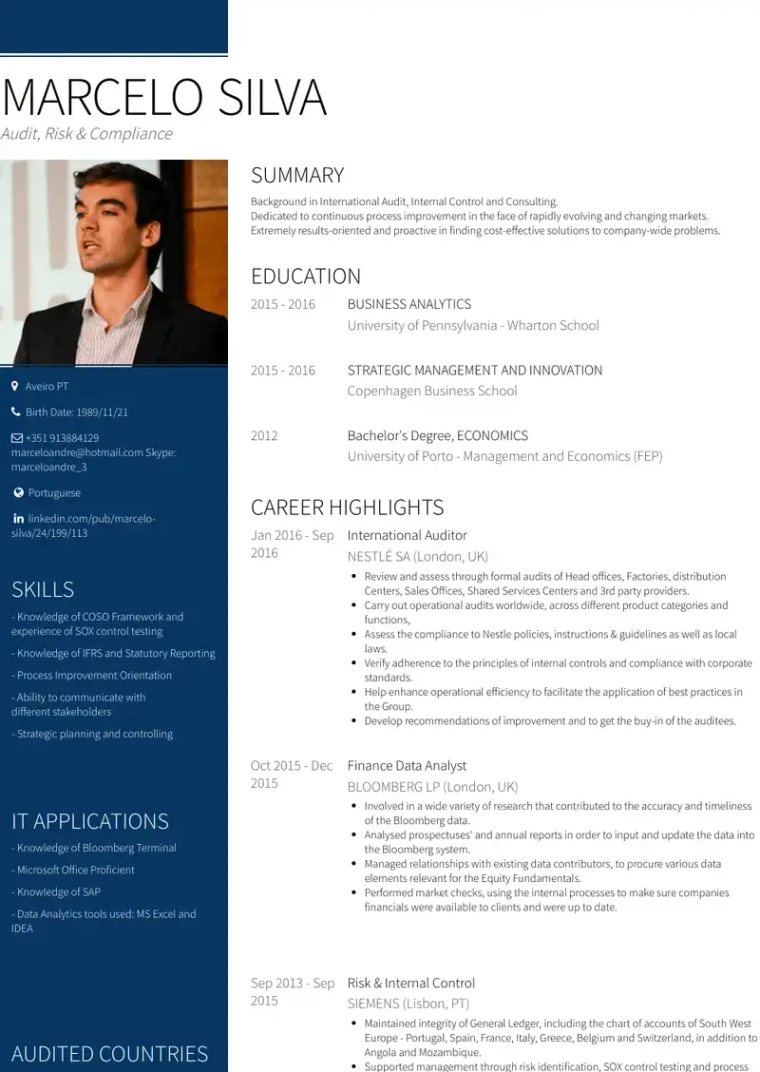 Senior Auditor Resume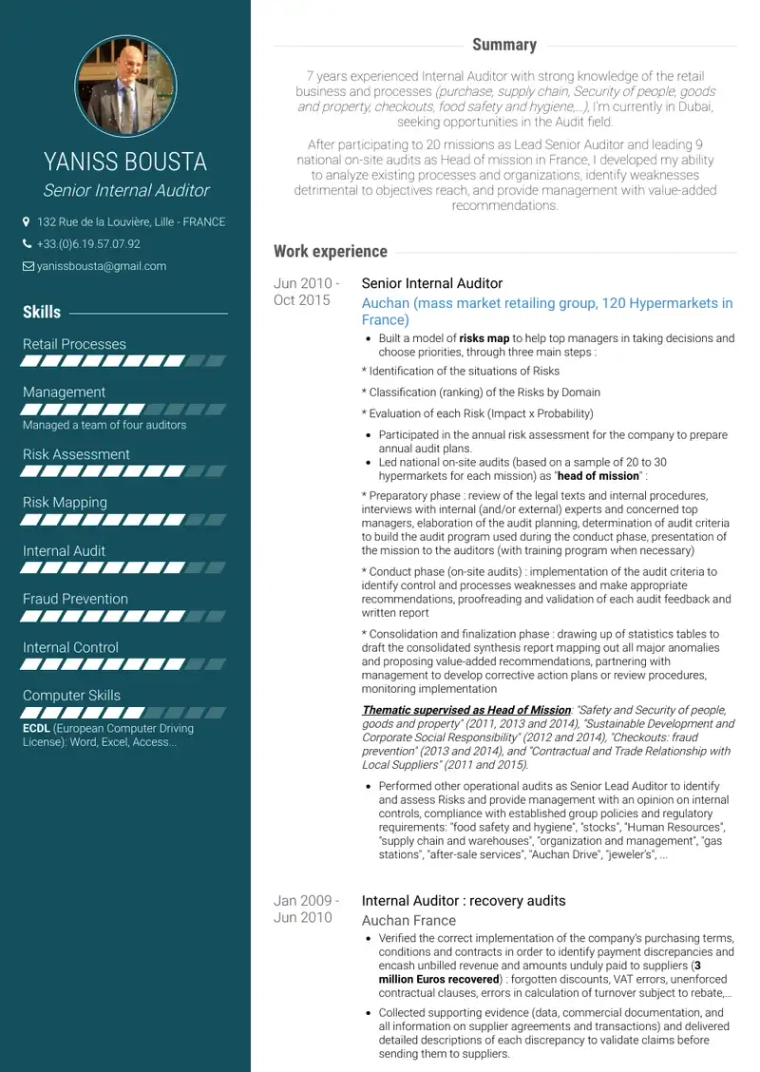 Internal Auditor Resume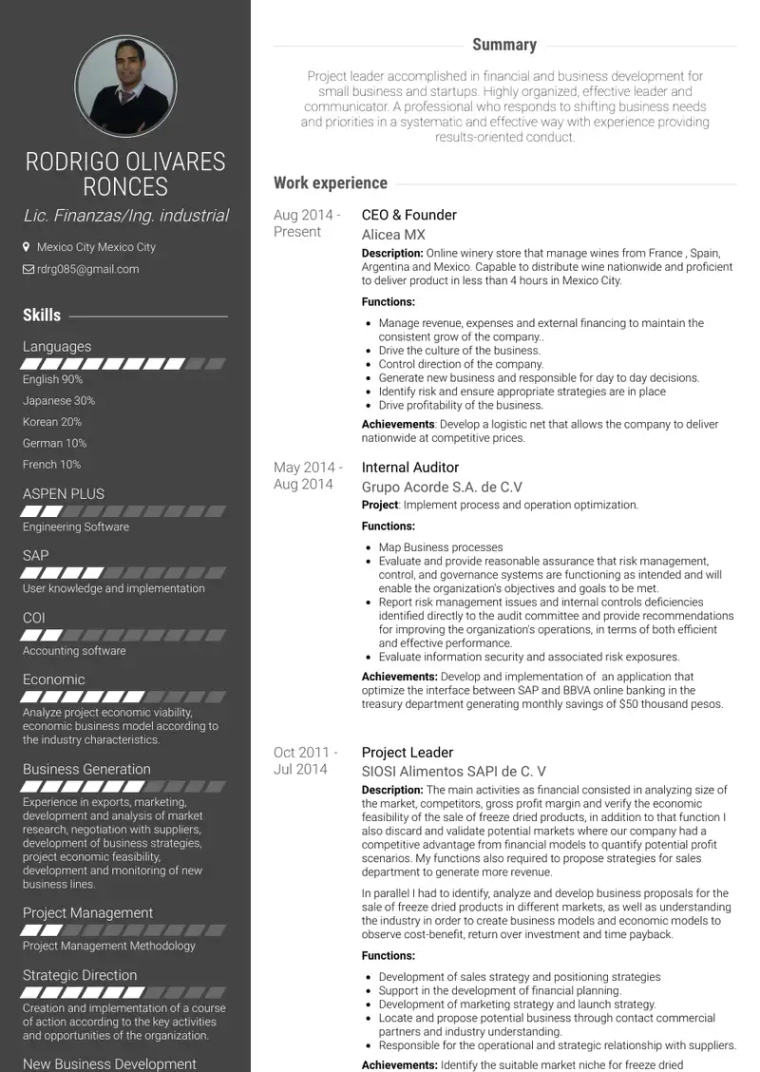 How to Write an Auditor Resume?
To write a professional Auditor resume, follow these steps:
Show that can create a custom audit plan and have done so successfully in the past as well.
List internal/external processes that you audited and deficiencies identified.
List your specific risk areas, systems, etc.
List all industries you've worked in clearly.
Select the right Auditor resume template.
Write a professional summary at the top explaining your Auditor's experience and achievements.
Follow the STAR method while writing your Auditor resume's work experience. Show what you were responsible for and what you achieved as an Auditor.
List your top Auditor skills in a separate skills section.
Write the perfect Auditor resume header by:
Adding your full name at the top of the header.
Add a photo to your resume if you are applying for jobs outside of the US. For applying to jobs within the US, avoid adding a photo to your resume header.
Add your current Auditor related role to the header to show relevance.
Add your current city, your phone number, and a professional email address.
Finally, add a link to your portfolio to the Auditor resume header. If there's no portfolio link to add, consider adding a link to your LinkedIn profile instead.
Danielle 4247 Deans Lane, Fairview Park, NY 10603 Marital Status: Married, email: cooldanielle2022@gmail.com
Danielle T. Brubaker, Fairview Park, NY, Phone number: +1-555-555-5555, Link: linkedin/in/danielle20a7
Make sure to add a professional looking email address while writing your resume header. Let's assume your name is John Doe - here is a formula you can use to create email addresses:
firstnamelastname@email.com - johndoe@email.com
firstname.lastname@email.com - john.doe@email.com
f.lastname@email.com - j.doe@email.com
l.firstname@email.com - d.john@email.com
firstnamelastname12@email.com - johndoe12@email.com
lastname.firstname@email.com - doe.john@email.com
For an Auditor email, we recommend you either go with a custom domain name (john@johndoe.com) or select a very reputed email provider (Gmail or Outlook).
How to Write a Professional Auditor Resume Summary?
Use this template to write the best Auditor resume summary: Auditor with [number of years] experience of [top 2-3 skills] across [industries]. Achieved [top achievement]. Expert at [X], [Y], and [Z].
How to Write an Auditor Resume Experience Section?
Here's how you can write a job winning Auditor resume experience section:
Write your Auditor work experience in a reverse chronological order.
Use bullets instead of paragraphs to explain your Auditor work experience.
While describing your work experience focus on highlighting what you did and the impact you made (you can use numbers to describe your success as an Auditor).
Use action verbs in your bullet points.
Auditor Resume Example
Auditor, Recovery Audits
Verified the correct implementation of the company's purchasing terms, conditions, and contracts in order to identify payment discrepancies and encash unbilled revenue and amounts unduly paid to suppliers.
Recovered 3 million euros from forgotten discounts, VAT errors, unenforced contractual clauses, and errors in the calculation of turnover subject to rebate.
Collected supporting evidence(data, commercial documents, and information) on supplier agreements and transactions - and delivered detailed descriptions of each discrepancy to validate claims before sending them to suppliers.
Senior Auditor Resume Example
Senior Auditor
Participated in the annual risk assessment for ACME to prepare annual audit plans.
Build a model of risk maps to help top managers in taking decisions and choose priorities through the identification, classification, and evaluation of each risk.
Led national on-site audits (based on a sample of 20-30 hypermarkets for each mission).
Review of legal texts and internal procedures, interviews with internal and external experts.
Implementation of the audit criteria to identify control and process weaknesses, making appropriate recommendations. Validation of each audit feedback and written report.
Develop corrective action plans or review procedures, monitoring implementation.
Internal Auditor Resume Example
Internal Auditor
Evaluated and provided reasonable assurance that risk management, control, and governance systems are functioning as intended and enabled the organization's objectives to be met.
Report risk management issues and internal controls deficiencies identified directly to the audit committee and provide recommendations for improving the organization's operations, in terms of both efficiency and effectiveness of performance.
Evaluate information security and associated risk exposures.
Developed and implemented an application that optimize the interface between SAP and BBVA online banking in the treasury department generating monthly savings of $50,000 per month.
Top Auditor Resume Skills for 2022
COSO framework
SOX control testing
IFRS
Satuatory reporting
Process improvement
Communication
Strategic planning
Software
Risk mapping
Risk assessment
Internal controls
Fraud prevention
Internal audit
How Long Should my Auditor Resume be?
Your Auditor resume length should be less than one or two pages maximum. Unless you have more than 25 years of experience, any resume that's more than two pages would appear to be too long and risk getting rejected.
On average, for Auditors, we see most resumes have a length of 3 pages - which is too long! And, that's why we advise you to keep the resume length to 1 or 2 pages and stand out.