Associate Parnter Resume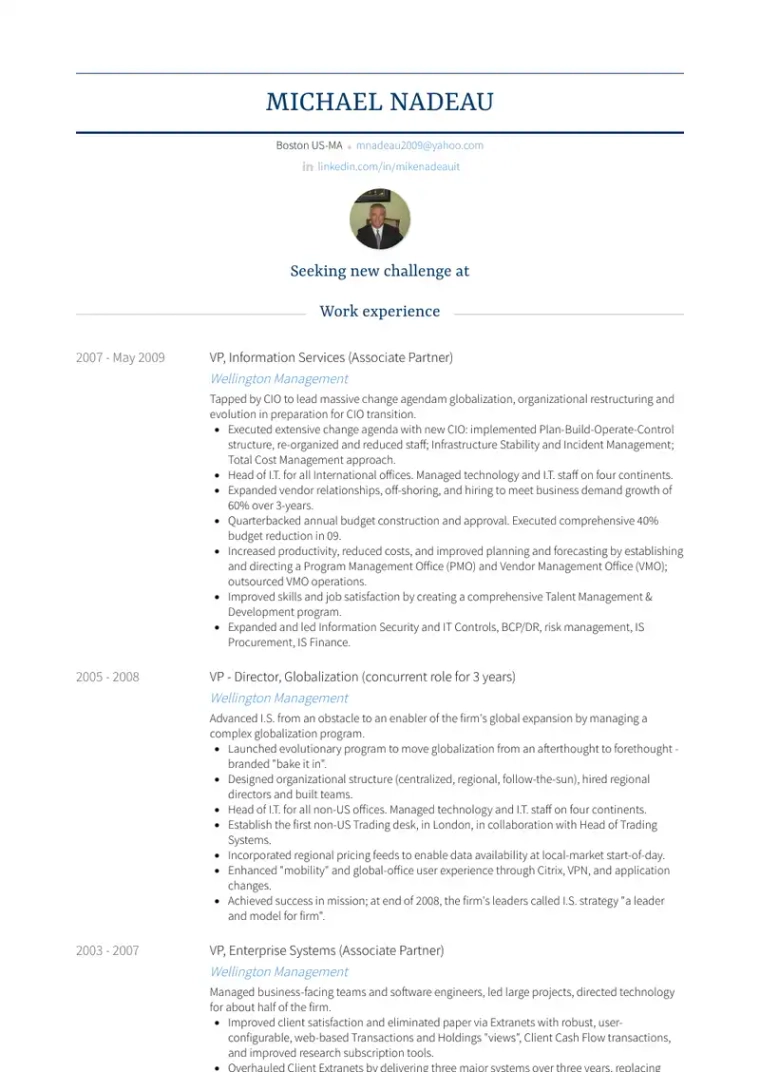 Senior Associate Partner Resume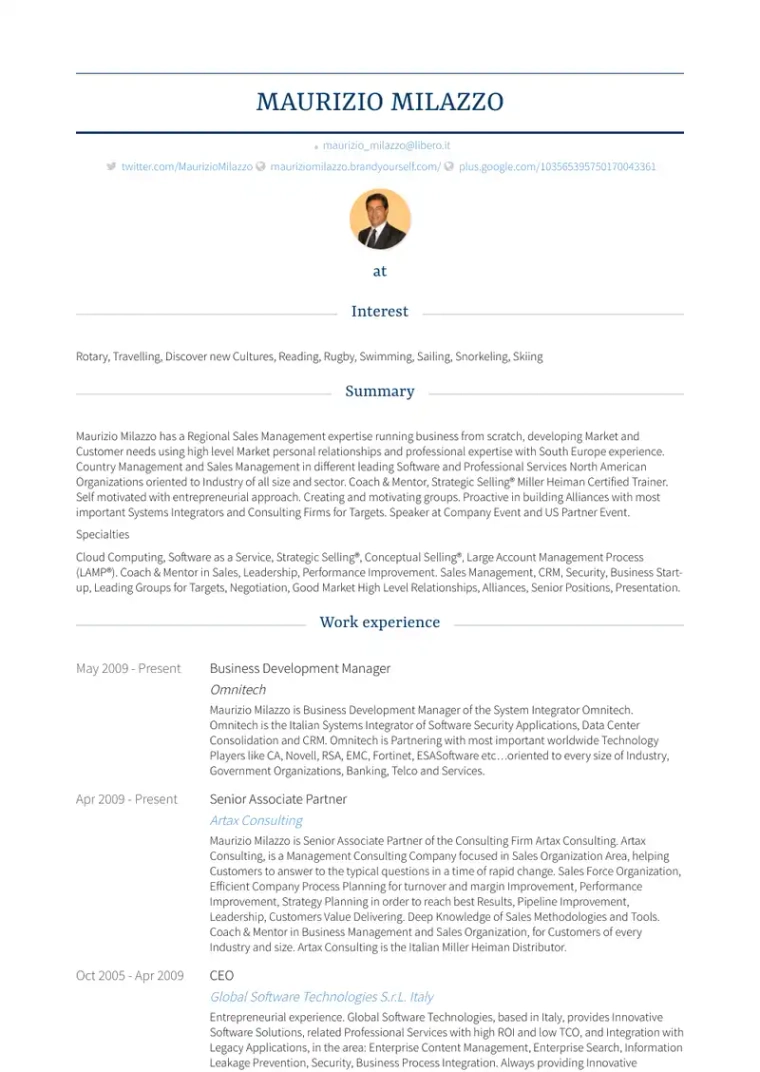 How to Write an Associate Partner Resume?
Display relevant practice experience of 4 years or more.
Clearly show your split between core functions. E.g. 40% corporate strategy, 30% turnaround, and 30% data.
Show how you've helped retain clients with your practice.
List your MBA and perfect grades. Avoid listing your grades if you don't have perfect scores. MBA from a top-tier school is valued significantly.
List all your summary, past practice experience, achievements, and skills in a separate section.
Write the perfect Associate Partner resume header by:
Adding your full name at the top of the header.
Add a photo to your resume if you are applying for jobs outside of the US. For applying to jobs within the US, avoid adding a photo to your resume header.
Add your current Associate Partner related title to the header to show relevance.
Add your current city, your phone number, and a professional email address.
Finally, add a link to your portfolio to the Associate Partner resume header. If there's no portfolio link to add, consider adding a link to your LinkedIn profile instead.
John 2650 Stratford Park, Griffin, IN 47616 Marital Status: Married, email: cooljohn2022@gmail.com
John Romero, Griffin, IN, Phone number: +1-555-555-5555, Link: linkedin/in/johndoe
Make sure to add a professional looking email address while writing your resume header. Let's assume your name is John Doe - here is a formula you can use to create email addresses:
firstnamelastname@email.com - johndoe@email.com
lastname.firstname@email.com - doe.john@email.com
f.lastname@email.com - j.doe@email.com
l.firstname@email.com - d.john@email.com
firstnamelastname12@email.com - johndoe12@email.com
firstname.lastname@email.com - john.doe@email.com
For an Associate Partner email, we recommend you either go with a custom domain name (john@johndoe.com) or select a very reputed email provider (Gmail or Outlook).
How to Write a Professional Associate Partner Resume Summary?
Use this template to write the best Associate Partner resume summary: Associate Partner with [number of years] experience of [top 2-3 skills]. Achieved [top achievement]. Expert at [X], [Y], and [Z].
How to Write an Associate Partner Resume Experience Section?
Here's how you can write a winning Associate Partner resume experience section:
Write your Associate Partner work experience in a reverse chronological order.
Use bullets instead of paragraphs to explain your Associate Partner work experience.
While describing your work experience focus on highlighting what you did and the impact you made (you can use numbers to describe your success as an Associate Partner).
Use action verbs in your bullet points.
Associate Partner Resume Example - Work Experience
Associate Partner
Consulted on product, marketing and PR for Serious Nature's product, Beyond The Line.
Trained on a carbon-footprinting tool, Our Impacts, with Swedish consultancy U&W.
Created strategic sales and marketing plan for leading US based carbon-offset provider.
Directed brand strategy and key messaging project for Coalition for Smarter Growth, an NGO focused on housing, transportation, and environmental issues related to development in metro D.C.
Conducted research and analysis on B2B loyalty programs and sustainability initiatives by global CPG companies for G2 Worldwide, London.
Data analysis led to the overhaul of consumer and merchant acquisition and activation programs for the Oregon loyalty network with 500,000 consumers and 3,500 merchants.
Utilized Travel, Dining and Gas currencies for a national auto-care chain private label activation program.
Senior Associate Parnter Resume Example - Work Experience
Senior Associate Partner
Helping customers get answers to typical questions in a time of rapid change.
Sales force organization, efficient company process planning for turnover and margin improvement, performance improvement, strategy planning in order to reach best results.
Coach and mentor business management and sales organizations.
Associate Partner Resume With More than 10 Years of Experience Example
Associate Partner
Tapped by CIO to lead massive change when it comes to globalization, organizational restructuring, and evolution in preparation for for CIO transition.
Executed extensive change agenda with new CIO: implemented plan-build-operate-control structure, reorganized and reduced staffl Infrastructure stability and incident management; Total cost management approach.
Head of IT for all international offices. Managed technology and IT staff on four continents.
Expanded vendor relationships, off-shoring, and hiring to meet business demand growth of 60% over 3-years.
Top Associate Partner Resume Skills for 2022
Partnerships
Turnover
Strategy
Leadership
Sales management
Marketing
Business management
Data analytics
Communication
Presentation
How Long Should my Associate Partner Resume be?
Your Associate Partner resume length should be two pages maximum. Unless you have more than 25 years of experience, any resume that's more than two pages would appear to be too long and risk getting rejected.
On average, for Associate Partners, we see most resumes have a length of 3, which appears to be too long. And, that's why we advise you to keep the resume length appropriate to not get rejected.