Are you planning to include a photo on your resume? Including a photo of yourself can allow you to showcase your professionalism and poise before you reach the interview stage. In certain industries, this can make all the difference to the strength of your application.
But when you're hoping to use a resume photo, it's important to make sure that it's the right kind of photo! You need to make sure that your resume photo reflects you at your best—from your appearance in the photo to the quality of the photo itself.
You also need to make sure that your photo fits well into the layout of your resume. The wrong resume template can lead to your photo taking up valuable space, limiting the room available for much more important resume components. On the other hand, the right template can prevent you from wasting space with a photo, while also making your photo look like a more natural part of your resume.
To help you make the most of your resume photo, we've put together this comprehensive guide. On this page, we'll cover the following points:
What a photo resume actually is
How to take a photo for your resume
Some of our favorite templates that allow space for a resume photo
What is a Photo Resume?
Simply put, a photo resume is a resume that includes a photo of you. The photo usually appears in your resume header, right at the top of the document. This puts it alongside your name and contact information, and allows it to form part of the immediate impression a hiring manager will get from your resume.
A good resume photo should fit well with the layout of your resume—which means it's worth your time to find a template that leaves room for a resume photo. It should also be professional, and not a candid photo of you participating in hobbies or social activities. Think of it as a headshot for a future workplace ID card, rather than just a regular picture of you!
In certain industries, it can be especially helpful to include a photo on your resume. If you're applying for any of these roles, it may benefit your application to add a resume photo:
Acting roles
Modeling roles
Sales roles
Customer service roles
Public relations roles
In general, if you're applying for a public-facing role or a role where your look is an important factor, including a photo can be helpful. It can allow hiring managers to see at a glance that you have the professional appearance needed for this type of job. In certain countries, it's expected that all applicants will include a photo with their resume, so make sure you do your research about industry and local standards before you start creating your resume.
But it isn't always a good idea to include a photo on your resume. If any of these circumstances apply to you, consider leaving out your resume photo:
You have limited space available on your resume
You're a visually marginalized individual and want to avoid exposing yourself to unconscious bias from hiring managers
You want to make your first impression in person
It's against company policy for candidates to include photos on resumes
How to Take a Resume Photo
Your resume photo should feature a plain and neutral background, if possible. This will ensure that the focus remains squarely on your face, and avoid an overly-busy photo. Try to find a plain wall to stand against, if you can.
You will need to make sure that your photo is well-lit—not too dark and not too bright. In either case, you risk obscuring or rinsing out the details of your photo. At certain times of the day, finding an outdoor setting for your photo can give you access to natural light that will illuminate your features in especially flattering ways.
And when the time comes to frame your photo, you should make sure that you have the right angle! A good resume photo will capture your head and shoulders from the front, so you will need to be facing your camera, and you will need at least some distance from the lens. It's possible to use a selfie for your resume photo, but you should make sure that it isn't obviously a selfie—your arm shouldn't be obviously raised to take the photo.
If you can afford it, a professional photographer can be a real asset to your resume photo. They'll know how to stage your photo, how to light it, and how to capture you at your best. Consult with professional photographers in your area to find someone who can help you take the best possible photo!
What to Wear for a Resume Photo
When dressing for a resume photo, it's important to make sure that you wear a professional, presentable shirt. Your shirt shouldn't have any loud patterns, stripes, logos, or other distracting design features—and ideally, it should be a neutral color. If you're not sure what to wear, a simple dress shirt or blouse is guaranteed to be professional and appropriate.
For jobs where professionalism is particularly important, you may wish to consider wearing a work-appropriate suit jacket or blazer. If you wear ties, accessorizing with a professional, elegant tie can make a great first impression. If you wear jewelry, keep it understated and work-appropriate.
You will also need to ensure that your hair is tidy and professional. What this means for you will vary depending on the length and texture of your hair—but in general, your hair should be in a simple and presentable style that isn't likely to be considered distracting. If you're particularly worried, talk to a hair stylist—they may be able to help you style your hair for a resume photo.
If you have facial hair, you should take care to keep it as well-groomed as the hair on top of your head! Keep any beards trimmed and tidy, regardless of their length.
For candidates who routinely wear makeup, we recommend wearing only light makeup for your resume photo. This will show that you are prepared to make an effort to present yourself professionally, and that you know how to avoid aesthetic choices that may be considered distracting in the workplace.
Last but not least, make sure you smile! A smile in your resume photo will show that you are approachable, enthusiastic and friendly. Just make sure you smile with your eyes, too—otherwise, you risk looking unsettling and insincere.
Resume Templates with Photos
As we've mentioned, you should make sure that your resume template accommodates a resume photo. Otherwise, you risk losing valuable space that could be used for important information on your resume. You also run the risk of your photo looking out of place and unprofessional on your resume, no matter how good it looks in its own right.
At VisualCV, we believe we have some of the best resume templates on the internet. Here are some of our favorite resume templates with room for photos!
Air
Air is a modern template featuring stylish, readable fonts and a layout that's easy to parse in a hurry. With this template, your resume photo forms a cornerstone of your resume header—it appears right at the top of the document, which means it doesn't occupy space that could be used for written information. This template offers a great way to make a strong first impression, both with your photo and with your resume layout.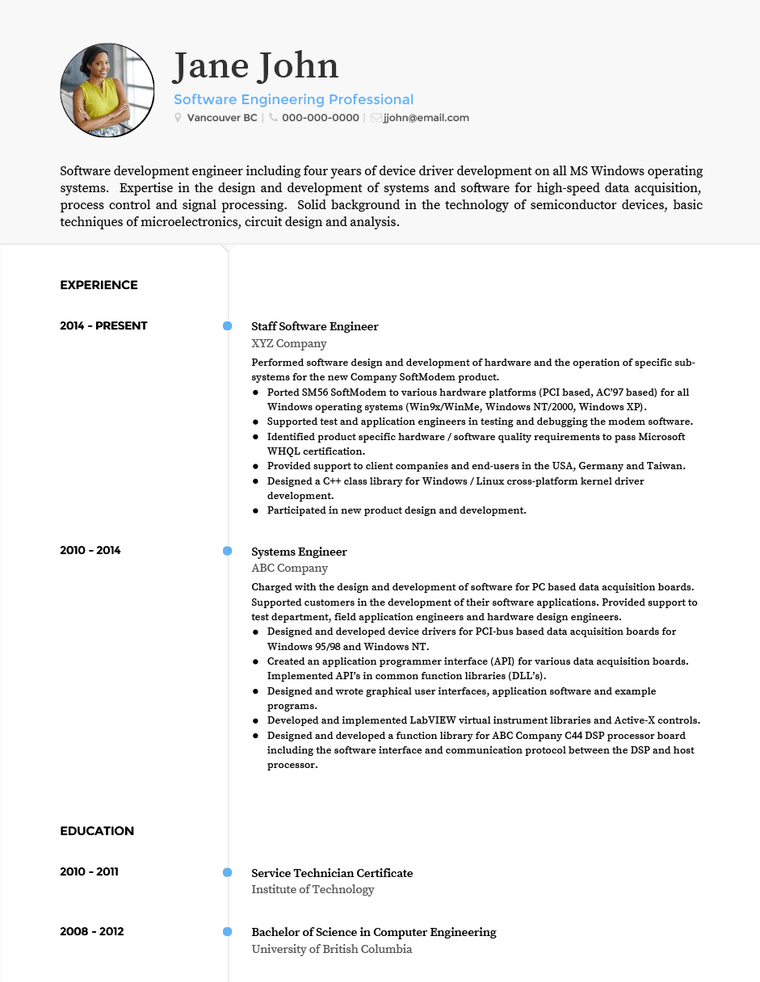 VisualCV's Air photo resume template
Brooklyn
Brooklyn features a bold, striking resume header, which makes prominent use of your resume photo. But despite that uncompromising first impression, the resume itself is still extremely easy to read and understand. If you're hoping for a resume template that will allow you to demonstrate your fearlessness and ambition, Brooklyn is the way to go!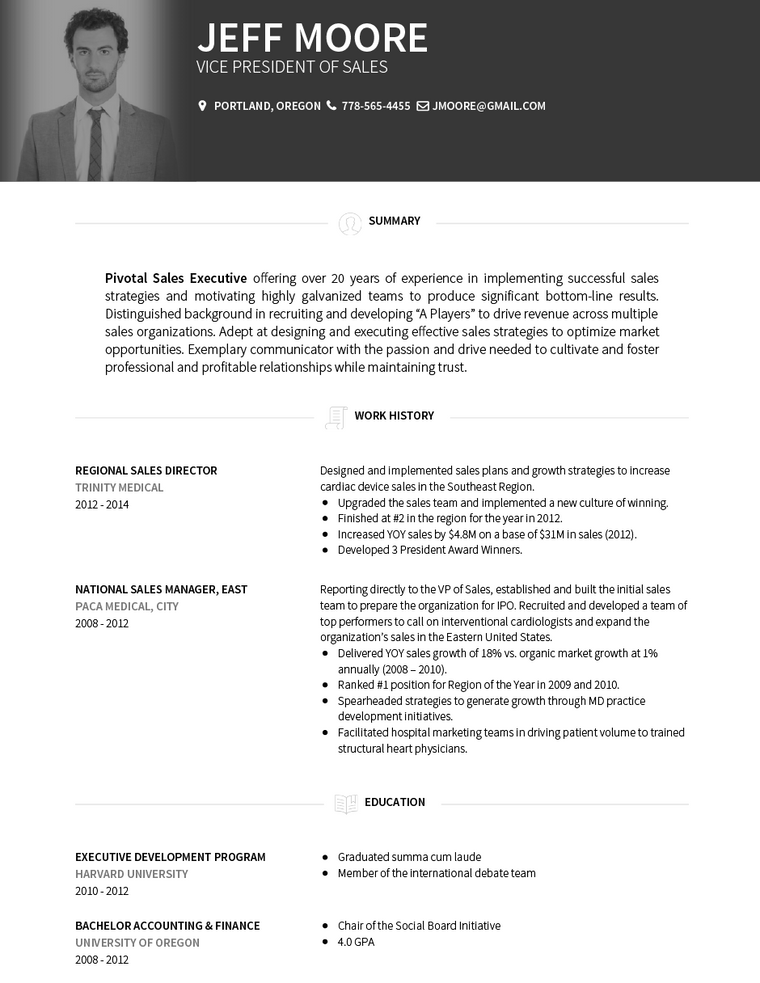 VisualCV's Brooklyn photo resume template
Clair
Clair is a professional template with some understated flourishes of design—from scroll-like job titles in the work experience section to pops of color for emphasis throughout. That includes a small, unobtrusive resume photo in the header, accented with that same color. This design ensures that the photo is tied in closely to the rest of the resume, without using too much space that could be put to better use.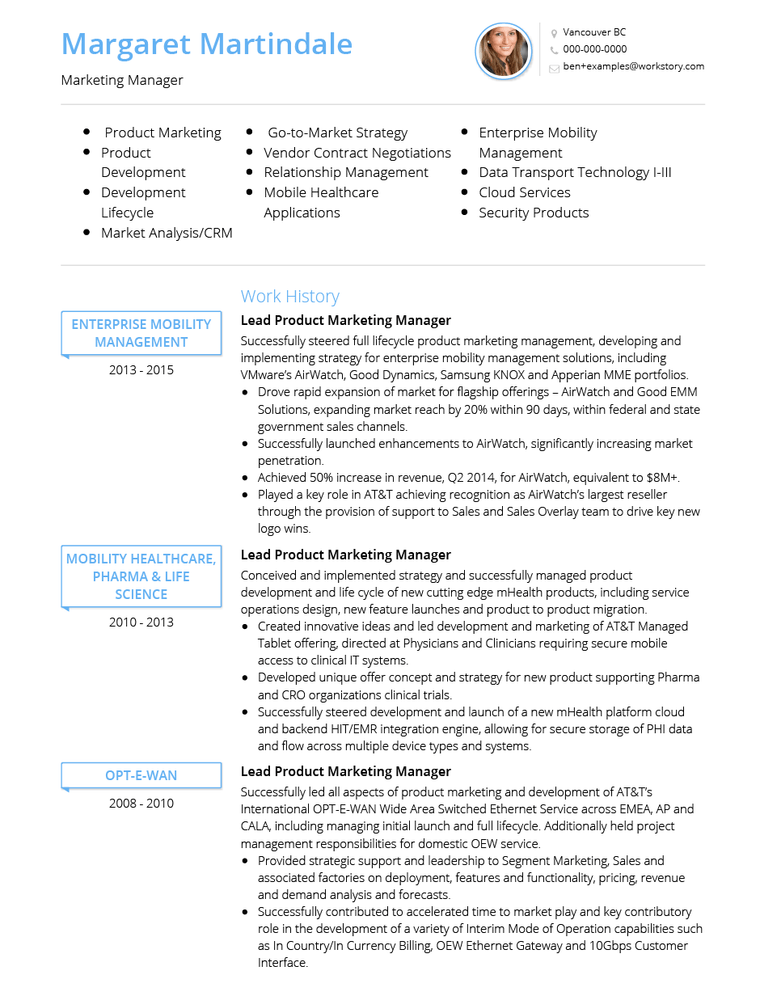 VisualCV's Clair resume template
Rosa
The Rosa template uses subtle accents of color and an elegant two-column format for a design that's both professional and stylish. In this template, your resume photo is at the very top of the document, forming the basis of the header. If you're applying for work in a more creative, less traditional industry, this template will allow you to show yourself at your very best.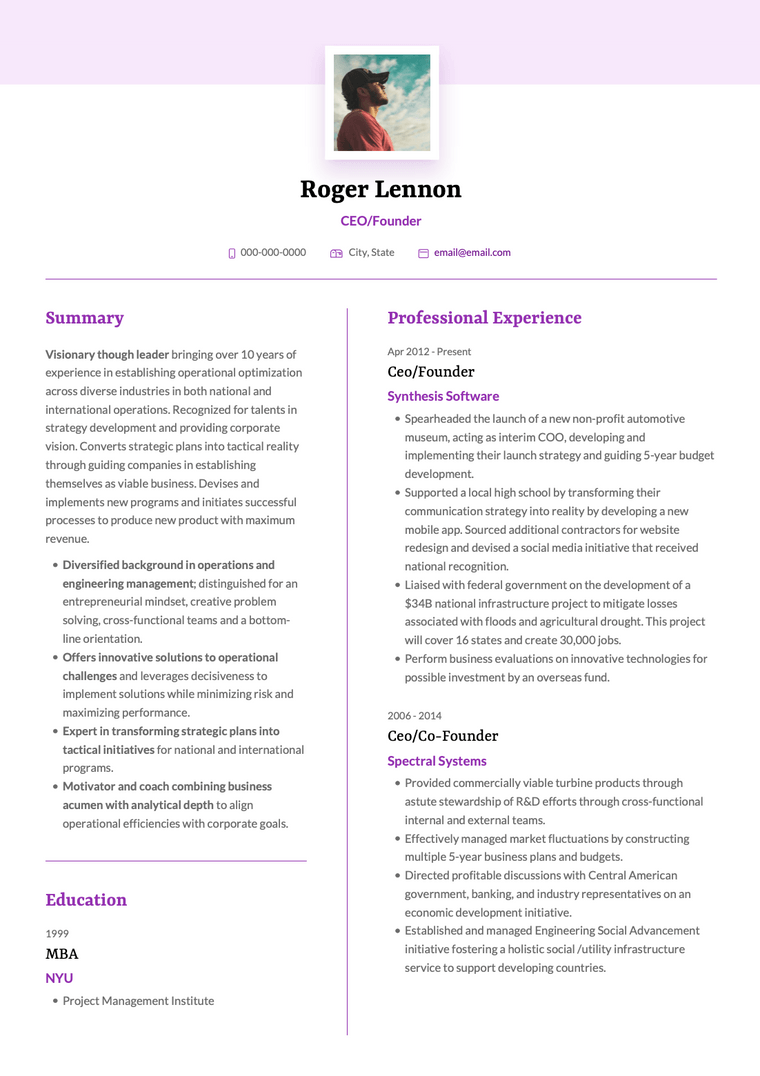 VisualCV's Rosa photo resume template
Vienna
Vienna is a sleek, streamlined resume template which makes use of a classic two-column format. Its layout makes space for a resume photo in the narrower left-hand column, along with the other information typically included in a resume header. Vienna also doesn't use too many colors—which ensures that your photo will catch a hiring manager's eye, while avoiding any color clashes on the resume itself.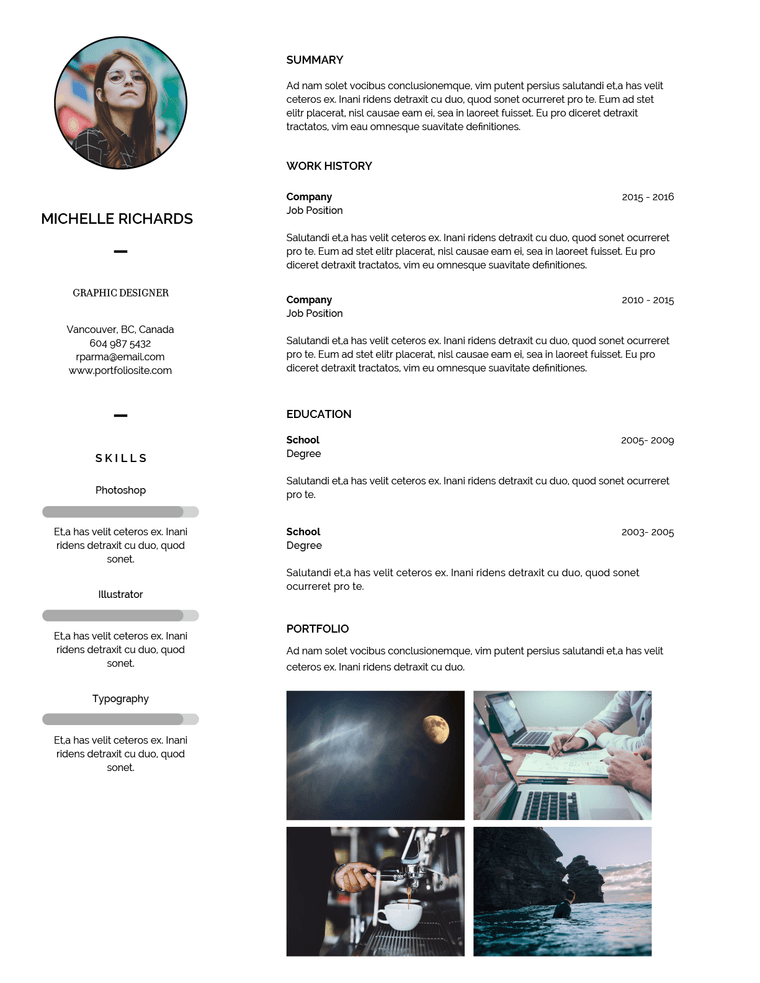 VisualCV's Vienna photo resume template