IT Program Manager Resume Example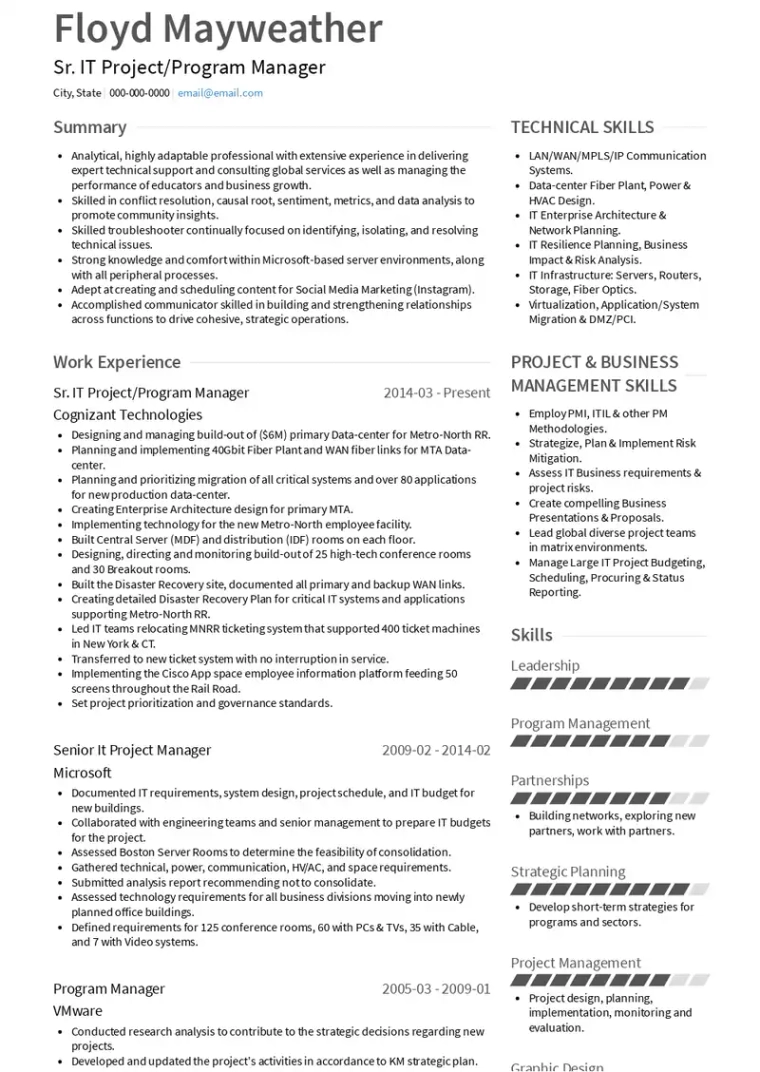 Technical Program Manager Resume Example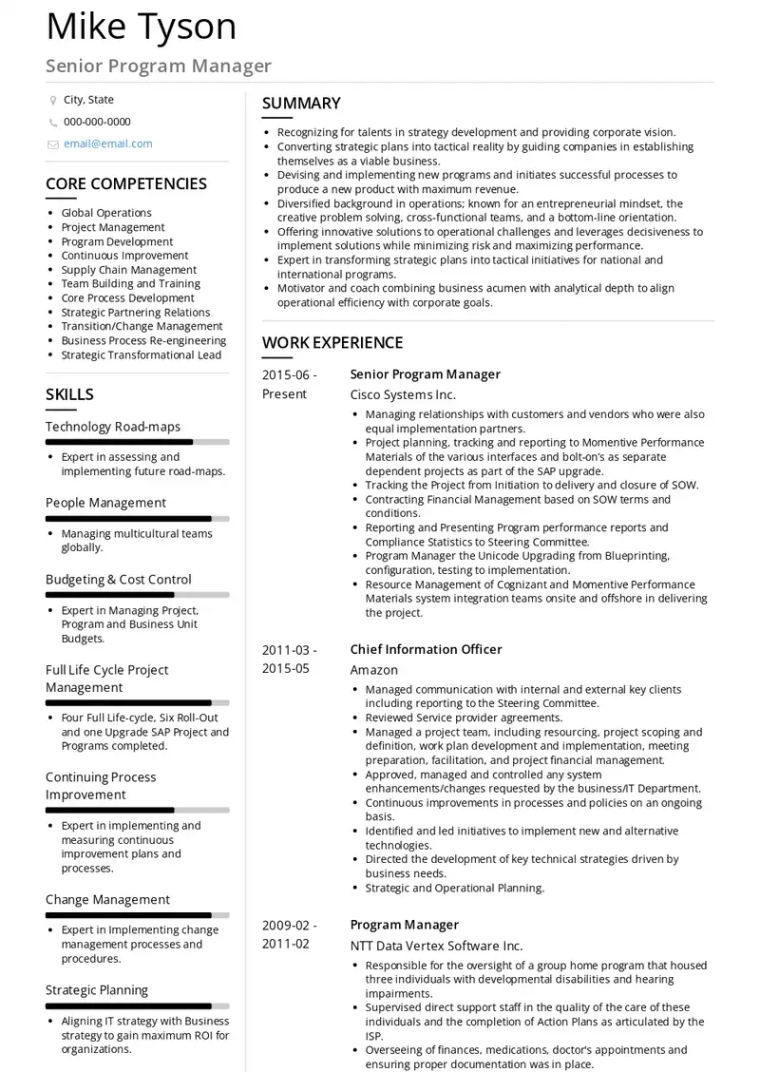 Program Manager Resume Example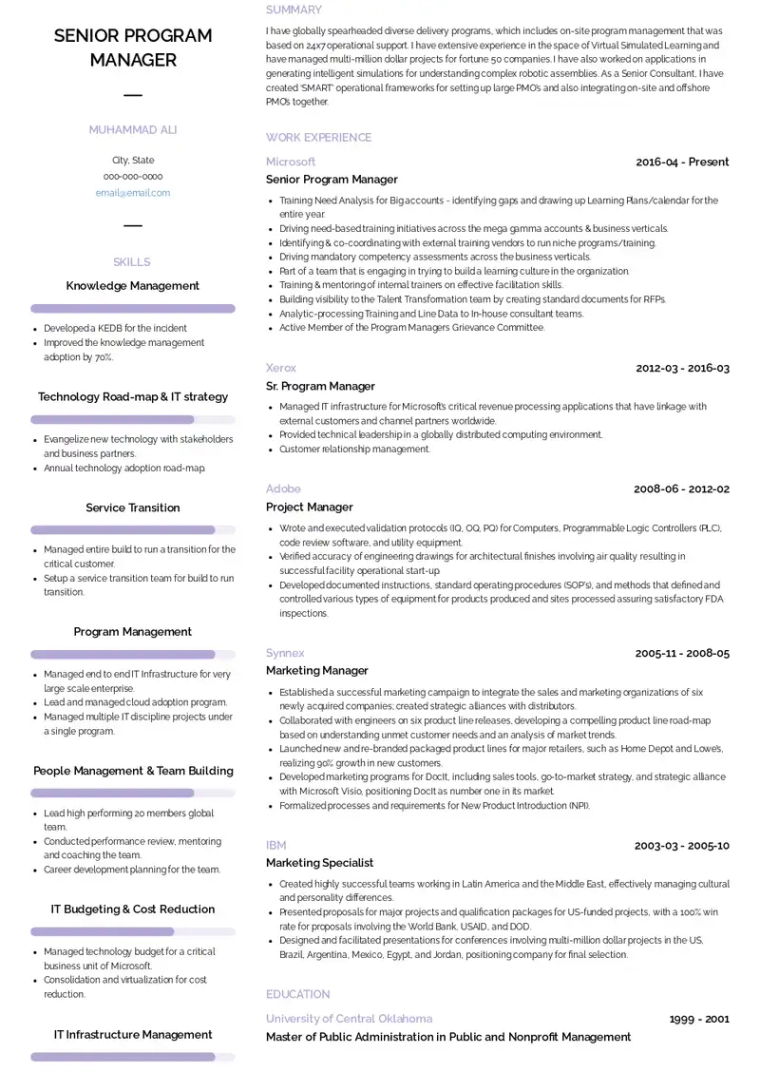 How to Write a Program Manager Resume?
To write a professional Program Manager resume, follow these steps:
Select the right Program Manager resume template.
Write a professional summary at the top explaining your Program Manager's experience and achievements.
Follow the STAR method while writing your Program Manager resume's work experience. Show what you were responsible for and what you achieved as a Program Manager.
List your top Program Manager skills in a separate skills section.
Write the perfect Program Manager resume header by:
Adding your full name at the top of the header.
Add a photo to your resume if you are applying for jobs outside of the US. For applying to jobs within the US, avoid adding photo to your resume header.
Add your current Program Manager to the header to show relevance.
Add your current city, your phone number and a professional email address.
Finally, add a link to your portfolio to the Program Manager resume header. If there's no portfolio link to add, consider adding a link to your LinkedIn profile instead.
John Doe 1191 Court Street, Old Monroe, Missouri, 63369 Marital Status: Married, email: cooldude2022@gmail.com
John Doe, Old Monroe, Missouri, Phone number: +1-555-555-5555, Link: linkedin/in/johndoe
Make sure to add a professional looking email address while writing your resume header. Let's assume your name is John Doe - here is a formula you can use to create email addresses:
firstnamelastname@email.com - johndoe@email.com
firstname.lastname@email.com - john.doe@email.com
lastname.firstname@email.com - doe.john@email.com
f.lastname@email.com - j.doe@email.com
l.firstname@email.com - d.john@email.com
firstnamelastname12@email.com - johndoe12@email.com
For a Program Manager email, we recommend you either go with a custom domain name (john@johndoe.com) or select a very reputed email provider (Gmail or Outlook).
How to Write a Professional Program Manager Resume Summary?
Use this template to write the best Program Manager resume summary: Program Manager with [number of years] experience of [top 2-3 skills]. Achieved [top achievement]. Expert at [X], [Y] and [Z].
Program Manager Resume Summary Example
Expert in transforming strategic plans into tactical initiatives for national and international programs. Motivator and coach, combining business acumen with analytical depth to align operational efficiency with corporate goals.
Program Manager Resume Summary Example
Globally spearheaded diverse delivery programs, which includes on-site program management that was based on 24x7 operational support. I have extensive experience in the space of virtual simulated learning and have managed multi-million dollar projects for fortune 500 companies.
How to Write a Program Manager Resume Experience Section?
Here's how you can write a job winning Program Manager resume experience section:
Write your Program Manager work experience in a reverse chronological order.
Use bullets instead of paragraphs to explain your Program Manager work experience.
While describing your work experience focus on highlighting what you did and the impact you made (you can use numbers to describe your success as a Program Manager).
Use action verbs in your bullet points.
Program Manager Resume Example
Program Manager
Managed IT infrastructure for ACME's critical revenue processing applications that have linkage with external customers and channel partners worldwide.
Provided technical leadership in a globally distributed computing environment.
Customer relationship management.
Program Manager Resume Example
Program Manager
Training needs analysis for big accounts - identify gpas and drawing up learning plans/calendar for the entire year.
Driving need-based training initiatives across the mega gamma accounts and business verticals.
Identifying and co-ordinating with external training vendors to run niche programs and training.
Driving mandatory competency assessments across the business verticals.
Part of a team that is engaged in trying to build a learning culture in the organization.
Training and mentoring of internal trainers on effective facilitation skills.
Building visibility to the talent transformation team by creating standard documents for RFPs.
Analytic-process training for in-house consulting teams,
Active member of the program management grievance committee.
Program Manager Resume Example
Program Manager
Managing relationships with customers and vendors were also equal implementation partners.
Project planning, tracking and reporting for new strategic programs.
Tracking the project from initiation to delivery and closer of SOW.
Contracting financial management based on SOW terms and conditions.
Reporting and presenting program performance reports and compliance reports to the steering committee.
Manage the unicode upgrading from blueprint, configuration, testing to implementation.
Resource management of ACME and MPhasis systems in integration teams in delivering the project.
Program Manager Resume Example
Program Manager
Responsible for the oversight of a group home program that housed three team members.
Supervised direct support staff in the implementation and completion of action plans as articulated by the ISP.
Overseeing of finances, medications, doctor's appointments and ensuring proper documentation.
Top Program Manager Resume Skills for 2022
Program management
Leadership
Partnership
Communication
Strategic planning
Project management
Roadmapping
People management
Budgeting and cost control
Project lifecycle management
Continuous process improvement
Change management
IT strategy
Knowledge management
Service transition
IT infrastructure management
How Long Should my Program Manager Resume be?
Your Program Manager resume length should be less than one or two pages maximum. Unless you have more than 25 years of experience, any resume that's more than two pages would appear to be too long and risk getting rejected.
On an average, for Program Manager, we see most resumes have a length of 2.