Phlebotomist Resume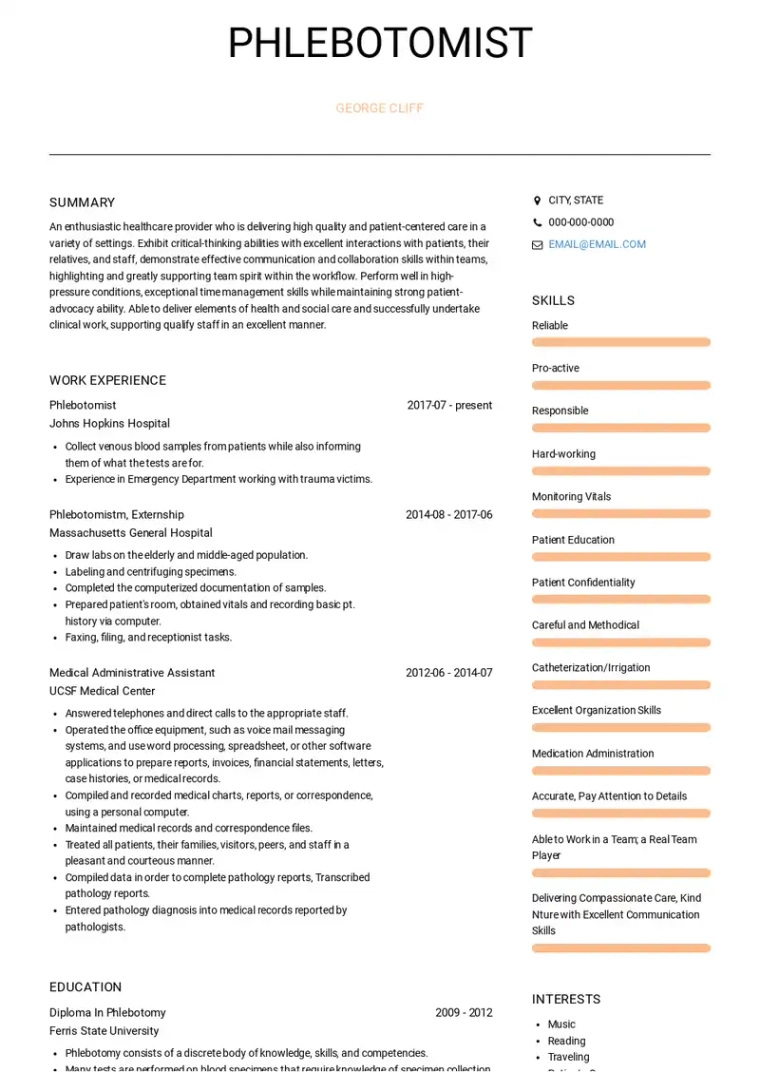 Experienced Phlebotomist Resume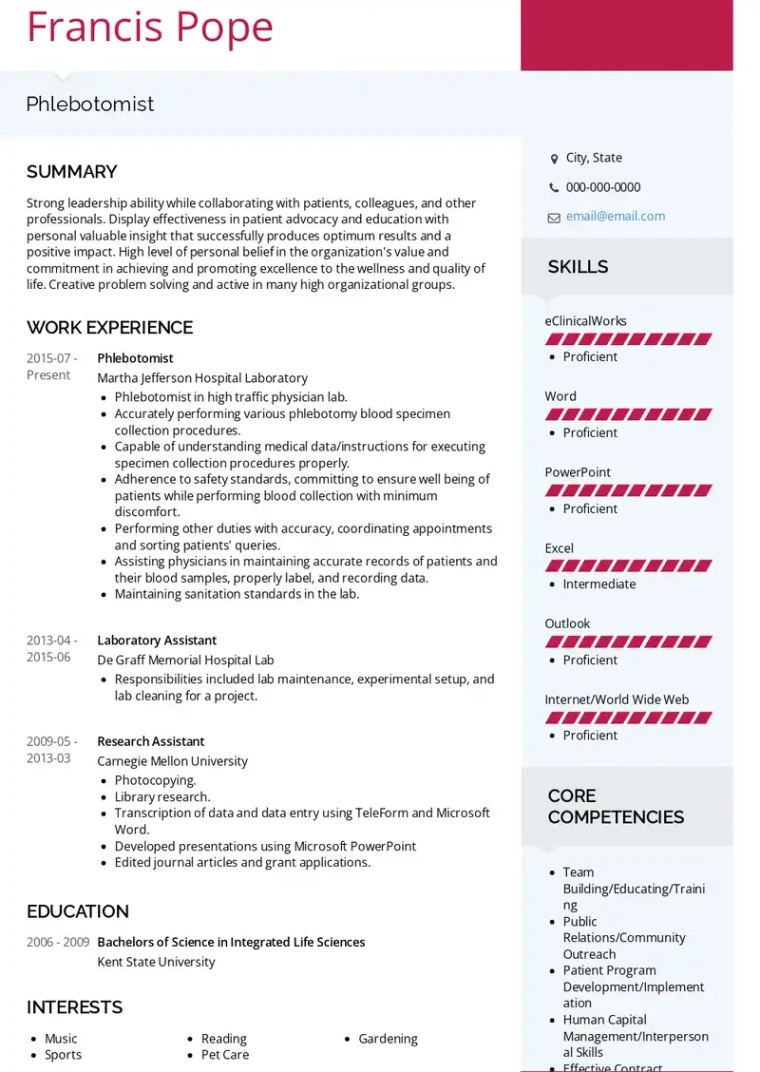 Phlebotomist Resume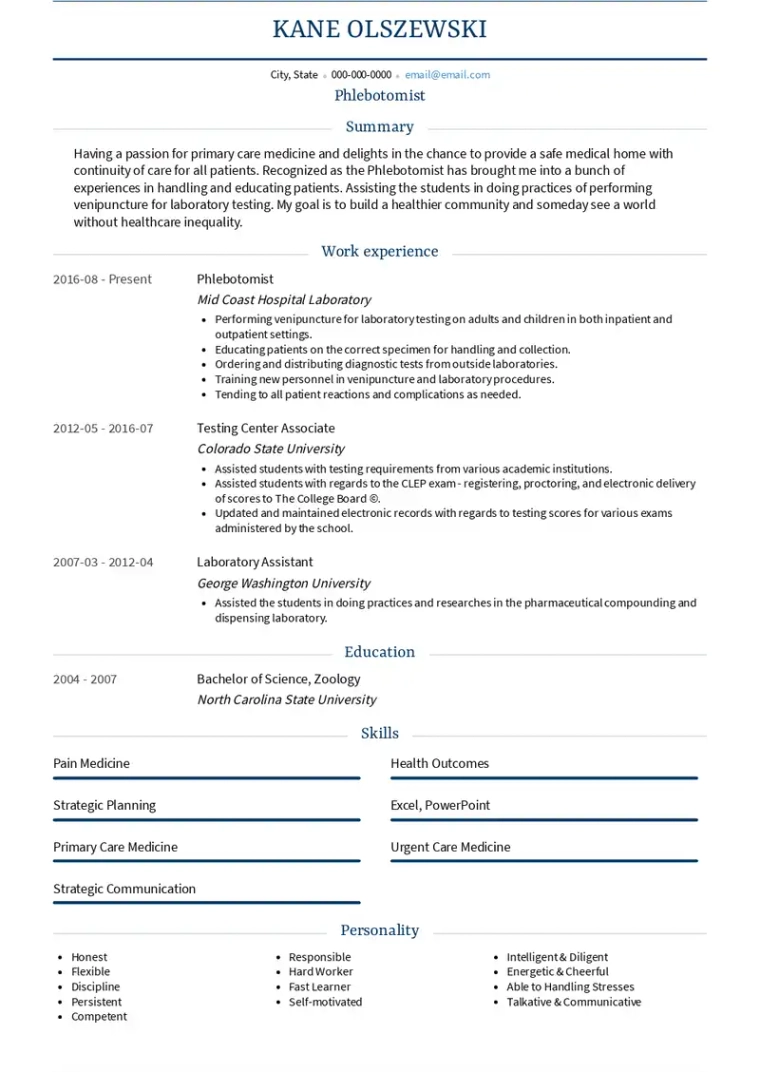 How to Write a Phlebotomist Resume?
To write a professional Phlebotomist resume, follow these steps:
Select the right Phlebotomist resume template.
Write a professional summary at the top explaining your Phlebotomist's experience and achievements.
Follow the STAR method while writing your Phlebotomist resume's work experience. Show what you were responsible for and what you achieved as a Phlebotomist.
List your top Phlebotomist skills in a separate skills section.
Write the perfect Phlebotomist resume header by:
Adding your full name at the top of the header.
Add a photo to your resume if you are applying for jobs outside of the US. For applying to jobs within the US, avoid adding photo to your resume header.
Add your current Phlebotomist to the header to show relevance.
Add your current city, your phone number and a professional email address.
Finally, add a link to your portfolio to the Phlebotomist resume header. If there's no portfolio link to add, consider adding a link to your LinkedIn profile instead.
Aaron Stewart 464 Cassin Street Suite 666 New Edwardfort, WV 34052 Marital Status: Married, email: cooldude2022@gmail.com
Aaron Stewart, New Edwardfort, WV, Phone number: +1-555-555-5555, Link: linkedin/in/johndoe
Make sure to add a professional looking email address while writing your resume header. Let's assume your name is John Doe - here is a formula you can use to create email addresses:
firstnamelastname@email.com - johndoe@email.com
firstname.lastname@email.com - john.doe@email.com
lastname.firstname@email.com - doe.john@email.com
f.lastname@email.com - j.doe@email.com
l.firstname@email.com - d.john@email.com
firstnamelastname12@email.com - johndoe12@email.com
For a Phlebotomist email, we recommend you either go with a custom domain name (john@johndoe.com) or select a very reputed email provider (Gmail or Outlook).
How to Write a Professional Phlebotomist Resume Summary?
Use this template to write the best Phlebotomist resume summary: Phlebotomist with [number of years] experience of [top 2-3 skills]. Achieved [top achievement]. Expert at [X], [Y] and [Z].
Phlebotomist Resume Summary Example
Having a passion for primary care medicine and delights in the chance to provide a safe medical home with the continuity to care for all patients. Recognized as the Phlebotomist has brought me into a bunch of experience into a bunch of experiences in handling and educating patients. Assisting the students in doing practices of performing venipuncture for laboratory testing. My goal is to build a healthier community and someday see a world without healthcare inequality.
How to Write a Phlebotomist Resume Experience Section?
Here's how you can write a job winning Phlebotomist resume experience section:
Write your Phlebotomist work experience in a reverse chronological order.
Use bullets instead of paragraphs to explain your Phlebotomist work experience.
While describing your work experience focus on highlighting what you did and the impact you made (you can use numbers to describe your success as a Phlebotomist).
Use action verbs in your bullet points.
Phlebotomist Resume Example
Phlebotomist
Collect venous blood samples from patients while also informing them of the test details.
Emergency department member with experience of working with trauma victims.
Phlebotomist Resume Example
Phlebotomist
Draw labs on the elderly and middle-aged population.
Labeling and centrifuging the specimens.
Completed the computerized documentation of samples.
Prepared the patient's room, obtained vitals and recorded basic PT history.
Perform Faxing, filing, and receptionist tasks.
Phlebotomist Resume Example
Phlebotomist
Phlebotomist in a high traffic physician lab.
Accurately performing various phlebotomist blood specimen collection procedures.
Adherence to safety standards, commiting to ensure well being of patients while performing blood collection with minimum discomfort.
Performing other duties with accuracy, coordinating appointments and sorting patients' queries.
Assisting physicians in maintaining accurate records of patients and their blood samples and recording data.
Maintaining sanitation standards in the lab.
Phlebotomist Resume Example
Phlebotomist
Performing venipuncture for laboratory testing on adults and children in both in-patient and out-patient settings.
Educating patients on the correct specimen for handling and collection.
Ordering and distributing diagnostics tests from outside laboratories.
Training new personnel in venipuncture and laboratory procedures.
Tending to all patient reactions and complications as needed.
Top Phlebotomist Resume Skills for 2022
Reliability
Proactiveness
Responsible
Hard working
Monitoring vital signs
Patient education
Patient confidentiality
Catheterization
Organization
Medication
Attention to detail
Administration
Communication
How Long Should my Phlebotomist Resume be?
Your Phlebotomist resume length should be less than one or two pages maximum. Unless you have more than 25 years of experience, any resume that's more than two pages would appear to be too long and risk getting rejected.
On an average, for Phlebotomists, we see most resumes have a length of 2. And, that's why we advise you to keep the resume length appropriate to not get rejected.