When you're crafting your resume, one of the most important sections is your work experience – after all, this is where you can best demonstrate how you'll fit the role you're applying for! You can tell a hiring manager you'd be great for the job until you're blue in the face, but it's another thing to actually get to show them.
That's also why it can be the most difficult section to write! When you're creating a customized resume (which you should be doing for each and every job you apply for, by the way!) each entry in your job description section should effortlessly explain exactly why you're the perfect fit. If you're looking to write a PCA job description for your resume, rest assured that the loyalty, strong work ethic, and cooperation skills that job fosters are all fantastic things for a hiring manager to see.
PS: We've made it easy for you, but if you want things even easier, why not take out the guesswork and leave it in the hands of our resume writers? We're ready and waiting to craft the perfect PCA job description for your resume.
PCA Job Description for Resume
First of all, there are a few ground rules you should take into account when you begin writing your resume's work experience section.
Keep this in mind: each job posting you see is, essentially, a company describing a problem they have. Your resume's job is to explain how you'll solve that problem. Read the job description carefully to determine what the "problem" is. You can then use that information to customize your resume to demonstrate that you're the best candidate for the role.
When writing your work experience, the most important thing to remember is to discuss results, not just your work responsibilities. Potential employers should already understand the day-to-day tasks you completed at your previous positions. What they're actually interested in is what you achieved, and how it positively impacted the workplace. Your work experience section should be a place where you can brag as much as you want!
Don't:
Assisted clients with daily activities at home.
Do:
Assisted clients one-on-one between the hours of 6am and 6pm, Monday through Friday. Helped with mobility, bathing, shopping, meal preparation, medication organization, and admin.
PCA Job Description for Resume: Example One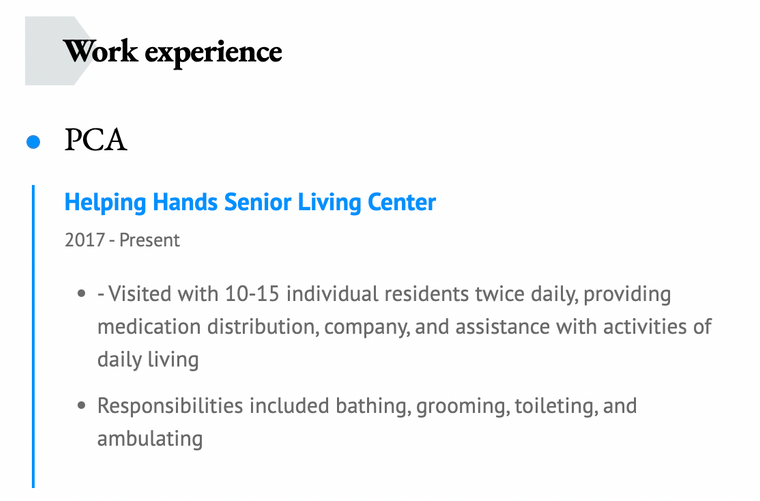 PCA | Helping Hands Senior Living Center | 2017 - Present
Visited with 10-15 individual residents twice daily, providing medication distribution, company, and assistance with activities of daily living
Responsibilities included bathing, grooming, toileting, and ambulating
Why it works: When you work with larger groups of patients, rather than for one individual as a PCA, your experience can be valuable in different ways. This applicant is demonstrating their individual skills as a PCA, but also makes it clear that these skills can be applied broadly.
PCA Job Description for Resume: Example Two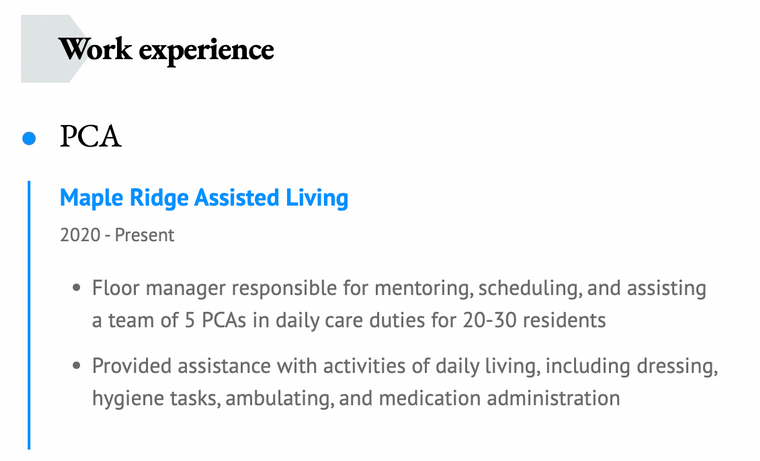 PCA | Maple Ridge Assisted Living | 2020 - Present
Floor manager responsible mentoring, scheduling, and assisting a team of 5 PCAs in daily care duties for 20-30 residents
Provided assistance with activities of daily living, including dressing, hygiene tasks, ambulating, and medication administration
Why it works: You should always lead a job experience entry with any additional responsibilities you may have. In this case, the applicant is not only an excellent PCA, they also manage and mentor other PCAs. This is a great signal to a hiring manager that you'll be an asset to a team!
PCA Job Description for Resume: Example Three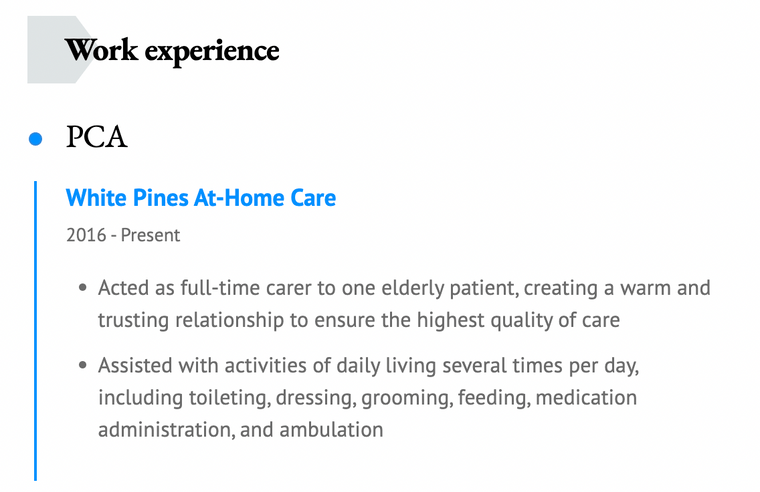 PCA | White Pines At-Home Care | 2016 - Present
Acted as full-time carer to one elderly resident, creating a warm and trusting relationship to ensure the highest quality of care
Assisted with activities of daily living several times per day, including toileting, dressing, grooming, feeding, medication administration, and ambulation
Why it works: When you're working with one individual rather than as part of a larger care home situation, the relationship between yourself and your patient becomes even more critical. Your ability to forge a strong and trusting relationship with patients will be something hiring managers will be looking at very closely, and this applicant does a good job of demonstrating just that.