Operations Manager Resume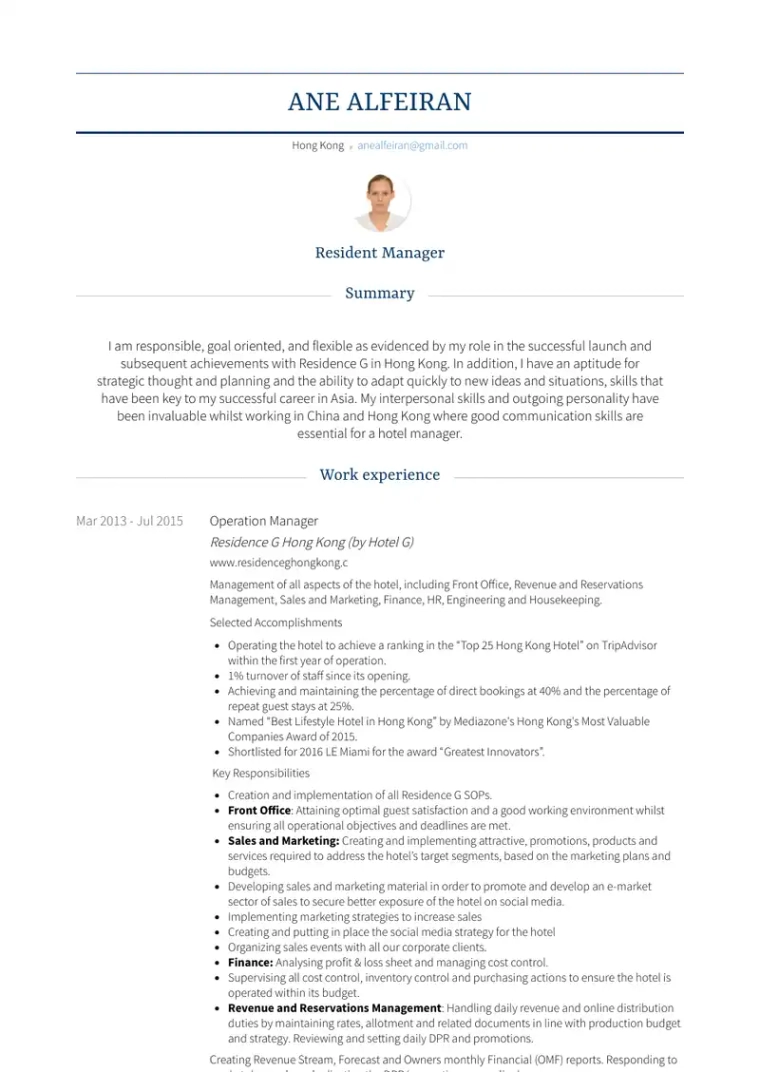 Digital Operations Manager Resume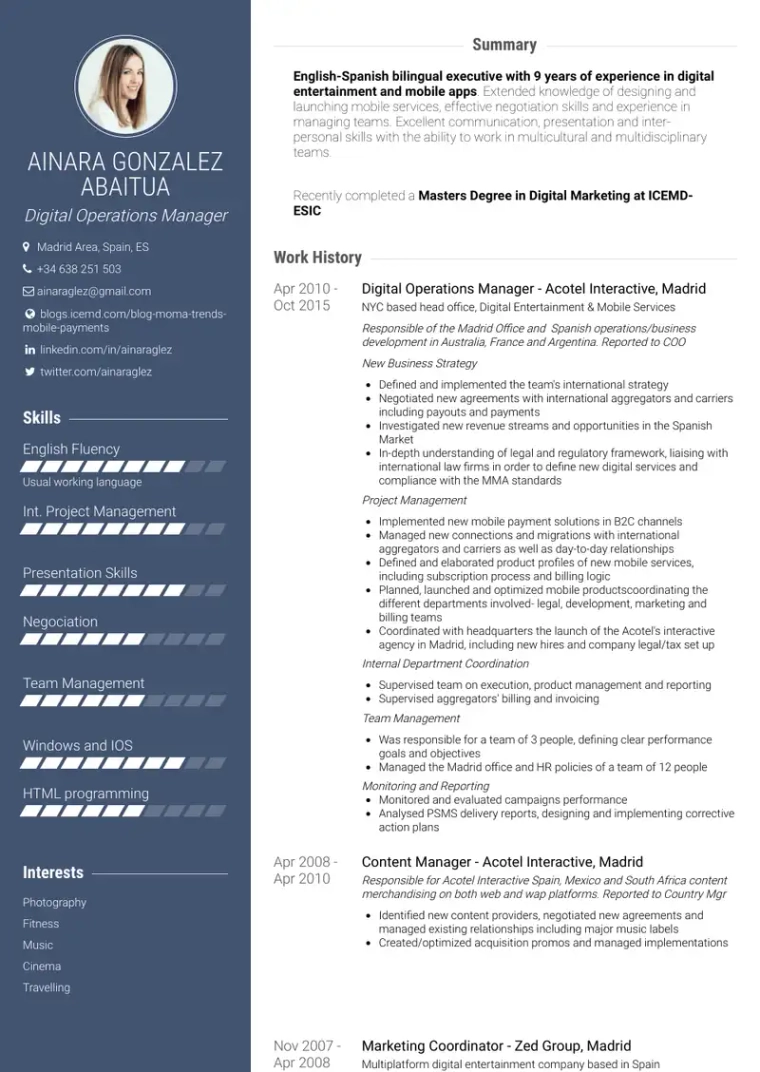 How to Write an Operations Manager Resume?
To write a professional Operations Manager resume, follow these steps:
Select the right Operations Manager resume template.
Write a professional summary at the top explaining your Operations Manager's experience and achievements.
Follow the STAR method while writing your Operations Manager resume's work experience. Show what you were responsible for and what you achieved as an Operations Manager.
List your top Operations Manager skills in a separate skills section.
## How to Write Your Operations Manager Resume Header? Write the perfect Operations Manager resume header by:
Adding your full name at the top of the header.
Add a photo to your resume if you are applying for jobs outside of the US. For applying to jobs within the US, avoid adding photo to your resume header.
Add your current Operations Manager to the header to show relevance.
Add your current city, your phone number and a professional email address.
Finally, add a link to your portfolio to the Operations Manager resume header. If there's no portfolio link to add, consider adding a link to your LinkedIn profile instead.
Davis Morris 3971 Mohr Junctions Suite 421 East Jalenbury, CA 51619-2837 Marital Status: Married, email: cooldude2022@gmail.com
Davis Morris, East Jalenbury, CA, Phone number: +1-555-555-5555, Link: linkedin/in/johndoe
Make sure to add a professional looking email address while writing your resume header. Let's assume your name is John Doe - here is a formula you can use to create email addresses:
firstnamelastname@email.com - johndoe@email.com
firstname.lastname@email.com - john.doe@email.com
lastname.firstname@email.com - doe.john@email.com
f.lastname@email.com - j.doe@email.com
l.firstname@email.com - d.john@email.com
firstnamelastname12@email.com - johndoe12@email.com
For an Operations Manager email, we recommend you either go with a custom domain name (john@johndoe.com) or select a very reputed email provider (Gmail or Outlook).
How to Write a Professional Operations Manager Resume Summary?
Use this template to write the best Operations Manager resume summary: Operations Manager with [number of years] experience of [top 2-3 skills]. Achieved [top achievement]. Expert at [X], [Y] and [Z].
How to Write an Operations Manager Resume Experience Section?
Here's how you can write a job winning Operations Manager resume experience section:
Write your Operations Manager work experience in a reverse chronological order.
Use bullets instead of paragraphs to explain your Operations Manager work experience.
While describing your work experience focus on highlighting what you did and the impact you made (you can use numbers to describe your success as an Operations Manager).
Use action verbs in your bullet points.
Operations Manager Resume Example
Operations Manager
Handling overall branch operations, remittances and cleaning cash, risk department according to local regulations.
Checking branch operations on a daily basis and per organization policy.
Input operational reports to our operations management software each week.
Managing critical operations with deep oversight for all employees and customers at our branch.
Ensure service recovery procedures are done following security SOPs for prevention of loss.
Preparation and managing branch operational statements daily, weekly, monthly and half yearly.
Operations Manager Resume Example
Operations Manager
1% turnover of operating staff since the opening of our branch.
Operating NYC's top brewery ranked top 5 on Tripadvisor.
Achieving and maintaining the percentage of direct books at 40% and the percentage of repeat guests stays at 25%.
Named "Best lifestyle brewery in NYC" by NYC's most valuable brewery award of 2022.
Operations Manager Resume Example
Operations Manager
Creation and implementation of all standard operating procedures.
Attaining optimal guest satisfaction and a good working environment whilst ensuring all operational objectives and deadlines are met.
Creating and implementing attractive promotions, products and services required to address the target segments, based on the marketing plans and budgets.
Organizing company wide events to promote ourselves.
Handle daily revenue and
Top Operations Manager Resume Skills for 2022
Communication
Project management
Operations management
Presentation
Negotiation
Team management
Staff management
Process improvement
Documentation
Reporting
How Long Should my Operations Manager Resume be?
Your Operations Manager resume length should be less than one or two pages maximum. Unless you have more than 25 years of experience, any resume that's more than two pages would appear to be too long and risk getting rejected.
On an average, for Operations Manager, we see most resumes have a length of 2. And, that's why we advise you to keep the resume length appropriate to not get rejected.