MBA Resume Example
Student MBA Resume Example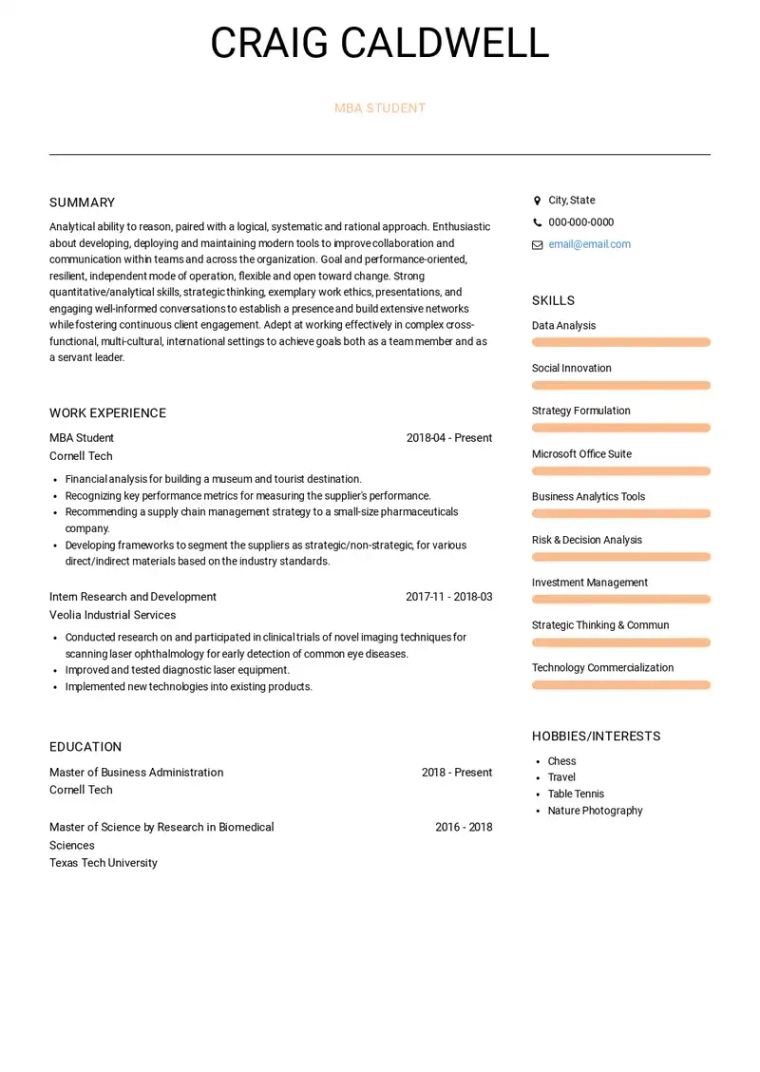 MBA Intern Resume Example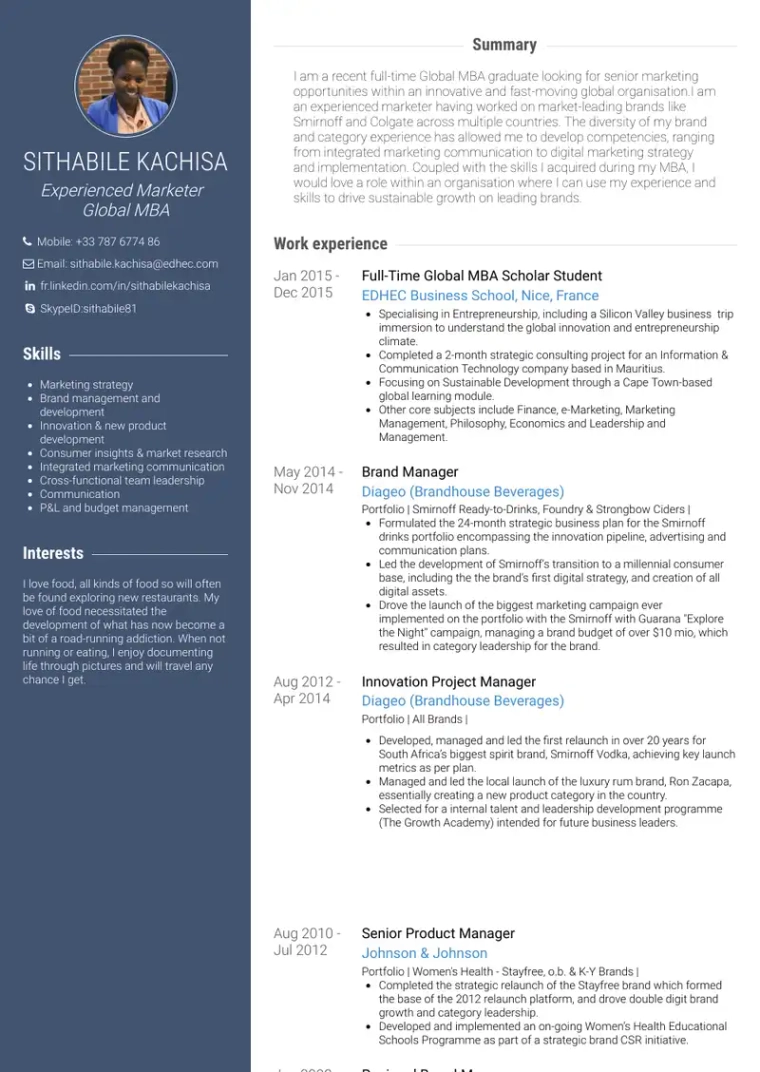 How to Write an MBA Resume?
To write a professional MBA resume, follow these steps:
Select the right MBA resume template.
Write a professional summary at the top explaining your MBA's experience and achievements.
Follow the STAR method while writing your MBA resume's work experience. Show what you were responsible for and what you achieved as an MBA.
List your top MBA skills in a separate skills section.
Write the perfect MBA resume header by:
Adding your full name at the top of the header.
Add a photo to your resume if you are applying for jobs outside of the US. For applying to jobs within the US, avoid adding photo to your resume header.
Add your prospective MBA title to the header to show relevance.
Add your current city, your phone number and a professional email address.
Finally, add a link to your portfolio to the MBA resume header. If there's no portfolio link to add, consider adding a link to your LinkedIn profile instead.
John Doe 91 Post Farm Road, Atlanta, Georgia Marital Status: Single, email: cooldude2022@gmail.com
John Doe, Atlanta, Georgia, Phone number: +1-555-555-5555, Link: linkedin/in/johndoe
Make sure to add a professional looking email address while writing your resume header. Let's assume your name is John Doe - here is a formula you can use to create email addresses:
firstnamelastname@email.com - johndoe@email.com
firstname.lastname@email.com - john.doe@email.com
lastname.firstname@email.com - doe.john@email.com
f.lastname@email.com - j.doe@email.com
l.firstname@email.com - d.john@email.com
firstnamelastname12@email.com - johndoe12@email.com
For an MBA email, we recommend you either go with a custom domain name (john@johndoe.com) or select a very reputed email provider (Gmail or Outlook).
How to Write a Professional MBA Resume Summary?
Use this template to write the best MBA resume summary: "MBA with [number of years] experience of [top 2-3 skills]. Achieved [top achievement]. Expert at [X], [Y] and [Z]."
How to Write an MBA Resume Experience Section?
Here's how you can write a job winning MBA resume experience section:
Write your MBA work experience in a reverse chronological order.
Use bullets instead of paragraphs to explain your MBA work experience.
While describing your work experience, focus on highlighting what you did and the impact you made (you can use numbers to describe your success).
If you don't have any MBA specific work experience to show, leverage your academic and other relevant coursework instead.
Use action verbs in your bullet points.
MBA Resume Example
MBA Student Cornell Tech
Financial analysis for building a museum and tourist destination.
Recognizing key performance metrics for measuring supplier's performance.
Developing frameworks to segment the suppliers as strategic/non-strategic for various direct/indirect materials based on the industry standards.
Recommending a supply chain management strategy to a small-size pharmaceutical company.
MBA Resume Example
MBA Intern
Cognized and evaluated the dissatisfied customers' responses.
Analyzed marketing information and translated it into strategic plans.
MBA Resume Example
MBA Marketing Intern
Worked cross-functionally with finance, operations and research colleagues to gather and leverage insights for development of new platform strategy and roadmap.
Achieved full senior stakeholder alignment for short and long term vision and strategy for a new OTX platform. Culminated in a presentation to marketing leadership.
How to List MBA Education on Resume - Example
MBA Scholar Student, Columbia University
Specializing in entrepreneurship, including a Silicon Valley business trip immersion to understand the global innovation and entrepreneurship landscape.
Completing a two-month strategic consulting project for an ICT company.
Focusing on sustainable development through a SF based global learning module.
Other core subjects include: finance, e-marketing, marketing management, philosophy, economics and leadership.
Top 20 MBA Resume Skills for 2022
Data Analysis
Strategy
MS Office
Business Analytics
Risk Analysis
Investment Management
Technology
Marketing Strategy
P&L
Customer Loyalty Management
Brand Management
Financial Analysis
Communication
Competitive Analysis
Training and Development
Team Leadership
Innovation
Consumer Insights
Statistics
Data Driven
How Long Should my MBA Resume be?
Your MBA resume length should be less than one or two pages maximum. Unless you have more than 25 years of experience, any resume that's more than two pages would appear to be too long and risk getting rejected.
On an average, for MBA, we see most resumes have a length of 2. And, that's why we advise you to keep the resume length appropriate to not get rejected.