Ranked consistently as one of the happiest countries in the world, Sweden's friendly locals, stunning nature, and eclectic arts and culture scene make it the type of place people tend to want to stay for a long time. But if you're considering making the leap and moving to Sweden to work, you'll need to craft the perfect Sweden resume to stand out amongst heavy competition.
In this article, we'll cover:
Sweden resume format
How to write a resume in Sweden
Working in Sweden
Finding a job in Sweden
What Do You Call a Resume in Sweden?
In Sweden, resumes are more commonly referred to as CVs. Using the word "resume" may demonstrate to employers that you aren't local to Sweden, but they'll still understand what you're talking about.
Sweden Resume Format
Thankfully, if you're familiar with standard resume formats, you're familiar with resume formats in Sweden. In general, your Sweden resume will take one of three forms: chronological, functional, or a combination of the two.
Chronological Resume - Sweden
A chronological resume is the most common resume format, used around the world by jobseekers. If you write a resume using a chronological format, you're telling the story of your career in order. Normally, chronological resumes are actually reverse chronological resumes, meaning you begin with your current or most recent job and work your way backwards from there. Because chronological resumes are common around the world, using this format when you apply to jobs in Sweden won't hinder your chances at all. In fact, many employers will likely prefer this format over others. However, it's always a good idea to carefully read any job description you're interested in. You may find that the application instructions specifically request a certain type of resume over another.
Functional Resume - Sweden
Where a chronological resume focuses heavily on your work experience, a functional resume focuses on your skills. After all, when you're applying for a job you're trying to explain how your skills would allow you to succeed – a functional resume lays those skills out plainly so that hiring managers and recruiters can instantly assess whether you hold those skills and qualifications. Of course, that's not to say that a functional resume ignores your work experience! However, instead of leading with your experience, a functional resume explains how your work experience exemplifies your skills. For example, if you're trying to demonstrate your expert-level Adobe Suite skills, you could use your work experience as a graphic designer to illustrate (no pun intended) the fact that you have a solid history of working with Adobe. Functional resumes aren't as common as chronological resumes, but they're used in specific industries, such as accounting, fairly regularly. If you're applying for a job that requires very specific skills or certifications, using a functional resume may be the best way to demonstrate that you're qualified. Before you decide to use a function resume, though, make sure to carefully read the job posting and do your research about the industry. Some industries consider functional resumes to be the standard, while in others they would seem awkward and out of place. A job posting may also specifically ask for one type of resume over another – when in doubt, defer to a chronological resume format.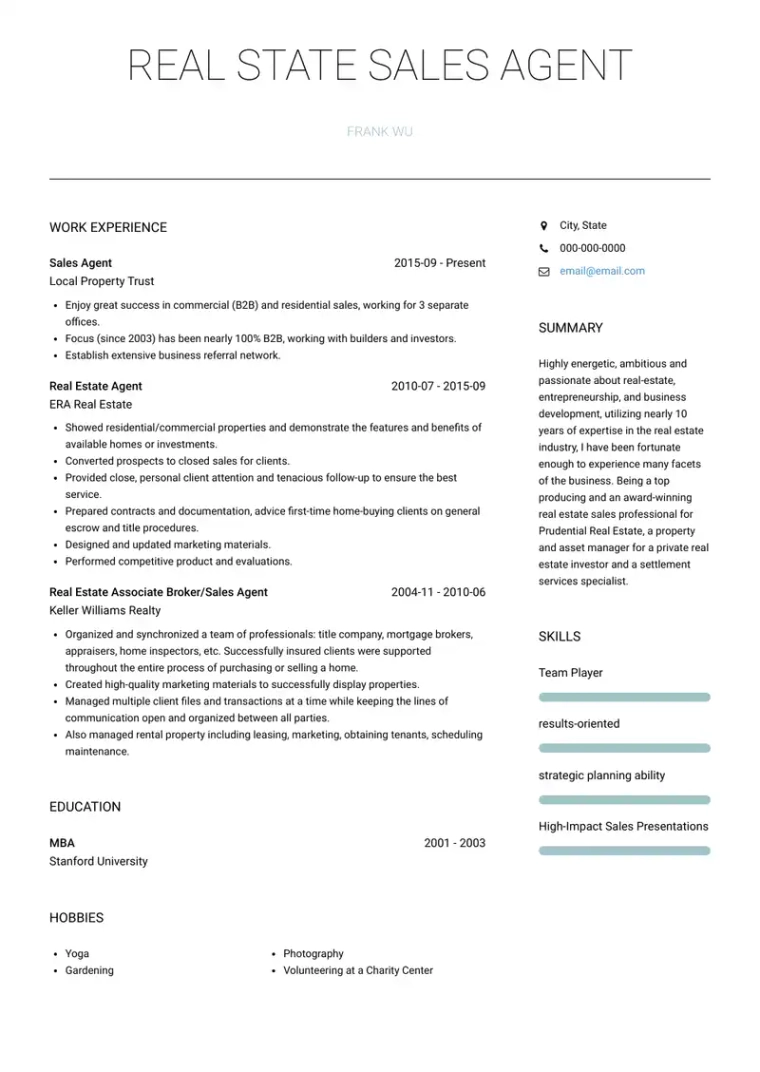 An example of a functional resume
Sweden Resume Photos
One thing that may differ between your experience and what's expected in Sweden is the inclusion of professional headshots. While it's not usually a strict requirement, the norm in Sweden is to include a photo of yourself alongside your resume. If you'd like to put yourself on the most level playing field possible amongst Swedish people, you should take care to attach a photo with your resume. Luckily, VisualCV's resume templates include many options for including a photo with your resume!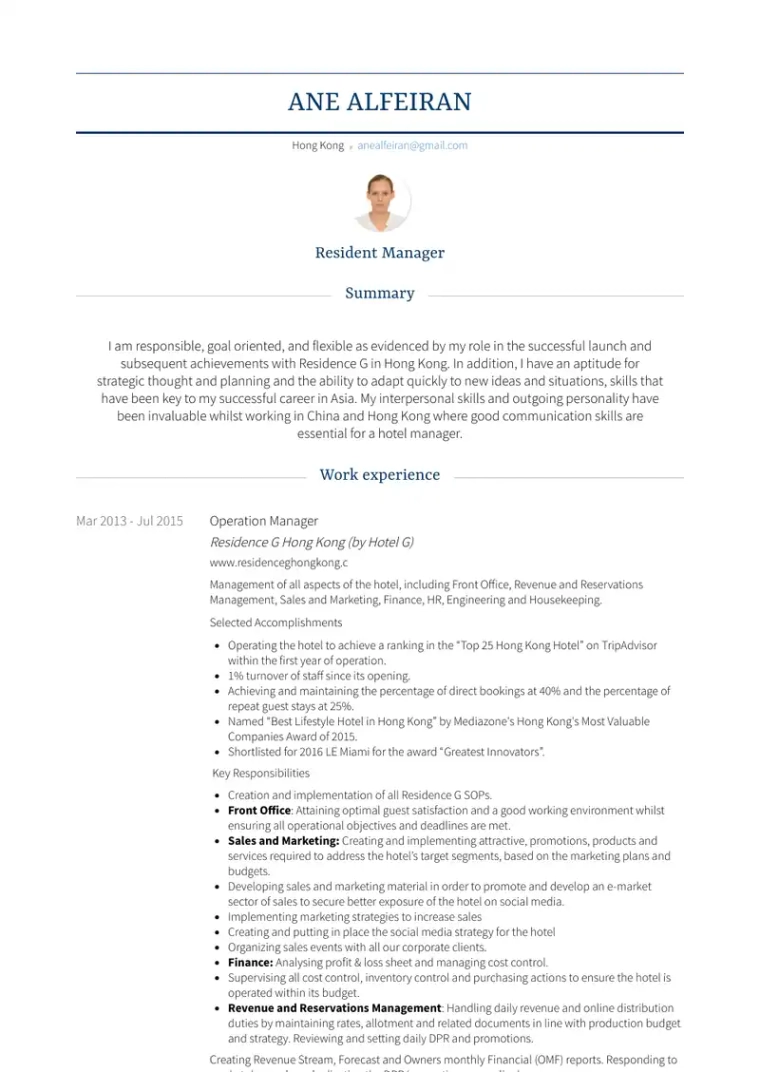 Including a photo with your resume is the norm in Sweden.
How to Write a Resume in Sweden
In general, a Sweden resume will be very similar to a resume you'd write for elsewhere in the world. Your resume should consist of the following components, give or take depending on your experience and the job requirements.
A resume summary
Your work experience
Your education
Your skills
You may also choose to add additional sections to your resume, such as awards, certifications, volunteering experience, and hobbies and interests. Some jobs and industries require specific information to be included in your resume, so make sure you've done your research! If you're not from Sweden, and you're hoping to work in the country as an expat, it may be a good idea to clearly state your right to work in Sweden. This may include visa information or a brief note about your eligibility.
Summary
For the most part, it's not strictly necessary for you to include a resume summary. If you aren't confident in your ability to quickly sum yourself and your experience up, it may be best to leave it out entirely. In the past, the beginning of your resume contained an objective – essentially, stating that you were seeking employment. Nowadays, employers have almost unanimously said that a resume objective is pointless – they already know you'd like the job, because you're applying for the job! If you choose to include a resume summary, use it to highlight the very best of your experience. This is also a great place to include keywords from the job posting – for example, if the job is looking for someone with Python experience, stating that immediately in your resume summary is a great idea.
Don't: Front end developer seeking a new challenge in tech.
Do: Front end developer with 10 years of experience creating dynamic web applications with an eye for UX. Fluent in Java and Python, with experience managing successful, income-driven teams and projects.
Work Experience
Your work experience is usually the place where you can really shine. After all, you're trying to explain to your future employer that you'll find success in this role. What better way to demonstrate that than by showing off all the success you've had elsewhere? If you're creating an entry level Sweden resume, you'll focus mostly on your education and any relevant internship or volunteer experience. Remember that you can use things like clubs and organizations as experience if they're relevant to the position. For example, being president of a coding club could be valuable experience for a coding position. Each entry in your work experience section should include:
The name of your employer or organization
The dates you worked there (if it's your current position, end with -present)
Job title
Job description
Achievements
Remember that you need to focus on achievements, not day to day tasks. Instead of saying you completed projects on time, say averaged 10% under budget while completing 100% of tasks on schedule, 60% ahead of schedule. If you're looking for a complete resume writing guide, you can always check out VisualCV's ultimate guide here.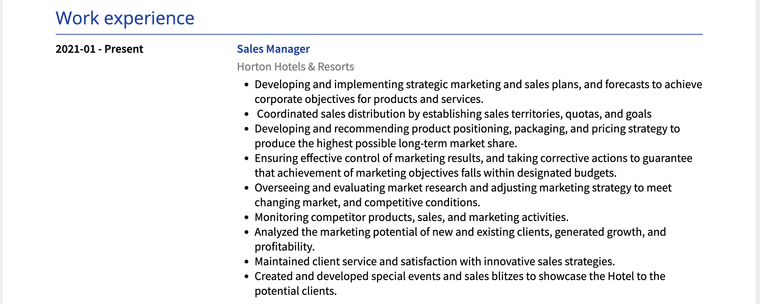 An example of how to include work experience in your resume.
Education
The education section of your resume will differ depending on your seniority. Recent grads with less work experience can lean on their education section to help explain their fit for a role. You can speak more about your educational accomplishments, because they're more likely to still be relevant and expand on your skills. If you've been at the game for a while, and you're applying for more senior positions, it may look out of touch or out of place to have an expanded education section on your resume. If that's the case, you can stick to a basic education section that simply lists the institutions, the degrees earned, and the areas of study. Of course, if you're applying for positions with a focus on academics (such as a professor role) then your education section is absolutely crucial, and you should make sure to treat it with the same weight as you would your work experience section. Do your research and make sure you understand what's expected of you and your resume well in advance.

Skills
While this section can sometimes be overlooked, it's hugely important – especially when employers are skimming resumes or using ATS systems to determine who to move ahead. The skills you have in this section should directly correlate with skills required in the job description. This way, potential employers understand immediately that you could find success in the role. It's a good idea to include your level of competency with each skill. This way, employers can gauge how well you'll suit a role, as well as how much on-the-job training you might require. Don't be afraid to list skills you only have a beginner-level knowledge of, either – many employees appreciate seeing that you're trying to learn new skills!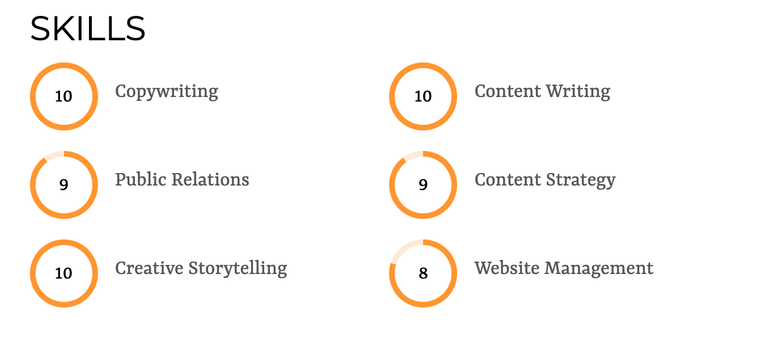 Working in Sweden
Sweden has the world's best social welfare system, meaning its residents are well taken care of. Additionally, Sweden is considered to be one of the best countries in the world for working women and mothers – 16 month paid parental leave, free daycare, and a huge emphasis on equality in schools are all massive benefits to working in Sweden. Work-life balance is extremely important here; only 1% of Swedish workers work more than 50 hours per week.
Expats Working in Sweden
While it can be intimidating to work in a new country as an expat, you can actually use your expat status to your advantage in Sweden. Because of the social and communal nature of Swedish life, networking plays a massive role in how people find their jobs. Joining an expat networking group can not only help you settle into your new life in Sweden, it might also help you find your dream job.
Americans Working in Sweden
Many Americans are interested in moving to Sweden to work because of the country's social policies. While it's a great idea, it's also an idea many people have! Because of this, the job market is quite saturated with English speakers, including Americans, and your skills will have to be exceptional in order to work in Sweden as an American. However, if you do manage to find a job in Sweden, then you'll find a robust American expat community and have the opportunity to become part of the local Swedish community as well.
Working in Sweden for Foreigners
It can be difficult to find a job in Sweden as a foreigner for a couple of reasons. Firstly, not knowing Swedish can be a deterrent for some employers, as it's the most commonly spoken language. If English is your first language, or if you speak English fluently, you may have some luck with finding jobs with major companies based out of Stockholm, the capital city, but it's always a good idea to have at least a working knowledge of Swedish before taking the plunge and applying to jobs in Sweden. Workplace culture and communication is hugely important to Swedish employers, so being able to speak casually with your co-workers will go a long way.
Working in Sweden for English Speakers
Although employers do generally prefer to hire those with Swedish language skills, it's certainly not impossible to work in Sweden as an English speaker! Requirements can vary depending on industry, location, and individual company. Broadly speaking, your best shot at finding a job in Sweden as an English speaker would be in Stockholm, where large English-speaking companies in Sweden are based.
How to Get a Job in Sweden as an American
Because the Swedish job market is so saturated with English-speakers, there are a couple of ways that will truly allow you to stand out. First, learning even basic Swedish will go a long way towards proving to potential employers that you're committed to the job and to the Swedish way of life. Second, working in a field in need of employees will give you a greater shot at finding work in Sweden. Each year, Sweden publishes a job shortages list that shares which industries and careers are most in need of people to work. These jobs are often technical or highly skilled, such as IT workers or teachers. If you luck out and discover that your job is on the job shortages list, it's possible that employers will look past beginner-level Swedish (or none at all) to fill the role.
How Hard is it to Get a Job in Sweden
Sweden has a global reputation as an amazing place to live and work, so it only stands to reason that the job market is competitive! A factor that makes things even more complicated is that Sweden's job market is heavily influenced by networking and connection. Swedish people value community and communication, which means if you don't have a network of friends and contacts already located in Sweden, you'll have a much more difficult time finding a job. To mitigate this, do everything you can to become involved in the expat community (and the local community, where you can!) before you arrive, and continue to nurture those relationships once you live in Sweden full-time
What Can You Do With a Work Visa - Sweden
If you need a work visa to live in Sweden, you'll likely be sponsored by a company in order to receive it. There are certain rules that apply to jobs eligible to provide work visas, such as minimum salaries and the fact that the job must be advertised to EU citizens for at least 10 days. Work visas are issued for standard lengths of time. If, at the end of your visa, you'd like to stay in Sweden and live as a permanent resident, you'll need to prove that you've been working throughout the length of your issued visa.
What are the Working Hours in Sweden?
Like we've said, work-life balance is extremely important to Swedes, and it shows in their working hours. A typical full-time schedule is 40 hours per week, with an upper cap of 48 hours. Keep in mind that not all jobs are subject to this cap; there are certain careers that simply require working longer than 48 hours per week. Working overtime isn't common, and, in fact, it might even hurt your career – the attitude towards working extra hours is usually that you've not managed your time well enough to get your work done during the working day.
How Many Working Days in a Year - Sweden
First of all, full time employees are entitled to five weeks of vacation per year. Beyond that, Sweden celebrates several holidays throughout the year that you may expect, as a full-time employee, to be off work for. Sweden observes the following holidays:
New Year's Day (January 1st)
Epiphany (January 6th)
Good Friday (March or April)
Easter Sunday (March or April)
Easter Monday (March or April)
Labour Day (May)
Ascension Day (May)
Pentecost Sunday (June)
National Day (June 6th)
Midsummer Eve (June)
Midsummer Day (June)
All Saints' Day (November 5th)
Christmas Eve (December 24th)
Christmas Day (December 25th)
Second Day of Christmas (December 26th)
New Year's Eve (December 31st)