There are many reasons why someone might be interested in working in Qatar. For one thing, the earning potential can be much higher than in many other countries – the combination of high salaries in certain industries and no income tax can mean big things for your bottom line – but Qatar itself, and especially its capital city of Doha, is a fast-paced, modern city perfect for ex-pats looking for their next adventure. But with everything Qatar has to offer, you can expect competition for many jobs to be steep. How do you stand out from the pack and craft the perfect Qatar resume? We have you covered. In this guide, you'll learn:
How to write a Qatar resume
Qatar resume formats
Qatar resume samples and examples
How to find a job in Qatar
And more! Read on to learn everything there is to know about Qatar resumes.
What Do You Call a Resume in Qatar?
In Qatar, you'll find that the terms "resume" and "CV" are used fairly interchangeably. You may be asked for either when you look at job postings, but you can, in most cases, use the same document for each. Traditionally, a CV is a longer document than a resume, including more detailed information about your work history and achievements.
How Long Should a Qatar Resume Be?
A CV is usually around 2 pages long, but if you've had a longer career or have more accomplishments to highlight, 3 pages or even more in special circumstances. Resumes, on the other hand, tend to top out at 1-2 pages, with brevity being key. If you're writing a resume in Qatar, 1-3 pages, depending on your experience, is the norm.
How to Write a Qatar Resume
For the most part, writing a Qatar resume is similar to writing a resume for most other countries in the world. You'll need to explain to the hiring manager exactly why your skills and experience align with the job description – and you need to demonstrate that you'll provide value to the company to which you're applying. Sounds straightforward, right? Well, if you do all of that, you'll actually be well ahead of many other applicants. Let's get into a few Qatar resume sections – you might be surprised to see where you've been letting yourself down!
Qatar Resume Work Experience
Your work experience section should be the bulk of your resume. After all, this is arguably the most important section in your resume! Your other sections, such as education and skills, tell the hiring manager what you can do – in your work experience section, you're showing them. The STAR method is a way of demonstrating your skills and experience. It stands for: S: Situation – What was the problem you were faced with? T: Task – What were your specific responsibilities and goals as you combatted the problem? A: Action – What did you do? It's great to talk about the actions of your team as a whole, but try and focus as much as you can on the elements of the action that you were directly involved in or in charge of. R: Result – What was the outcome? Was the problem solved? How did it benefit your team or your company? Remember that the best way to demonstrate a result is through numbers and data. For example, here's a work experience entry that doesn't use the STAR method:
HR Data Analyst, XYZ Corporation | January 2018 - Present
Developed and implemented data-driven HR strategies
Leveraged HR analytics tools and statistical analysis to identify key performance indicators (KPIs) and trends
Spearheaded the creation and maintenance of comprehensive HR dashboards
While this piece of work experience tells the hiring manager that the applicant has been involved in many different work projects, it doesn't tell them how those projects were received. Think about it: if you were a hiring manager, you'd want more assurance that an applicant can provide real value to your company. With an entry like this, there isn't much of a guarantee.
On the other hand, check out this work experience entry that does use the STAR method:
HR Data Analyst, XYZ Corporation | January 2018 - Present
Developed and implemented data-driven HR strategies that resulted in a 15% reduction in employee turnover within the first year, saving the company $500,000 in recruitment costs.
Leveraged HR analytics tools and statistical analysis to identify key performance indicators (KPIs) and trends, leading to the optimization of talent acquisition processes, resulting in a 20% decrease in time-to-fill for critical roles.
Spearheaded the creation and maintenance of comprehensive HR dashboards, providing real-time insights into employee engagement, retention rates, and diversity metrics, enabling informed decision-making at all levels of the organization.
This takes the previous entry and pumps things up a notch. Now, instead of just telling the hiring manager what they've done, this applicant tells them about their success in a measurable way – it's now much easier to imagine them having similar success at their next role.
Qatar Resume Work Experience Examples
Senior Financial Analyst, Acme Financial Services | May 2017 - Present
Conducted comprehensive financial data analysis, enabling executive decision-making by providing insights into investment opportunities that contributed to a 10% increase in company assets under management (AUM).
Implemented predictive modeling techniques to forecast market trends, resulting in an 18% improvement in investment portfolio performance and higher client satisfaction.
Developed and maintained complex financial models to assess risk exposure and recommended strategic hedging strategies, reducing market-related losses by 15% during volatile periods.
Environmental Scientist, GreenTech Solutions | January 2018 - August 2022
Utilized GIS (Geographic Information Systems) and remote sensing data to analyze deforestation patterns in Amazon rainforests, contributing to a research project that influenced international conservation policies.
Led a team in collecting and analyzing water quality data from regional ecosystems, resulting in the identification of pollution sources and the development of remediation plans that improved local waterways by 25%.
Collaborated with cross-functional teams to assess the environmental impact of company operations, reducing carbon emissions by 20% through the implementation of sustainability initiatives.
Paralegal, Smith Law Firm | June 2016 - November 2019
Conducted in-depth legal research using LexisNexis and Westlaw databases, supporting attorneys in preparing for cases, resulting in successful outcomes for clients in multiple high-profile litigation cases.
Analyzed complex financial documents, including contracts and financial statements, uncovering critical discrepancies that played a pivotal role in a $2 million settlement in favor of the client.
Assisted in managing a high-volume caseload by developing an efficient case tracking system that reduced administrative errors by 15% and improved client communication.
Digital Marketing Specialist, Star Marketing Agency | September 2019 - Present
Utilized Google Analytics and marketing automation platforms to analyze website traffic and user behavior, leading to a 30% increase in website conversions and a 25% boost in online sales within the first year.
Developed and executed data-driven marketing campaigns, optimizing ad spend allocation and achieving a 20% reduction in customer acquisition costs while increasing the ROI by 18%.
Conducted A/B testing on email marketing campaigns, resulting in a 12% improvement in open rates and a 15% increase in click-through rates, enhancing overall email marketing effectiveness.
Qatar Resume Education
Your resume section should be concise and to the point. State the name of your institution, the years attended, and the name of the certification received. If you graduated more than ten years ago, you can leave off graduation years in this section. If you have any particularly strong achievements to list from your time in education, then you can add 1-3 bullet points under this information. However, use this sparingly – only include additional information that's directly relevant to the position. If you're a new graduate with little to no work experience, for example, using your education section to further demonstrate your skills is a great idea. If you already have plenty of work experience, on the other hand, it's fine to stick to the basic details.
Qatar Resume Education Examples
BSc. in Computer Science, Stanford University | September 2014 - June 2018
Graduated magna cum laude with a 3.9 GPA, demonstrating strong academic performance and dedication to the field.
Completed a senior capstone project on artificial intelligence, which received recognition at a regional tech innovation competition.
Participated in internships with tech giants like Google and Amazon, gaining hands-on experience in software development and data analysis.
BSc. in Economics, London School of Economics and Political Science | September 2012 - June 2015
Graduated with honors, emphasizing a strong understanding of economic principles and their applications in business.
Conducted independent research on the impact of fiscal policies on economic growth, which received recognition at an international economics conference.
Served as a committee member of the LSE Finance Society, organizing networking events and workshops for students interested in finance and economics.
MBA, INSEAD Business School | August 2018 - July 2019
Achieved a top 5% class ranking, emphasizing strong leadership, teamwork, and strategic thinking abilities.
Led a diverse, cross-cultural team during a consulting project for a Fortune 500 company, resulting in a 15% increase in operational efficiency.
Served as the vice-president of the Finance Club, organizing industry seminars and managing a $50,000 student-managed investment fund.
BA in International Relations, University of Oxford | October 2013 - June 2016
Earned First-Class Honors, showcasing a deep understanding of global affairs, diplomacy, and political theory.
Conducted independent research on the impact of trade policies on developing nations, resulting in a published academic paper in the university's journal.
Actively participated in the Model United Nations (MUN) and served as the Secretary-General, organizing the annual Oxford MUN conference.
BSc. in Biology, University of Queensland | September 2010 - June 2014
Graduated with distinction, showcasing a strong foundation in biological sciences, ecology, and fieldwork.
Conducted extensive research on local ecosystems and biodiversity, including a thesis project on the impact of habitat fragmentation on native species.
Actively participated in environmental conservation initiatives, volunteering with local NGOs and conducting community outreach programs to raise awareness about conservation efforts.
MSc. in Environmental Science, University of Melbourne | February 2015 - December 2016
Graduated with distinction, highlighting a strong grasp of environmental science principles and research methodologies.
Collaborated on a research project analyzing the effects of climate change on local ecosystems, presenting findings at an international environmental conference.
Conducted fieldwork in the Great Barrier Reef, collecting data on coral reef health and contributing to a UNESCO-funded research initiative.
Qatar Resume Format
Now that you know how to write your Qatar resume, you need to learn how to format it! But what format should a Qatar resume be in? Let's look at the two most popular resume formats a bit more closely. Remember to always carefully read the job description to make sure the employer isn't requesting a specific type of resume!
Reverse Chronological Resume for Qatar
Reverse chronological resumes are the most common resume format, and the same is true for Qatar resumes. To create a reverse chronological resume, begin with your most recent work experience and then work backwards from there. Depending on how much work experience you have, your final entry may be either your first professional job, or a job you held many years ago.
In general, reverse chronological resumes are the norm across nearly every industry. If you find yourself unsure of which resume format to use, defaulting to a reverse chronological resume is always a safe bet.
Functional Resume for Qatar
A functional resume focuses on the skills and accomplishments you've gained throughout your career, rather than the order in which you gained them. These resumes are useful for industries that are highly regulated, because they allow employers to quickly parse whether you meet the minimum requirements before they can decide whether or not to move forward with an interview.
However, functional resumes aren't common in most industries. To play it safe, only offer a functional resume if the job posting specifically requests one.
Qatar Resume Examples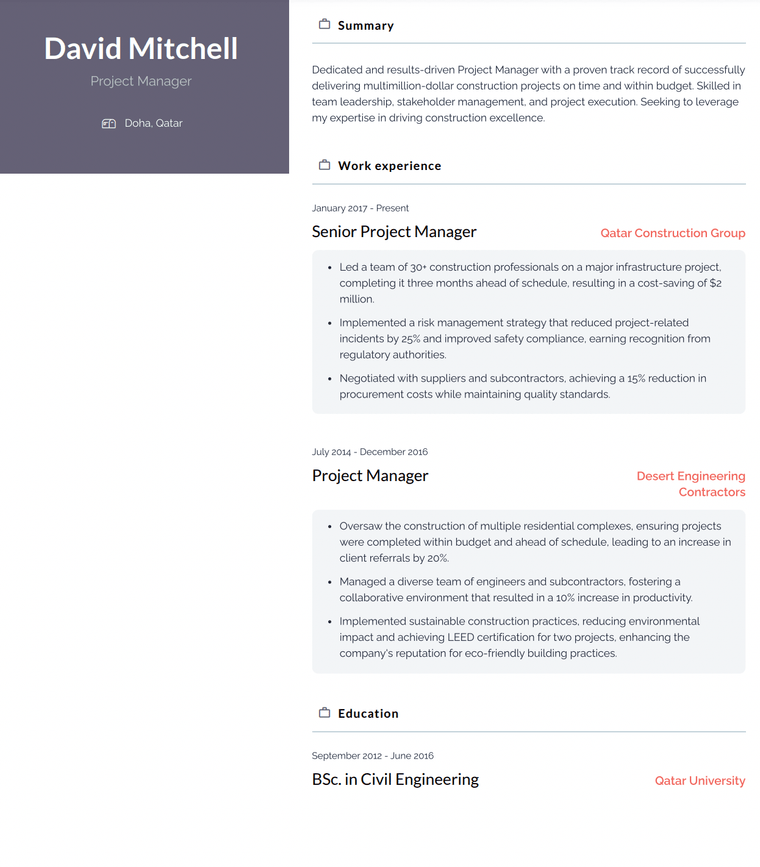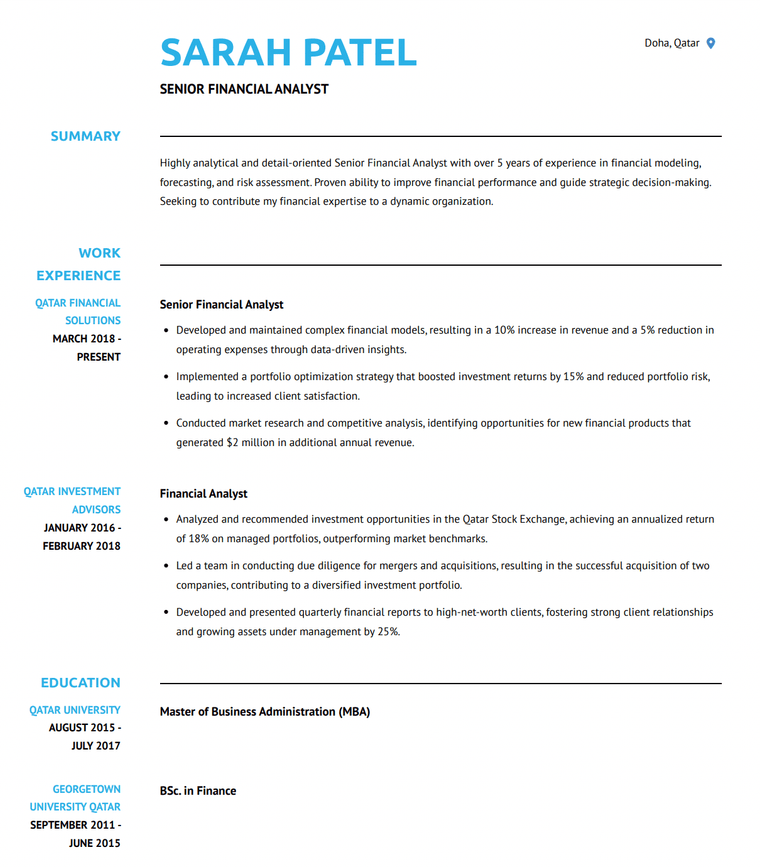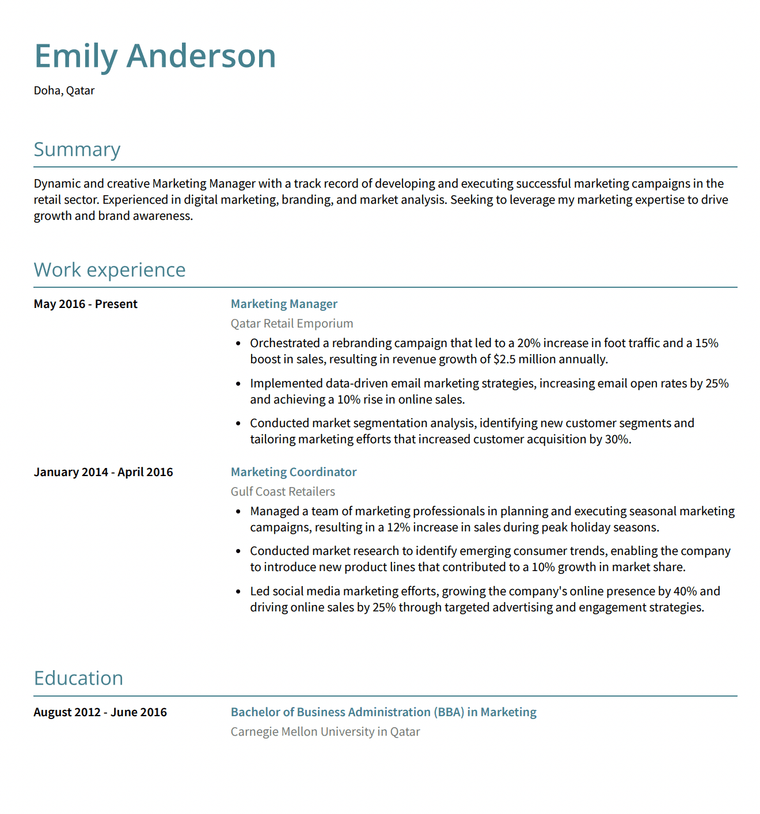 Should I Include a Photo on my Resume in Qatar?
While it isn't a requirement to put a photo on your resume in Qatar, there's a possibility that not including one could put you at a disadvantage. Showcasing yourself as a professional is generally looked upon as a positive – not including a picture could cause employers to question whether you'll be able to work in a professional environment. This is especially true for office jobs and other positions that frequently require communication with other professionals or the general public.
How to Find a Job in Qatar
Qatar has an incredibly low unemployment rate – less than 1% of the population is unemployed! That means, generally speaking, jobs are available for those who are qualified and able to work in Qatar.
While that's good news for those already located in Qatar, things become slightly more complicated if you're not from Qatar and looking to move there for work. In order to live in Qatar, you must find a company willing to sponsor your work permit. If you're able to organize this, then your employer will have to decide whether or not to renew your permit each year. Freelancing is generally uncommon in Qatar, especially if you aren't from the country – you can't sponsor yourself, so freelancers or other self-employed people have fewer opportunities to obtain a work permit.
In general, finding a job in Qatar is similar to finding a job anywhere else in the world. You can look on online job boards, in local newspapers or agencies, or through your existing network.
Final Thoughts
Qatar is a country well-known amongst ex-pats for its high earning potential and opportunities for job growth. However, it's also well-known that you'll need to have a killer resume in order to catch the eye of a hiring manager who could sponsor your work permit!
Thankfully, that's where VisualCV comes in. With dozens of fully customizable, professionally designed resume templates to get you past ATS software and into the hands of your next employer, we're the perfect place to start your new adventure in Qatar.