What makes a resume stand out? Believe it or not, even the most highly qualified individuals can put themselves at a disadvantage before they've even had an interview for a job. If your resume isn't effectively informing hiring managers and recruiters about all of the excellent traits you'd bring to a role, you aren't going to be contacted further; simple as that.
Marketing professional with 5 years of experience
Versus
Senior marketing professional specializing in optimizing paid search campaigns. Proven track record of leveraging data-driven insights to maximize ROI, increase conversion rates, and drive substantial revenue growth for diverse clients and industries.
See the difference? And that's just one small aspect of your resume – in order to catch a hiring manager's attention, you'll need to carefully craft your resume at each level to ensure you're putting your best foot forward and bypassing any ATS software the company may be using.
This goes double if you're applying for a job in a different country, such as Portugal. Not only do you have to stand out from the other applicants, you'll need to prove that you're better and more qualified than domestic applicants who may have an advantage over you with better language skills, settled immigration statuses, or any number of other positives.
So how do you write a resume for a job in Portugal? On this page, you'll find:
How to write a Portugal resume
Portugal resume formats, templates, and examples
Should I include a photo on my resume in Portugal?
How long should a Portugal resume be?
How to find a job in Portugal
How to get a Portuguese visa
And much more!
So, let's get into it.
How to Write a Portugal Resume
Writing a resume for a job in Portugal is similar to writing a resume for a job in many other parts of the world: the most important thing is for you to clearly and effectively lay out your experience and skills in a way that proves to the hiring manager that you're the most qualified person for the role.
Portugal Resume Work Experience
But how, exactly, do you do that? To start, focus on numbers and data – it's great if you can say that you increase revenue at your company, but getting extremely specific about how you did it and exactly how much you increased revenue is much better.
Increased sales year over year.
Versus
Increased revenue by 41.7% year over year by analyzing market trends and finding new opportunities to reduce churn and generate new leads.
If you were a hiring manager, wouldn't the second description seem much more valuable?
One element to writing a resume for Portugal is that a Portugal CV is usually very detailed. If you're used to American-style 1-page resumes, this may be a different skill for you to learn. At the most, a Portugal resume is 3-4 pages long, with each piece of work experience containing detailed information about your time in each position. This is your opportunity to go into detail about your top achievements, using as many numbers and other pieces of data as possible.
Start by thinking about each role you'll be including in your Portugal CV. Look back at your time there and think about the best things you did – did you win any awards, receive particularly positive feedback, or lead an initiative that led to excellent results for your company? Write everything down that you can think of, and then select 3-5 entries from each role. From there, elaborate in more detail about exactly what you did and exactly how much it benefited your company. You should never lie or exaggerate on your resume, but you also shouldn't be overly modest! This is your time to shine, so bragging is absolutely encouraged.
Portugal Resume Work Experience Examples
Digital Marketing Manager, XYZ Digital Solutions | January 2018 - Present
Developed and executed digital marketing strategies that increased online lead generation by 45% and grew website traffic by 60% within the first year.
Managed a team of 5 marketing professionals, overseeing successful campaigns for clients in e-commerce, finance, and healthcare sectors
Achieved a 25% reduction in cost-per-click (CPC) through meticulous keyword optimization and A/B testing, resulting in a 30% improvement in ROI for paid search advertising
Utilized Google Analytics and SEO tools to improve website rankings, leading to a 20% increase in organic traffic
Software Engineer, TechWave Solutions | July 2015 - November 2020
Collaborated with cross-functional teams to develop and maintain robust software applications, contributing to the successful launch of three major products
Consistently met or exceeded project deadlines, with a 98% code quality rating, as measured by peer reviews
Led a major system upgrade project, resulting in a 40% reduction in software bugs and a 25% improvement in overall system performance
Trained and mentored junior developers, enhancing team efficiency and knowledge sharing
Restaurant Manager, Seaside Bistro | May 2012 - September 2017
Directed daily operations, including staff management, inventory control, and customer service, resulting in a 15% increase in customer satisfaction scores
Implemented cost-saving measures, optimizing supply chain management, which reduced food costs by 12% while maintaining high quality standards
Successfully coordinated and executed large-scale events, including weddings and corporate functions, generating an additional 20% in revenue
Maintained a spotless health and safety record, achieving a 100% compliance rating during routine inspections by local authorities
Portugal Resume Education
Much like the work experience section, your education section in your Portugal resume can be more elaborate than what you may be familiar with. However, this can vary depending on your level of education and work experience. For example, if you're a new graduate looking for entry-level roles, you'll want to use your education section to demonstrate your skills because you won't necessarily have the evidence from the workplace to back yourself up. However, if you haven't received any higher education, or if you graduated from higher education more than 10 years ago and have plenty of work experience to demonstrate your skills, you'll likely not need to use up space in your CV with too much information about your education. Simply including your degree and institution can be enough, in that case, but you can always add additional information where you feel it will be useful or relevant.
Portugal Resume Education Examples
Bachelor of Science in Computer Science, University of Lisbon September 2019 - June 2023
Relevant coursework: Algorithms and Data Structures, Web Development, Machine Learning
Developed a web-based student registration system as part of a group project, demonstrating strong teamwork and coding skills
Actively participated in coding competitions, achieving a top 5% ranking in the regional ACM ICPC competition
Bachelor of Science in Business, Massachusetts Institute of Technology (MIT) August 2015 - May 2019 Master of Business Administration (MBA), INSEAD August 2019 - July 2020
Concentration in Strategic Management and Entrepreneurship
Led a diverse, cross-cultural team during a global business simulation, honing leadership and international collaboration skills
Completed a consulting project with a Fortune 500 company, identifying cost-saving opportunities that led to a 10% reduction in operational expenses
Bachelor of Arts in International Relations, University of Porto September 2020 - June 2024
Relevant coursework: Global Diplomacy, Conflict Resolution, International Trade
Interned at the Portuguese Ministry of Foreign Affairs, assisting in diplomatic protocol and international negotiations
Conducted independent research on trade policies in the European Union, presenting findings at a regional academic conference
Portugal Resume Format
Now that you understand how to write your Portugal resume, you need to know how to format it – after all, appearances matter when it comes to resume writing. Even if you can write your experience effectively, it won't make any difference if the format of your resume is incorrect or difficult to understand – you'll simply be passed over for someone else.
Reverse Chronological Resume for Portugal
In general, resumes in Portugal are formatted in reverse chronological order. This means that you begin with your most recent or current position and work backwards from there. This format is often preferred by hiring managers because it allows them to easily understand the most up-to-date information about you and your career.
Best for: most job applications. If you're ever unsure about which resume format to use in an application, your best bet is to go with reverse chronological.
Functional Resume for Portugal
Functional resumes focus on your skills rather than your work history. Instead of speaking about your achievements in previous roles, you'll describe your skills and provide evidence to back up your claims. While this resume format can be easier to write and appear more straightforward to many people, functional resumes are not standard in most industries, and may make you stand out in a bad way.
Best for: job applications that specifically ask for a functional resume.
Portugal Resume Examples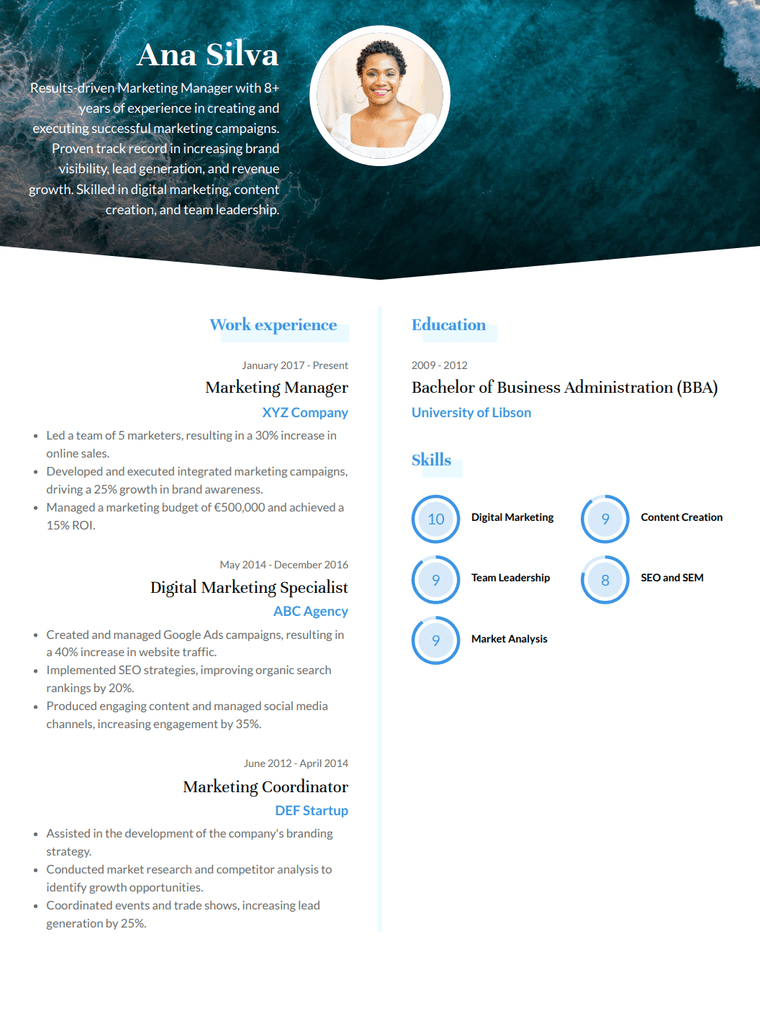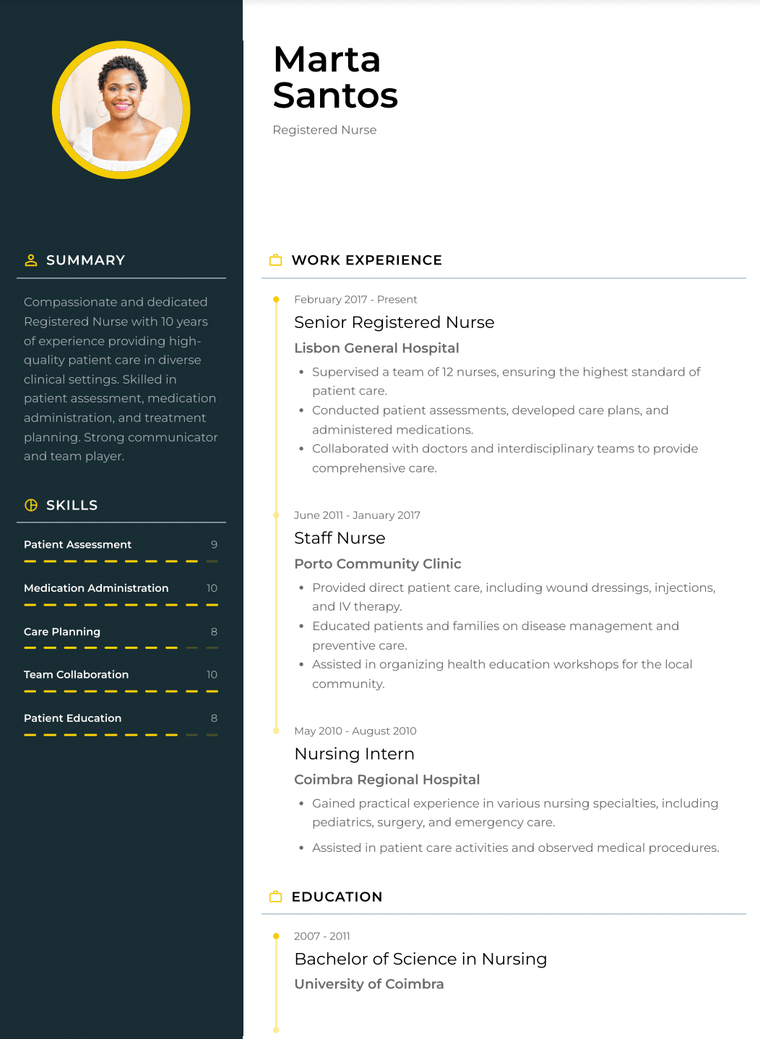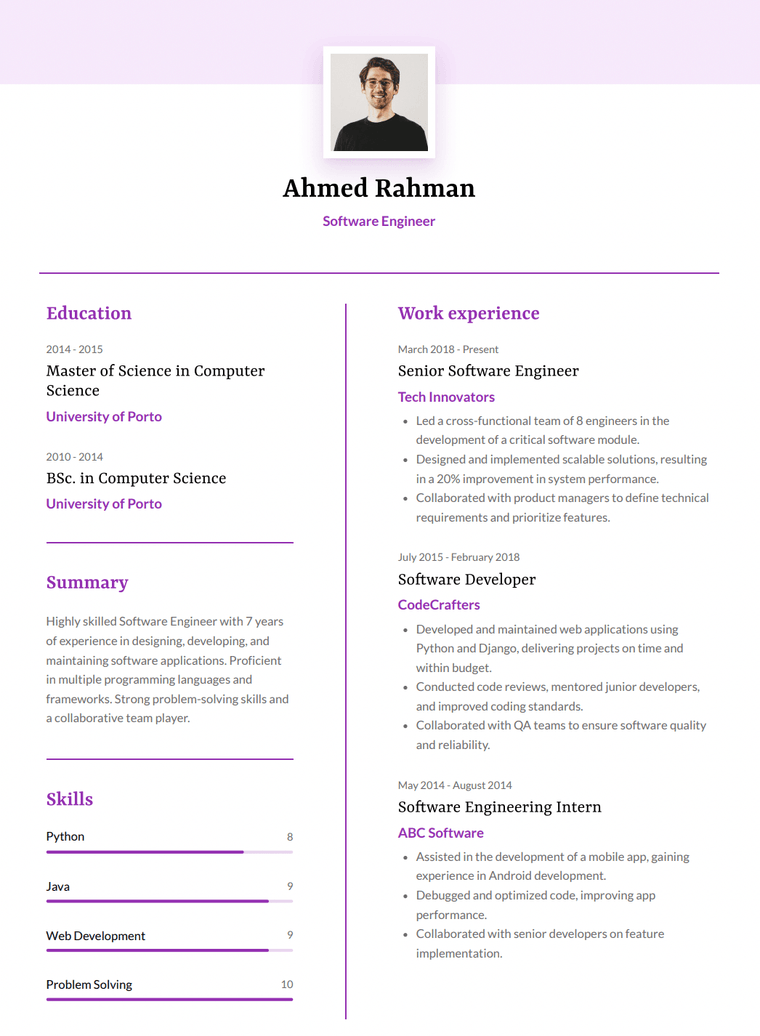 Should I Include a Photo on my Resume in Portugal?
While it may seem unusual if you're from a country that doesn't expect (or even allow) photos on resumes, standards are different in Portugal. It is generally expected that you will include a photo with your resume, usually as a small headshot at the top of the page.
However, keep in mind that, because this is a professional standard, the quality of your photo should be high. Simply snapping a selfie can make you appear unprofessional. If you don't have access to professional photographers for your headshot, you must at least make sure the photo is well-lit and appropriate.
How Long Should a Portugal Resume Be?
In general, resumes in Portugal are longer than ones in North America. Because Portugal uses traditional CVs rather than resumes, you can expect your Portugal resume to be up to 3 or even 4 pages in length. This extra wiggle room with your resume means you should take care to elaborate as much as possible about your most impressive accomplishments!
How to Find a Job in Portugal
Portugal is quickly becoming a destination for people looking for an escape. With easy access to beaches and a lower cost of living, it's no wonder so many people are interested in making the change!
However, Portugal's many appealing features mean that the job market – especially for international applicants – can be quite competitive. Many people who move to Portugal for work do so while already working for a company with a presence within the country. If internal transfers are available at your place of work, you may qualify for this route. If that isn't an option for you, many companies have offices or bases in Portugal, and you can try to apply to an open role at one of these companies – though international companies will likely be slightly easier if you don't already speak Portuguese.
How to Get a Portuguese Visa
Of course, before you even think about working in Portugal, you'll need permission in the form of a Portuguese visa. But how hard is it to get a Portuguese visa? The answer is: it depends.
Ancestry visas are a fairly straightforward way to gain Portuguese citizenship and the right to work in Portugal. If you have a parent or grandparent born in Portugal, you're entitled to Portuguese citizenship. Visit your local Portuguese embassy or consulate for more information.
If you're an EU citizen, you can reside in Portugal very simply: register your residency, pay a 15-euro fee, and you're good to go!
If you're interested in working remotely for a company while living in Portugal, you may be in luck: the D7 visa provides the right to live and work in Portugal to individuals with passive income sources, as well as certain remote work arrangements.
There are several other visa pathways available for people interested in working in Portugal, but you should always do your own research to determine which you may be eligible for and which may be right for your specific situation.
Conclusion
Working in Portugal is a dream come true for many people, which means you need a stand-out resume to give yourself the best chance of landing a job here! A well-written, properly formatted resume goes a very long way in your job search. Consider every element carefully, and don't let yourself be held back by a subpar resume!