For westerners, it's easy to think of Japan as a distant, mythical wonderland—full of rich history, but still brimming over with amazing new tech. If you've ever been tempted by the idea of trying your luck on the Japanese job market, we promise you're not alone.
In fact, that's why we've put together this guide—to give you an insight into the requirements of job-searching in Japan. What many people don't realize is that Japan's workplace culture can be deeply conservative. You'll be expected to meet a lot of very strict requirements if you want a shot at your dream Japanese job.
You'll need to start with the perfect Japan resume, and we're here to help you get there! In this article, we'll cover:
Japan resume format
How to write a Japanese resume
Working in Japan
This article is perfect for you if you're looking for:
Japan resume formatting tips
Japan resume templates
Japan resume examples
Japan Resume Format
Believe it or not, you'll usually need not one, but two documents to apply for a job in Japan! Those documents are:
The rirekisho, which contains basic information about you, your education, and your recent work experience The shokumukeirekisho, which gets into more detail about your experience and skills
Each document should be about one page long, and you will need to submit them together.
Both the rirekisho and the shokumukeirekisho have fixed, standardized formats, known as the JIS (Japanese Industrial Standard). You'll need to use those formats exactly if you want to stand a chance on the Japanese job market. These documents are so regulated that you'll almost always be better off using a simple template and completing it to the best of your ability.
It might sound obvious, but it's worth remembering that you will need to write your Japan resume—both parts of it—in Japanese. Unless you're applying for a job teaching English through a third-party company, this is usually non-negotiable. If you don't know Japanese, you'll need to take some time to learn the basics of business Japanese before you even think about working in Japan.
How to Write a Japan Resume
The Japanese resume format is likely to be pretty different to most westerners. To help you out, we've written a section-by-section breakdown of exactly what you'll need to include in each section. Let's get started!
Japanese Rirekisho Resume – Personal Information
The first section of the rirekisho is for basic information about you. That means your name, nationality, date of birth, gender, current address, and contact information. It also means including a photo of yourself—while this is negotiable in western resumes, a Japan resume will require it.
Each section of the rirekisho template is labeled with what you need to include. Filling out this section should be pretty easy, as a result! But here are some things to pay attention to in this section:
You'll need to list the date on which you intend to submit your Japan resume at the top of this document. Try to keep it as accurate as possible. If you have a name written in the English alphabet, write it in English—don't try to transcribe it into kanji or hiragana! Your headshot photo needs to be scrupulously professional. It needs to feature your face, from the chest up, against a solid white or blue background. You should avoid wearing glasses, heavy makeup, accessories, or elaborate hairstyles—and you should aim for a neutral, closed-mouth smile. You can get your photo taken at any number of photo booths in Japan! There are three 'contact information' sections—one for an email address, one for a telephone number, and one for any other contact methods you have. If you don't have any other contact methods, it's fine just to write "同上"—meaning "same as above"—in that last section.
Japanese Rirekisho Resume – Academic and Work History
When filling in this section, you need to lead with your academic background in chronological order. This will then be followed by your work history, also in chronological order.
On the first line of this section, write "学歴" for "Academic Background." Then, on the next line, start with your high school, including the year and month when you graduated.
You can then move on to the year and month when you enrolled in university—listing the name of the school and the course you took there—on the next line. On the line after that, list the year and month when you graduated.
You can carry on like this until you've covered your entire educational history!
The same principles apply for your work history. Leave a single line blank between the end of your education section and the start of your work history section! Then open by writing "職歴" on the next line.
Unlike on a western resume, you need to start with the first company you worked with. Include the month and year when you took the job, the company's official name, the department where you worked, and the job title you held. Then, on the next line, list the month and year when you left that job, and your reasons for leaving.
In general, it's standard to write that you "left the company for personal reasons". When you reach your current role, you can write "current" instead of a date of departure!
Japanese Rirekisho Resume – Licenses and Qualifications
This section is a table with columns for the year and the month in which you obtained your qualification. All you have to do is list the year and the month in the right spaces, then write the official name of the license or qualification in the third column.
Japanese Rirekisho Resume – Other Information
There are a few more sections on the rirekisho that you'll need to fill in before you can move on!
The first is the "Special Skills/Self-PR" section. This is where you can include any additional skills that are relevant to the job—as well as a short note about why you're right for the role. You'll have room to delve more deeply into this in the shokumukeirekisho, so keep it short and specific here if you can.
You'll also be asked to enter the commute time from your home to your potential workplace. This might seem pretty out-there to a westerner, but many workplaces in Japan cover commuting costs for their employees. That's why it's important for them to know how far you'll need to travel every day.
You'll be asked for information about your spouse (if you have one) and any dependents you'll be supporting on your income. If you have any kids still living at home and dependent on you, or if you're caring for an elderly relative who can't work, they would be considered dependents and you'd need to list them in this section. You'll also need to indicate whether your spouse is working for a company that provides social insurance.
The very last section of the rirekisho is a space for personal requests. If you have particular conditions, like salary expectations or accessibility requirements, you can mention them here. But you can always bring those up at interview—which is why most people just write "I will comply with your company regulations" instead.
Japanese Rirekisho Resume Template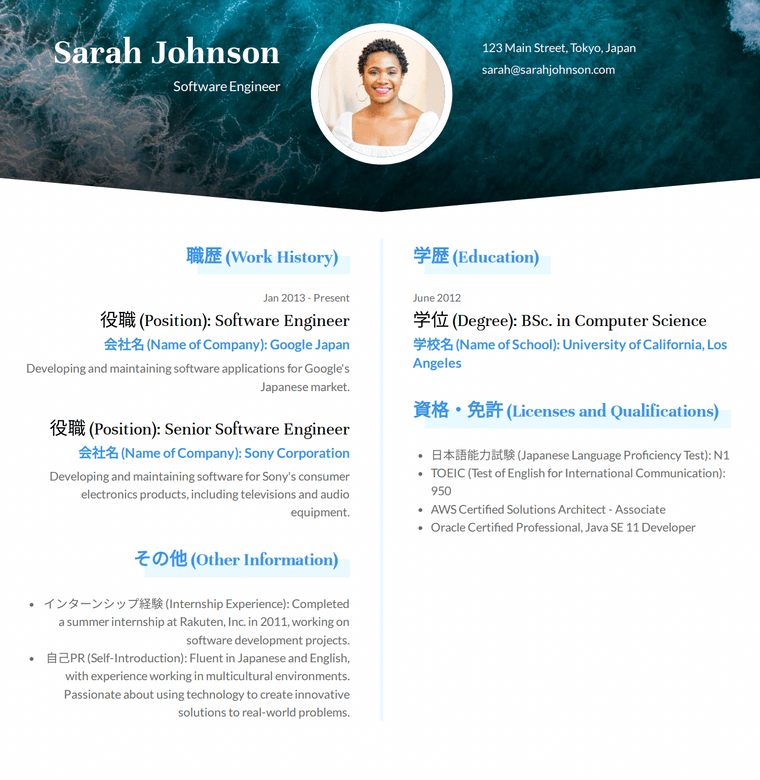 Japanese Rirekisho Resume Exmaple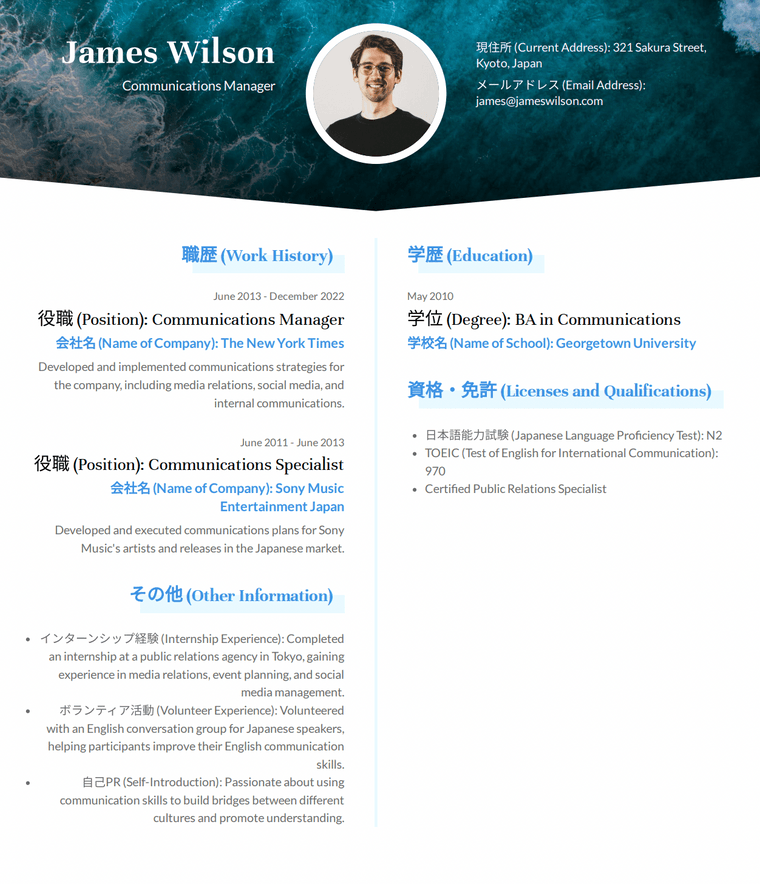 Japanese Shokumukeirekisho Resume – Professional Summary
If the rirekisho is the Japanese resume, then the shokumukeirekisho is the Japanese CV. It gives you room to explore your background and skills in more depth, so employers can get a clearer picture of what you have to offer. As with the rirekisho, you'll need to write your full name and the date of submission for your application—make sure they're the same on both documents!
Then you'll need to write a professional summary. A little like a western resume summary, this should describe your relevant work history in simple, concise sentences. You can and should refer to specific positions you've held in the past!
Japanese Shokumukeirekisho Resume – Summary of Employment History
Just like on the rirekisho, this is the place to list your employment history. But unlike the rirekisho's section, this section should be in reverse-chronological order. Write the dates of your employment and the company name—there's no need to get into much more detail than that.
It's important to remember that, if you've taken an extended period of time out of work for any reason, you will need to list it here. Japanese HR is easily spooked by employment breaks with no explanation! So if you've been studying abroad, caring for a relative, or travelling overseas, make sure you note that reverse-chronologically in this section of the shokumukeirekisho.
Japanese Shokumukeirekisho Resume – Summary of Experience and Knowledge
This is where you can list your most relevant skills—along with the experience you have of using them professionally. For example, you could list that you have experience of using JavaScript. But doesn't it look more compelling if you mention that you have seven years of experience using JavaScript as a programmer?
You should already have listed some of your relevant skills on the rirekisho. This is your opportunity to get more specific! Don't be afraid to take it. The Shokumukeirekisho – Work Background If you thought you were done with your work experience, you were wrong! This is the place to get into a lot more depth about the specifics of your work background. Like the summary of work experience, this should be written in reverse-chronological order.
You'll need to open each listing with detailed information about the company where you worked in the past. That means things like the size of the company, the number of employees there, and what the company actually does. You should also list your employment dates and the department where you worked.
After that, you'll need to list the projects or assignments you worked on while at that company. Include information like the goal and scope of the project, the eventual outcome, and the role you played within it. You can also note any particular skills you used or achievements you had during the project.
If this sounds a lot more granular than anything you'll be asked to write on a western resume, that's because it is! But it will give hiring managers a very clear idea of what you've done in the past, and how your experience might be relevant in the future.
Japanese Shokumukeirekisho Resume – Technical Skills, Certifications and Licenses
If you're in a technical line of work, like engineering or IT, you should use this space to list some of your most relevant technical skills. Think in terms of the software you can use, the tools you've used in the past, and the frameworks you're familiar with. The goal is to convey the specifics of your experience, with a view to showing that you meet the requirements for the job you want.
And whether or not you have technical skills, you should make sure you list any relevant certifications or licenses. You should already have covered this ground in the rirekisho, so make sure the information is consistent across both documents!
Japanese Shokumukeirekisho Resume – Summary About Yourself
Again, you've already done this for the rirekisho—but it's time to do it again! Write down how your skills, experience and background make you the right fit for the role you want. Keep it concise and professional, with a focus firmly on business-related activities.
Think about what makes you, in particular, an asset to the company, and lead with that information. And if you have a specific reason for wanting to join the company, you can include that, too.
Japanese Shokumukeirekisho Resume Example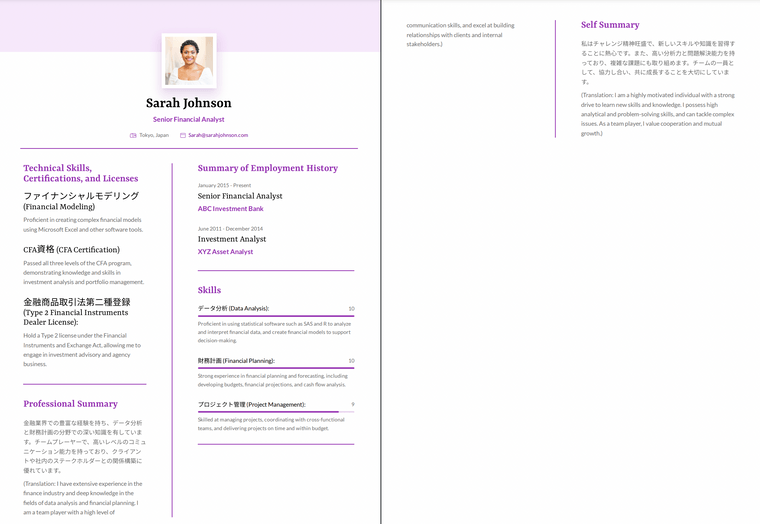 Working in Japan
If you want to work in Japan, you'll need a Japanese work visa. There's no way around it—Japanese immigration laws are pretty strict. There are three types of work visa available if you want to work in Japan:
The Japan Work Visa, issued for a limited list of professions The Japan Highly Skilled Foreign Professional Visa, which operates on a point-based system The working holiday visa, available to applicants whose countries have a working holiday arrangement with Japan
If you don't qualify for the Highly Skilled Foreign Professional visa, which allows for more flexibility, you'll need a Japan Work Visa for the specific type of work that you want to do. Here are some of the professions that offer a Japan Work Visa:
Artist
Business manager
Engineer/specialist in humanities/international services
Entertainer
Instructor
Intra-company transferee
Journalist
Legal/accounting services
Medical services
Nursing care
Professor
Religious activities
Researcher
Skilled labor
Technical intern training
The length of your work visa will depend on the type of work you're in the country to do. Remember, no work visa is ever valid for more than five years!
Working in Japan can be a difficult process, with a lot of hoops to jump through. But if you can make it work, you'll have the experience of a lifetime working in a brand new country. Stick with it, and you'll be on your way to the Land of the Rising Sun in no time!