India CV Requirements
India has a particular work culture, as well as a specific set of expectations when it comes to CV. It is important to be sure that your CV reflects your understanding of these expectations.
Browse our gallery of resume examples here.
Indian CV Format Example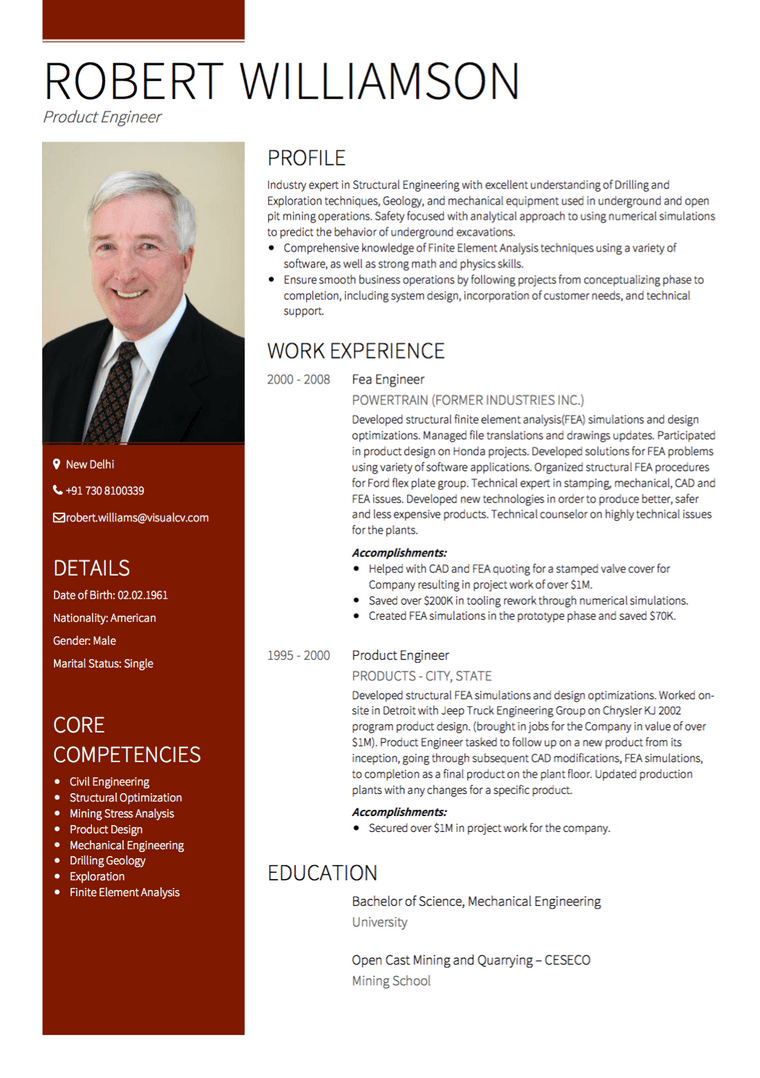 India CV Tips and rules:
Length: Keep your Indian CV concise - two pages is sufficient.
Format: Use plain white paper and 12 point font if possible.
How to Write an Indian CV
To write an Indian CV that hiring managers would love, follow these tips:
Pick a resume template that allows you to add common Indian CV sections like summary, work history, certifications, header, skills, certifications, achievements, etc.
Figure out your qualities that standout e.g. work experience in a recognized Indian company (e.g. Flipkart) or certifications that are rare. Make sure your CV sections highlight those qualities.
If you are applying to a city where your local language proficiency would be a factor - list your language skills. E.g. listing your fluency in Kannada would improve your chances if you are applying for a job in Bengaluru.
Make sure you take care of grammar on your CV. Indian hiring managers are selective about grammatical mistakes.
Follow the STAR method while listing your Indian work history. Majority of Indian CVs don't follow the STAR method and fail to leave the same impact.
Link out to your Linkedin or portfolio site from your CV header.
How do I write a CV with no experience in India?
To write your first Indian CV, follow these steps:
Select an Indian CV template that looks visually appealing and would outshine others.
Add a CV objective that gives your hiring manager an idea of why you are applying for this job.
List your internships, college projects and other volunteer work under the experience section.
List your education, an overview of your college curriculum and clearly state your year of graduation.
Create a section to list your technical skills.
Add links to your Dribbble, Github, Stackoverflow, or any other online portfolio at the top.
India CV Format, Order and Layout:
Photo: It is best to include a professional passport-sized picture of yourself in your Indian CV. A picture is not mandatory, according to Vaishali Jain from Get My Resumes, but including one can add a level of authenticity and professionalism to your CV, and many recruiters will ask for one anyway.
Personal Information: In Indian CV, more personal details are accepted than in many other countries. Name, home address, email address, and phone number are all expected, of course. Other information, however, can also be included - age, gender, marital status, nationality, and even religion can all be found on some Indian CVs. These details are optional, but if you feel they will help your chances feel free to include them. So says Indian CV writing service Vibranturre: "If the marital status helps, put it in. Actually if your religion, race or caste helps, put that in too."
Personal Summary: A brief summary where you outline your skills and objectives can be included at the top of your CV.
Work experience: Write your Work History in reverse-chronological order. Include the start and end dates of each position, as well as the company name and location. Quantify your experience as much as possible, using data and numbers to showcase your achievements. Use bullet points to keep your descriptions clear and concise.
Education: Your education section should be presented with your most recent certificates or diplomas at the top. Briefly note your area of study, institution of study, the date of your graduation, and your academic achievements.
Resume template: Browse through our gallery of Indian resume templates.
What is the Best Resume Format for Experienced Candidates in India?
For experienced candidates the best Indian resume format is either a reverse chronological format or the functional format. If you have less than 15 years of experience, use a reverse chronological format; else use a functional resume format.
Other sections:
Volunteer experience: If you have any notable volunteer experience, feel free to include it.
Languages: It is an asset to include any languages that you are fluent in.
References: It is not necessary to include references in your resume. A potential employer will not usually ask for references until after they have interviewed you, not before.
Conclusion:
Resumes in india are clear, concise, and should act as marketing documents for yourself and your experience. The job of a good resume is to get you an interview, so make sure your Indian resume is impressive and will make employers want to bring you in for an interview.