Are you looking to start a new career in a different country? Several European countries are sought-after destinations for international employees, and Belgium is one of them. Belgium's strong governmental support for businesses means that employers can continue to hire and retain talent despite any economic issues that may arise domestically or globally. Or perhaps you already know all of that, because you're Belgian yourself! Either way, you might be wondering: how do I write a Belgium resume? You may be thinking about applying to jobs in Belgium, or trying to figure out how to make your Belgium resume stand out.
The best way to make a resume stand out is to make sure it's as technically perfect as possible. At a minimum, it should be clear of spelling mistakes and formatting errors, but you should be aiming higher than that. Each section of your resume should be optimized to be the best it can be. But how do you do that? Read our Belgium resume guide to find out! On this page, you'll learn:
How to write a Belgium resume
Belgium resume formats
Belgium resume samples and examples
How to find a job in Belgium
And more! Read on to learn everything there is to know about Belgium resumes.
What Do You Call a Resume in Belgium?
In Belgium, you can expect to hear the term CV, which stands for curriculum vitae, used in place of the word resume. Traditional CVs are lengthy, with detail and attention given to each entry to the document. For example, rather than listing 2-3 bullet points about your time in a role, a traditional CV would require you to elaborate much more fully, including likely more than 5 points about your experience. The same is true for your education and any other sections you choose to include.
For the most part, however, jobs in Belgium will not require a traditional, lengthy CV, and a 1-2 page document will suffice.
How to Write a Belgium Resume
For the most part, writing a resume for jobs in Belgium will be similar to writing resumes for other countries. However, there are still a few key differences, especially if you aren't from a European country.
Firstly, you won't technically be writing a resume at all. In Belgium, you'll be expected to have a CV. In general, this term means more or less the same thing as a resume – you won't need to learn new formats or styles – but you can expect to include more information than you may have otherwise done. For example, it's not uncommon to include your civil or marital status in a Belgian resume.
As with each resume and CV you write, you need to use specific, measurable accomplishments to demonstrate your skills.
Full-stack developer with 10 years of experience
Versus
Dedicated and highly skilled full-stack developer with a decade of experience in creating cutting-edge web applications and software solutions. Adept at both front-end and back-end development, I bring a proven track record of delivering robust, scalable, and user-friendly applications that meet and exceed client expectations.
The two summaries above are technically describing the same person, but one gives you much more information – and a much higher expectation to meet. In your summary, you'll have to catch the hiring manager's eye, but then you'll have to prove that your worth their attention with the rest of your resume. Let's get into a few examples of other resume sections for your Belgium CV.
Belgium Resume Work Experience
As with any other resume, if you're writing a resume for a job in Belgium you need to provide measurable results that demonstrate your skills and fit for the job to which you're applying. If you're having trouble figuring out where to start, the STAR method is a great way to ensure each entry in your work experience section is up to scratch.
The STAR method is a way of demonstrating your skills and experience. It stands for:
S: Situation – What was the problem you were faced with? T: Task – What were your specific responsibilities and goals as you combatted the problem? A: Action – What did you do? It's great to talk about the actions of your team as a whole, but try and focus as much as you can on the elements of the action that you were directly involved in or in charge of. R: Result – What was the outcome? Was the problem solved? How did it benefit your team or your company? Remember that the best way to demonstrate a result is through numbers and data.
For example, here's a work experience entry that doesn't use the STAR method:
Software Engineer | XYZ Tech Solutions June 2019 - Present
Developed and maintained software components
Collaborated with cross-functional teams
Implemented code optimization techniques
While all of those entry points are great in theory, they don't tell the hiring manager anything about the results. For all they know, you could have failed at every one of them!
Now, take a look at the same entry, but this time utilizing the STAR method:
Software Engineer | XYZ Tech Solutions June 2019 - Present
Developed and maintained critical software components, reducing system downtime by 30% ad increasing overall system reliability
Collaborated with cross-functional teams to deliver 5 major software releases ahead of schedule, resulting in a 20% increase in customer satisfaction
Implemented code optimization techniques that reduced application response times by 25%, enhancing user experience
This entry gets much more specific, demonstrating to a hiring manager exactly what the applicant can bring to a position.
Belgium Resume Work Experience Examples
Financial Analyst | ABC Financial Group January 2020 - December 2022
Analyzed and interpreted financial data, identifying cost-saving opportunities that led to annual savings of $500,000.
Prepared monthly reports, resulting in a 15% improvement in budget accuracy and facilitating more informed decision-making.
Managed a portfolio of 30 clients, achieving an average return on investment of 12% and increasing client retention by 25%.
Registered Nurse | Community Hospital March 2018 - August 2021
Administered care to an average of 20 patients daily, maintaining a 97% patient satisfaction rate through compassionate and efficient service.
Implemented infection control protocols, reducing hospital-acquired infections by 20% within the first year.
Trained and mentored 5 junior nurses, improving their patient care skills and contributing to the team's overall effectiveness.
Digital Marketing Manager | MarketingPro, Inc. June 2017 - October 2020
Led a team that executed data-driven marketing campaigns, resulting in a 40% increase in website traffic and a 25% boost in lead generation.
Utilized A/B testing to optimize email marketing campaigns, achieving a 15% higher open rate and a 10% increase in conversion rates.
Managed a marketing budget of $1.5 million, consistently achieving a 10% ROI and exceeding revenue targets.
Store Manager | SuperMart Retail April 2015 - July 2019
Increased store sales by 20% through strategic visual merchandising and customer engagement initiatives.
Implemented inventory management practices that reduced stock losses by 15% and improved stock turnover by 25%.
Led a team of 15 employees, achieving a 95% employee satisfaction rate and reducing turnover by 30% through effective training and leadership.
Belgium Resume Education
Your education section should be straight to the point and direct. In most cases, you won't need to elaborate too much. Simply stating the institution and accreditation received will suffice – if you graduated 5 or more years ago, you also don't need to include the dates you attended.
Belgium Resume Education Examples
Bachelor of Science in Computer Science | Howard University August 2018 - May 2022
Relevant Coursework: Data Structures, Algorithms, Software Engineering, Database Management
Graduated with honors (GPA: 3.8)
Completed a senior project on machine learning, achieving a 95% accuracy rate in classifying medical images.
Bachelor of Business Administration (BBA) | University of North Carolina August 2012 - May 2016
Master of Business Administration (MBA) | University of North Carolina September 2016 - June 2018
Concentration in Marketing Strategy
Dean's List for academic excellence
Led a cross-functional team in a consulting project for a Fortune 500 company, resulting in a 15% increase in their market share.
Culinary Arts Certificate Program | Culinary Institute of Excellence January 2015 - December 2015
Specialization in French Cuisine
Received the "Outstanding Student Chef" award
Completed a 6-month internship at a Michelin-starred restaurant, mastering various culinary techniques.
Belgium Resume Format
Now that you understand what hiring managers are looking for from resumes during your Belgian job search, you need to understand what format your Belgium resume should be created in! In general, you're likely to come across two different resume formats in your research. Note that there are other types of resumes, but these two are the most common. If in doubt, carefully read the job description to see if a specific resume format has been requested.
Reverse Chronological Resume for Belgium
You're almost definitely already familiar with a reverse chronological resume format. This is the most commonly used format for nearly every industry, and thus nearly every resume. In short, this resume format is self-explanatory: a reverse chronological resume lists your experience in order, beginning with your most recent experience and going back in time from there. If you're ever unsure about which resume format to use, you should always default to a reverse chronological format, unless explicitly requested to do otherwise in the job posting.
Functional Resume for Belgium
A functional resume, on the other hand, focuses more on an applicant's skills than the order of their experience. Functional resumes can be useful for highly regulated industries, where applicants must meet minimum regulatory requirements. However, this resume format is generally considered unusual, and may make you stand out in a bad way if you choose to use it when you haven't been asked to.
Belgium Resume Examples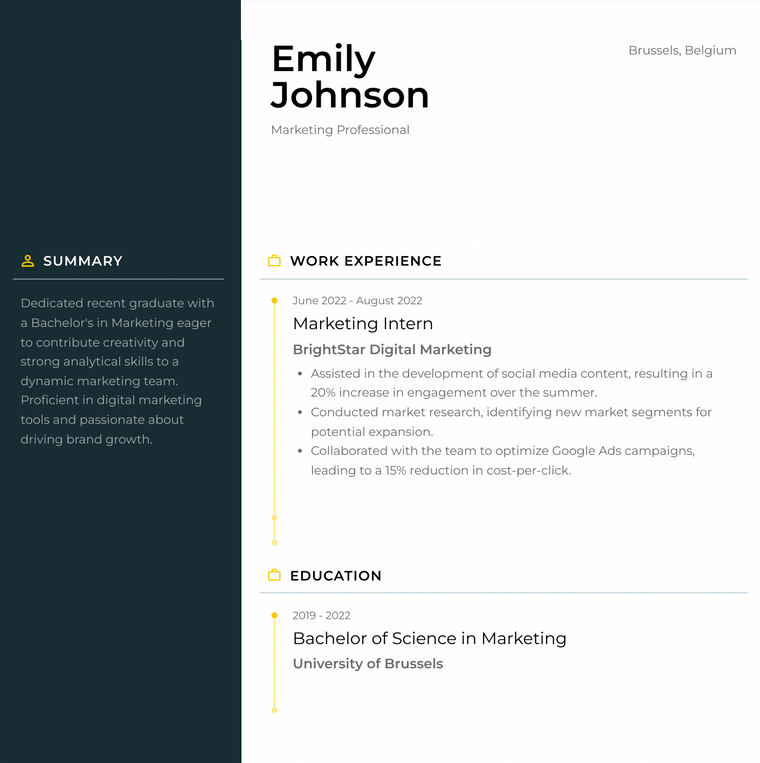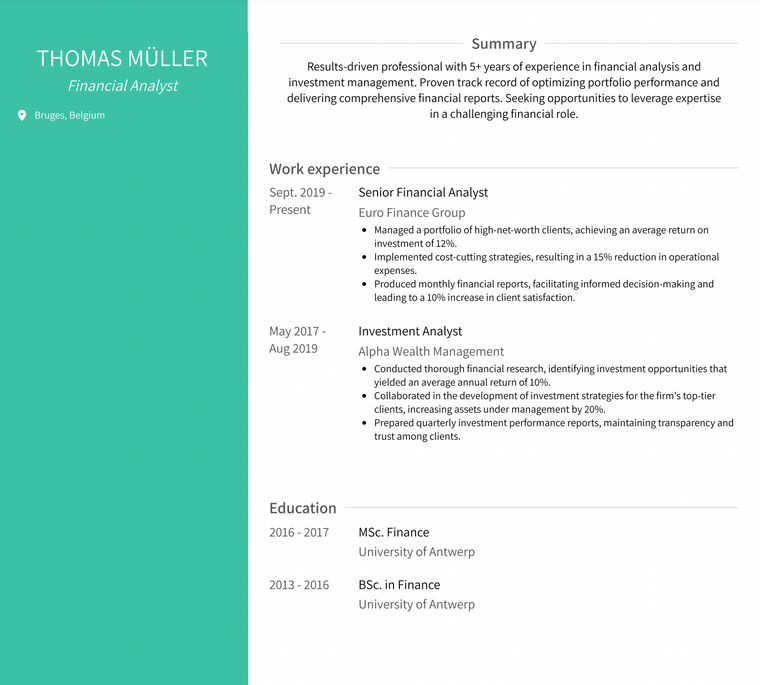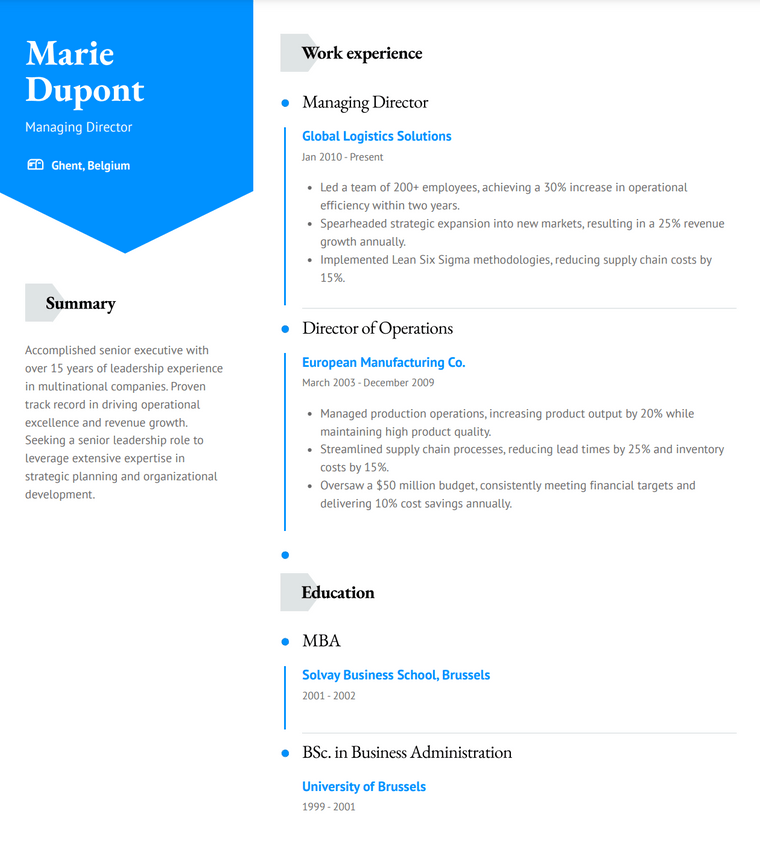 Should I Include a Photo on my Resume in Belgium?
While it may be unusual for international applicants, in Belgium it's quite common to apply for jobs using a CV that includes your photo. Keep in mind that some jobs will specifically ask applicants to not use a photo (this is common in industries using blind hiring practices, to eliminate any possibility of gender or race-based discrimination), but, in general, it will be expected that you'll include a photo on your resume in Belgium.
How Long Should a Belgium Resume Be?
As we've explained, in Belgium you'll be expected to present a CV, rather than a resume. In their traditional format, CVs can be quite lengthy – up to about 5 pages, at a maximum – but CVs are more and more frequently becoming standardized to a 1-2 page length. You should take up as much space as necessary to demonstrate your work experience, education, and skills, as well as anything else that might indicate to the hiring manager that you're the right fit for the position.
How to Find a Job in Belgium
The way you'll find a job in Belgium will depend on where you're from originally. European citizens who have the right to live and work freely across the EU will be able to job-search as if they're in their home country, whereas people from further afield may need to look into shortage industries or specifically find a company willing to sponsor a work permit. Some companies may have offices in Belgium, and, if this is the case, you can apply for a transfer if your current company allows it or apply for a domestic role and work towards a transfer, if possible. Belgium also offers work permits and opportunities for people who are self-employed, or who work remotely. If you're interested in moving to Belgium for work, contact your local Belgian embassy or consulate to understand your options!
Final Thoughts
As a small European country with an international reach, Belgium is a sought after destination for international employees. However, that popularity can come at a price – you'll need to do everything you can to stand out from other applicants if you'd like to work in Belgium! Not sure how to get started? Leave it to us. VisualCV has dozens of professionally designed resume templates to help you get past ATS software and in front of a real hiring manager quickly.