Interior Design Resume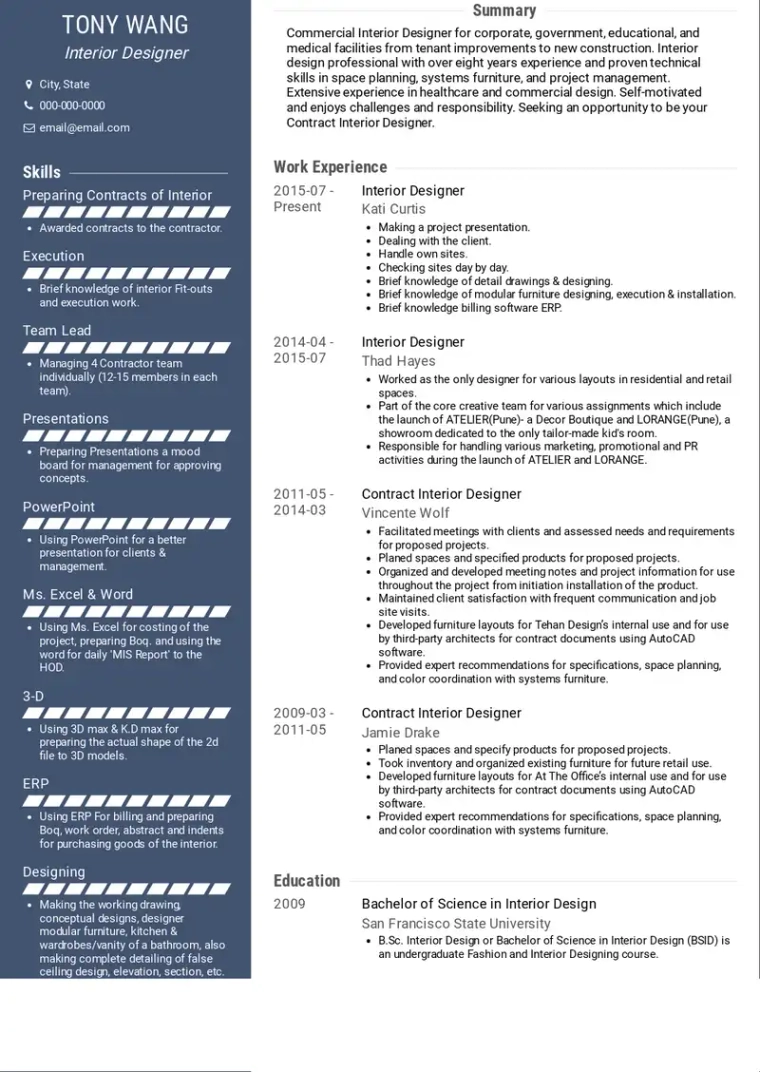 Interior Designer Resume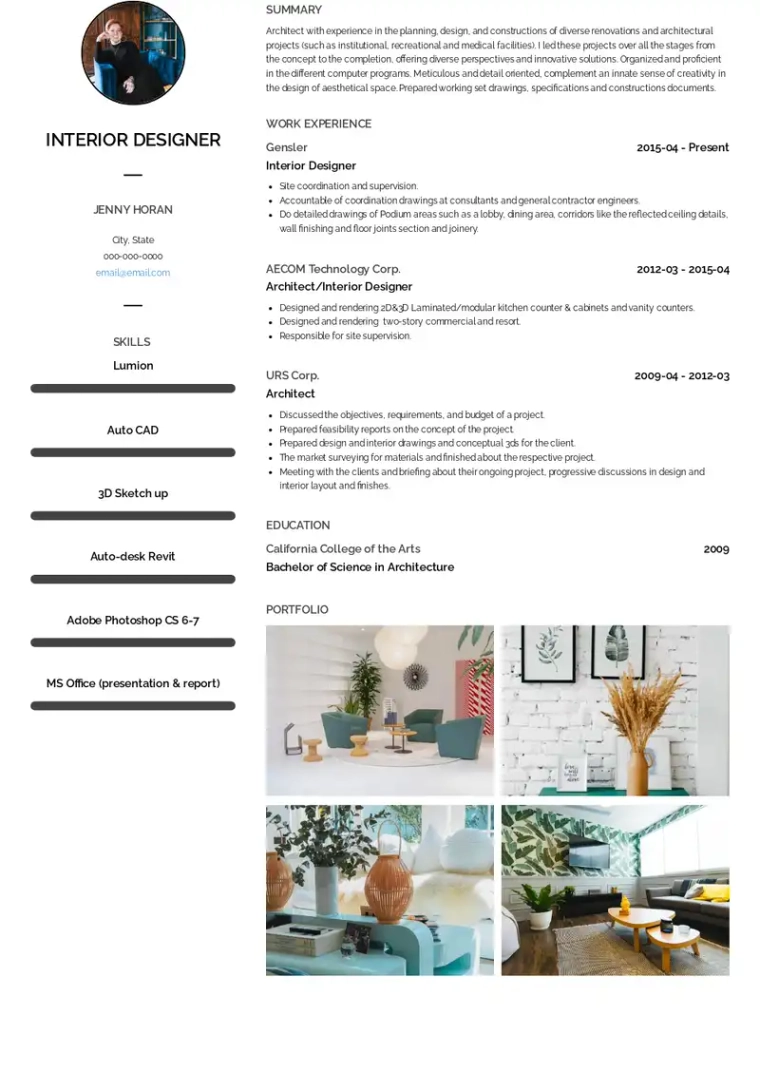 Senior Interior Designer Resume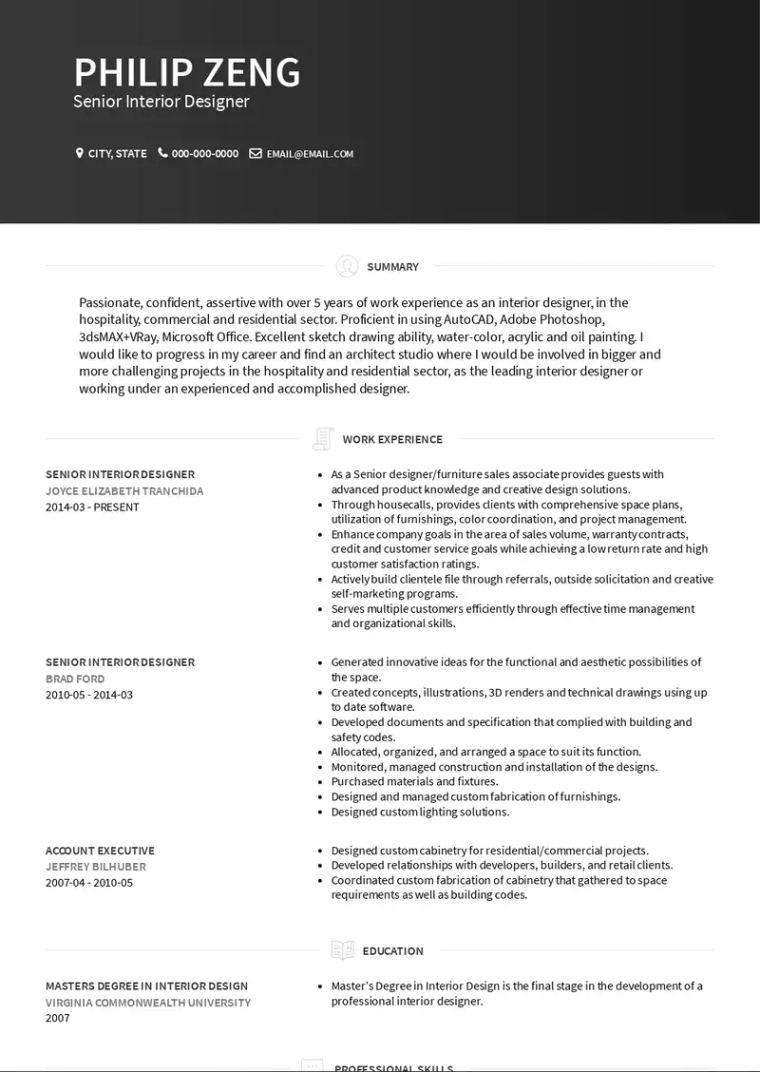 How to Write an Interior Designer Resume?
To write a professional Interior Designer resume, follow these steps:
Select the right Interior Designer resume template.
Write a professional summary at the top explaining your Interior Designer's experience and achievements.
Follow the STAR method while writing your Interior Designer resume's work experience. Show what you were responsible for and what you achieved as an Interior Designer.
List your top Interior Designer skills in a separate skills section.
Write the perfect Interior Designer resume header by:
Adding your full name at the top of the header.
Add a photo to your resume if you are applying for jobs outside of the US. For applying to jobs within the US, avoid adding photo to your resume header.
Add your current Interior Designer to the header to show relevance.
Add your current city, your phone number and a professional email address.
Finally, add a link to your portfolio to the Interior Designer resume header. If there's no portfolio link to add, consider adding a link to your LinkedIn profile instead.
Emery Martin 767 Johnson Lakes Apt. 042 North Johnsonberg, CT 78500 Marital Status: Married, email: cooldude2022@gmail.com
Emery Martin, North Johnsonberg, CT, Phone number: +1-555-555-5555, Link: linkedin/in/johndoe
Make sure to add a professional looking email address while writing your resume header. Let's assume your name is John Doe - here is a formula you can use to create email addresses:
firstnamelastname@email.com - johndoe@email.com
firstname.lastname@email.com - john.doe@email.com
lastname.firstname@email.com - doe.john@email.com
f.lastname@email.com - j.doe@email.com
l.firstname@email.com - d.john@email.com
firstnamelastname12@email.com - johndoe12@email.com
For an Interior Designer email, we recommend you either go with a custom domain name (john@johndoe.com) or select a very reputed email provider (Gmail or Outlook).
How to Write a Professional Interior Designer Resume Summary?
Use this template to write the best Interior Designer resume summary: Interior Designer with [number of years] experience of [top 2-3 skills]. Achieved [top achievement]. Expert at [X], [Y] and [Z].
How to Write an Interior Designer Resume Experience Section?
Here's how you can write a job winning Interior Designer resume experience section:
Write your Interior Designer work experience in a reverse chronological order.
Use bullets instead of paragraphs to explain your Interior Designer work experience.
While describing your work experience focus on highlighting what you did and the impact you made (you can use numbers to describe your success as a Interior Designer).
Use action verbs in your bullet points.
Interior Designer Resume Example
Interior Designer
Making a project presentation.
Deal with our clients.
Manage design sites.
Deeply involved in modular furniture design, execution and installation.
Managing ERP software for accurate design billing.
Senior Interior Designer Resume Example
Senior Interior Designer
Provide clients with advanced product knowledge and creative design solutions for their interior design needs.
Provide clients with comprehensive space plans, utilization of furnishings, color coordination, and project management.
Enhance company goals with sales volume, warrant contracts, credit and customer service goals; which achieve high customer satisfaction ratings.
Serve multiple clients efficiently through effective time management and organizational skills.
Created concepts, illustrations, 3D renders and technical drawings.
Designed and managed custom fabrication of furnishings.
Interior Designer Resume Example
Interior Designer
Designer for various layouts in residential and commercial spaces.
Part of the core creative team for various assignments and include the launch of a decor boutique and a showroom dedicated to the only tailor-made kid's room.
Responsible for handling various marketing, promotional and PR campaigns during the launch of new showrooms.
Interior Designer Resume Example
Interior Designer
Planned spaces and specify products for proposed projects.
Took inventory and organized existing furniture for future retail use.
Developed furniture layouts for internal use and for use by third-party architects for contract documents using AutoCAD.
Provided expert recommendations for specifications, space planning, and color coordination with systems furniture.
Interior Designer Resume Example
Interior Designer
Design site coordination and supervision.
Accountable for coordinating drawings with consultants and contractors.
Do detailed drawings of podium areas such as lobby, dining area, corridors, wall finishing, and floor joins section.
Top Interior Designer Resume Skills for 2022
Presentation
AutoCAD
3D Rendering
Powerpoint
Designing
3D Sketch up
Revit
AutoDesk
Lumion
3DS Max
VRay
Photoshop
Drawing
How Long Should my Interior Designer Resume be?
Your Interior Designer resume length should be less than one or two pages maximum. Unless you have more than 25 years of experience, any resume that's more than two pages would appear to be too long and risk getting rejected.
On an average, for Interior Designer, we see most resumes have a length of 2. And, that's why we advise you to keep the resume length appropriate to not get rejected.