Whether or not you should include your hobbies and interests in your resume is a controversial topic.
Many people would argue hobbies and interests hold no place in your professional document, and the hiring manager wouldn't pay attention to something so personal when considering you for a job. This is not entirely true. When chosen right on a resume, hobbies and interests can help you stand out from other potential candidates and even land you the job. In this post, we will provide you with everything you need to know about hobbies and interests on a resume, such as:
how to list hobbies and interests
what hobbies and interests to include
when to list hobbies and interests on your resume
...and more!
What Are Hobbies And Interests?
First of all, it's important to understand how hobbies differ from interests.
A hobby is an activity that you enjoy doing and that you do regularly. It is normally done for fun. Hobbies could include video editing, soccer, or playing piano.
Interests, on the other hand, are activities or subjects you enjoy studying or participating in. They are more about ideas, knowledge, and concepts. For example, your interests might include sports, literature, or cinema.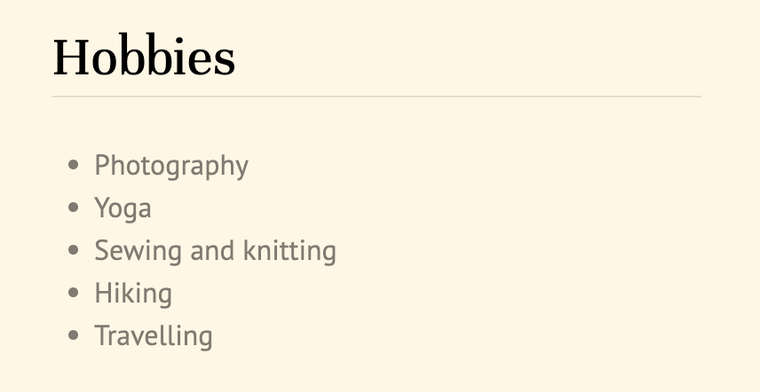 Should you List your Hobbies and Interests on Your Resume?
Hobbies and interests can improve your resume in the right circumstances. They can indicate your passion for the industry and show that your values align with those of the company. Here are a few instances where you should include your hobbies and interests on your resume.
You Have Little Work Experience
If you are a student or recent college graduate, you might lack the professional skills and experience your potential employers are looking for. This would put you at a disadvantage against other applicants who have more work experience.
Your hobbies and interests are a great way to deal with this obstacle. If your values and personality align with the company and the role, hiring managers may consider your application even when you don't meet all the requirements.
Hiring Managers Require Creativity and Originality
If employers are looking for all the value a candidate can offer, hobbies and interests can make you stand out from the competition. When it comes to personality, they'll be checking out what you enjoy doing and whether it can give them a greater return on investment in the coming years.
You're Asked to Include Hobbies and Interests on Your Resume
You can list your hobbies and interests in your resume if it is required in the job posting. Ensure you carefully review the requirements to avoid missing out on the opportunity.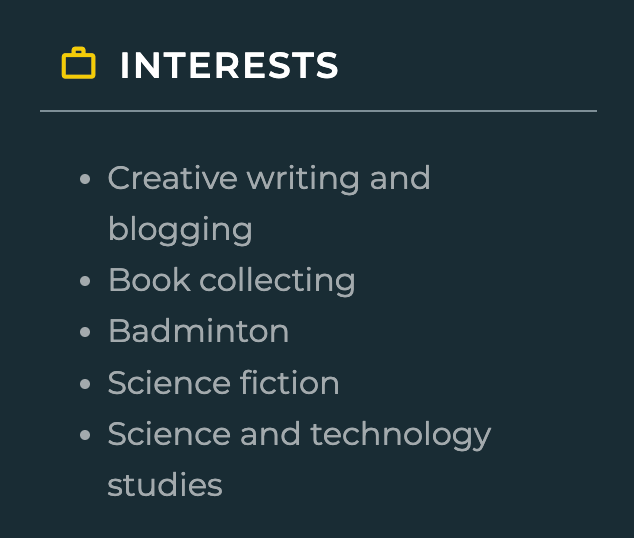 When to Include Interest and Hobbies on Your Resume
Here are some instances where you should include hobbies and interests on your resume;
You have little education, work experience, or skills related to the position you are submitting your application for.
After including all the essential resume sections (education, work experience, skills, and contact information), you have additional space.
When a company emphasizes its employees' unique traits and personalities.
If the company specifically asks you to include hobbies and interests.
If your hobbies and interests indicate that you are good at your job.
Should You List Interests and Hobbies in the Same Resume Section?
Yes, you can list your hobbies and interests in the same section. You can title it "Interests", "Activities", or "Hobbies and Interests".
Hobbies and interests can play a critical role in your resume. They can make your resume more interesting to potential employers. Nevertheless, it is important to prioritize your summary, professional experience, education, and skills on your resume.
Hobbies and interests should be placed at the end of your resume, and the section should be brief. List hobbies and interests with no more than a brief description for each item. Remember, it is best to keep your resume to one page, so you should only include a few strong hobbies and interests that complement your resume.

How to List Interests and Hobbies in Your Resume
The most crucial step you should take when listing hobbies and interests on your resume is researching the company you are applying for.
You must understand the kind of people they value and the skills they are looking for.
To find the information about the company, be sure to check:
The organization's website, especially its 'about' page.
Any reviews or opinions of the company you can find online.
The company's social media accounts, including Instagram, Twitter, Facebook, and LinkedIn.
After doing your research, list the hobbies and interests that are most relevant to the company and position you are applying for.
It is important to make sure that you can explain how that hobby relates to you as a professional. If an employer asks about your hobbies in an interview, you have to be able to show that you understand it and explain how it makes you a good candidate.
Once your list of hobbies and interests is ready, you can:
Create a section for hobbies and interests in your resume. Ensure you include the section towards the end of the document, as the hobbies are less important than your experience, education, and skills.
Go through your list and select up to five interests and hobbies for your resume.
Ensure you don't list anything too generic.
If you want to stand out a little more, consider:
Using keywords you find on the job listing.
Maximizing visual presentation where possible.
Using examples that demonstrate your skills.
Remember not to overdo it. Stick to a one-page resume where possible.
Common Mistakes to Avoid While Listing Hobbies on Your Resume
Here are common mistakes you need to avoid while listing hobbies on your resume:
Do not include any topics that might be controversial. For example, political activism may make employers wary.
Avoid listing hobbies that reveal too much personal information, like religious or political views.
Don't include hobbies that are considered dangerous or violent.
Common Mistakes to Avoid While Listing Interests on Your Resume
There is limited space on your resume to outline your qualifications and attract the employer's attention. To make sure your Interests section is effective:
Don't list interests that are unrelated to the new position.
Avoid joke interests or unserious interests, like partying like there's no tomorrow.
Avoid interests with little interactivity or engagement, like binging shows.
List of Top Creative Hobbies for Resumes
Check out some of the top hobbies that can add value to your resume. These hobbies should be relevant to the job that you are applying for.
Community involvement and volunteering are the best hobbies to add to your resume because they are associated with greater employment odds. Volunteering shows empathy, initiative, and the ability to see beyond your interests. In addition, volunteering teaches leadership, teamwork, and organizational skills.
Writing
The most desired soft skills by many companies are verbal and written communication.
You can show your future bosses that your skills at communication extend beyond the place of work if you list writing as a hobby, making you stand out from the competition.
Travel
Traveling may not seem like a good hobby to include on your resume. That is not always the case, as individuals who like travel may be perceived as:
Curious to meet new people and experience new cultures.
Unafraid to step out of their comfort zone.
Organized and adaptable to new people and situations.
These personal traits make for a flexible and adaptable employee, a trait most employers prefer.
Reading
This is one of the best hobbies to incorporate into your resume, regardless of what type of book you like to read.
Reading relieves stress, sharpens your communication skills, increases general knowledge, improves your ability to focus, and exercises the brain.
Examples of Hobbies and Interests That Show Analytical Skills
You can list the following hobbies if your job requires out-to-the-box thinking.
Blogging
Writing
Design
Photography
Sketching
Playing a musical instrument
Chess
All the above hobbies point to analytical thinking and indicate that you are creative. You will seem like a more calm individual who is composed and thinks before speaking.
Examples of Hobbies and Interests for Resume That Show Sports Skills
You can include either individual or team-oriented sports on your resume. These sports indicate that you have the perseverance or self-discipline to work alone or work well with others. They may also give you something to talk about with your interviewer.
Some sports-related hobbies that paint you in a positive light include:
Football
Swimming
Basketball
Mountain climbing
Skiing
Baseball
Volleyball
Most of these sports show you have discipline and are comfortable working with others. Therefore, these sports are relevant for jobs that require you to be self-motivated or communicative.
Examples of Hobbies and Interests for Resume That Show Social Skills
Listing social hobbies in your resume is a perfect way to show that you work well with others. Most jobs require you to be in contact with other people in one way or another.
You can include the following social skills to show you work well with others and communicate well:
Language classes
Camping
Volunteering at a charity center
Networking events
Board games
Creating and organizing a book club
Public speaking
Club membership and participation
In most jobs, you will interact with people, which is why social hobbies are very important.
Examples of Hobbies and Interests for Resume that Show Creative Skills
Hobbies that show your creative skills include:
Photography
Design
Writing
Painting
Playing a music instrument
Reading
Creative skills are critical, as most employers look for creativity in their employees. Consider listing one of the hobbies above on your resume when applying for a job that requires creativity.
Examples of Hobbies and Interests for Resume That Show Technical Skills
Technical skills are the abilities, expertise, and knowledge needed to perform specific tasks. Examples of technical skills include:
Programming
Computer science
Project management
Troubleshooting
Graphic design
Information technology
Tip: Technical skills are verifiable. Don't lie on your resume. You might lose the opportunity or damage your reputation if your lie is exposed.
Wrapping up
Hobbies and interests, when chosen right, can shine a light on a candidate's personality and allow them to stand out from the rest of the applicants. Include hobbies and interests relevant to the organization and the job you are applying for so that they can complement your skill and qualifications.
Are you still trying to figure out how to create a great resume? Worry no more! VisualCV can help you build your resume in minutes allowing you to make a great impression with your potential employers.