If your career journey has taken some unusual turns, a traditional chronological resume may not be right for you. It might expose some career gaps that may jeopardize your resume's chances of success, or it might not leave you with enough room to cover the wide range of skills you've acquired across multiple roles. If any of this applies to you, you may be wondering how best to present yourself as a candidate.
That's where the functional resume comes in! It's an efficient way to balance your work history with your skills on your resume, without relying on a chronological list of what you've done in the past. If you're making a career change, or if you're looking for a way to obscure a career break, this format could be perfect for you.
To help you out, we've written this guide to the functional resume format. On this page, we'll cover the following points:
What a functional resume actually is
Why you might opt for a functional resume
How to write a functional resume
Which templates work best for a functional resume
An example of a great functional resume
What is a Functional Resume?
A functional resume is a resume format that prioritizes your skills over a chronological outline of your work experience. It's designed to call attention to your transferable skills, instead of focusing on a laundry list of roles that may not be relevant to the job you want. You might also have heard it described as a skills-based resume.
A good functional resume will tie your relevant skills to a non-chronological list of the roles where you've used them. This ensures that both your skills and your work history remain visible—just in a slightly unusual format. It shouldn't hide any relevant information! Instead, it should arrange the information in a way that shows you at your best.
This resume format can be contentious among hiring managers, because it can be harder to skim-read than other formats. As such, it's a good idea to opt for a standard reverse-chronological resume format if you can. But if you have a strong, compelling reason to choose a functional resume, it might just be worth the risk for you.
Why Might You Choose to Create a Functional Resume?
There are two main reasons why you might choose to create a functional resume. The first is that you have one or more career gaps that might ring alarm bells for a hiring manager on a reverse-chronological resume. The second is that you're making a career move—or have made one in the past—which has left you with a lot of work experience that may not be relevant to the jobs you're applying for now.
You could also consider a functional resume if you have a history of freelance work, which has allowed you to build up a lot of skills without also building up a coherent or consistent work history. These conditions often apply to creative workers, whose portfolio of past work is usually more important than their actual work experience.
Candidates who are overqualified for the job they want may also benefit from a functional resume, which focuses more on skills than educational background or comprehensive work history. This can help these candidates to brush over highly-specialized positions that may raise red flags for hiring managers, focusing instead on the skills relevant to the position they want.
It's worth keeping in mind that a functional resume is a highly specialized resume format, and it will only work for a very limited number of job searchers. Most people will get more out of a reverse-chronological resume format than a functional resume format. In particular, you should avoid the functional resume format if you have no work experience at all!
But if you have an unusual work history or a compelling reason to focus on your skills over the specifics of your experience, a functional resume will give you the tools you need to make a successful application. As long as you approach it carefully, it's a great resource for job searchers with a less conventional background.
How to Write a Functional Resume
If you're going to write a functional resume, you need to know how to do it right! A standard functional resume will contain all of the following sections, usually in this order:
Your name, job title and contact information
Your resume summary, focusing on your skills and achievements
A skills section, which will be the longest and most substantial section of your resume
A work experience section, which can be omitted
An education section, featuring your highest academic qualification and your most recent certifications or licenses
As a matter of course, your name, job title and contact information can form a header for your resume as a whole. It's important to note, though, that you should omit a job title if you're making a career change! Otherwise, it may confuse the hiring manager who reads your resume.
Your resume summary should focus on your biggest professional achievements and how they have required you to use your skills. Remember, this type of resume should be all about your skills, so make sure you refer to them here! If you're making a career change, you can also incorporate an objective statement into your resume summary—this can help hiring managers to get a sense of where you hope your career will take you in the future.
The skills section is the centerpiece of a functional resume, so you need to make sure it shines! To start, look through the job description and identify the skills needed for the position—these will usually appear in a list. Then compare them to your own strongest skills. Wherever these lists of skills overlap, you have a skill that can be included in your skills section.
For each skill you list—and you should aim to list between 3 and 4 skills—include 3 or 4 bullet points. Each bullet point should contain evidence that you have used these skills in the past. We'll give an example of this section later in the article, so you can see exactly what this looks like in practice!
If you decide to include a work history section, it doesn't have to be long, and it doesn't have to include bullet points as it would on a reverse-chronological resume. Select two to three items from your recent work history and list them from the most recent to the oldest—including your job title, your dates of employment, the company where you worked, and the location of the company. If your recent work experience involves a career break of over a year, you can list that as well, along with an indication of the reason for your time away from work.
Lastly, your education section shouldn't differ much from the education section on a reverse-chronological resume. If you're a recent graduate or a current student, you can list achievements like academic prizes and honors that you've earned while studying. Otherwise, list your highest qualification and any recent certificates you've earned—you don't need to do more than that.
Functional Resume Template
At VisualCV, we pride ourselves on our versatile resume templates. Any of our templates will work with a functional resume format! But it's worth keeping in mind that hiring managers may struggle to skim-read a functional resume—so ideally, you should choose a template that will make it as easy as possible for them to read.
That means choosing a template that's fairly stripped-back, without too many distracting design flourishes. Here are some of our favorite templates that work well with a functional resume format.
ATS
This ATS-optimized template is one of the most simple, clean templates we offer—which makes it ideal for a functional resume. All you'll need to do is switch the Work Experience section out for the Skills section, and the rest will be taken care of for you. And when you submit your application, this template will be readable enough to limit the risks of using a functional resume format at all.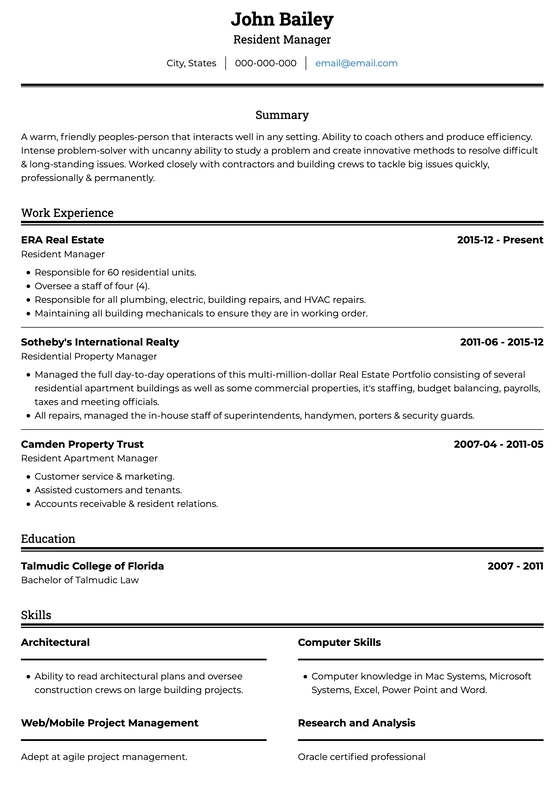 An example of VisualCV's ATS resume template
Standard
This is another streamlined, uncomplicated template that makes a point of being easy to read. From the fonts to the color choices, it's geared toward presenting you in the most elegant and professional way possible. And you can arrange the sections of this template in whatever order you need, so you can choose what to focus on and what to minimize on your resume.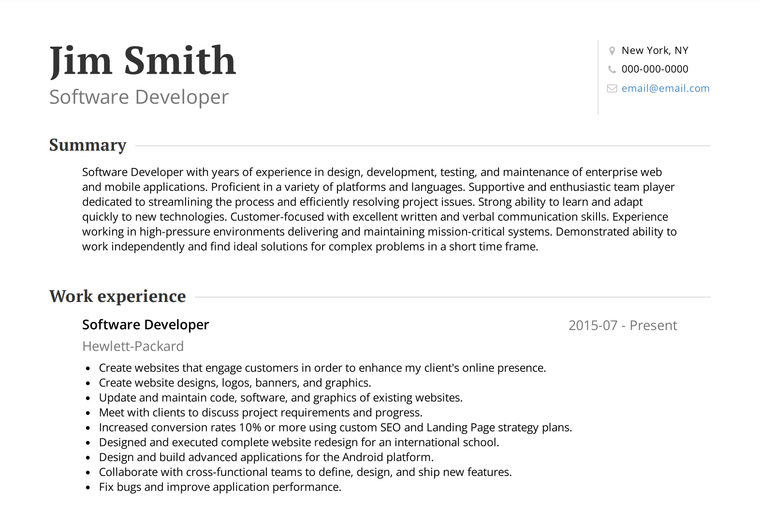 An example of VisualCV's Standard resume template
Monte
If you're looking for a template that makes subtle but stylish design choices, without being impossible to read, Monte is a great choice. The key is that its eye-catching fonts are still very readable, and the pops of understated color don't distract from what you're saying in the body of your resume. That makes it an ideal option for you to present your functional resume in an aesthetically satisfying way.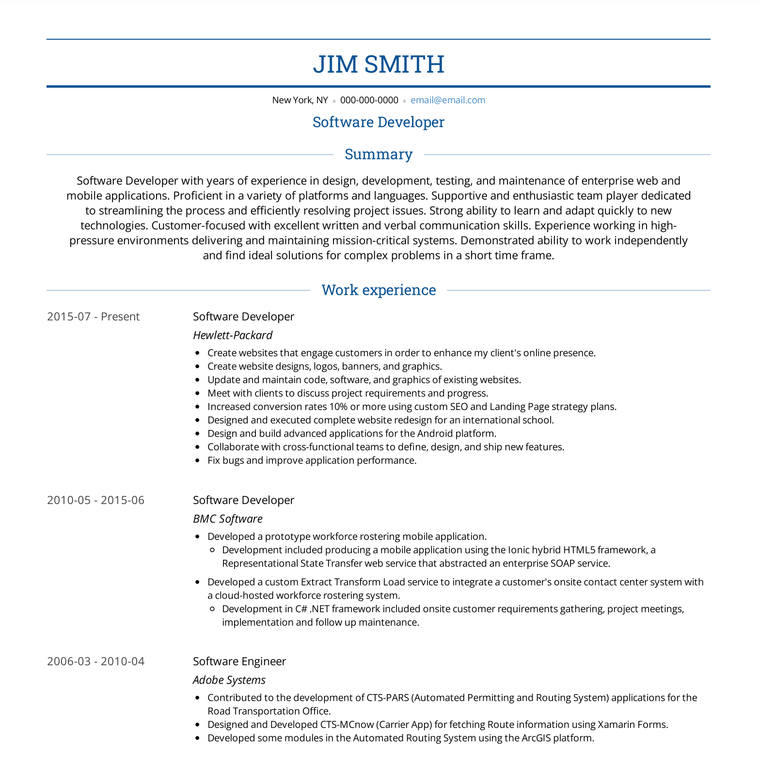 An example of VisualCVs Monte resume template
Functional Resume Example
Want a head start on your functional resume? Here's a great example of a functional resume, to show you how it all comes together: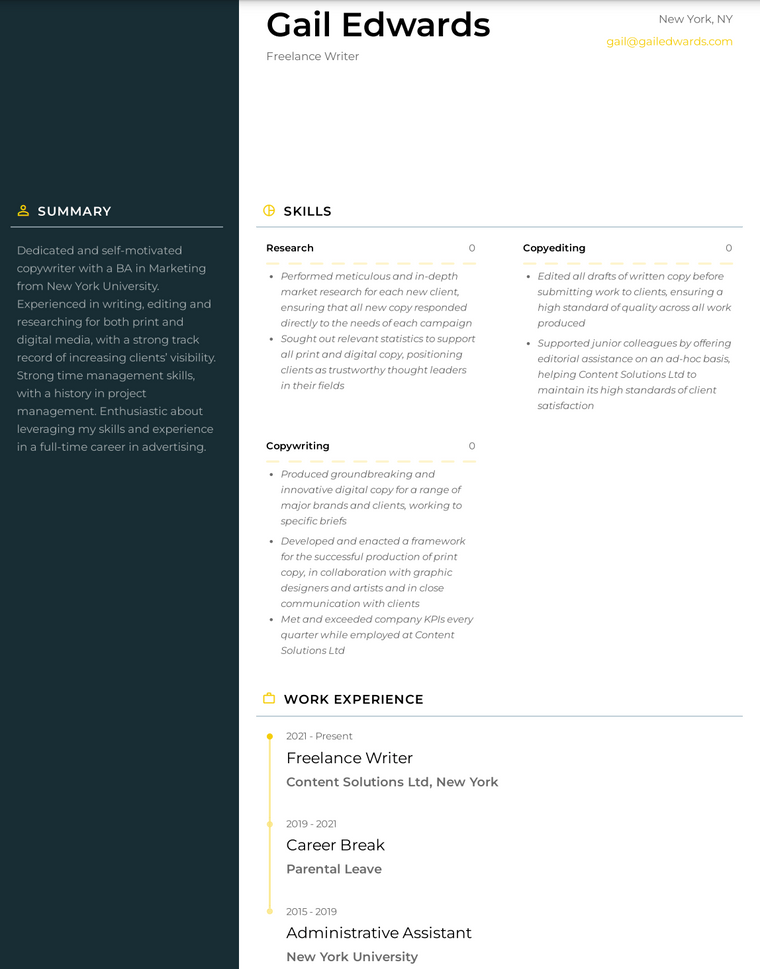 An example of a functional resume
Gail Edwards Freelance Writer gail@gailedwards.com | New York, NY
Summary Dedicated and self-motivated copywriter with a BA in Marketing from New York University. Experienced in writing, editing and researching for both print and digital media, with a strong track record of increasing clients' visibility. Strong time management skills, with a history in project management. Enthusiastic about leveraging my skills and experience in a full-time career in advertising.
Skills Copywriting
Produced groundbreaking and innovative digital copy for a range of major brands and clients, working to specific briefs
Developed and enacted a framework for the successful production of print copy, in collaboration with graphic designers and artists and in close communication with clients
Met and exceeded company KPIs every quarter while employed at Content Solutions Ltd
Copy Editing
Edited all drafts of written copy before submitting work to clients, ensuring a high standard of quality across all work produced
Supported junior colleagues by offering editorial assistance on an ad-hoc basis, helping Content Solutions Ltd to maintain its high standards of client satisfaction
Research
Performed meticulous and in-depth market research for each new client, ensuring that all new copy responded directly to the needs of each campaign
Sought out relevant statistics to support all print and digital copy, positioning clients as trustworthy thought leaders in their fields
Work Experience Freelance Writer | Content Solutions Ltd, New York 2021-present
Career Break | Parental Leave 2019-2021
Administrative Assistant | New York University, New York 2015-2019
Education Bachelor of Arts in Marketing | New York University, New York 2012-2015