Are you hoping to land an executive role in Australia? If you're not familiar with Australian resume standards, it's time to learn a little more about the way things work in the land down under. To stand a chance of succeeding as an Australian executive, you'll need a professional, elegant resume that presents you at your very best.
All of that starts with the right executive resume template. If your resume strikes the right tone with the company you want to work form, you'll have a much better chance of progressing to the interview stage—even if you've never worked in Australia before. A well-chosen template can help you lay a great foundation for your application, providing a professional and eye-catching layout to match your skills and experience.
If you need help choosing the right executive resume template for Australia, we've got you covered! In this article, we'll cover the following points:
What to know about Australian resumes
What to look for in an Australian executive resume template
Why use an executive resume template at all
Some of our favorite executive resume templates for you to use
What is an Australian Resume?
When applying for work in a new country, you need to adjust your resume to suit local standards. That's as true in Australia as it is anywhere else in the world. Here are a few things you need to keep in mind about Australian resumes!
Two Page Executive Resumes in Australia
By the time you're qualified enough to apply for executive roles, you probably have enough work experience to fill a few pages. On a North American resume, that might be a problem. Hiring managers famously prefer shorter resumes, and will probably expect you to condense your work history into one or two pages at most.
But in Australia, it's expected that an executive-level resume will take up two pages. If you have the experience and skills to back it up, you can even use up to three!
References for Executive Resumes in Australia
On a North American resume, it's fairly standard not to include references. Candidates usually provide them at a later stage in their application.
That's not the case in Australia! You'll need to include a section on your resume to list between three and five references. You should list their names, their job titles, the organizations where they worked with you, and their contact information—including a phone number.
Your references should be people who have managed or supervised your work in the past. You should always check with them before listing them on your resume, to make sure that they're happy to provide positive feedback about your previous work. If you've never worked in Australia before, they don't have to be local—but if you can list at least one Australian reference, it will set a hiring manager's mind at ease.
Personal Information on Executive Resumes: Australia
Obviously you will need to include your name and contact information on your resume—but that should be all. In Australia, it's illegal for an employer to ask you about your age, nationality, religion, sexual orientation, or marital status. You should avoid including any of these details on your resume.
Spelling in Executive Resumes: Australia
This might seem like a small detail, but it shows employers that you're prepared to adapt to Australian norms and standards! All you need to do is switch your spell check dictionary over to Australian English. Spell check will then help you to make any corrections to your spelling.
If you want to work in Australia in the long term, it's a good idea to learn Australian spellings. You'll find that it reduces confusion in the workplace.
Keep it Professional
If you're hoping to work in Australia, you probably already know that Australian culture is famously irreverent, down-to-earth, and blunt. But remember that you're trying to find a job, not make a friend! While you may not need to be impeccably formal at all times, you'll need to maintain a reasonably professional tone in your resume—especially since you'll be looking for executive jobs.
You might also have heard that in Australia, excessive bragging is considered rude. When writing an Australian resume, it's best to let your achievements speak for themselves. Spell out exactly why you're a good fit for the job, but don't go overboard when talking yourself up as a person.
What Makes a Good Executive Resume Template for Australia?
When applying for high-level executive roles, there are certain standards you need to meet. Employers all over the world have clear expectations: your resume should usually use a reverse-chronological format, and it should include all the relevant information about you as a candidate. That means your Australian executive resume will need to include all of the following sections:
Contact information
A summary
Work experience and key achievements
Education
Skills
References
But a great executive resume is more than just a list of facts. It also needs to look smart, professional, and readable. That usually means using a single- or two-column layout, with a streamlined and understated design, and without too many images or elaborate design features.
You also need to make sure that the colors and font choices used in your resume are as professional as possible. The template you choose should use readable, classic-looking fonts, so that hiring managers can look over your resume as quickly as possible. It should also use colors sparingly, so they don't divert attention from the actual content of your resume.
Finally, you should ensure that your executive resume template can be read by ATS software. ATS (applicant tracking system) software is used by many companies to sort through resumes and filter out unqualified applicants—and it's popular in Australia. But it can be confused by complex resume layouts, so you'll need to use an ATS-compatible template to format your resume.
To sum up, here's what you need to look for when choosing an executive resume template:
Reverse-chronological format
Single- or two-column layout
Classic, readable fonts
Limited use of color
Not too image-heavy
Readable by ATS software
Why Use an Executive Resume Template in Australia?
If you're wondering why you should bother with an executive resume template, that's understandable! After all, you could potentially build a resume on your own in Word or Pages, without relying on a template at all. But there are actually some great reasons why you should consider using a template—and some of them may surprise you.
Here are some of the benefits of using an executive resume template in your Australian job search.
Beat the ATS Software
ATS software is a huge help for hiring managers, but it can be a real source of frustration for applicants. Nobody wants to put hours of time and energy into a resume, only to have it set aside before a human being gets to read it. If your resume template isn't optimized for machine reading or online submission, you could run into that problem even if you're careful to include as many key words from the job description as possible.
But you don't have to worry about ATS software when you use VisualCV! All of our resume templates are professionally designed to be read and understood by ATS software—even the ones with complex multi-column layouts. This eliminates the risk that your resume will be thrown out because it can't be parsed by a machine, and gives you a much better chance of success.
Of course, you'll still need to make sure that the content of your resume is ready for an ATS screening. But with a VisualCV executive resume template, you can be confident that the design of your resume will be a help to your application—not a hindrance.
Present Yourself Professionally
Designing resume layouts isn't easy. There's a reason why resume templates are so popular: it's because most people don't have the time, resources, or skills to produce their own resume layouts to the same standard.
At VisualCV, we take pride in the fact that all of our resume templates are designed by professionals. It means we can bring you some of the highest-quality resume templates available on the internet.
When you use a professional layout, you look more professional—it's that simple. You won't be subject to any minor but telling errors in your resume's formatting, like inconsistent fonts or margins. You can trust that the layout designer has taken care of the details, so your resume will look as impressive as possible when it's time to apply for the job you want.
At the executive level, hiring managers really do notice those minor details. By choosing a good executive resume template, you're ensuring that the little things won't be an issue for you, or for the way you present yourself as a candidate.
Focus on Content
When you're applying for executive-level jobs, you probably have a lot to fit onto your resume. You'll need to account for your work history and skills, as well as your education and any certifications. And you'll still need to make room for your summary, your contact information, and potentially even a photo!
Australian resumes can take up more space, as we've already discussed. But even when you have multiple pages at your disposal, you still need to make all of that information look as professional and readable as possible. If you're not an experienced graphic designer, laying out your resume without compromising on style and readability can be a serious challenge.
An executive resume template will save you from worrying about any of that. When you use a template, you're outsourcing the layout of your resume and freeing yourself up to focus on the substance of your application. You'll know exactly where to put every aspect of your resume, and can devote your attention to making sure that every element sings.
Our Favorite Executive Resume Templates for Australia
If you've decided that an executive resume template is right for you, that's great! But choosing the right template for your needs can be a laborious process, especially when you're also thinking about the resume standards of a whole new country.
To help you get started, we've put together a list of some of our favorite executive resume templates for use in Australia—all available for free on our website.
Remember, all of VisualCV's resume templates are compatible with ATS software. They're also heavily customizable, so you can make each design your own! Take a look through our template catalog and choose the design that suits you best.
Bravo
This two-column template is a great example of how to use color in an understated, professional way. The pops of bright color work well with the more muted background, while still giving the impression that its choice of palette is intentional. It's eye-catching and compelling without being too chaotic or hard to read—a perfect compromise if you're hoping to submit an executive resume to a younger or more progressive company.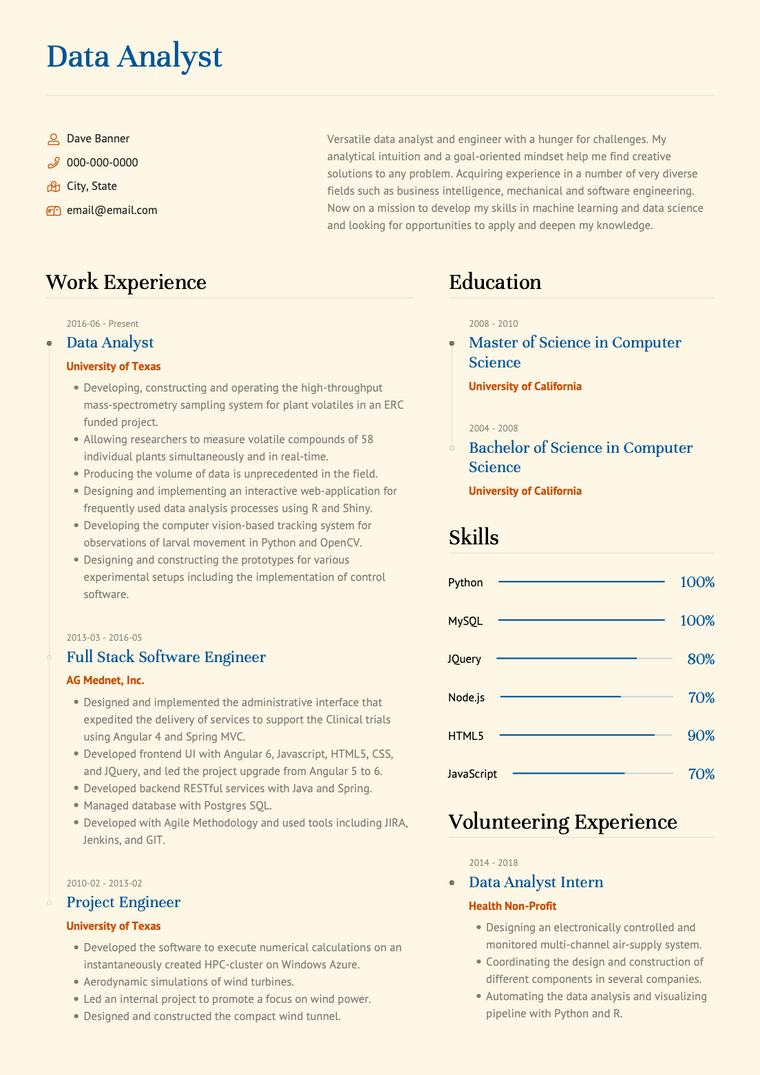 VisualCV's Bravo resume template
Clair
The elements of modern design in this beautiful two-column resume template are subdued enough to be striking—the scroll-like look of each company name in your work history section will be sure to catch a hiring manager's eye! But those flourishes don't detract from the elegant, minimal style of this customizable resume. If you're applying to an especially conservative organization, you can even adjust the color scheme to something more muted.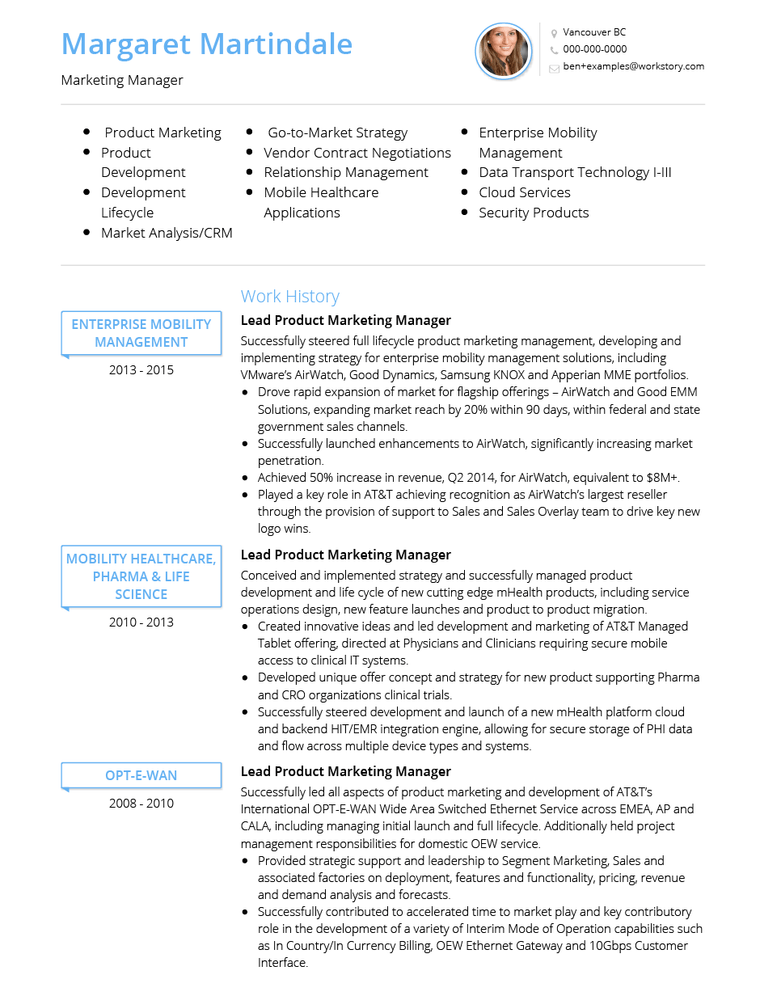 VisualCV's Clair resume template
Corporate
Corporate is a two-column template prioritizing text content over images and design. It brings style and elegance to a simple, readable resume format, providing a streamlined look that will impress any employer or recruiter. With this template, the clue is in the name: if you're hoping to work in the corporate world, it's a safe bet that this resume design will make a good impression on a hiring manager.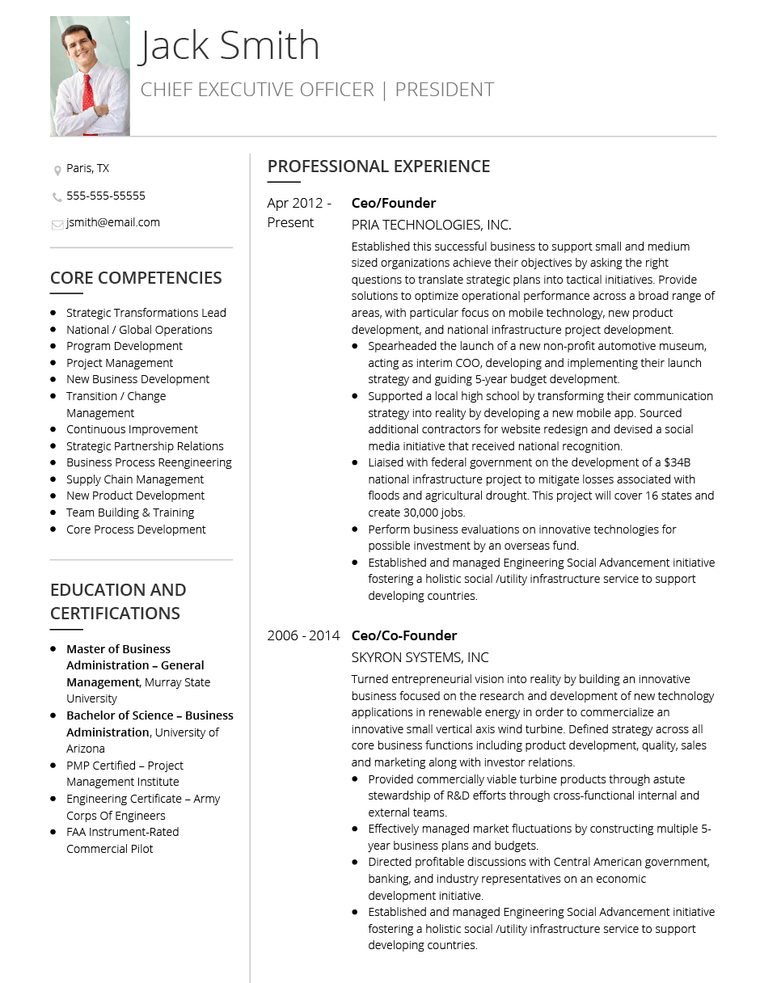 VisualCV's Corporate resume template
Monte
Monte uses a single-column format with a classic, text-led design, resulting in a simple, clean and professional resume. It steers clear of any unnecessary graphics or images, keeping things understated throughout. But this template is anything but boring—the classic font choices and low-key touches of color keep it eye-catching and intentional in its design.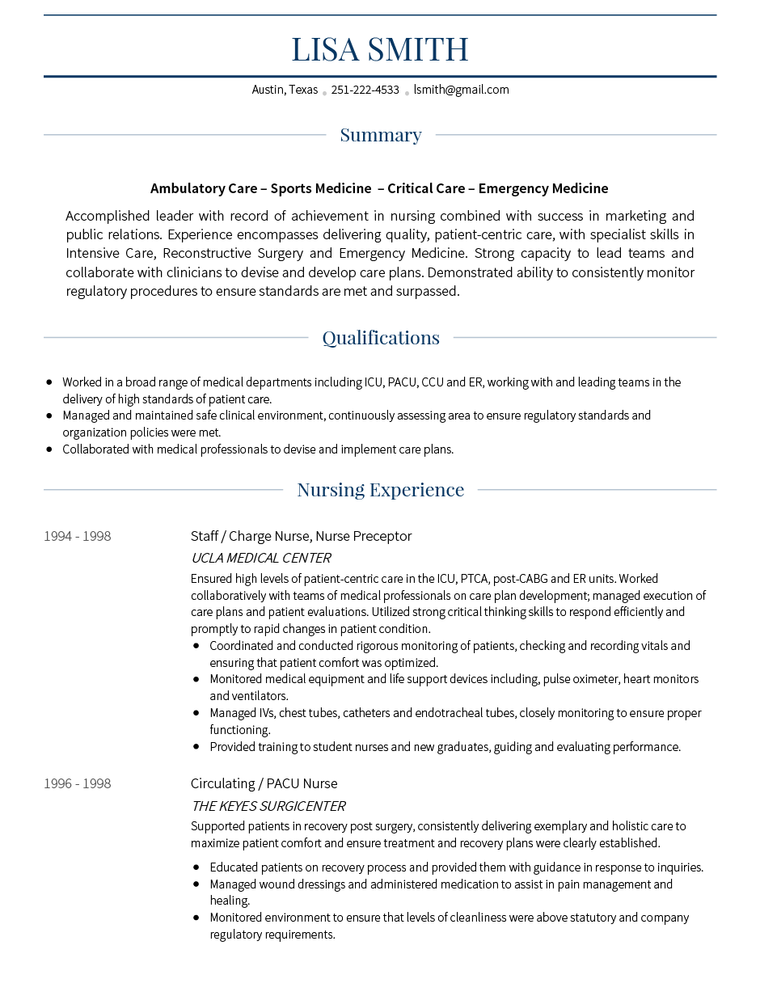 VisualCV's Monte resume template
Standard
This classic, elegant resume template makes expert use of the traditional single-column format, featuring stylish font and formatting choices to catch a hiring manager's eye. It even offers space for a photo of yourself in the header, allowing you to personalize your resume without interrupting the all-important main body of the text. For a streamlined, professional executive resume template, look no further!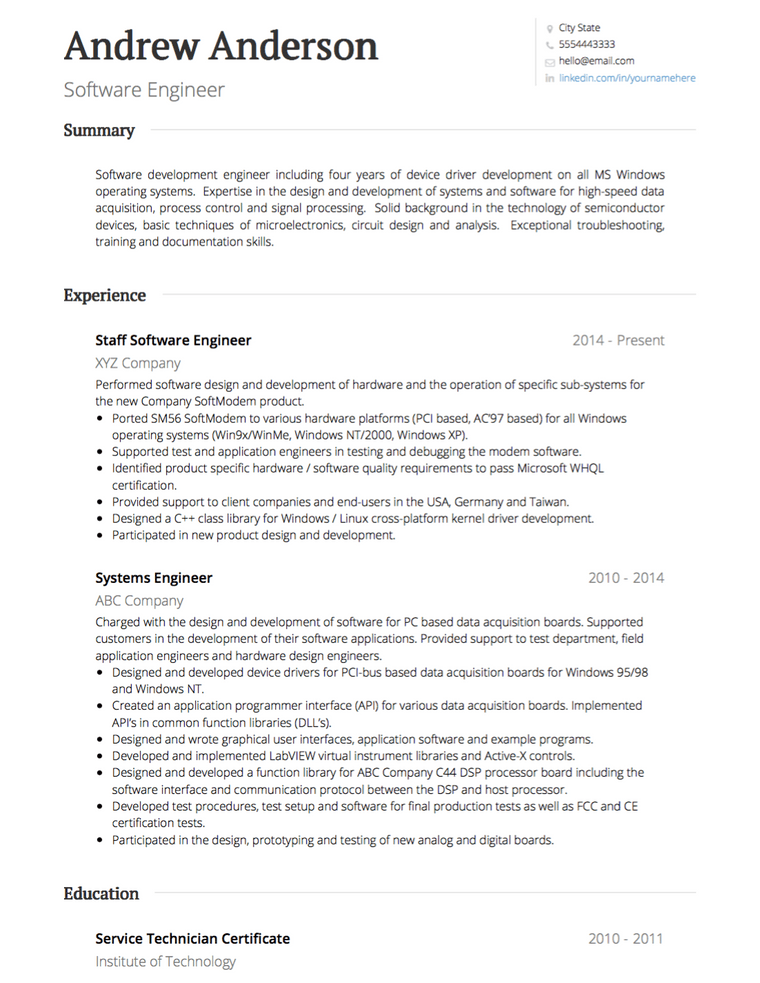 VisualCV's Standard resume template