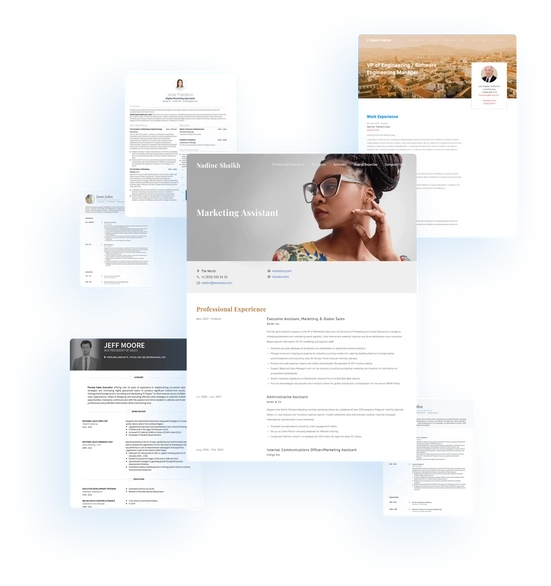 Administrative Officer CV Example
Administrative Officer CV Example - Summary
I am a highly articulate and quick-thinking person who has a natural flair for communication and build relationships with potential clients. I am a creative person and willing to contribute ideas and offer a professional opinion to any project. Diversified skill sets covering administrative support, client relations, student support, account management, and project management. Multi-faceted, efficient, and reliable administrative professional with rich experience supporting executives, sales, and managers to improve internal operations for medium businesses. Excellent interpersonal, phone, and digital communication skills. I value work as part of this professional team because it offers substantial learning opportunities for me. My motivated attitude, hard-working nature, and creative abilities could be well-utilized in this position.
Administrative Officer CV Example - Work Experience
Chief Administrative Officer, Verizon
Manage a $1.2 million department budget, including self-insured medical and workers' compensation programs.
Undertake migrant worker and employee relations, compensation and benefits, talent acquisition/retention, training, performance management, and employee engagement and culture.
Partner with the Board of directors, executive leadership team, and program managers to facilitate and implement key corporate initiatives.
Establish jobs of an agency, perform salary administration structure, and then establish salary grades based on external market data.
Ensure compliance with HR regulations and laws, including annual updates to the employee handbook and 100% audit compliance.
Implement and extend the use of the HRIS system to incorporate manager and employee self-service functionality and implement integrated modules for recruitment, onboarding, performance management.
Implement the program is less than 10% for 30% of employees and direct-care employees who improve staff retention at the 60-day mark.
Introduce employee HR metrics to measure the cost of turnover, percentage of voluntary versus involuntary turnover.
Director of Human Resources, Costco
Coordinated implementation of new HRIS platform with the finance department, leveraging employee and manager self-service options for recruitment, benefits, onboarding, and performance management.
Implemented centralized hiring, onboarding, new hire orientation, and compliance training functions, ensuring 100% compliance with hiring requirements from regulatory funders.
Implemented a web-based employee suggestion platform on SharePoint.
Created a monthly employee recognition program entitled "Pat on the Back" for employees to recognize each other for exhibiting agency values.
Implemented wellness and employee relations committee engaging employees in wellness and community involvement activities.
Administrative Officer, Phillips 66
Was responsible for scheduling, screening, and greeting building visitors according to strict building security policies and procedures.
Coordinated 1-3 events per month, including the creation of agendas, securing meeting spaces, managed attendee communication, and documenting meetings to support departmental operations.
Executed meeting follow-ups, such as distributing meeting notes and surveying attendees, to facilitate overall attendee experience and relationship development.
Organized and maintained spreadsheets for use in internal audits, presentations, and various projects.
Administrative Officer CV Example - Education
Master of Business Administration, Harvard University Bachelor of Science, Yale University
Sample Administrative Officer CV Skills
Computer Skills
Multi-tasking
Creativity and expression
Willingness to learn
Problem-solving
Quick thinking
Flexibility
Business