Senior Data Engineer Resume Example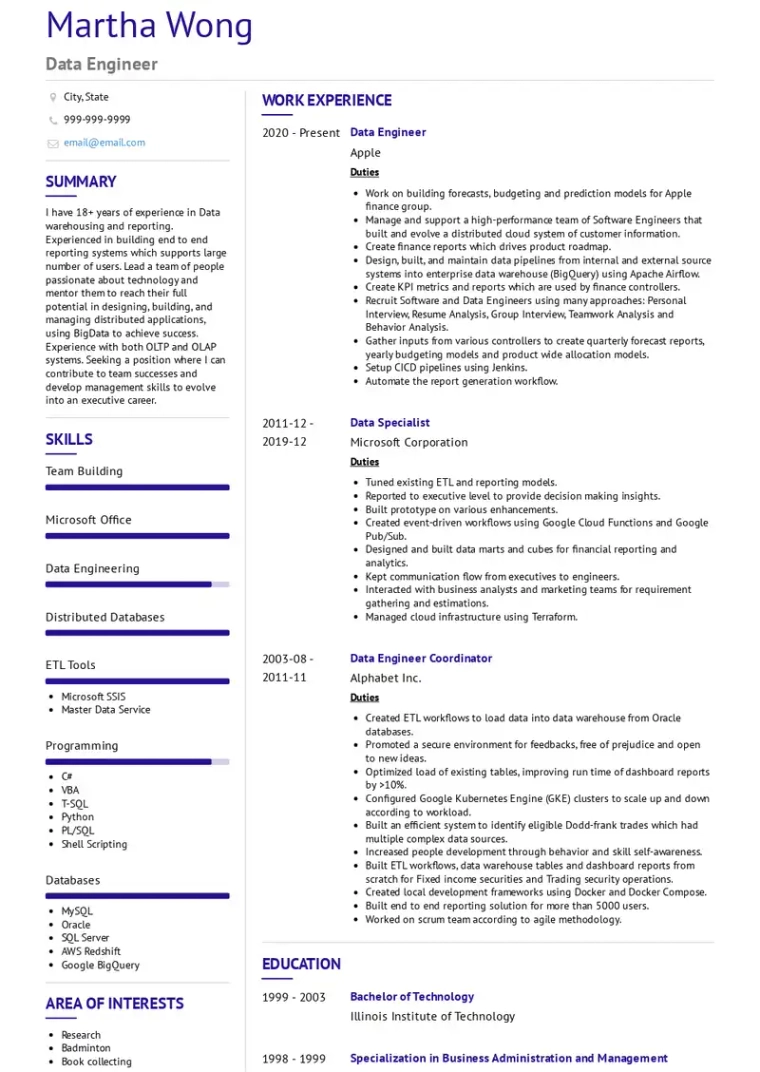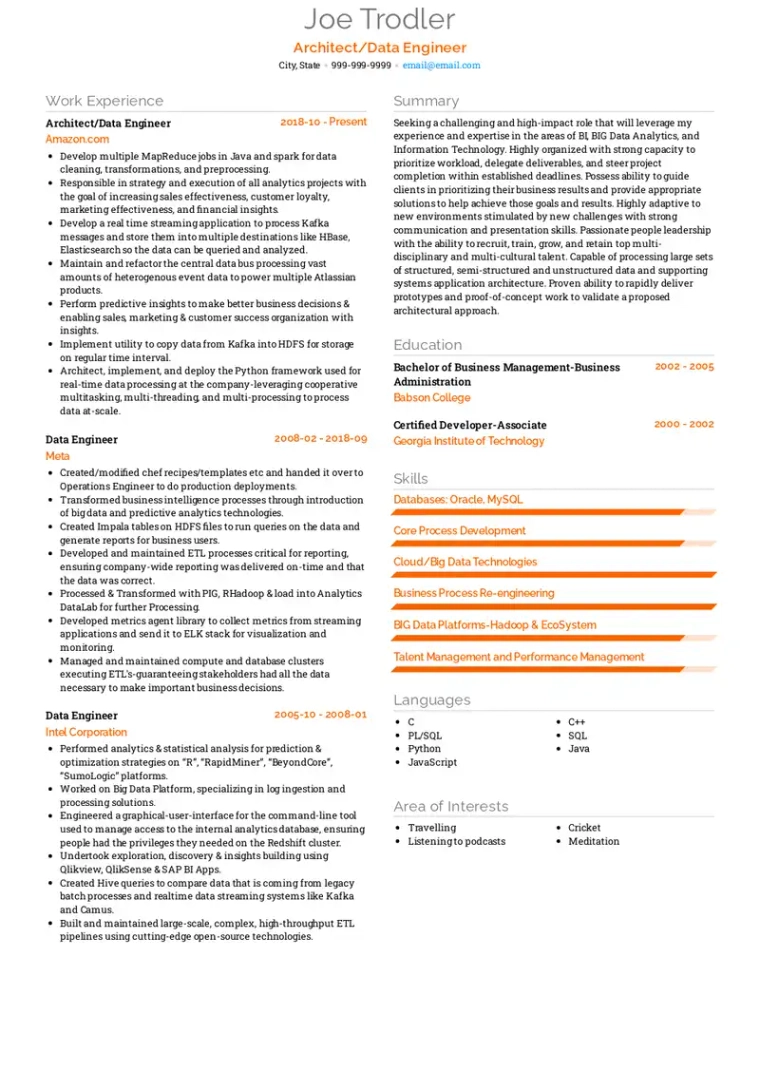 Big Data Engineer Resume Example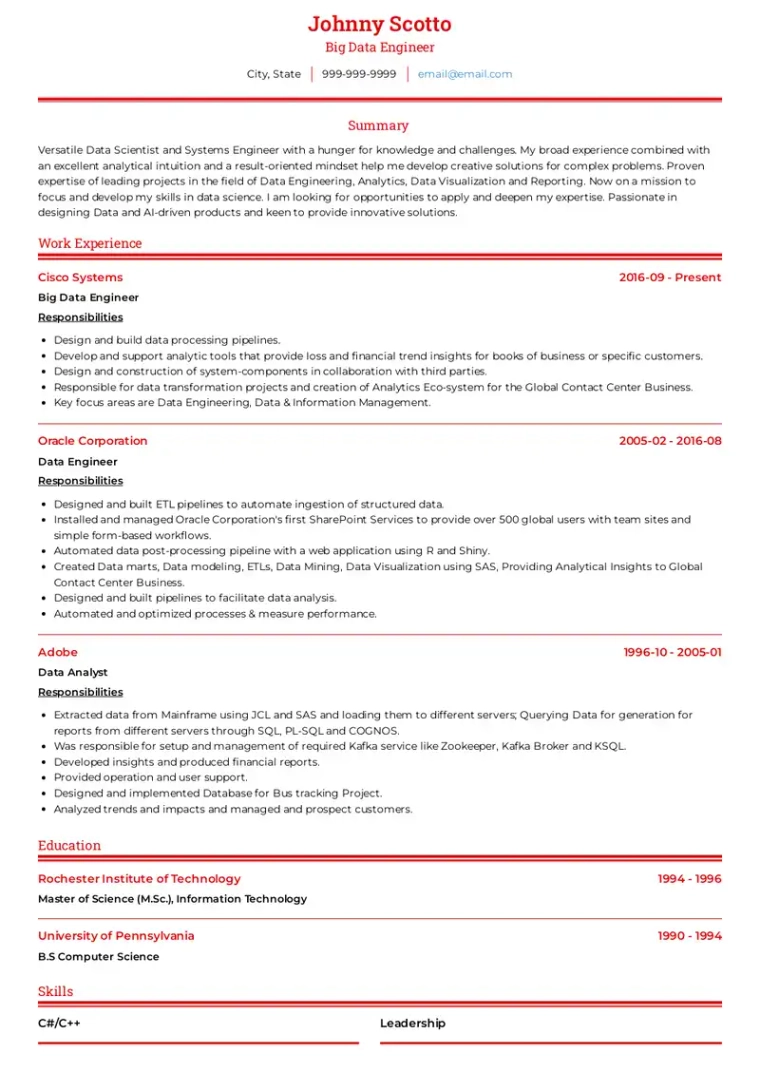 How to Write a Data Engineer Resume?
To write a professional Data Engineer resume, follow these steps:
Select the right Data Engineer resume template.
Write a professional summary at the top explaining your Data Engineer's experience and achievements.
Follow the STAR method while writing your Data Engineer resume's work experience. Show what you were responsible for and what you achieved as a Data Engineer.
List your top Data Engineer skills in a separate skills section.
Write the perfect Data Engineer resume header by:
Adding your full name at the top of the header.
Add a photo to your resume if you are applying for jobs outside of the US. For applying to jobs within the US, avoid adding photo to your resume header.
Add your current Data Engineer to the header to show relevance.
Add your current city, your phone number and a professional email address.
Finally, add a link to your portfolio to the Data Engineer resume header. If there's no portfolio link to add, consider adding a link to your LinkedIn profile instead.
John Doe 1887 Jehovah Drive, Fredericksburg, Virginia, 22408 Marital Status: Married, email: cooldude2022@gmail.com
John Doe, Fredericksburg, Virginia, Phone number: +1-555-555-5555, Link: github.com/johndoe
Make sure to add a professional looking email address while writing your resume header. Let's assume your name is John Doe - here is a formula you can use to create email addresses:
firstnamelastname@email.com - johndoe@email.com
firstname.lastname@email.com - john.doe@email.com
lastname.firstname@email.com - doe.john@email.com
f.lastname@email.com - j.doe@email.com
l.firstname@email.com - d.john@email.com
firstnamelastname12@email.com - johndoe12@email.com
For a Data Engineer email, we recommend you either go with a custom domain name (john@johndoe.com) or select a very reputed email provider (Gmail or Outlook).
Make sure to add your top portfolio links in the header. Other than Github, consider adding:
A link to your data engineering/software engineering blog.
A link to your Youtube channel that's relevant to software development or data engineering.
Your Linkedin profile.
This ensures that your resume will beat 99% other applicants.
How to Write Your Data Engineer Resume Summary?
To write a professional Data Engineer resume summary, consider using this template: "Use this template to write the best Data Engineer resume summary: Data Engineer with [number of years] experience of [top 2-3 skills]. Achieved [top achievement]. Expert at [X], [Y] and [Z]."
Here are a few other examples from Data Engineering resumes that you can use for inspiration as well.
Junior Data Engineer Resume Example - Summary
Data Engineer with an excellent analytical intuition and a result oriented mindset to develop creative solutions and solve complex problems. Looking for a data engineering role in the field of data analytics, data visualization or data reporting.
Data Engineer Resume Example - Summary
Seeking a challenging and high-impact role that will verage my data engineering experience and expertise in the areas of BI, Big data and IT. Highly organized with strong capabilities to prioritize workload, deliver projects within timelines. Capable of processing large datasets of structured, semi-structured and unstructured data.
Experienced Data Engineer Resume Example - Summary
I have 18+ years of experience in Data warehousing and reporting. Experienced in building end-to-end reporting systems which supports a large number of users. Lead a team of people passionate about technology and mentor them to reach their full potential in designing, building and managing distributed applications using Big data. Experience with both OLTP and OLAP systems. Seeking a position where I can contribute to team successes and development management skills to evolve into an executive career.
How to Write Your Data Engineer Resume Work Experience Section?
Here's how you can write a job winning Data Engineer resume experience section:
Write your Data Engineer work experience in a reverse chronological order.
Use bullets instead of paragraphs to explain your Data Engineer work experience.
While describing your work experience focus on highlighting what you did and the impact you made (you can use numbers to describe your success as a Data Engineer).
Use action verbs in your bullet points.
Big Data Engineer Resume Example - Work Experience
Big Data Engineer, Walmart Labs
Designed and implemented ETL pipelines to automate structured data ingestion.
Installed and configured Oracle's Sharepoint service to provide over 500 global partners with team sites and simple form-based workflow.
Automated data post-processing pipeline with a web application using R and Shiny.
Created data marts, data modeling, ETLs, data visualization, analytical insights to global contact center teams.
Data Engineer Resume Example - Work Experience
Data Engineer, Apple
Work on building forecasts, budgeting and prediction models for Apple finance group.
Manage and support a high-performance team of software engineers that built and evolved a distributed cloud system of customer information.
Create finance reports which drive product roadmap.
Create KPI metrics and reports which are used by the fiance controllers.
Recruit data engineers and software developers through personal interviews, resume analysis, group interviews, team work analysis and behavior analysis.
Setup CI/CD pipelines using Jenkins.
Data Engineer Resume Example - Work Experience
Data Engineer, Microsoft
Tuned existing ETL and reporting models.
Reported to the executive team to provide decision making insights.
Create event-driven workflows using Google cloud functions and Google Pub/Sub.
Ensure communication flow from executives to engineers.
Managed cloud infrastructure using Terraform.
Entry Level Data Engineer Resume Example - Work Experience
Data Engineer, Google
Created ETL workflows to lead data into data warehouses from Oracle databases.
Promoted a secure environment for feedback, free of prejudice and open to new ideas.
Optimized load of existing tables, improving run time of dashboard reports by 11%.
Configured Google Kubernetes Engine clusters to scale up and down according to the workload.
Built an efficient system to identify eligible Dodd-Frank trades which had multiple complex data sources.
Built ETL workflows, data warehouse tables and dashboard reports from scratch for fixed income securities and trading security operations.
Amazon Big Data Engineer
Big Data Engineer
Develop multiple MapReduce jobs in Java and Spark for data cleaning, transformations and data pre-processing.
Responsible for strategy and execution of all analytics projects with the goal of increasing sales effectiveness, customer loyalty, marketing effectiveness and financial performance.
Develop a real time streaming application to process Kafka messages and store them into multiple destinations like Hbase, ElasticSearch.
Implement utility to copy data from Kafka into HDFS for storage on a regular time interval.
Architect, implement and deploy the Python framework used for real-time data processing at Amazon, leveraging multi-tasking, multithreading and multiprocessing to process >30TB data at scale.
Data Engineer
Created and modified Chef recipes and handed it over to the Ops engineering team to handle production deployments.
Transformed business intelligence process through introduction of big data and predictive analytics technologies.
Created Impala tables on HDFS files to run queries on the data and generate reports for business users.
Processed and transformed with PIG, RHadoop and load into Analytics DataLab for further processing.
Developed metrics agent library to collect metrics from streaming applications and send to ELK stack for visualization and monitoring.
Managed and maintained compute and database clusters executing ETL - ensuring stakeholders had all the data necessary to make important decisions.
Top Data Engineer Resume Skills for 2022
Programming
C#
Python
SQL
T-SQL
Shell Scripting
MySQL
HDFS
AWS Redshift
BigQuery
MapReduce
C++
Java
Architecture
MongoDB
Databases
Also read: Top ETL resume skills in 2022
How Long Should my Data Engineer Resume be?
Your Data Engineer resume length should be less than one or two pages maximum. Unless you have more than 25 years of total relevant experience, any resume that's more than two pages would appear to be too long and risk getting rejected.
On an average, for a Data Engineer, we see most resumes have a length of 2. And, that's why we advise you to keep the resume length appropriate to not get rejected.