If you've applied for a job online recently, you'll know that it's common for employers to ask you to upload a CV in .docx format. That means you need a CV that can be opened in Word. But many CV templates out there are designed for use as PDF files instead, which can make finding the right CV template for Word a real challenge.
Fortunately, when it comes to selecting a CV template for Word, you have more options than you think! Many templates can be saved as Word documents, even when they contain intricate formatting – which means you can benefit from their amazing design features without limiting your ability to apply for jobs. The right template can help your CV look great for every occasion – PDF or .docx – so you can put yourself out there without worrying about the limitations of your CV's file format.
Want to know more about CV templates for Word? Read on – we've put together a helpful guide to get you started! In this article, we'll cover the following points:
What to look for in a CV template for Word
Why use a CV template at all?
What your CV template needs to include
Some of our favorite CV templates for you to use
What Makes a Good CV Template for Word?
Most people don't think of Word as a great platform to design a CV in – and with good reason! Word lacks a lot of the formatting and design power of software like InDesign, Photoshop, or even Publisher or Pages. It can be hard to find a CV template designed for Word that looks as good as you deserve.
That's why the best CV templates for Word are the ones that can overcome this hurdle and deliver a professional, polished-looking finished product. In most cases, this will involve looking for CV templates that weren't designed specifically for Word. Many of these templates can be downloaded in multiple formats, ranging from PDF to JPG to .docx.
In fact, all of VisualCV's templates can be converted into Word with no hassle. We know how hard it can be to find Word-specific CV templates that look as professional as you are, so we've taken matters into our own hands! When you work with a VisualCV template, you can be confident that it will function in whatever format you need – including Word.
Why Use a CV Template?
If you're wondering why you should bother with a CV template in the first place, that's understandable! After all, in theory, you could build your own CV without relying on a template at all. But there are several great reasons why you should consider using a template, and some of them could surprise you.
Here are some of the benefits of using a CV template in your job search.
Beat the ATS Software
ATS software is a big help for hiring managers, but it can be a real pain for applicants. Nobody wants to put hours of time and effort into a CV, only to have it set aside before it's been seen by a human being. If your CV template isn't optimized for machine reading or online submission, you could run into that problem even if you're careful to include as many key words from the job description as possible.
This is one of the biggest reasons why CV templates for Word are so popular! Word documents are easier for machines to read than PDF documents. A CV template for Word could give you a real head start against the ATS software.
Thankfully, you don't have to worry about ATS software when you work with VisualCV! All of our CV templates are professionally designed to be read and understood by ATS software – even the ones with complex multi-column layouts. It helps that all of our templates can convert into Word document format, giving you every possible advantage when it comes to navigating ATS.
Of course, you'll still need to make sure that the content of your CV is up to the high standards of the ATS software. But with a VisualCV template, you can be confident that the design of your CV will be a help, not a hindrance, to your application.
Present Yourself Professionally
Designing CV layouts isn't easy. There's a reason why CV templates are so popular: it's because most people don't have the time, means, or skill to produce their own CV layouts to the same high standard. That's especially true if you're trying to design your CV in Word, which really isn't intended for high-level graphic design projects.
At VisualCV, we take pride in the fact that all of our CV templates are designed by professionals. That commitment means we can offer you some of the best templates available online.
A professional layout means – unsurprisingly – that you can make a more professional first impression on a hiring manager. You won't be subject to any minor but telling errors in your CV's formatting, like inconsistent fonts or margins. You can trust that the layout designer has taken care of the details, so your CV won't be undermined by any of the little things when it's time to apply for your dream job.
Hiring managers really do notice those minor details. By choosing a good CV template, you're ensuring that they won't be an issue for you, or for the way you present yourself as a candidate.
Focus on Content
Especially if you're aiming for more senior jobs, you probably have a lot to fit into the small space available on your CV. You'll need to make room for your work experience and skills, as well as any education or professional qualifications you've acquired. And that's without even touching on your summary, your contact information, and perhaps even a photo!
Incorporating all of that information into limited space can be a challenge at the best of times. But it's doubly true if you're trying to build a CV layout from scratch. If you're not an experienced graphic designer, it can be tricky to lay out your CV in a way that looks both stylish and professional, without limiting the amount of information you can include.
A CV template will make those worries a thing of the past. When you use a template, you're outsourcing the layout of your CV and giving yourself room to focus on the substance of your application. You'll know exactly where to put every aspect of your CV, and can devote your attention to making sure that you look your best as a candidate.
What to Include on Your CV Template for Word
Finding the right template means making sure it has room for everything you need to include on your CV. To give you a helping hand, here's a list of all the most crucial elements of any CV template.
Keep in mind that all of VisualCV's templates include all of these sections by default! If you use one of our CV templates, you can be confident that everything you need will be built in from the start.
A good header should include your name, a headline job title, and your contact information – your email address and your phone number, at the minimum. It's the very first thing a hiring manager will see when they look at your CV, so it should be eye-catching! But it should also set the tone for the rest of your CV; if it looks out of place, the rest of the document will look less professional as a result.
Summary and Objective
Your summary (and if you're applying for less senior roles, your objective) is your opportunity to make an amazing first impression. It should be at the very beginning of your template, right after your header. Remember, the font should be clean and readable – hiring managers are likely to skim your CV due to constraints on their time, so make sure you make it easy for them to read!
Work Experience
This is likely to be the most important section of your CV! Unless you're a recent graduate or looking for your first job, your work experience section will offer hiring managers the most relevant and in-depth information about you as a candidate. As a result, you'll need to look for a template that pulls an appropriate amount of focus to this section.
The right template will offer a streamlined, professional layout for your work experience, separating each listing clearly and neatly. The focus should be on the content of each listing, and the design of this section should facilitate that. After all, you want hiring managers to see you at your best – and this section, for most candidates, is likely to contain your strongest assets.
Education
This section should include any relevant qualifications you have earned, whether they're academic degrees or professional licenses and certifications. You don't need to go into too much detail here, unless you're a recent graduate and the bulk of your recent experience is educational. In most cases, this section should be fairly short and sweet.
Skills
A good skills section will allow you to call attention to your best and most relevant skills. Whether you choose a skills section that includes graphics is up to you – as long as it clearly states where you excel. Hiring managers will want to see at a glance that you're qualified, so choose a template that makes it easy for them!
Our Favorite CV Templates
If you've decided that a CV template is right for you, that's great! But choosing the right template for your needs can be a tricky process, involving a lot of searching. To help you get started, we've put together a list of some of our favorite CV templates – and the best part is that they're all available for free on our website.
Remember, all of our CV templates are designed by professionals and capable of getting past ATS software. They're also heavily customizable, so you can make each design your own! Take a look through our template catalog and choose the design that suits you best.
Air
This elegant, modern CV template offers an expert blend of the traditional and the contemporary. Its timeline-style work experience section will look stylish in any file format, while its two-tone color scheme will draw the eye without distracting from the substance of your CV. If you're looking for an understated template that still feels intentional in its design, we recommend this one!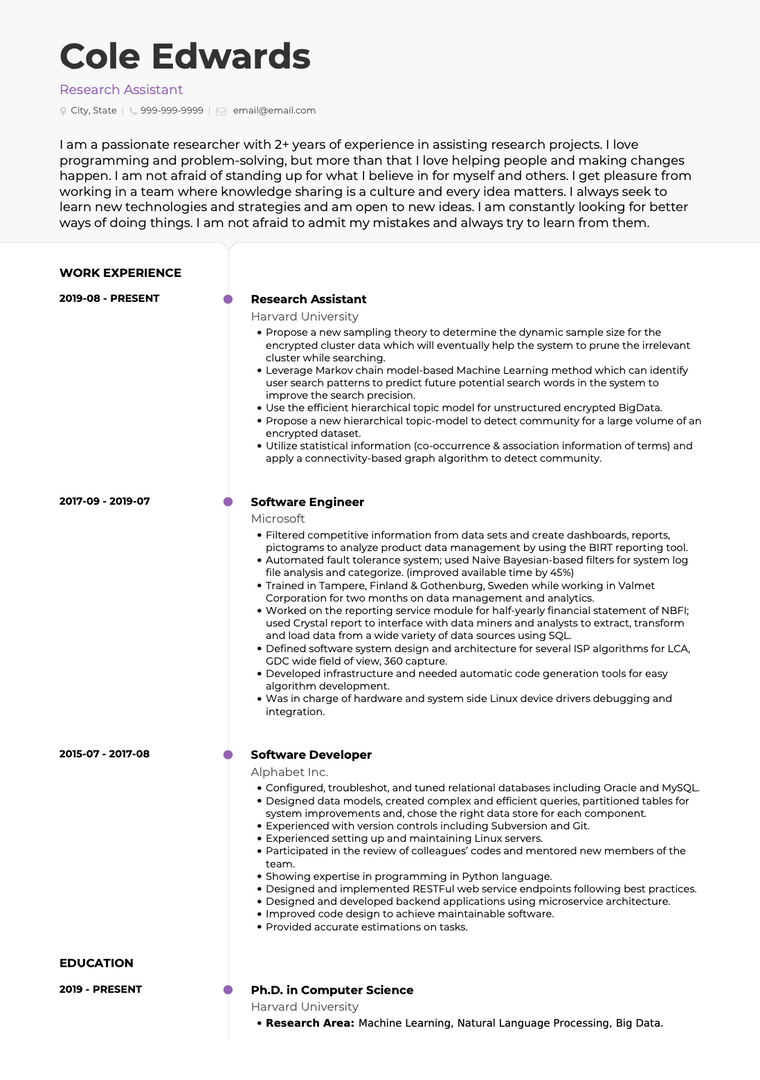 VisualCV's Air CV template
Chloe
Chloe is a classic two-column CV template with some stylish, modern touches. The combination of fonts will help it to stand out from other CVs on the pile, as will the understated accents of color. But as with any good CV template, the layout helps to ensure that the focus never really leaves the body of the text.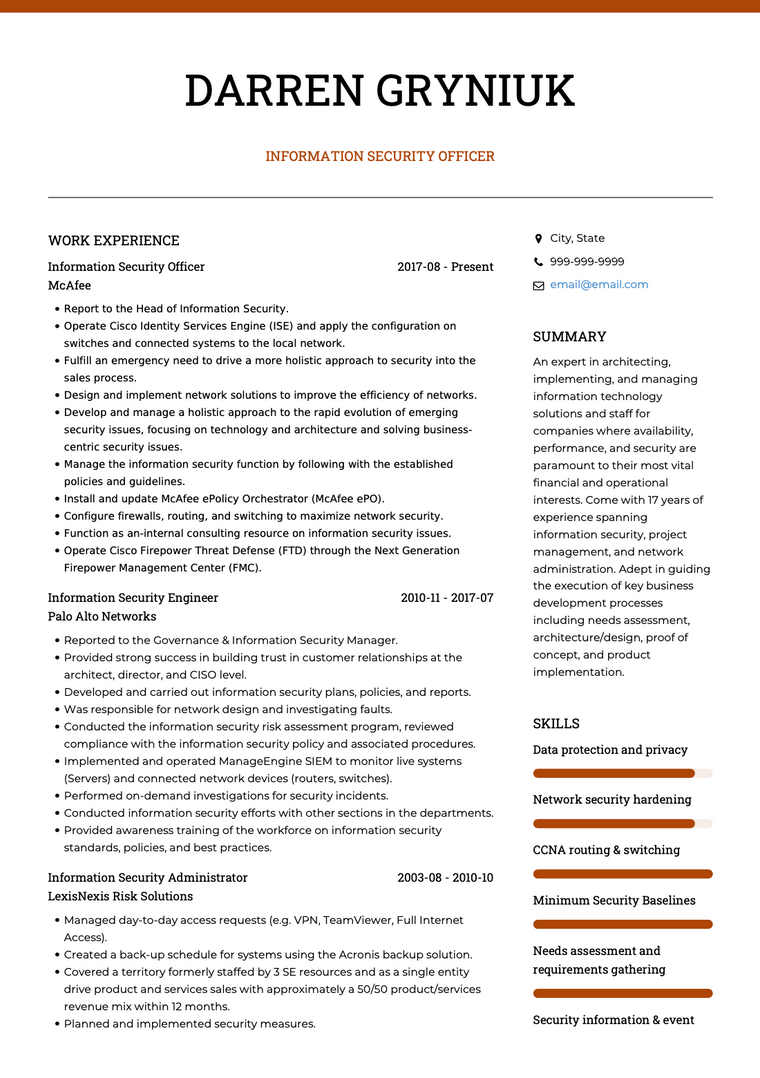 VisualCV's Chloe CV template
Corporate
Corporate is a two-column template prioritizing text content over images and design. It brings style and elegance to a simple, legible CV format, offering a sleek and streamlined look that will impress any hiring manager – all while looking great in Word format. This is a particularly strong format if you're hoping to work in business, or at a more traditional company.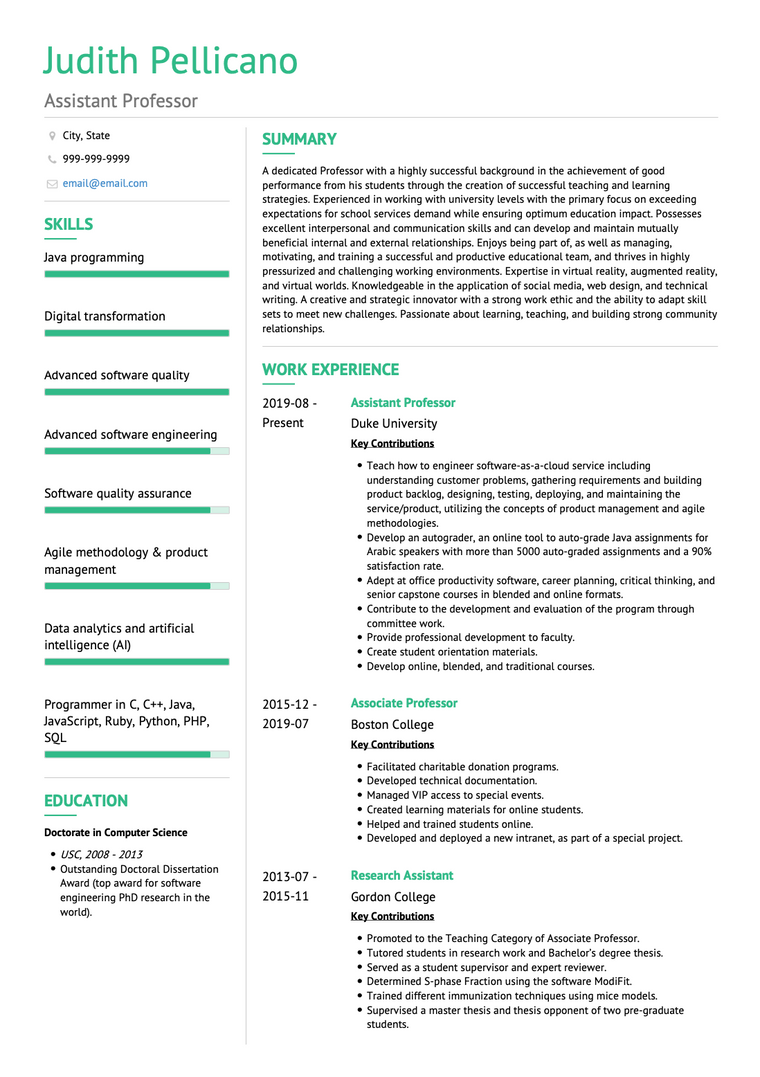 VisualCV's Corporate CV template
Slate
Slate offers a text-led CV design that still feels purposeful in the way it looks on the page. It allows plenty of room for you to describe yourself as a candidate, meaning you can fit your CV onto a single page if you want to! And its bold pops of color help to ensure that it won't fade into the background next to all the other CVs on the pile.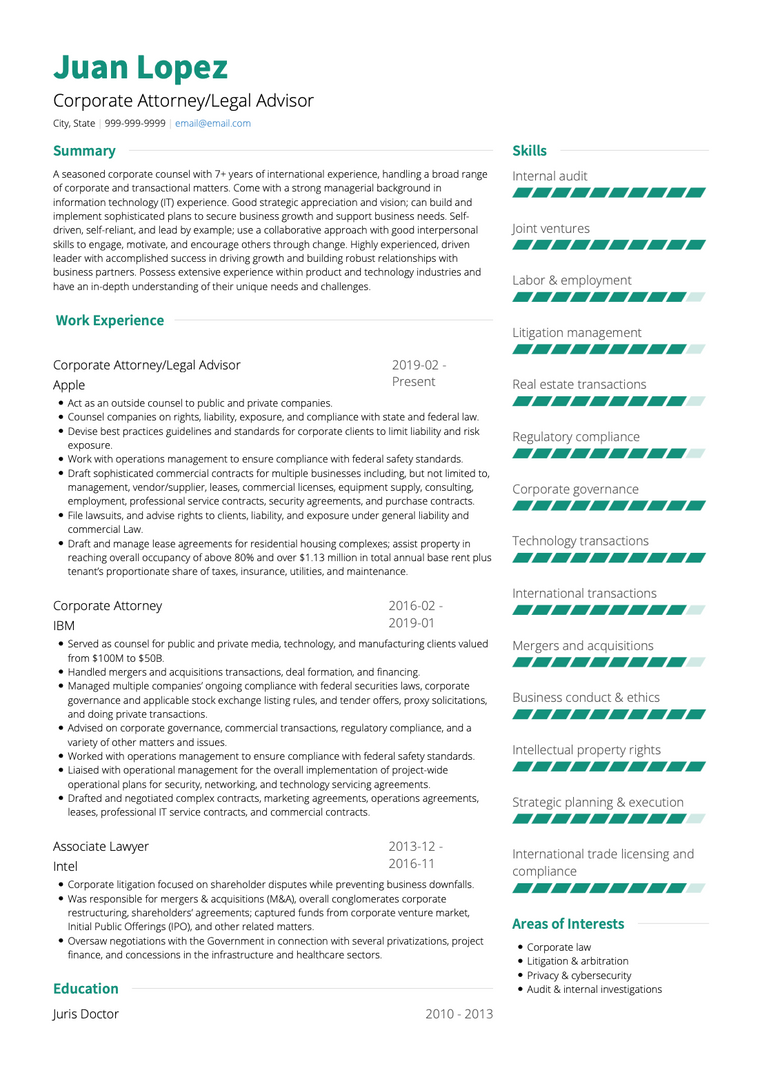 VisualCV's Slate CV template
Standard
This classic, elegant CV template makes amazing use of the traditional single-column format, featuring stylish font and formatting choices to catch a hiring manager's eye. It even offers space for a photo of yourself in the header, allowing you to personalize your CV without interrupting the all-important main body of the text.
VisualCV's Standard CV template