We're excited to introduce a brand new VisualCV experience.
We've updated the VisualCV app to help you organize your resumes, easily access features like websites and cover letters, and pin your most used items.
With these improvements—and all the classic VisualCV features you're used to—keeping your job search organized will be easier than ever.
The New VisualCV Dashboard
When you log into your account, you'll see the new VisualCV dashboard. Here, different coloured sections hold your resumes, cover letters, websites, and career journal.
Each section shows the items you've pinned or, if you haven't pinned any, the items you were working on most recently.
We've also added clear thumbnail images to help you see what each item looks like without having to open it.
Improved organization
We've also introduced secondary dashboards for each VisualCV product.
At the top of your screen, there is a navigation bar with a tab for each tool. Now, instead of scrolling through all of your resumes to get to your cover letters, simply click into the Cover Letter tab to see them all, or click "See All" on any of the colored sections of the dashboard.

Inside the secondary dashboard, you can pin the items you're working on so they're easy to find. Pinned items appear in a separate section right at the top of the page.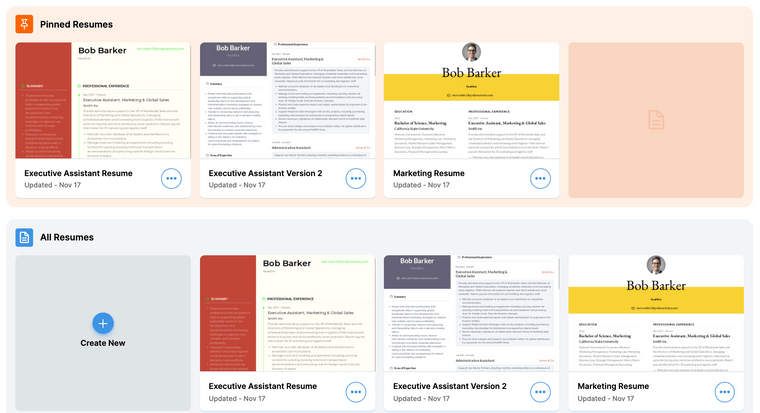 All items are listed in reverse-chronological order. The last resume you edited last will be at the top of the list, so you won't need to go looking for the resume you're working on.
Each item on your dashboard has a three-dot menu where you can access some important new features, including:
Pin/Unpin - Add and remove the item from the Pinned section at the top of your dashboard
Duplicate - Create an exact copy of this resume, including the template and appearance settings
Stats - Access the Stats page for this resume to see how many times it has been viewed
Settings - Change the name, URL, and privacy settings of your resume
With these tools, you can easily manage each resume right from the dashboard.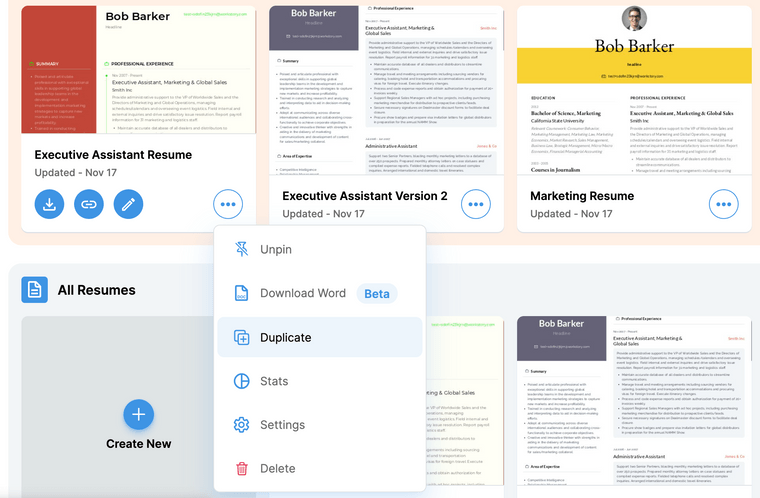 Career Journal
When we introduced the Career Journal back in April, it was limited to Pro users only. Now, anyone can write their first journal entry for free. Keep track of all your important milestones right inside VisualCV with the Career Journal.

Streamline your job search with these new features. Log in to your VisualCV account to get started!