Bill Gates doesn't need a resume. As former CEO of Microsoft, founder of the Bill and Melinda Gates foundation, and one of the richest people in the world, he doesn't need to introduce himself to anyone, let alone a recruiter.
But… what if he did?
Let's take a look at Bill Gates' accomplishments to see how he could write an effective one-page resume.
Recommended links:
Our collection of 500+ professional resume examples.
Our gallery of 20+ downloadable resume templates.
Education
Let's start with education. After achieving good grades in high school (with many hours spent in the computer lab), Bill Gates attended Harvard for pre-law. After only two years, however, he dropped out to found Microsoft in 1975. That's fine—education can still be added to a resume, even if the degree wasn't completed. Bill just needs to focus on the important courses he took.

Work Experience
Now let's move on to work history. Gates dropped out of Harvard to found Microsoft with his friend, Paul Allen. In the early years, Gates coded important programs using BASIC, partnered with IBM, and developed one of the first PC GUIs. Their operating system, Windows, soon became the most used OS worldwide—you may have heard of it.

Non-profit experience
After decades in the big chair, Gates stepped away as CEO of Microsoft in 2000. He took a role as the Chief Software Architect and founded a non-profit, the Bill and Melinda Gates Foundation, on the side. In 2008, he left his full-time position at Microsoft to focus on philanthropy full time. This foundation became one of the largest private foundations in the world, and is dedicated to improving healthcare outcomes and reducing poverty worldwide.
Non-profit and charity experience looks great on a resume. This will show that old Bill has not only business acumen, but a giving spirit.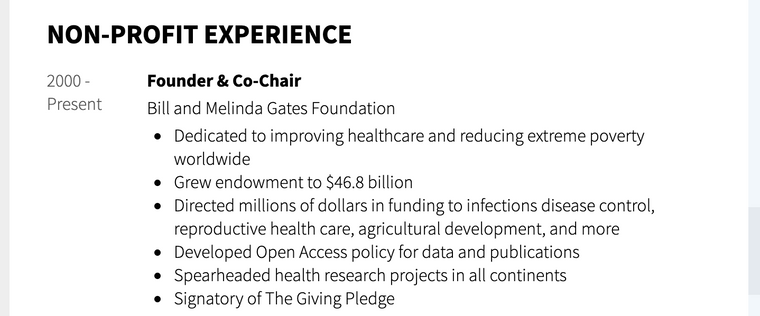 Additional Experience
Though most people know Bill Gates from his work at Microsoft, it's far from his only business venture. Gates is also a successful investor, with his finger in a few pies in several sectors. Let's add this to his resume in a quick Additional Experience section. This is less important than the main Work Experience section, but still worth noting, to show that he has a wide range of experience.

Skills
Let's add a quick selection of skills as well. Gates is an influential leader, having founded and led several large organizations, and his resume should take note of his leadership skills.
BASIC
Business development
Acquisitions
Product Strategy
Lifelong Learning
Bill Gates' Resume
When it's all said and done, getting a resume to one page isn't too hard, even for the richest man in the world.
And if you'd like to create a resume like this this one, check out our Modern template.