Many job-seekers feel that it is the employer's responsibility to reach out to a candidate after an interview. Once the interview is finished, the interviewee simply waits at home, hoping for an email or phone call telling them that they have the job.
Though a lucky few might be offered jobs this way, it is better to take a more active role in your relationship with that employer. Even though the interview is over, you can still influence their decision by ensuring that you are still at the top of their mind in the days following the interview. Just because your interview is over doesn't mean you can't keep making a good impression.
Why do I need to follow up after a job interview?
Your chance to impress potential employers does not end with the interview. According to a survey by Accountemps, 91% of employers appreciate being thanked for their time after the interview, and 22% of employers admit that they are less likely to hire a candidate who does not send a thank-you letter. Separately, a CareerBuilder survey showed that 57% of job seekers don't send a follow-up email after an interview. This means that by simply sending a quick thank-you note you will be taking an extra step that most job-seekers don't, and potential employers are sure to appreciate it.
By following up with your interviewer with a simple thank-you note, you can come across as a strong communicator with follow-through and a sense of courtesy, all while restating your interest in the position. Further, a follow-up message will keep your name in the interviewer's mind in the days after the interview. Getting a job is about more than just your skills and experience; it is also about the personal touch you bring to the job, and a polite and professional follow-up email is an excellent way to showcase yours.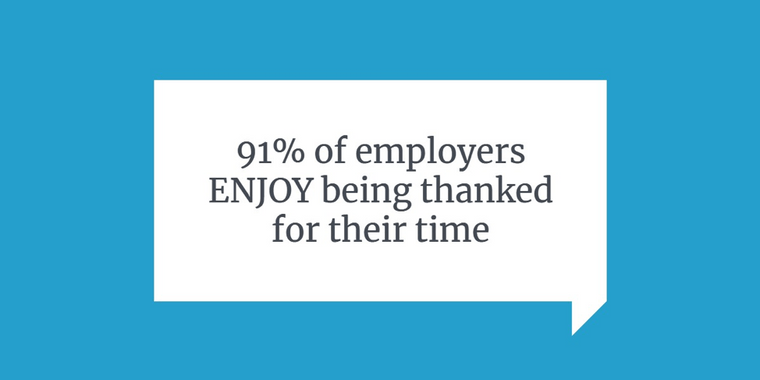 When should I follow up after an interview?
It is best to follow up within 24 hours of your interview. A prompt email or call shows that you are dedicated and enthusiastic, and the longer you wait, the longer your interviewer has to forget about you. Following up shortly after the interview will solidify you as a reliable choice for the job.
Even if the interviewer says that they will get back to you within a certain length of time, you should be the first one to follow up. It is best not to allow too much time to pass before you reach out, and you shouldn't rely on the company to contact you first. There are likely several candidates in consideration for the role, and companies are not obligated to contact the applicants that they don't hire. To make sure that they don't forget about you—and to increase the likelihood that you're the one they hire—try to follow up within one day of your interview, or two days at the latest.
How do I write a follow-up email?
Your follow-up email should be unique and show your personality, but it can be useful to follow a set structure to ensure that it is professional and easy to read. To create an effective follow-up email, be sure to do these 5 things:
1. Create an engaging subject line
As the subject line dictates whether an email even gets read, this may be the most important part of the entire email. People with busy schedules can inadvertently skip over items in their inbox that seem vague or unimportant. A good subject line should clearly show who you are and why you are reaching out. Something as simple as "Re: Interview with (your name) on Monday morning" will do, but if there is a specific topic that came up in the interview that you would like to revisit in your message, you may want to include that in the subject line as well.
2. Use a personalized greeting
As you have now met the person you are addressing, you can avoid beginning your email with "To whom it may concern". Be sure to use their name, and address them as they prefer to be addressed. A formal "Dear [name]" will suffice, but if the tone of the interview was more casual feel free to begin with a simple "Hi, [name]" or Good morning, [name]."
If you connected with the interviewer over a particular issue, you can bring this up in your greeting. For example, try "Hi Joe, Is your puppy feeling any better?" or "Good morning, Joe. How did your squash game go?"
3. Write a concise yet effective body
The body paragraphs will make up the bulk of your email. Your goal is to remind your interviewer of who you are and communicate that you are enthusiastic about becoming a part of their team. Thank them for the opportunity to interview, and show that you are respectful of their time. This is just a gentle thank-you note, so you don't want to seem rude or hurried. Your message should be appreciative and emphasize your interest in the position.
You can make the email personal by referring back to specific topics that came up in the interview. By referencing a story or person that you had discussed, you can show that you were paying attention during the interview and have begun to develop a personable relationship with your interviewer.
This is also a great opportunity to expand on your answer to an interview question, or ask for clarification on an issue that was discussed. This will show that you have thought deeply about the interview and are still invested in becoming a part of the company.
4. Craft an impactful conclusion
Sign off with a clear call to action by asking a specific question or indicating that you would like to hear back. Thank them for their time, and show that you are looking forward to their response. You could also ask them for a timeframe for when the hiring decision will be made, or simply leave your phone number and email address where you can best be reached.
5. Close with a pleasant farewell
Formal sign-off options include "Sincerely", "Best", or "Regards", and if you are on more informal terms with your interviewer you could try "Thanks", or "Cheers." You should also create a professional email signature that includes your name, phone number(s), and email address. If you have work-appropriate social media profiles, you can also link to them here.
What is a good example of a follow-up email?
Subject: Re: Interview at 12 PM on Thursday
"Good afternoon, __________ ,
Thank you for taking the time to consider me for this role. I thoroughly enjoyed meeting you last Thursday. What a beautiful koi pond you have!
I keep thinking back to our discussion on urban growth potential. It occurs to me that if we utilize radio ads during rush hour, we might be able to reach more people. Something to think about! Also, I did have one question specific to this role: do you see this team expanding to include more roles in the near future? It seems like there are several opportunities to expand.
I look forward to hearing from you. I can be reached by email at ___________, or by phone at _______. Thank you for your time.
Thank you again for your time. Please tell Sharron it was a pleasure to meet her.
Best,
____________"
Frequently Asked Questions:
What if I don't receive a response within two weeks?
If time has passed without a response, it is appropriate to reach out once more. It is important to remember that the people doing the hiring are employees themselves, with responsibilities separate from assessing new hires. It can take a team a few weeks to sift through a large number of applicants. Be patient and remain optimistic, but keep circulating your resume in the meantime.
If I receive a second interview should I follow up after that as well?
Yes, you should send a follow-up email after a second interview. A second interview means that you are a strong candidate and they are still considering you for the role, so it is important to remain appreciative and reiterate that you are interested in the position. A short note in which you thank them for inviting you to a second interview will go a long way.