If you want to land your next bartender job, it's important to learn how to write great bartender job descriptions for your resume.
As a bartender, your experience is your most important asset, and describing past roles in an efficient and impressive way is the best way to catch an employer's eye. Bar managers are looking for the best possible candidate, and your resume is your opportunity to show them that you have what it takes.
A great bartender resume will have strong job descriptions, the right bartender qualifications, and the right bartender skills. Here's how to show your bartender knowledge and write great bartender job descriptions on your resume.
How to write bartender job descriptions for your resume
The Work Experience section is the most important part of your bartender resume. This section is the longest part of the resume, where you will list all of your previous bartender roles. Getting the job descriptions right for each past position can be the difference between scoring an interview and getting rejected.
In your Work Experience section, list past bartender jobs in reverse-chronological order, beginning with your most recent position and working backwards. For each item, include the:
Job title
Company/ bar/ restaurant name
Dates of employment
Job description
The job descriptions are key. A well-written bartender job description is integral to a successful resume.
To write a great bartender job description, try to focus on achievements rather than duties. A list of accomplishments will look more impressive than a boring list of duties. For example, "Organized and led private wine tasting" sounds more impressive than "Served wine to customers".
Further, use active language as much as possible. Action words like led, managed, trained, and spearheaded all demonstrate that you are a n active employee with leadership qualities.
When brainstorming accomplishments, it can help to think of quantifiable examples of your experience. Numbers provide concrete examples of your success that can make your bartender job descriptions seem more credible. For example, you can give the size of the team you managed, the number of tables or customers you served, the size of the wine list you memorized, or the budget you were responsible for.
Lastly, make sure to customize your bartender resume for every application. The job description will have specific bartender qualifications that it is looking for, so it's important to make sure your resume is a perfect match. To do this, study the job description closely, and identify all of the key words and phrases that the employer is looking for. Then, use those exact phrases in your resume. For example, if the posting asks for specific bartender training, food handling certificates, or experience working in particular environments, make sure to highlight your matching qualifications on your resume. This way, employers will know that you are exactly the right candidate for the position.
Do:
Memorized craft beer list of more than 25 local and imported beers
Took beer and cocktail orders from more than 95 daily customers
Established strong relationships with regular customers
Example Bartender Job Descriptions for your Resume
If you need some inspiration getting started on your bartender job descriptions, examples can be found here:
Bartender job description example
Managed back of house operations at fast-paced fine dining establishment.
Recommended, prepared, and served wine and cocktails to guests.
Organized drink menus for special events during high-profile banquets.
Ensured accuracy of orders and service.
Answered all questions guests had about the location, menu, and service.
Worked with ownership to curate new drinks.
Developed a strategy to train new bar staff and ensure a 5-star experience for all guests.
Provided support to other staff members as needed.
Consistently maintained nar protocols, steps of service, quality standards, rules, and regulations for a smooth experience and fulfillment of expectations for all guests.
Retained a loyal customer base, with equal detailed quality service for new guests, resulting in increased sales volumes.
Created a welcoming experience for all guests and ambassadors to enjoy.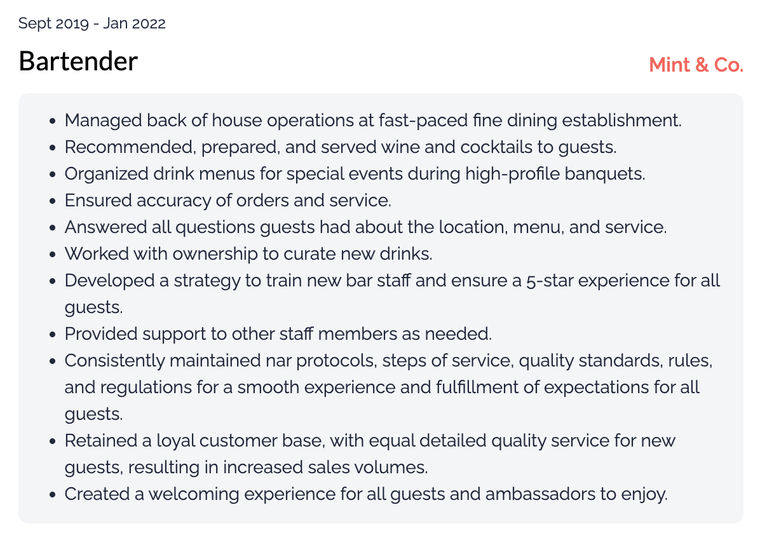 Why it works
This bartender job description uses powerful, active language to make it clear that you were successful in your previous position. It clearly shows some impressive accomplishments, and demonstrates a strong working relationship with managers, coworkers, and customers.
Lead bartender job description example
Managed section with 5-7 tables and 22 cover average.
Fulfilled floor manager position during day shifts, while serving the floor on Friday and Saturday night shifts.
Specialized in Japanese whiskies and sake, providing necessary information and recommendations to customers.
Served drinks and food.
Maintained fast and friendly service.
Communicated with customers and relayed instructions back to the kitchen, manager, or other staff members.
Mastered all procedures created by the ownership and management team.
Trained and mentored new hires, some with minimal to no experience in hospitality.
Worked collaboratively with the team to ensure all customer needs were met and restaurant standards of service were maintained.
Demonstrated excellent food serviceability and hospitality to VIP employees and guests.
Anticipated guest needs and accommodated them promptly.
Made sure food areas were sanitized and safe for guests and other servers.
Maintained order consistency and identified errors as needed.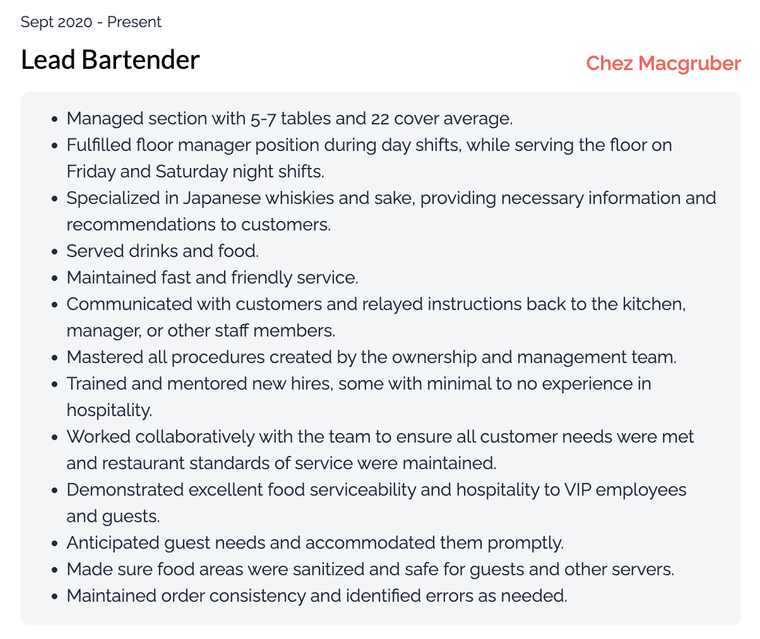 Why it works
This bartender job description uses concrete examples of both section size and accomplishments to demonstrate bartender qualifications. It shows a strong knowledge of bartender responsibilities and describes a bartender with strong leadership skills and management potential.
Bartender job description example
Served a variety of 25 craft beers on tap (changing weekly).
Assisted ownership in hand-selecting a robust wine list (50+ bottles).
Completed weekly liquor order and inventory.
Managed food and beverage service.
Earned safe serving certification.
Organized 7 private wine and beer tastings.
Took food and drink orders, prepared drinks, and served food.
Opened bar and accounted for all sales at end of shift.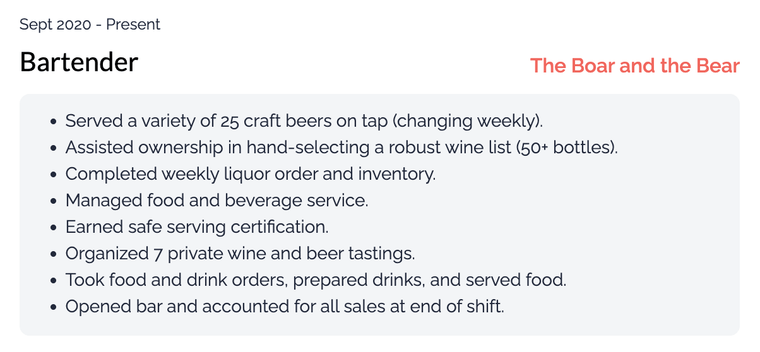 Why it works
This bartender job description clearly shows that the bartender in question has experience with difficult menus, high-maintenance customers, and cash handling. It also demonstrates a comfort with working both the bar and tables, and can be trusted with all aspects of running the bar.