Education
Bachelors Degree
Longwood University
Skills
Indesign
Worked with Indesign software creating the Frontpageof Newspapers, designing and executing the plan.
Garagebang
Worked with Garageband software creating podcasts. Wote, edited and produced eery podcast I ever did.
Journalism
Worked extensively with the Longwood University Rotunda Newspaper. I performe interviews, and edited my own works. I a currently a reporter for the Rotunda Newspaper.  
Final Cut Express Video Editing
Worked wit Final Cut Express in detail for many class projects where I edited my video news packages.
Camera Work
I have worked with numerous cameras for class projects filming, editing, and capturing video off the cameras. I continue to do to this day as my skill continues to get better and better.  
Add portfolio item
This was my first piece of writing that was publishd in the Longwood University school Newspaper titlted the Rotunda
This was hard hitting news as it sirred up some controversy at Longwood University.
This was a major research paper that I did for class about the "Efects that Hip-Hop music has on those who listen to it" This really shows my growth as a writer and researcher.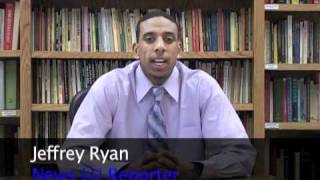 This displays my anchor work, and I edited and produced the channel
My name is Jeffrey G. Ryan and I am aundergraduate student at Longwood University. I love film and television work from editing, to production, and post production. I wish to fine a job where I can showcase my skills of video editing and production. I feel that I can do any video editing job out there. I also am an avid writer and I write for my school's Newspaper called the "Rotunda".
SKILLS PROFILE
Great knowledge of how to work cameras to record and capture video
Knowledg of how use the software "Indesign", "Photoshop", "Final Cut Express" and "Garageband"
Knowledge of Newsroom protocol and language
I know how to write for a Newspaper
I have a blog about Hip-Hop music
I have knowledge about Podcasting
I have the ability to make crucial deadlines 
RELEVANT EXPERIENCE
Worked as a reporter for the Longwood University Rotunda Newspaper
Worked with the Longwood University Rotunda Show doing anchor and sand ups in fornt of the camera
My objective with makin this profile is so that I can find a job in either reporting or video editing and possibly working in Film.