Work experience
Server
Oak Hills Country Club
Served club members as well as provided customer service and member services
Add portfolio item
Here is a sample of my English to ASL work.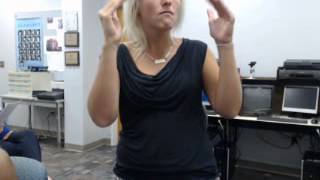 Here is my work sample of English to ASL.
Education
Associates of Applied Science
An interpreting training program. This program covers american sign language, signed exact english, as well as conceptual accurate signed english. 
Bachelors of General Studies (BGS)
I focused in psychology and sign language. 
09/06/2014
Dr. Smith
Ralston High School Principal
8989 Park Drive,
Ralston NE 68127
Dear Dr. Smith:
I have recently heard about an opening that is listed on your school's web page regarding the full-time sign language interpreting position. Your high school has been known to hire entry-level interpreters, and I would be honored to have the chance to be able to grow as an interpreter under some of the outstanding interpreters already employed at Ralston High School.
I have recently graduated from Iowa Western's interpreting program and I am now looking to start my career as an interpreter in the educational field. I possess qualities of professionalism, loyalty, and dutiful. I can see myself as a great asset to the team that is already established at your high school.
I have attached my resume and I believe my education can benefit me in the educational interpreting field. I am available to meet with you at your earliest convenience and will contact you next week to see when you are available to meet.
Sincerely,
Margaret Haley
1323 Jackson Street
Omaha, NE 68102
219-670-7423
Enclosure: Resume
MY personal Mission Statement
As a sign language interpreter I promise to be prompt, accurate and fair in any situation that arises. I promise to follow the Code of Professional Conduct that interpreters are expected to adhere to, as well as any other ethical and moral guidelines in a more specific situation.