Work experience
Baseball Acculturation Examiner
Provide interesting articles related to international baseball players for the national examiner website.
Community Manager and Strategist
As the Community Manager of BallywhoSocial, I am responsible for managing over 50 clients' social media presence and maintaining their social pages by responding to comments and building up their fan base. I am their voice. In some instances I write the copy for both their Facebook and Twitter updates as well as their blog. I am also the responding voice to all customer comments/queries and questions. Part of this means I am a listener, compiling reports on what fans are saying, a PR person, responding promptly and tactfully to negative feedback, and a customer service representative, answer questions, providing help and pointing them in the right direction. I am responsible for coordinating all strategy meetings, and writing the proposals for prospective or current clients. I think of creative new ways to be social and build our fan bases, provide feedback on the pulse of each target market and do background research on new clients.
Service manager
bd's mongolian barbeque
Was part of the managing team that hired, trained and opened the Oldsmar location. I was in charge of putting together all systems in place for proper operation of daily front of house shifts as well as all other tasks involved in restaurant managerment.
Service Manager
Lonestar Steakhouse
Problem solving in a fast paced environment Creative and effective time management skills Increase employee retention and satisfaction through motivational activities Enhance quality of work through constant training and motivating Productivity and performance development of all staff Communicating and coordinating all vendors supplying the restaurant Creating, planning and executing promotional events Developing new clientele through active involvement in the community Interviewing and recruiting
Education
Bachelor of Arts
University of South Florida
Associate of Arts
St. Petersburg College
Diploma
Clearwater High School
Skills
Event Organizer
I have been organizing events for BallywhoSocial since 2011. I have organized successful events like Social Media Day Tampa and  Ignite Tampa Bay as well as provided social media support for many local community events like Startup Weekend Tampa. This year, I was the lead organizer for Ignite Tampa Bay. I have worked on the Ignite committee for over a year and was apart of the very first Ignite Tampa Bay in 2011 as their social media guru.  
Tutor
I have been tutoring English for the Hillsborough Literacy Organization since May 2010. I tutor English as a second language to adults.
Writer
I have been a writer all throughout my college career as an Anthropology student. I have also maintained my own blog (homeplatelikehome.com), maintained an International Baseball column for the national Examiner, and am a regular contributor to Social Media Today. Currently, at BallywhoSocial I write Facebook copy, Twitter copy and blogs for select clients and for BallywhoSocial itself.
Researcher
I spent my time in college researching for various different anthropology papers, however my senior year was my the most important part of my researching experience. I spent the first semester of my senior year in Anthropology of Sport researching the histories of baseball around the world, and trying to formulate a plan for the next part of my research. The last semester of my senior year, I did an independent study where I researched the acculturation process of International Minor League baseball player into U.S. MLB franchises. I have been researching this topic ever since and write about my findings on a regular basis on my website homeplatikehome.com. I also do writing/marketing research for our clients at Ballywho Interactive such as content for posts and blogs and market research on hot topics, possible client affiliates, target market and key infuencers for certain brands.
Management
I was in the restaurant business for 12 years, and worked as a salaried manager for five of them. Throughout my management experience I have managed the financial parts of the business such as budgets, inventory and P&L reconciliation. I have also had experience managing the Human Resources side of the restaurant such as recruiting, hiring, and training employees and even implementing and overseeing every step of the dining room training program. In the bar, I have set up and purchased inventory for a new restaurant as well as maintained inventory and steady liquor costs. In the kitchen I have had experience cutting meat, performing inventories, scheduling and managing staff and managing daily morning prep sheets and produce orders. Finally, I have most of my experience managing the dining room and marketing the restraurant through sales promotions, maintaining an active involvement within the community, and building customer loyalty through an active, hands on role in the dining room. 
I graduated from the University of South Florida with a Bachelors degree in Anthropology. As an Anthropology student,  I obtained a strong research and writing background and the ability to explore and understand cultural and societal differences. I currently work as a community manager and strategist for BallywhoSocial where I have actively built and participated in over 50 different social media communities in all capacities (LinkedIn, YouTube, Facebook, Twitter, and blogging) as well as managed online PR and social strategy for a local mayoral campaign. My previous employment has been in different capacities as a restaurant manager where strong communication, customer service and problem solving skills were needed on a day-to-day, minute-to-minute basis. Together with my cultural training and research as an Anthropology student, my social media background and my customer service experience as a restaurant manager I believe I would make a great fit to any marketing team.
 I really enjoy writing, but also equally enjoy researching the topics for my blogs. I am interested in all things social media related, social justice, culture and baseball.
Add portfolio item
The social media campaign behind Rose Ferlita.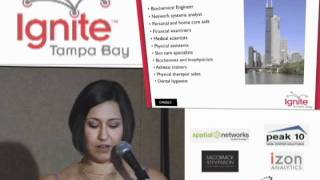 I was the Social Media Guru for the first Ignite Tampa Bay and spoke on Literacy in Hillsborough County, something I am very passionate about as I am an English as a Second Language tutor for the Hillsborough Literacy Council.
Certifications
ESL Tutor
Hillsborough Literacy Counsel