I am interested in sales, marketing, production, management, product development, industry relations, and OEM sales.
 I had no idea that I'd fall so far in love with bikes, and electric assist systems for them. It just happend and there was nothing I could do about it. Beggining the first time I saw an EcoSpeed system on a tadpole trike, I began volunteering with them, and with some local non-profit community bike shops. After some time doing that I found myself in the industry, working part time at EcoSpeed, and at Coventry Cycleworks. As time progressed my skills did as well, and as EcoSpeed developed I transitioned in full time to put my shoulder to the wheel. I have been very lucky to grow along with the company, and it was in this interest that I started attending business courses at Marylhurst University. I aim to grow and offer relevant contribution as EcoSpeed grows and needs them. My wish is no less than to fuel a transportation revolution through the electric bicycle.
Work experience
Production Manager
Build, install, and maintain high-end electric motor systems for bikes and trikes. Create and maintain relationships with associated businesses. Work with manufacturers to combine our products with theirs for an end product to customers. Maintain inventory for production, anticipate inventory needs, and managing inventory through multi-stage processes. Train production workers and manage production. Manage repairs and service. Active in the company culture and team.
Mechanic
Coventry Cycleworks
Assembled and sold technically demanding folding and recumbent cycles. Customer service on the sales floor. Worked in a sometimes hectic and fast paced environment with deadlines for customer pick up of serviced and repaired bikes of all kinds.
Education
Bachelors
Marylhurst University
Persuing a degree in Human Studies has been a gift that I never expected. It has given me an understanding of the relationships we have with ourselves, each other, the world, and even to some degree, the transcendent. Coupling this exploration with a Certificate in Business Management has brought the soft skills of Human Studies into relationship with the hard skills of business, providing a unique perspective to contribute within the company.
Associate General Studies
Mount Hood Community College
Community College is an extreamly viable start into education, and my experiances at Mount Hood helped me  galvanize a life direction that I am very proud of.
Skills
Mechanical skill
I have worked with the most technically demanding bicycles, including recumbents, trikes, velomobiles, industrial cargo and delivery vehicles, folding bikes, cargo bikes, medical and adaptive needs, and also the standard diamond frame. Coupling these machines with all aspects of EcoSpeeds' high end electric assist, involving complicated drivetrains, basic wiring and solder work, problem diagnosis, and a basic understanding of electrical components including batteries, motors, and the motor controller.
Networking
Creating and maintaining professional relationships has become a major passion in my work. Rubbing elbows with the members of my industry never ceases to be inspiriational, and the development of these relationships serves everyone involved.
Production Management
At EcoSpeed I have been priveledged to develop the ability to manage many aspects of a company's production. Training employees in technical skills, anticipating supply needs to keep production moving with an inventory of hundreds of parts that require multiple steps of fabrication.
Add portfolio item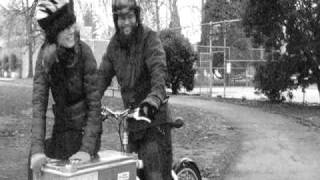 This is a promotional video I made with the EcoSpeed team.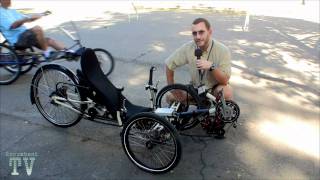 This is a coworker and myself representing our company and showing off our systems.