Work experience
Preschool Supervisor
Woodland Academy CDC
I currently work as a supervisor of preschool teachers. My responsibilties consist of enhacing the learning environment for the children, supporting and training staff and maintaining accurate and up-to-date files.
Director
Brightside Academy Early Learning Center
I oversaw the daily operation of a early learning center managing a team of over thirty employees..
Supervisor
Women's Christian Alliance
I supervised15+ teachers and assistant teachers aand maintained staff and children's files in compliance with DPW regulations.
Instructor
White Dove Performing Arts Enrichment Center
I instructed children in the performing arts. I taught drama, playwriting and videography.
Education
Community College of Philadelphia
I am currently taking two courses at Community College of Philadelphia, Child Psychology and Developmental Psychology,  to help me better understand the human development of children and adults so that I may be able to better serve their needs.
Vision of Missions Bible Institute
V.O.M.B.I. offers a two years program of Evangelical Training Association classes. Upon completion of the two year program (16 required courses in church ministry preparation) I received a Leadership in Church Ministries Certificate.
Associates
Camden County College
Skills
Ministry
In 2010 I received my license to preach the Gospel of Jesus Christ from Vision Of Missions Tabernacle Church.
Theater Arts
I have consistently used the training I received at Temple University. * stage management, acting  techniques, directing, costume design, set design, playwriting and poetry as a performance
Staff Development
For more than 10 years I have trained staff in the early childhood education field covering areas of professionalism, work ethics, communication, classroom management and curriculum development.
Pennsylvania Quality Assurance System Certified
The PQAS certificate is given by the PA Keys to Professional Development. The certificate certifies the recipient to be able to instruct directors and early childhood practioners in the areas of the presenters expertise. My areas of expertise include dramatic arts, literacy and communication with children and parents.
My heart's desire is to help those who are hurting in all aspects of their life, but especially those who are hurting spiritually and emotionally. I believe God has placed in me gifts and talents to be used to help His children and those who have not yet come to know Him or His son Jesus. We all learn different ways, but what we have experienced is the best method of all. I believe the dramatic arts is an awesome way to help people express themselves, see themselves and gain a new understanding of how much God loves us all and wants us healed.
My interests include going to see plays, reading, writing stories, writing and directing plays, praise dance, sewing, decorating, playing computer games and listening to music.
Excerpts from Books of Poetry
Add portfolio item
"I Want to Know You" is one of the poems in a book of poetry titled "Birthed Out of Affliction" I am currently writing.
"Nightmares of a World Going to Hell" is from a book of poetry I wrote in 2003 as part of my poetry as a performance class.
"Blossoming Flower" was inspired from personal experience.
Add portfolio item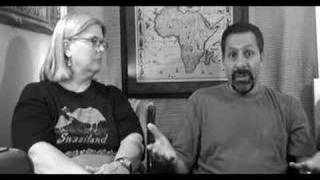 In the summer of 2008 I had the awesome opportunity to travel with thirty five members of a Swaziland, South Africa Mission Relief Team to aid the people by distributing medicine, clothes, food and most importantly sharing the gospel of Jesus Christ.
Excerpts from Books and Plays
Add portfolio item
"Wonderfully and Fearfully Made" is a child's book I wrote to help children understand Jesus' love.
"Childlike" is a book I'm currently writing dealing with the simplicity of God's lessons.
"Blind Pride" is a skit highlighting how the Christian must be mindful of pride operating in his/her life.
Additional Outreach Activities
Add portfolio item
C to B is a club for young ladies working towards building self-esteem in young ladies, teaching etiquette and embracing sisterhood through modeling and the dramatic arts.