Education
MA
Expected completion December of 2009.
BS
Minors in Education and History
Stones River National Battlefield, Murfreesboro Tennessee
100+ hours working in the museum, archive, and interpretive aspects of the park.
Habitat for Humanity
Volunteered in Habitat ReStore, provided meals for work crews.
Presentations at Conferences
Phi Alpha Theta 2009 Regional Conference
February 28, 2009, Austin Peay State University
"'You Call That Progress?' Displaced Community Residents Reclaim Their Past"
National Council on Public History Annual Meeting
April 2-5, 2009, Providence, Rhode Island
"'You Call That Progress?" Displaced Community Residents Reclaim Their Past"
Add portfolio item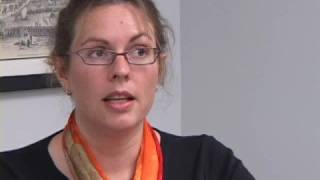 Dollie Boyd discusses the oral history project/community history initiative at Tims Ford State Park.
Skills
Public Speaking
My background in theatre and my teaching expericnce has made my very comfortable in front of audiences of all ages and sizes. I enjoy speaking in front of groups and relish the opportunity to reach out to people in this way.
Transcriber
Experienced in transcribing oral interviews from digital audio, video tape, dvd, and audio tape.
Researcher
In the course of persuing my MA in public history I have conducted research at libraries, archives, historical societies, deeds offices, private companies, historic sites, national and state parks, and online. I have used diverse sources like material culture, oral histories, census records, photographic images, film footage, scrapbooks, and archeological evidence to enhance and supplement more traditional primary and secondary sources.
Theatre Director
I have directed diverse theatrical prodcutions from one-acts to musical theatre. Teaching theatre involves taking on nearly every task invovled in producing live theatre including but not limited to; casting, directing, designing and building (sets, costumes, make-up, lighting), publicizing, and touring shows.
Teacher
Held a professional teacher's license in the state of Tennessee with consistently good evaluations from superiors. Built a performing arts program from the ground up at LaVergne High School in Rutherford County, Tennessee. I have experience teaching students from kindergarten through undergraduate.